 The odds Are in:
Key Insights into Betting Statistics in the UK
Did you know?

Did you know that the size of the online gambling market in the United Kingdom reached $7.8 billion (£6,472,284,000.00) in 2022?1 It's true – and, according to leading researchers, this number is set to increase to an astounding $11.0 billion (£9,132,090,000.00) by 2028.
It's no secret that gambling is one of the most popular pastimes in the UK. With the pastime now accessible online thanks to a myriad of renowned sports betting and casino sites, more and more Brits are placing bets on their favourite sports, slots, and table games, either from their laptop devices or smartphones. Join us as we crunch some numbers and take a closer look at the data behind online gambling in the UK.
A Brief History of Gambling in the UK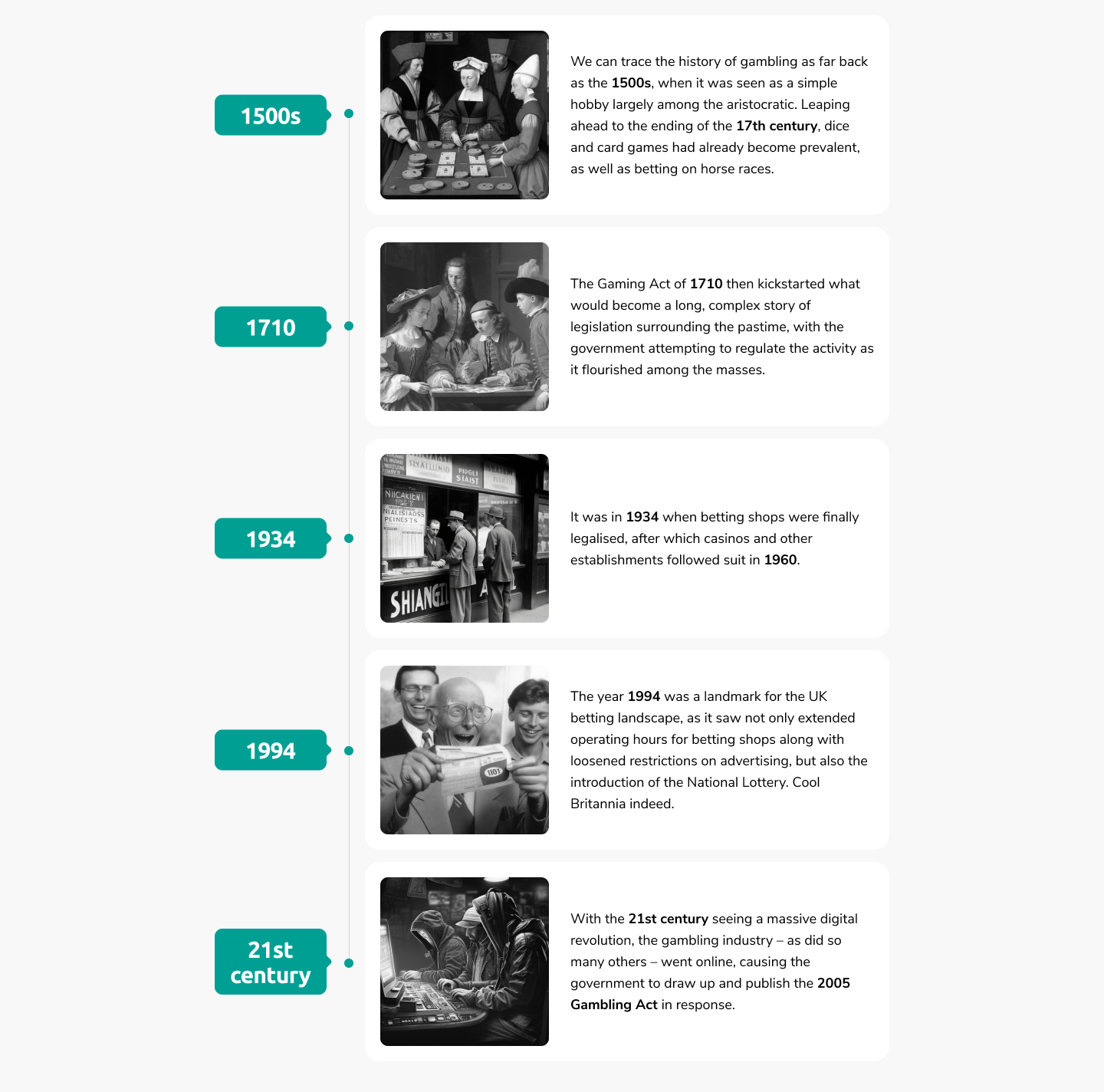 The latter, together with the Gambling Commission established in 2007, is responsible for regulating gambling within the UK and ensuring that all operators adhere to a strict set of rules.
Gambling in the UK: Insights and Statistics up to 2022
So, just what are Brits betting on, and how? Let's look at some recently recorded data below.2
The National Lottery

In March 2022, no less than £1,911.8 million was raised for National Lottery projects, which in turn support people and communities across the country.
In previous years (from 2018 to 2019) a total of £1.6 billion was collected and then contributed to good causes.
27% (i.e. over a quarter) of the British population took part in 2022. This makes the National Lottery the most popular type of gambling in the UK.
Overall Participation and Gender Disparities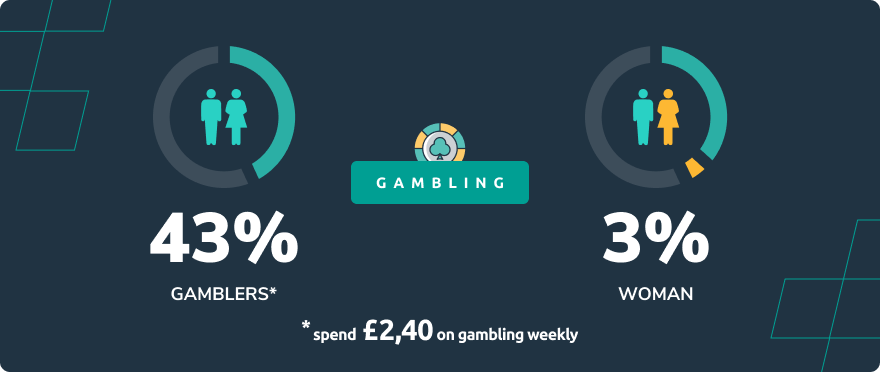 On average, Brits spend £2.40 on gambling on a weekly basis.
The highest level of gambling in the UK was recorded in 2016, when 48% of Brits claimed to have gambled at least once throughout the year.
This figure decreased to 43% in March 2022 and then went up to 44% by September of the same year.3
Within that 43%, male gamblers outnumbered their female counterparts by a difference of about 3%.

Online sports betting remains mostly prevalent among men, with 45% of male gamblers taking part in this form of gambling as opposed to the 23% recorded amongst women.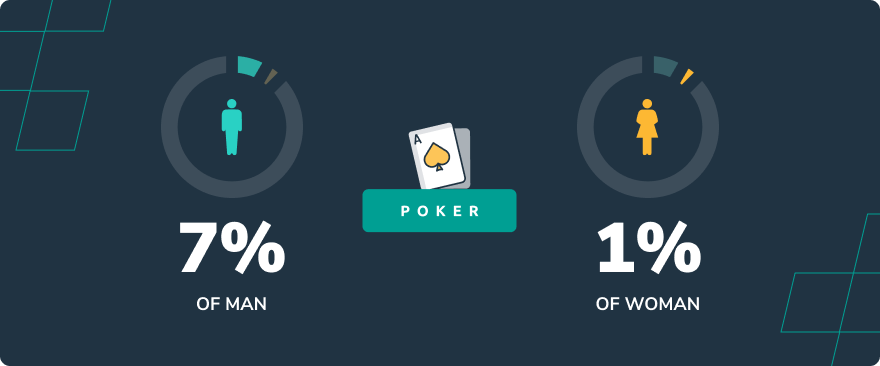 The same goes for online poker, which is only played by 1% of female gamblers compared to 7% among men.
National Lottery Reigns Supreme, Scratchcards and Sports Betting Follow
As we mentioned previously, the National Lottery remains by far the most popular form of betting among the British public.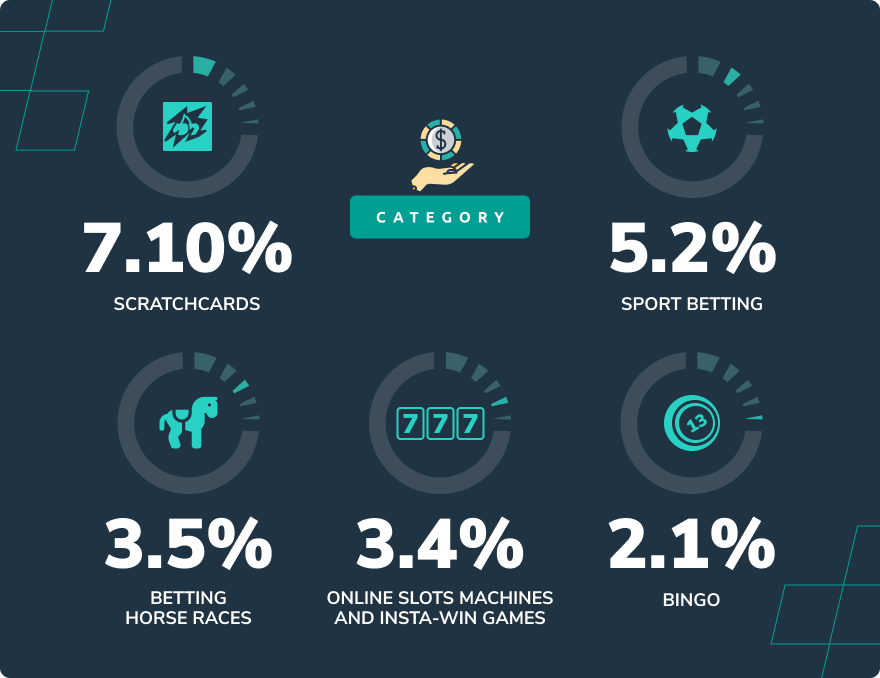 Scratchcards are the second most popular, with 7.10% of the population having taken part in March 2022, followed by sports betting (5.2%). Betting on horse races made up 3.5%, while 3.4% participated in online slot machines and instant-win games, and 2.1% for bingo.
The least popular form of online gambling was for virtual gaming at online bookmakers, with just 0.1% of the population having dabbled in this still-growing sector. Other virtual forms of gambling saw just 0.4% betting on virtual dog races, which increased slightly to 0.5% when also taking virtual horse racing into account.
Casino games as a whole recorded a total of 0.8% among British gamblers; as for poker played at pubs or clubs, a mere 0.2% took part.
How Did COVID-19 Affect Gambling in the UK?
COVID-related lockdowns brought land-based gambling establishments to a complete halt in the beginning of 2020, with these venues having to shut down indefinitely to protect the public's health.
Consequently, remote gambling (using the internet, radio, phone, television, and other devices that do not require physical presence of the punter) saw an increase, with remote casinos growing by 22.5% in the wake of the pandemic.4
Between 2020-2021, those that gambled the most in the UK fell between the age bracket of 45 and 54 years old, representing 32.8% of a survey carried out by Statista.5
The below statistics were recorded from April 2020 to March 2021:
The most popular casino games between were slots, which in turn generated 72.5% of GGY (gross gambling yield).
With a reported GGY of 13.2%, roulette came in second, followed by blackjack, which took in a GGY of 4.9%.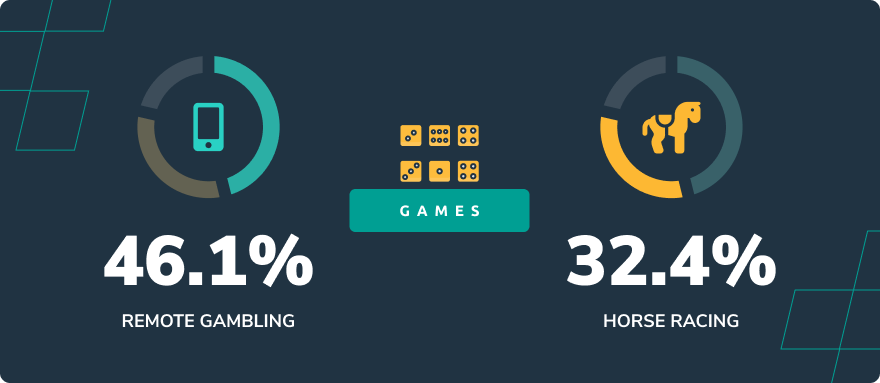 As for sports, football (what else?) clearly dominated remote gambling, bringing forth a GGY of 46.1%. Horse racing came in second, reporting a GGY of 32.4%.
Overall, the GGY of remote betting increased by 13.5%.
A study carried out by the University of Bristol (published in May 2021)6 showed that, although men and women gambled less frequently during lockdown, online gambling increased six-fold among regular gamblers. Men were more likely than women to gamble, as well as those who were struggling financially before the pandemic began.
The same study also found that, with live sporting events having been suspended at the very beginning of lockdown, increased revenue was reported on esports betting being that most events within this sector proceeded as normal.
Moreover, in May 2020, the BBC reported an all-time high in online search interest for online casinos7, particularly in the cities of Hull, Stoke-on-Trent, and Bradford.
Current Market Landscape, Market Share, and Key Industry Trends
As COVID-related restrictions were lifted, people in most retail sectors began returning to their usual habits, and the size and value of the UK gambling market is now getting close to what it was before the pandemic.8
Rising Costs, Consumer Behaviour, and Tighter Regulations
However, the industry is not yet out of the woods, so to speak. Due to the current inflation, as well as the considerable increase in the cost of living, the UK gambling market is again having to adapt to a new normal. Said inflation, together with labour market shortages, are both causing problems for high street gambling businesses by driving up their costs, the latter of which are already struggling to make a decent profit.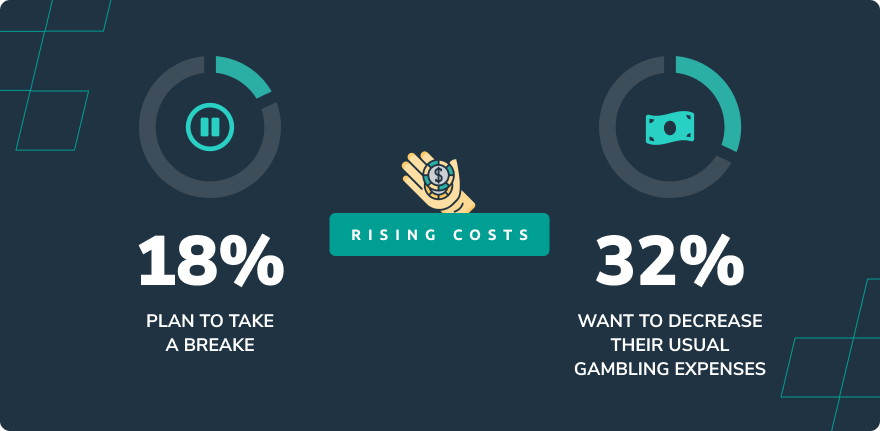 Moreover, a survey carried out by YouGov months before the current spike in energy costs indicated that 18% of gamblers interviewed planned on taking a break to cope with increased expenses. Another 32% said that they would decrease their usual gambling expenditures, while 11% admitted that the increased cost of living was having a considerable impact on all areas of life.
In addition, the UK Gambling Act is due for a review by the government, who intend on introducing tighter, more restrictive measures for operators to follow to curb problematic gambling.
Shifting Strategies: UK Gambling Operators Target Recreational Customers for Long-Term Growth
As a response to the above challenges, gambling operators are now shifting their marketing and acquisition strategies to attract more "recreational customers" who are motivated by entertainment and fun, rather than high stakes.
The main aim here is to potentially yield high margins while building sturdier customer loyalty over time. Recent statistics show that 56% of UK gamblers have used smartphones for online gambling in the past year, with 39% gambling at least once a week compared to 30% who gamble monthly. Furthermore, 36% of UK gamblers say they gamble for the enjoyment and entertainment it provides.
What Does the Future Hold for the Online UK Gambling Market?
With digital entertainment increasing in popularity, the online gambling market has the potential to expand and innovate, including through the use of AI and VR (Virtual Reality) technology.
The UK gambling industry plays a crucial role in the country's economy, with the online sector currently the main revenue generator. As such, the latter is poised for a projected takeover, particularly with the rise of new online bookmakers entering the market and multiple land-based venues being forced to close due to the pandemic.
There are presently over 175 online bookmakers estimated to be in operation, and 30 million gamblers registered in the UK. Out of these, 10.5 million prefer gambling online rather than in physical betting shops. This shift mainly focuses on younger people, as older generations still appear to be largely distrustful of online operators. Young people also show a marked and increased familiarity with the internet and modern technology, including the use of mobile devices and smartphones.
Another principal factor to note here is that online bookmakers offer features that are not found at brick-and-mortar establishments, such as enhanced odds, bonuses, augmented gameplay, and tailored promotions.
Having said all this, with a predicted AGR (adjusted gross revenue) of 5.20% by 2025, it seems safe to say that there will always be a market for land-based casinos.9
Sources
1 https://www.imarcgroup.com/united-kingdom-online-gambling-market#:~:text=The%20United%20Kingdom%20online%20gambling,5.4%25%20during%202023%2D2028
2 Data here taken from: https://www.finder.com/uk/gambling-statistics#quick-overview
3 https://www.gamblingcommission.gov.uk/statistics-and-research/publication/statistics-on-participation-and-problem-gambling-for-the-year-to-sept-2022
4 https://uktechnews.co.uk/2022/08/17/10-amazing-gambling-industry-statistics-in-the-uk/
5 https://www.statista.com/statistics/543361/online-gambling-participation-united-kingdom-uk/
6 https://www.sciencedaily.com/releases/2021/05/210517083636.htm
7 https://www.bbc.com/news/uk-england-52633355
8 https://store.mintel.com/report/uk-gambling-trends-market-report
9 https://industrywired.com/the-future-of-the-gambling-industry-in-the-uk/