MyStake boasts a range of products, including a crypto-focused sportsbook, excellent virtual betting, and an exhilarating casino with promotions like no other! Read on to find out if this site is for you.
Betting With Crypto at MyStake

MyStake accepts a number of cryptocurrencies and provides a good amount of promotions for us crypto bettors, which I'll expand on below.
To give you a brief snapshot of what's ahead, here's a list of the platform's main strengths and shortcomings:
Pros:
Amazing crypto-focused promotions
Excellent amount of crypto payment options
24/7 Customer service
Exciting mini-games and tournaments
Cons:
Max win limit is €500,000
A few issues with slow loading speeds
Payout margins are relatively low at around 93%
About MyStake
MyStake was founded in 2020, and has turned a lot of heads in the short time it's been around – including mine. Here's a quick glance of what the site has to offer regarding languages and payment options:
12 Language options: English, Spanish, German, French, Italian, Czech, Finish, Swedish, Russian, Arabic, Argentinian, Brazilian (Portuguese)
14 Crypto payment methods: Bitcoin, Bitcoin Cash, Ethereum, Litecoin, Ripple, XRP, Dash, Tether USD, USD Coin, Tron, Dogecoin, Monero, Binance USD, BNB Coin
6 Traditional payment methods: Visa, Mastercard, NETELLER, Skrill, paysafecard, MiFINITY
MyStake – Is it a Scam or Legit?
It's always wise to err on the side of caution when betting online. The good news is that MyStake is a completely legitimate platform.
When creating my reviews, I also like to incorporate feedback from other bettors, drawing on sources such as Trustpilot. MyStake has a stellar record on the site, with over 15,000 reviews with 83% of them having 5 stars. This accumulates to mightily impressive 4.8 rating!
Security
Like all top crypto betting sites online, MyStake goes the extra mile to ensure their website remains safe and secure. From a customer perspective, there's a stringent account verification process in place, which plays a significant role in preventing money laundering and identity theft from occurring on the platform. However, this also means that anonymous crypto betting is not an option.
Licensing
Adding on to the above, MyStake holds a licence from the Curaçao Gambling Commission licence (no. 1669/JAZ), meaning that it is fully in compliance with established industry regulations. This also reflects the site's commitment to maintaining high standards of fairness and security for its users.
Requirements to Access MyStake
MyStake employs some fairly standard requirements to be able to access and use the site. These include an 18+ age limit and several 'Know Your Customer' criteria to verify your account.
It's important to note that if you can't access the site, then you might reside in a country that MyStake has restricted.
Here's the full list of countries blocked by MyStake:
Europe
Oceania
North America
British Virgin Islands
Cuba
USA (Note: Access and betting legality varies by state)
South America
Asia
Jordan
Afghanistan
Bahrain
Brunei Darussalam
China
Iran
Indonesia (Except lotteries)
Maldives
Qatar
Saudi Arabia
Syria
Thailand (Except lotteries)
UAE
Africa
Algeria
Eritrea (Except online)
Ethiopia (Except online)
Libya
Mauritania
Somalia
Sudan
MyStake VPN
I enjoyed a hassle-free experience when accessing MyStake though a VPN, and was able to place bets as normal. Check out our guide to the best VPNs for sports betting to choose the one that's right for you.
Cryptocurrency Deposit Options
There are 14 crypto deposit options to choose from, with each having a 0% transaction fee. There's also no limit to how much you can deposit.

Here's the full list of cryptocurrencies which you can use to deposit to your MyStake account:
Bitcoin Cash
BNB Coin
Dash
Dogecoin
Monero
Ripple
TRON
USD Coin
XRP
MyStake implements a withdrawal limit for all their payment options, unlike their deposit options. Here's the breakdown for each cryptocurrency, including any limits and processing times.
| Method | Min | Max | Processing time | Fee |
| --- | --- | --- | --- | --- |
| Binance USD | €50 | €7,500 | Up to 3 working days | None |
| Bitcoin | €50 | €7,500 | Up to 3 working days | None |
| Bitcoin Cash | €50 | €7,500 | Up to 3 working days | None |
| BNB Coin | €50 | €7,500 | Up to 3 working days | None |
| Dash | €50 | €7,500 | Up to 3 working days | None |
| Dogecoin | €50 | €7,500 | Up to 3 working days | None |
| Ethereum | €50 | €7,500 | Up to 3 working days | None |
| Litecoin | €50 | €7,500 | Up to 3 working days | None |
| Monero | €50 | €7,500 | Up to 3 working days | None |
| Ripple | €50 | €7,500 | Up to 3 working days | None |
| Tether USD | €50 | €7,500 | Up to 3 working days | None |
| USD Coin | €50 | €7,500 | Up to 3 working days | None |
| XRP | €50 | €7,500 | Up to 3 working days | None |
| TRON | €50 | €1,000 | Up to 3 working days | None |
Registration Process
I always appreciate a one-page registration process, and MyStake offers just that! In fact, it took me less than one minute to fill in all my details, which was a real convenience.
Step 1: Click 'Register', and a single-page registration form will appear – a thing of beauty and simplicity! Enter all the necessary details, including your first and last name, your email address, country of residence, and so on. You can also enter a promo code here if you've got one.

Step 2: Within your newly created account, head over to the 'Account Verification' page found in the drop-down menu.
Step 3: Provide clear images of the below documents:
Your passport or driver's license for proof of identity
A recent bank statement or utility bill for proof of address
A verification email will be also sent to your address, which you must acknowledge to proceed.

Offering, Features, and Functionality

This is where MyStake truly shines. Their offering, features, and functionality across different devices is seamless.
MyStake boasts a well-designed site, which for the most part is easy to navigate. The 'My Account' area is meticulously organised and the support services are easy to find.
The promotions tab is brilliant, with five welcome offers and a phenomenal 14 promotions on offer at the time of writing, ranging from sports, casino, and mini-games. The variety here means that there'll definitely be something that piques your interest!
The MyStake mobile version as well as the app are excellent and even easier to use, retaining all the same features as the desktop version. We highly recommend giving either of them a go if you like betting on the move.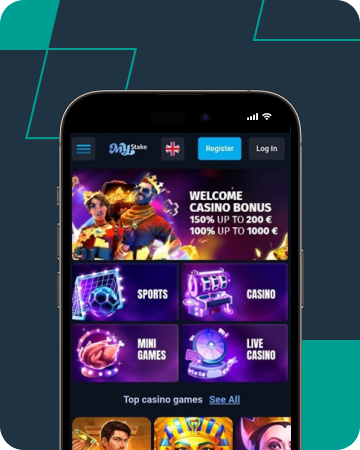 As you can see from the above image, the app has everything you need within easy reach of your thumb, ensuring that your mobile betting experience is an enjoyable one.
MyStake's Crypto Welcome Offer

In my opinion, the best welcome offer available at MyStake have is the 'Crypto Deposit Bonus', offering a whopping 170% bonus when making your first crypto deposit between €20 and €600.
Here are some terms to keep in mind:
The maximum bonus you can get is €1,000.
It is eligible on the first deposit you ever make on the site.
You must activate the offer before placing your first bet.
You can only claim one welcome bonus.
Sportsbook
MyStake's sportsbook may be appear slightly overwhelming at first glance, with a lot of information crammed into one page. This changes once you enter specific match pages and event pages, which are much more well-designed.
You'll find 32 sports and 8 esports to bet on, which is decent, but nothing out of the ordinary.
When it comes to margins, the average payout from a bet is around 92-93%. This is quite low, and doesn't really compare with the top traditional bookmakers. I suggest using a betting calculator whenever you're unsure if a bet is worth placing.
MyStake Casino

On the casino page you will find over 6,000 games to play, featuring titles from some of the most renowned software developers in the industry, such as Red Tiger Gaming.
The welcome offer is a first deposit bonus that gives you a 150% deposit match for €20 to €200, or a 100% bonus if you deposit between €201 and €1000.
Basically, if you decide to deposit €1,000, you'll receive a further €1000. If you deposit €200, you'll be rewarded with a further €300. Talk about value for money!
Customer Service
Customer support is an aspect which can make or break a bookie, with bad or subpar service easily turning a good experience sour. Having said that, I'm happy to report that my interactions with MyStake were positive. I expand on why below.
Live Chat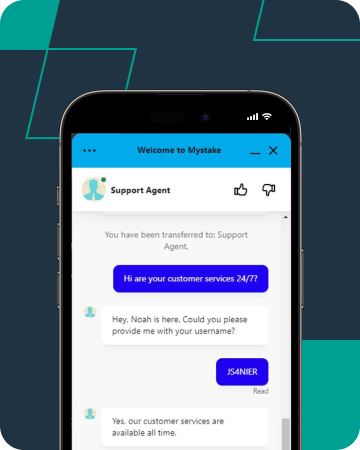 MyStake have an excellent live chat, which is quick and efficient. I used it several times and I got all the answers I needed within a couple of minutes.
FAQ Section
Meanwhile, however, the FAQ section leaves a lot to be desired. It only features two questions: 'How can we contact you?' and 'How to register?' This is just not useful enough for those seeking more detailed assistance or other information about the site.
Email

My experience with MyStake's support was remarkably efficient. Upon emailing support@mystake.email, I received a response in less than a minute, which is the quickest turnaround I've ever encountered! Typically, you can anticipate a reply within just a few minutes.
ThePuntersPage Final Say
While carrying out this MyStake review, I really got to enjoy everything the site has to offer, especially the many deals and bonuses. The only small downside is that the payouts could be better, while the FAQ section could stand to be more substantive too, especially for new customers.
But all in all, I had a great time on the site – so much so, that I would fully recommend it to any avid crypto and sports fans out there!
Mystake review FAQs
MyStake is owned by Santeda International B.V, who operate several casinos and are based in Cyprus.
MyStake is a totally safe site to use, holding a Curaçao Gambling Commission licence. They also have an excellent 4.8 rating on Trustpilot.
Yes, betting with cryptocurrencies at MyStake is completely legal, unless the laws of the country you reside in state otherwise.
If you're unable to access MyStake, it could be due to ongoing updates or site maintenance. If these issues persist, I suggest contacting customer service via support@mystake.email.
MyStake accepts a total of 14 cryptocurrencies: Bitcoin, Bitcoin Cash, Ethereum, Litecoin, Ripple, XRP, Dash, Tether USD, USD Coin, Tron, Dogecoin, Monero, Binance USD, and BNB Coin.