In the betting world, bet365 has long been known as one of the best football betting sites around. In this article, we will delve deeper into the reasons bet365 is considered to be such a good option for punters. We shall look at the betting site features as well as the football odds and betting markets offered.
Betting on Football at bet365
Betting on football matches is no simple task if you intend to make it profitable. A crucial part of this is being able to pick the right matches and the right betting markets for your bets.
This brings us to the first great thing about betting with bet365: the large variety of betting markets available on even the most remote matches being played.
bet365 Football Betting Markets
Both the pre-match and in-play betting markets offer punters a wide variety to choose from. Below are some popular examples:
Full Time Result – (1/X/2) betting on the outcome of the final result i.e. Home Win (1), Draw (X), Away Win (2).
Double Chance – betting on two possible outcomes i.e. Home Win OR Draw (1 or X), Home Win OR Away Win (1 or 2), Away Win OR Draw (2 or X).
Goals Over/Under – betting on whether the match will have more than 2.5 goals scored or less than 2.5 goals scored.
Alternative Total Goals – this is also an over/under market but includes other total goal possibilities such as o/u 3.5, o/u 1.5 etc.
Both Teams To Score (BTTS) – betting on both teams in the match to score, or not.
Correct Score – betting on the exact final score. In cases other than a draw, you are also required to pick a winner.
Half Time/Full Time – betting on the match result at half time AND at full time i.e. in a match between Liverpool and Arsenal, you could have Liverpool/Liverpool, Draw/Arsenal, Liverpool/Draw, Draw/Draw etc.
Goalscorers – bets on first player to score a goal, last player to score a goal or simply to score a goal at anytime during the match.
Corners – ranging from the number of cards in the match, in a half, for a particular team, betting who will reach a number of corners first, who the first/last corner will be for and more.
Cards – betting on which player will be carded, whether there will be red cards in the match or not, the number of cards to be shown, who the first player to be booked will be, who will be sent off and more.
Other Goals Specials – whether or not an own goal will be scored, whether a team will score in a specific half or not, whether a team will win to nil, and more.
Asian Markets – Asian handicap, Asian goal line, Asian corners and even Asian handicap corners markets available.
Minute Betting – it is also possible to bet on a particular outcome such as corners, cards or goals (sometimes even free kicks and throw-ins) to happen during a specific time-period during the match, such as 50:00-59:59.
bet365 Football Tips
We find that good football tips are hard to come across, especially given how unpredictable any 90-minute match can be. Despite previous matches not guaranteeing anything in future matches, statistics do allow us to take note of trends based on a team's season or current form.
Given this, we suggest you have a look at our Kickform tips which are based on an algorithm that is fed the teams' match data and generates predictions.
Football Live Streaming on bet365
The live streaming service at bet365 is as good as it gets for betting sites. The amount of games streamed per day is high and they've also got rights to stream matches from some of the biggest leagues such as Serie A, La Liga, Bundesliga and Ligue 1.

Full Screen Viewing
Not many betting sites can boast having live streaming capabilities, and even fewer can say they offer the opportunity for viewers to watch the football match in full-screen mode.
This feature has recently been added so that players can maximise their betting experience by following the matches they have placed bets on (or intend to bet on) in the best way possible.
bet365 live streaming is not tied to placing bets on those particular matches, so players can watch any match being shown on bet365 as long as they are logged in. The live stream function is available on mobile, table and even desktop versions.
In-Stream Betting Options
While viewing your favourite match in full screen, bet365 also offers the opportunity for you to keep up to date with the changing odds and even to place a bet without need to close the full-screen stream. The in-stream betting options feature the most popular markets at the bottom of the screen as seen in the screenshot below: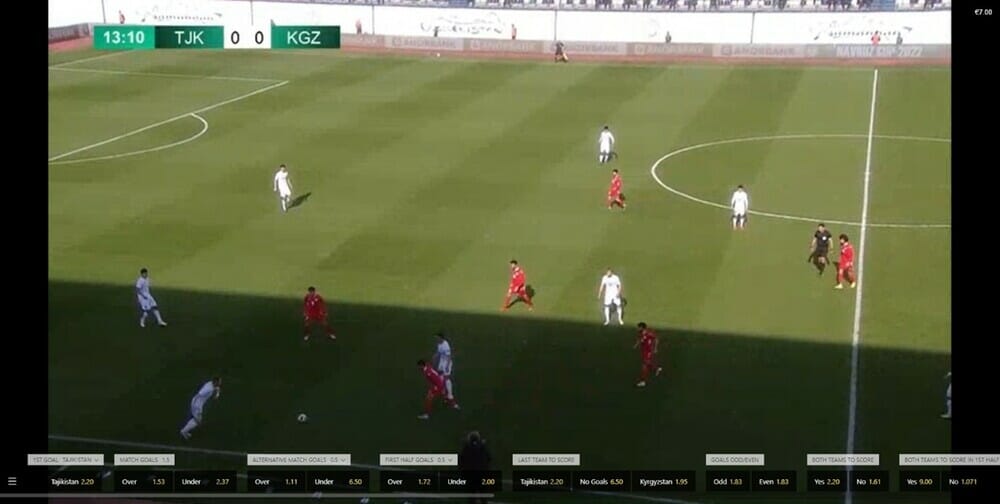 Moreover, players also have the opportunity to toggle between the betting market categories shown at the bottom of the screen. The options available are the Asian Lines, Corners/Cards, Goals and Half betting markets as seen below.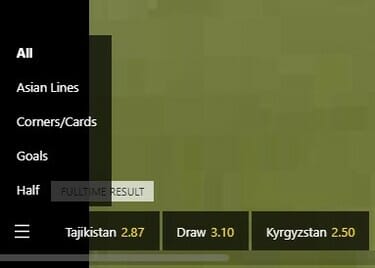 While viewing in full screen, players can also choose to press on the bank balance in the top-right corner of the screen to toggle between hiding the betting markets and enjoying a clean screen, or accessing the live-streaming schedule which pops up in the top-left area of the screen.
Players will be able to 'switch the channel' to watch other ongoing matches. The schedule also includes esports football matches.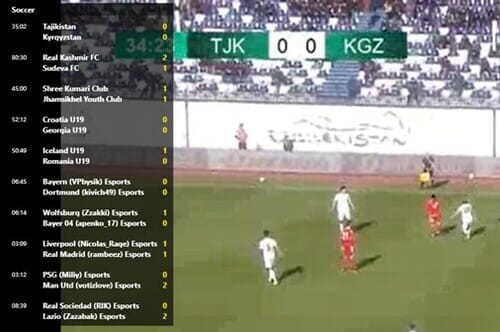 bet365 Football Promotions and Offers
As a top betting site, you would expect bet365 football offers to be great, and they certainly deliver! Here, we'll have a look at the ongoing bet365 promotions and offers which are football related. In case you were wondering, yes, there are also other sports-specific offers available.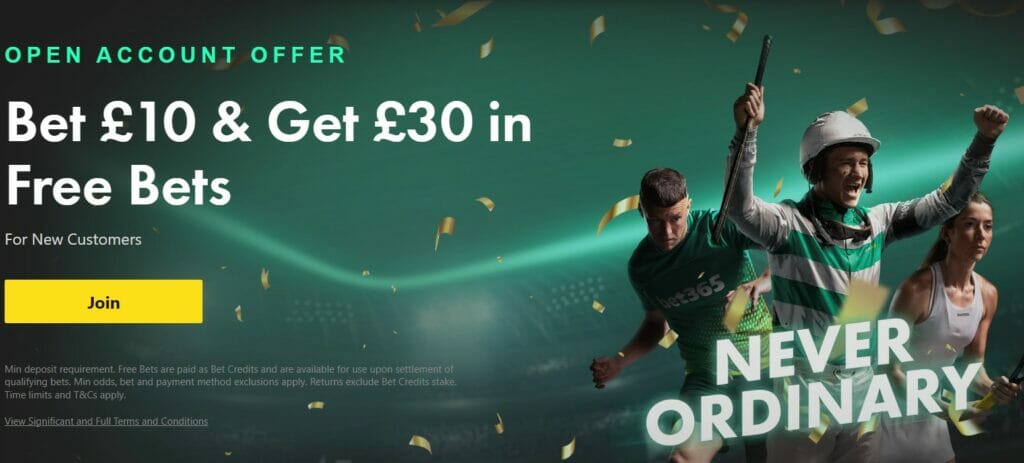 The bet365 welcome offer gives new customers the opportunity to place a qualifying £10 bet and claim £30 worth of free bets once the initial bet/s have been settled. The free bets can then be used on any football betting market.
This gives new players plenty of opportunity to place a few long-shot bets and see how things play out all without risking any of their own money.
Football Early Payout Offer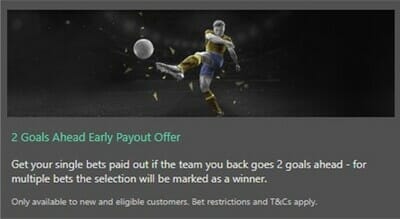 The early payout offer means bets will be considered successful if the team you are backing to win a match goes 2 goals ahead. This removes any risk of a comeback later on.
The offer also comes into play for accumulator bets. So, let's say you're backing Bayern Munich in a Bundesliga match against Borussia Dortmund. If Bayern manage to score 2 early goals go 2-0 up, then your bet will be considered a win, even if the final score is 2-2. The same would happen if the score is 1-1 and Bayern score two successive goals to make the score 3-1.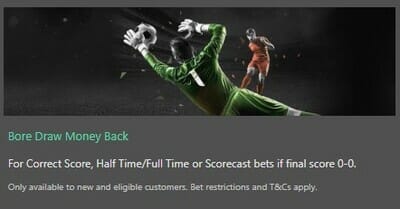 The Bore Draw offer ensures that if players place a Correct Score, Half Time/Full Time or Scorecast (forecasting who the first goalscorer will be) bet and the game ends in a 0-0 draw, then the stake will be returned since the match contained no goals. A nice touch from bet365 here, which shows that they like matches with goals too.

The Soccer Acca Boost does a good job at making accumulator bets even more interesting than they already are. We've all been there; putting some long-shot odds together in an accumulator bet just to see what a £5 bet could potentially win us if all the stars lined up and we somehow guessed all legs in an acca.
bet365 make it easier to get bigger potential winnings by adding an acca bonus to the odds depending on the number of bets in the accumulator. This can range between 2.5% and 70% bonus and will be added to the bet winnings if the bet is successful.
Each-Way First Goalscorers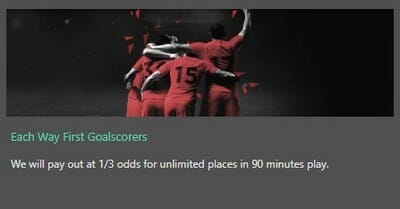 Betting on the first goalscorer in a match can normally generate quite a good return given the odds on first goalscorers. bet365 guarantee they will give players 1/3 of the odds if the player ends up scoring at some point during the match rather than first. This way, even if you essentially lose the first goalscorer bet, if your player scores, you are still guaranteed a return. If the odds on that player were high enough, the return might even be profitable.
Full Time Result – Enhanced Prices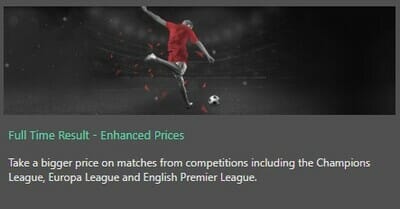 Apart from the above offers, bet365 also consistently offers enhanced odds on the full-time result of important matches. While this is great, bet365 does not allow bets with enhanced odds to be cashed out early if things don't seem to be going your way.
Having said that, football is indeed an unpredictable sport, so an initial advantage to one team does not necessarily mean a turnaround is not possible, far from it! In March 2022 we saw Wrexham FC overturn a 2-5 score in the final 35 minutes to win 6-5!
bet365 Substitute Guarantee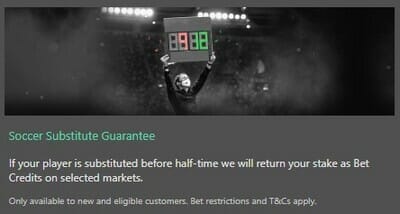 Similar to the Each-Way First Goalscorers offer, this substitute guarantee offer also gives a bet placed on a specific player some security. The bets on the player could be anything from which goalscorer he/she will be, whether they will receive a card and when, to winning the man of the match. Whichever bet you've placed, if your player is subbed off before the half-time mark, your stake will be returned in full.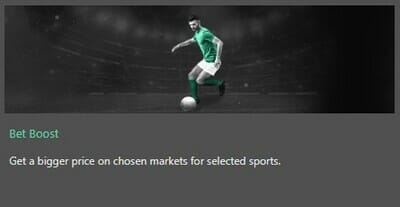 Recently, bet365 have also introduced regular Bet Boosts on matches of their choice. These go over and above the full-time result enhanced odds offer, and can relate to any betting market in the match. The bet boosts are normally capped at 6 bet boosts per match.
Examples of these could be boosted odds on specific correct score bets, players to score at anytime or Half Time/Full Time bets. They normally also include a bet builder bet which would include 2 or 3 variables. Here's an example from the match between Denmark & Serbia:

Regularly Offered Football Free Bets
As if the above wasn't already enough to convince you of bet365's quality, they also throw in occasional free bet promos on matches from the English Premier League, UEFA Champions League and other big tournaments throughout the year. These will be available for existing customers only.
Top Football Leagues & Events To Bet on With bet365
With the variety of betting markets and all those ongoing football betting promotions, you would hope to find the match you wish to bet on in the list offered by bet365. In this regard, you will most probably be very well served by this great betting site! Apart from offering odds on top leagues in most countries of the world, bet365 goes an extra step by offering odds on the lower division matches in most countries too!
You can rest assured that you won't only find the popular leagues such as the Premier League, Serie A, La Liga and Bundesliga here, but also odds from the South Korea K4 League, the Gambia Division 2, as well as matches from the female football and youth football world.
If it's a professional match, you're most likely to find it on bet365.
bet365 Football Odds
Not only are the odds for these matches available, but they are also very competitive odds when compared to other top football betting sites such as Paddy Power, William Hill and Betway, among others.
The odds are offered before the match and will change accordingly during the game depending on what happens on the pitch. bet365 also offers outright odds on many popular tournaments, such as the FIFA World Cup, UEFA Competitions and top European leagues.
Apart from all of the above, bet365 also offers odds on football specials such as potential player transfers and managerial changes.
bet365 Football Betting Features
There happen to be a few other features which bet365 has that take their product offering up yet another notch. Namely these are the Cash-Out feature, the Football Bet Builder, the Bet Edit function and live alerts. bet365 also offers on-site pre-match and in-play statistics, which are available to help punters place informed bets.
This is something that many great betting sites offer, and bet365 has made sure to offer it in the best manner possible. Apart from the classic cash-out function, bet365 also offers an Auto Cash-Out function where the player can decide at which point they would want bet365 to cash out for them.
They also offer the possibility for a partial cash-out. This allows players to cash out a part of their bet while leaving the remaining part of the stake active. This function could serve to bank a certain amount of winnings, or minimise a possible loss, depending on how the bet is doing.
The bet builder option allows punters to create their own custom bet in any football match. By creating a sort of accumulator bet from markets available in the same match, the Bet Builder allows experienced football bettors to pick out a number of variables such as goals, goalscorers, corners, cards, and any other market available to generate a bet.
There is no limit to how many variables one can add to the bet builder (providing one does not cancel out the other, such as betting on a home win and an away win too).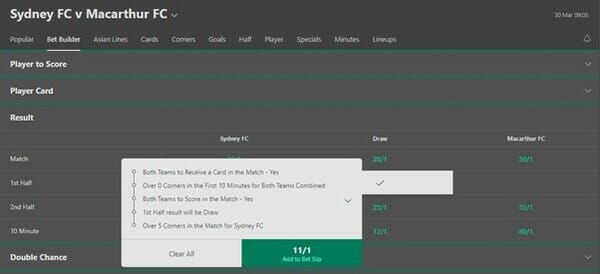 The bet edit function is an add-on to the cash-out function, which allows players to make changes to their bet, even while the bet is currently in play. Essentially, bet365 will cash out the bet and use the cashed-out value as a stake for the new bet. If you choose to edit the bet before the match starts, the stake will most probably be the same as your original stake was (unless the odds would have shortened or lengthened).
You may choose to add, amend or remove selections from the bet as can be seen in the below screenshots.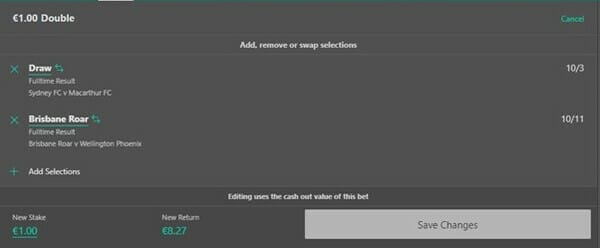 If you happen not to be able to watch a particular match but would still like to receive notifications with live updates on it, you may simply opt-in to receiving live alerts from bet365 by clicking on the bell icon at the top right of the screen.
Live alerts are available for Full Time Result, Half Time Result, Cards, Corners, Goals, Penalties (and missed ones) as well as substitutions.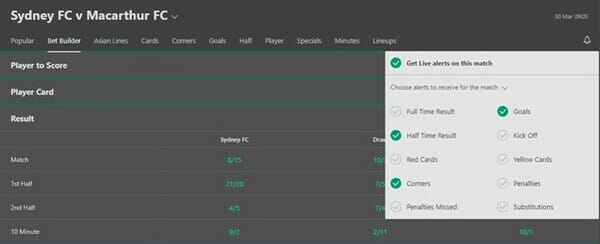 Apart from helping you keep up to date with live bets, these notifications could also be used if you wish to know when a particular team concedes a goal or a particular player comes on, so you can time when to place your bets.
bet365 Football Betting FAQs
Setting up the account is a quick process. You'll need to enter your personal details and create the login credentials. There is no need for any bonus code to claim the bet365 welcome offer.
bet365 withdrawals can be done through cards, e-wallets or direct bank transfers. The method chosen for deposits will be the one used for withdrawals.
Yes, bet boosts and full-time enhanced prices are available on bet365, among other football promotions such as the Substitute Guarantee an Early Payout Offer.
Free bet promos are issued by bet365 occasionally, but there is no particular frequency which they abide by. Just be sure to opt in to receive info about free bets from Members > My Account > Preferences.
The bet365 stadium is home to Stoke City Football Club. It is not owned by bet365, but the stadium was named that way after a stadium naming rights agreement was signed in 2016.
ThePuntersPage Final Say
Given all of the above, it's no wonder that bet365 is regarded as one of the best football betting sites around. The variety of betting markets, the depth of match offerings from all around the world, the competitive odds and the great football promos create an overall product which is very difficult to beat. The advanced betting site capabilities like bet edits and full screen live streaming give it a great competitive edge.
All in all, if it's football betting you're interested in, opening a bet365 account should surely be considered.