The Smarkets sign-up offer grants 0% commission trades until 11:59 PM GMT on December 31, 2023. While this promotion appears straightforward, its success depends on specific details – all of which we explain in this very guide.
0% Commission With Smarkets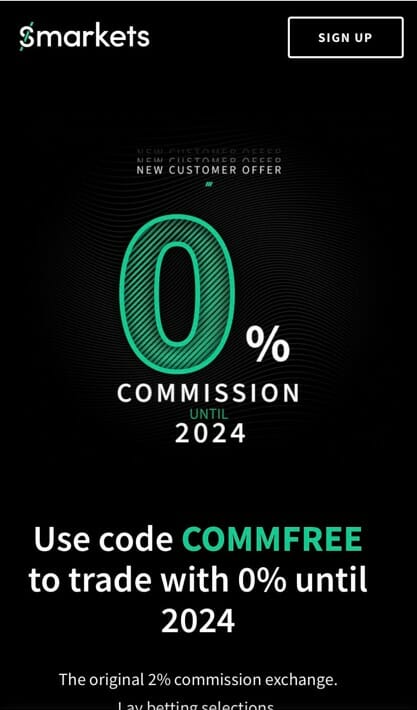 The no-commission sign-up offer at Smarkets is quite simple in nature.
For all those new to the term, "commission" is a percentage the bookmaker takes from your winnings gained from a betting exchange. Naturally, without it, your returns would be larger.
Let us say, for instance, you had placed £100 on a bet for Werder Bremen to beat Bayern Munich at odds of 6.00 (5/1 in fractional odds). If this won, you would see a total return of £600, and a total profit of £500.
The amount of betting commission you might be changed depends on the operator. SBK, for instance, may charge 2%; others may charge 5%. We'll use the latter as our example.
So, you have £500 in profit and the betting exchange is charging 5%. This means the bookmaker is getting £25 in commission from your winnings, meaning your profit would be down to £475.
That charge is the very thing which this Smarkets new customer promotion seeks to eliminate. By claiming this offer, you would receive the full £500 in the above scenario.
T&Cs for the Smarkets Welcome Offer
The following are the key terms you need to follow so as to make the most of the Smarkets welcome offer.
Those using certain payment methods are not eligible for this promotion. These include Skrill, NETELLER, PayPal, and prepaid cards, including virtual Monzo cards.
The minimum qualifying deposit must be the equivalent of £10 or €10 made in a single amount.
You will only be able to enjoy the 0% commission rate before 23.59 GMT, December 31st, 2023. At this point, your account will set to the default commission rate.
To use the Smarkets new customer promotion, you must first sign up and deposit the minimum amount between 16:00 BST, 1st August 2023 and 16:00 BST, 1st September 2023. Those who sign up outside these dates, but before the end of promotion, will be eligible for 60 days of 0% commission.
The promotion is strictly limited to one per user. This extends to a single family, home address, e-mail, account number, and even IP address.
Existing users are not eligible.
All users of the Smarkets sign-up offer must be over the age of 18.
This is all entirely standard and expected. For instance, almost all betting promotions restrict the use of certain payment methods, and a one person per promotion rule is almost universal.
That said, it is always worth checking out the full terms and conditions for yourself, no matter what kind of betting bonus you claim online.
How To Open an Account With Smarkets
To take advantage of the Smarkets new customer promotion, you'll first need to create an account. Luckily, this is as straightforward as the sign-up offer itself, as our step-by-step guide below will confirm.
The first step asks for your email, currency, country, and a secure password. It's also where you'll need to enter any promotional codes you might have.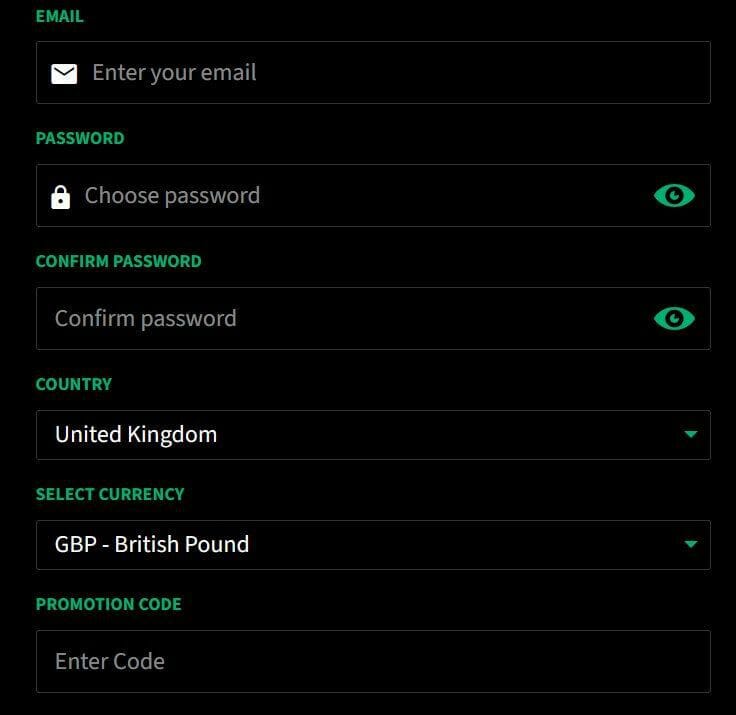 Onto step two, where a few more pieces of simple information are required. As the last mandatory part of the process, you will also be asked to read and confirm that you accept the terms and conditions.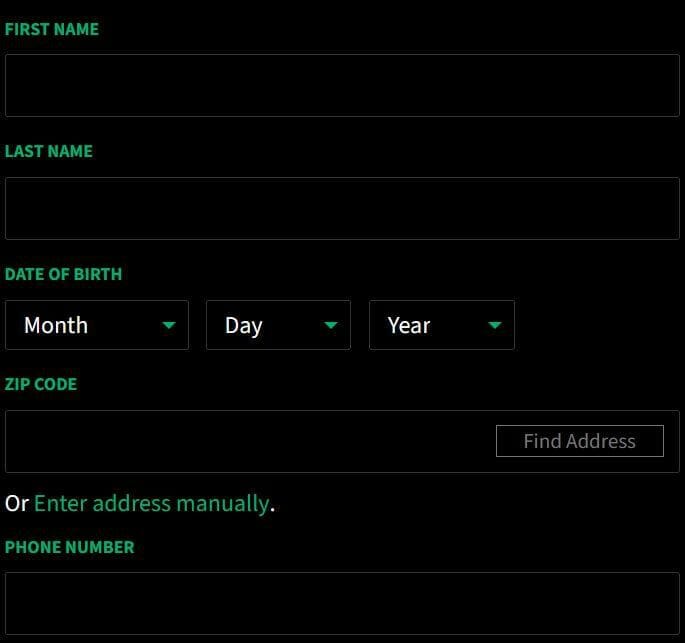 An optional step three gives you the opportunity to deposit funds if you want to. You can skip this step if it's not convenient at this time.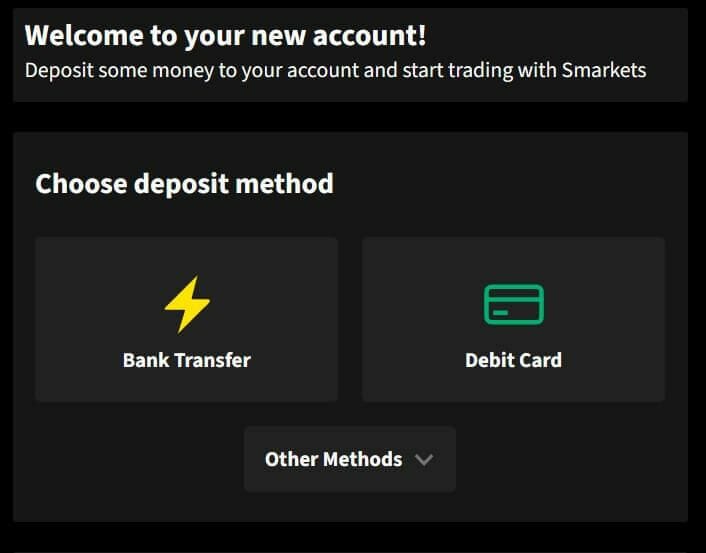 Whether or not you choose to deposit, you will have access to your account and receive confirmation at the top of the page that you have successfully joined the site. The only thing left to do, in terms of completing your registration, is to head on over to your e-mail and click the verification link sent directly to you.

How To Claim the Smarkets Welcome Bonus
Claiming the Smarkets sign-up offer can be completed during the above registration process, with only two things you need to keep in mind.
Firstly, you must enter the promo code COMMFREE during the first step of creating your account.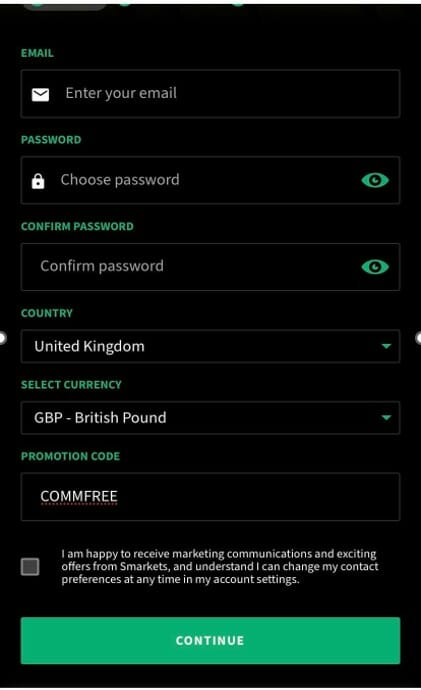 Next, you'll need to deposit a minimum of £10. You can do this during the third step of registration or via the "Balance" icon at the top of the page. Simply select deposit, choose an appropriate payment method eligible for the offer, and confirm the amount you wish to deposit.
That's it! You will automatically enjoy 0% commission on all your winnings until the promotion is concluded.
Losing Example for This Smarkets Welcome Bonus
The only way of losing with this promotion is to lose your bet generally. The Smarkets no commission promotion naturally only saves you money if you have winnings that benefit from it. No winnings mean no bonus.
For instance, if you bet £10 on a market with 3/1 odds, your profit with 0% commission would be £30. With 5% commission it would be £28.50. That means the offer would net you an additional £1.50. However, if you lost your bet, you would receive nothing either way.
Smarkets No Commission Offer Compared To Other Bookie Offers
Smarkets new customer promotion stands out from other sign-up offers online for a few reasons.
For instance, bet365 offers a "Bet £10 Get £30 in Free Bets" welcome bonus. While this can also produce additional returns, you have to make a qualifying deposit and then wager in order to win your free bets. Meanwhile, Smarkets gives you the chance to profit every time you win over a prolonged period.
Things are more similar over at Matchbook, where the welcome offer grants 0% commission for 90 days for new customers and 2% on net profits for UK and ROI customers. Here, the key difference is that Smarkets offers a longer period of no commissions, meaning potentially more savings for longer.
That said, you may benefit more from alternative offers if you're signing up towards the end of the promotional period at Smarkets. We'd recommend the new customer promo at BETDAQ, who offer 0% commission for 100 days.
Smarkets Sign-Up Offer Pros & Cons
Pros:
Savings every time you win
Lengthy 0% commission period
Bonus benefits for betting as normal
Cons:
Similar offers available
Hard deadline on promotional period
Existing Smarkets Free Bets and Offers
Unfortunately, there are no other sports betting bonuses available at the time of writing at Smarkets. As of now, the only promotion available is the new customer offer.
However, this does not mean that there might not be more added in the future. Check back with our Smarkets promotions page from time to time for the latest updates!
SMARKETS SIGN-UP OFFER FAQs
While creating your account, enter the promo code COMMFREE and then deposit £10 with an accepted payment method to receive 0% commission on your winnings until 2024.
Currently, the only promo code available is COMMFREE for the sign-up offer.
Yes, the promo code must be used to activate the bonus; otherwise, you will continue to be charged a commission on your returns.
There are no free bets available at Smarkets at the time of writing. Should they become available they would presumably work the same as normal bets, except you would need to select and use your free bet instead of real cash.
If you cannot claim your Smarkets welcome offer, it may be that you have an existing account or are using prohibited payment methods such as Skrill, NETELLER, PayPal, or prepaid cards. Check the terms and conditions if you are unsure; if the reason is still not clear, we recommend contacting customer service.
ThePuntersPage Final Say
The Smarkets sign-up offer is one of the most generous promotions of its kind online, allowing new customers to enjoy handsome returns by truly giving them the best deal possible.
Our only real criticism is that, at the time of writing, the offer is set to end in 2024. However, there's still plenty of time to strike while the iron's hot – and we hope to see similar promotions at Smarkets offered in the future!