Does one of the leading betting exchanges in the world live up to the same standards for their withdrawal process? Find out all you need to know about Smarkets withdrawals, including times, terms and conditions, and much more.
Smarkets Withdrawal Time Scales & Options
| | | | | |
| --- | --- | --- | --- | --- |
| | £10 | £10,000 | Instant | None |
| | £10 | £10,000 | Instant | None |
| | £10 | £10,000 | Instant | None |
| | £20 | £5,500 | Instant | None |
| | £20 | £5,000 | Instant | None |
| | £10 | £5,000 | Instant | None |
| | £10 | £10,000 | Instant | None |
| | £10 | *Not Specified | Instant | None |
| | | | | |
| --- | --- | --- | --- | --- |
| | £10 | No Max | 1-6 business days | None |
| | £10 | No Max | 1-6 business days | None |
| | £10 | No Max | 1-6 business days | None |
| | £10 | £5,500 | 1-2 business days | None |
| | £10 | No Max | 1-2 business days | None |
| | £10 | No Max | 1-2 business days | None |
| | £20 | No Max | 5-10 business days | None |
Smarkets Best Withdrawal Methods
Smarkets is a brilliant betting exchange rivalling the very best in their field, but how do they fare when it comes to withdrawals?
Pretty great, as it turns out. Aside from a few omissions, Smarkets support a well-rounded list of fast withdrawal options, giving punters a good variety to choose from.
However, they do not support cryptocurrency withdrawals or mobile payment services such as Apple Pay or Google Pay.
Instant Bank Transfer
Bank transfers but on steroids – when Smarkets say instant, they mean it!
Instant bank transfers are the quickest withdrawal method on the site and should only take up to 12 hours to process. There is a minimum and maximum withdrawal limit of £10 – £100,000; however, transactions can only be conducted in GBP.
NETELLER
The first e-wallet on the list, NETELLER is a stellar international payment service, and one which is used often for online betting. The main benefits include a much faster withdrawal processing time of 1-2 days, a £10 minimum, and no maximum limits. One thing to keep in mind is that you can only withdraw using the currency registered on your account.
PayPal
PayPal is a renowned international online payment provider. While it may not offer as expansive payment limits as some other options, the standard minimum requirement is £10, and the maximum transaction limit of £5,500 is relatively modest. Moreover, the platform processes withdrawals in a reasonable 1–2 day time frame and charges no additional fees.
Skrill
Skrill is another UK-supported e-wallet which is a fantastic choice for betting. Owned and operated by the same owners of NETELLER, it's no wonder that they offer similar services. With a swift 1–2 day withdrawal time frame, Skrill imposes no maximum limits on payouts and has a minimum withdrawal requirement of £10.
Mastercard
Mastercard is another solid choice as the secure payment provider also offers limitless withdrawals, as long as the amount is higher than £10. However, certain banks may not accept Mastercard payouts, so Smarkets will help you find an alternative if needed. The main issue is the long withdrawal processing time, which isn't ideal if you don't like to wait.
Mastercard Maestro
Rounding off the classic card options, Mastercard Maestro works in exactly the same way as the standard brand. While some types of Maestro cards may have withdrawal limits, the majority do not, save for a £10 minimum requirement. Processing times for payouts typically range between 1 and 6 days.
Visa Debit Card
Visa Debit is the go-to for many punters and is widely considered the most popular form of payment for online betting. The main benefit of using Visa at Smarkets is the £10 minimum stake, and the fact that there isn't a maximum withdrawal limit. Something that they could improve on is the slow processing time of 1 to 6 working days.
Bank Transfer
Possibly the most complicated of the lot, there are a number of criteria which you need to meet before you can actually request a bank transfer.
Firstly, there is a minimum withdrawal of £20 and it will take around 5-10 business days to process. You'll need to provide your account number and sort code, alongside a bank statement to prove your identity and your account must be validated.
Key Smarkets Payment T&Cs you Should Know About
Here are a few common terms and conditions for each payment method listed above:
There are no fees involved when withdrawing, they're all absorbed by the bookie.
Smarkets uses a closed loop policy, meaning that you have to withdraw with the same method you used to deposit.
You can use more than one payment method at a time, but you must withdraw the net deposit from the original payment methods.
If you still haven't received your money a day after the indicated time, make sure to contact the Smarkets customer service.
Know Your Customer (KYC): Before making your first withdrawal, you'll need to authorise your account by filling in the KYC requirements. This may take up to 24 hours.
Withdrawal fees and limits: Luckily, there are no fees to pay for withdrawals at Smarkets, but there are limits, including a £10 minimum, and a £100,000 maximum in some instances.
Credit card policy: It is illegal to bet using a credit card in the UK, though debit cards are still permitted.
How To Add a Payment Method on Smarkets Step by Step
When creating a new account, Smarkets will ask you to make a first deposit. Because of this, we've prepared a guide on how to add funds easily. We suggest choosing a payment method you trust and use often for your first choice.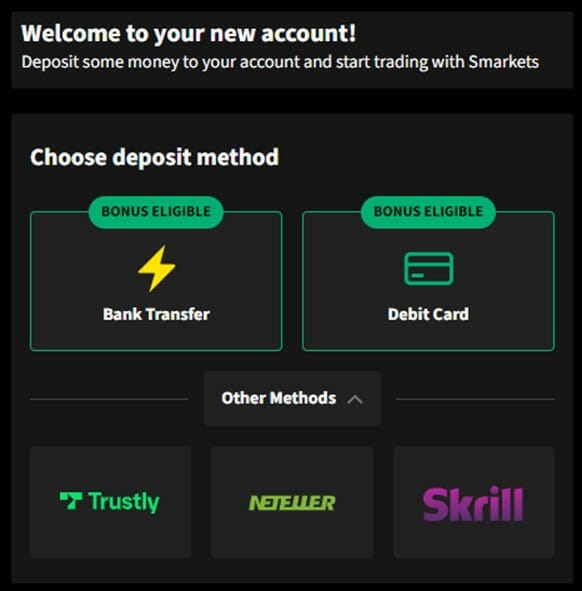 Step 1: Click on the deposit option
Select your account from the top-right of your screen. A drop-down menu will appear, from which you need to select 'Deposit'.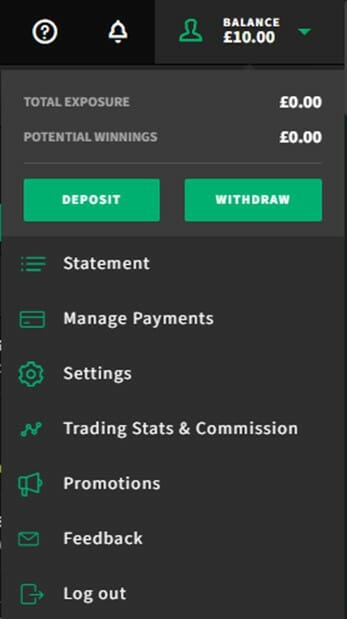 Step 2: Select your payment method.
You'll be directed to the page below, where you can choose your preferred method from the list of options available. Each method has its own limits, and you'll need to enter your personal information there.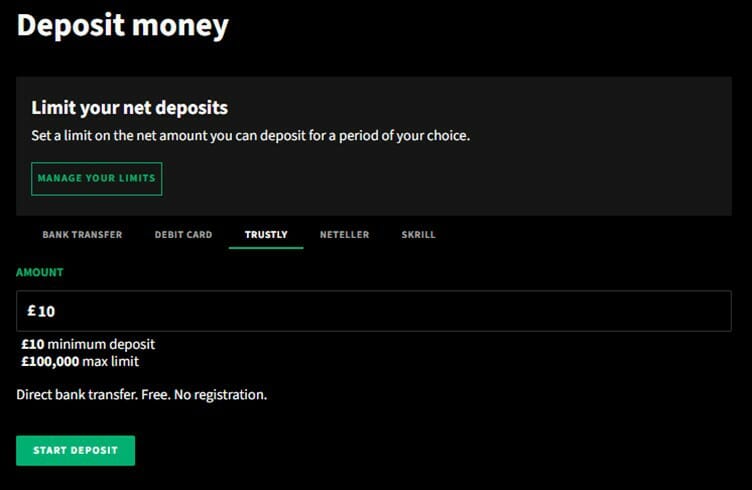 Step 3: Deposit.
Select 'Start Deposit' and your funds should be added in a few seconds. If after a couple of minutes you still haven't received anything, contact customer care on live chat or through support@smarkets.com.
How To Withdraw From Smarkets Step by Step
At Smarkets the withdrawal process is just as straightforward as making a deposit. Follow the steps below to withdraw your winnings:
Step 1: Click on the withdraw option.
Select your account from the top-right corner of the page. The dropdown menu will appear, and you can click on the 'Withdraw' button.
Step 2: Choose your withdrawal method.
You'll be redirected to the withdrawal section, where you can choose from whichever method you have deposited from.
I chose to deposit with Visa, so I had to withdraw with the same payment method due to the closed loop policy. This applies until the 'Net Deposit' amount is exceeded.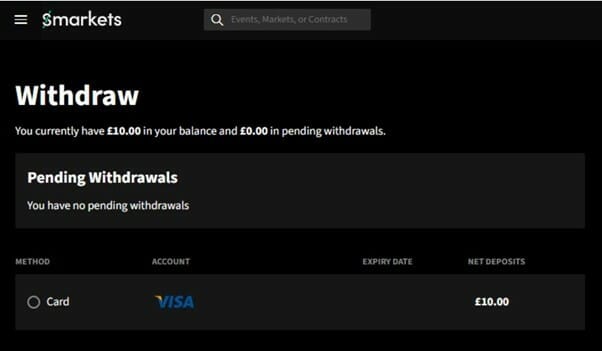 Step 3: Confirm your withdrawal.
Once you select your preferred method, a pop-up will appear where you can input the desired amount you'd like to withdraw. If there are no issues, you can select 'Confirm Withdrawal'.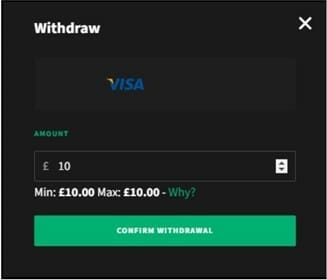 Step 4: Wait for your withdrawal to be processed.
The final step in the withdrawal process is to sit back, relax, and wait for your winnings to roll into your account.
Withdrawal times vary depending on which method you choose. If any funds haven't arrived within a day beyond the stated amount, make sure to contact customer support.
How To Verify Your Account
You cannot ever be fully registered to a bookmaker without verifying your account.
The process varies from bookie to bookie, but in general, bookmakers will ask you to confirm all the personal information you have provided by submitting copies of official documents for verification.
With Smarkets, this step occurs once you have made your first deposit.
You will see a button appear at the top-right of your screen, like the one in the image below.

You'll be taken to a rather large page asking you for quite a bit of information, making this one of the more extensive KYC requirements pages I've encountered.
You will have 72 hours to upload the documents, or else your account will be suspended. So, we suggest preparing these before making your first deposit.
The documents you'll need to verify your account are:
Proof of identity: This could either be a passport, drivers' licence, or an ID card.
Proof of address: Smarkets gives you plenty of options for this one, including a bank statement, a benefit letter, a credit card statement, a council tax statement, a building society statement (issued within the last three months) or a utility bill (also no older than three months). Any one of these documents would suffice.
Average annual salary: You must provide details regarding your occupation and your average yearly gross income.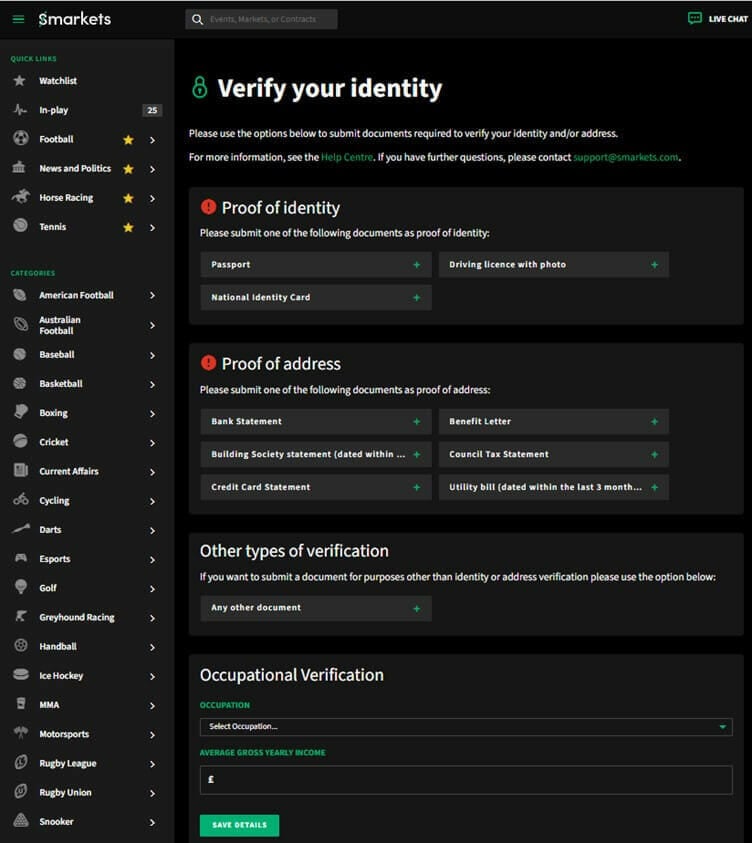 Once you have met all the requirements, Smarkets will begin verifying your documents. This may take up to 24 hours to complete.
What Could Slow Down Your Withdrawal?
You're sitting in front of your screen anxiously waiting for your funds to enter your account, but all you're seeing is tumbleweeds.
Here's what to do in order to avoid delays or lengthy waiting times.
Choose the Optimal Time To Withdraw
Picking the right time to withdraw funds could be the difference between waiting two minutes and two days. Bookmakers are often busiest at weekends and during major events, which may unfortunately slow down payouts.
Here are a few ways to combat this:
Avoid withdrawing during peak times like weekends.
Withdraw funds early on during the week.
Use e-wallets that offer weekend service.
Complete the Verification Process in Time
Smarkets needs to confirm that it's really you that's created your account, and this bookie is nothing if not thorough as they ask for a variety of documents to be able to do so.
Here are some ways to ensure this process doesn't take too long:
Provide Smarkets with the required information as soon as you register.
Prepare the documents ahead of time.
Make sure your documents are submitted within the accepted time frame.
Verify Any Updates You Make
So you've successfully verified your account – but what if you change your address, email, or any other personal details a few months or years down the line? It's not enough just to inform Smarkets of these updates; you'll have to verify them too.
In order to avoid withdrawal delays:
Provide any new documents straight away.
Inform Smarkets of any changes ahead of time.
Add any new payments methods in advance.
Optimise Large Payouts
This may not necessarily be a common problem amongst punters, but one thing that could affect withdrawal times is the size of the payout in question. The larger it is, the more careful Smarkets will be to ensure that everything is above board.
Here's how to steer clear of delays when it comes to bigger transactions:
Split funds into separate transactions
Use methods which accept larger limits.
Remove any withdrawal limits set by Smarkets.
ThePuntersPage Final Say
Smarkets is an excellent betting exchange and their withdrawals times are definitely on the faster side. One thing that keeps me at ease is their dedication and prioritisation of safety checks when it comes to withdrawals. Give the site a try today for a secure and efficient betting experience!
Smarkets Withdrawal Times FAQs
The fastest withdrawal method supported by Smarkets is instant bank transfer, which takes less than 12 hours to process payouts. There is, however, a maximum cap of £100,000. The other withdrawal methods vary in processing time ranging from one to six working days.
Withdrawal processing times vary depending on the type of payment service you choose. Card-related options take between one and six days. E-wallets take one to two days to process, and bank transfers takes five to ten days. Instant bank transfers take less than 12 hours.
The minimum amount you can withdraw on Smarkets is £10. The only payment option which has a higher limit – £20 – is bank transfer.
Yes, Smarkets have implemented the closed loop policy. You can still use multiple payment options within the same account, but you need to withdraw an amount equal to what you initially deposited from each respective payment method.
Most Smarkets options don't feature a withdrawal limit, meaning that the limit that you set across the site is implemented here. The highest limit is £100,000 through bank transfer.