Nothing beats the feeling of finally reaping your rewards after a bet comes off! However, withdrawing funds can be nerve-racking if you don't know when to expect them. In this article, we'll review Unibet withdrawal times for each payment method available, so keep reading!
Unibet Withdrawal Options & Time Scales
| | | | | |
| --- | --- | --- | --- | --- |
| | £5 | £10,000 | Instant | None |
| | £5 | £10,000 | Instant | None |
| | £5 | £10,000 | Instant | None |
| | £5 | £10,000 | Instant | None |
| | £5 | £750 | Instant | 3% |
| | None | None | Instant | None |
| | | | | |
| --- | --- | --- | --- | --- |
| | £15 | £50,000 | Few minutes to 1 working day | None |
| | £15 | £50,000 | Few minutes to 1 working day | None |
| | £10 | £10,000 | Up to 12 hours | None |
| | £10 | £10,000 | Up to 12 hours | None |
| | £5 | | Up to 3 working days | None |
| | £5 | £50,000 | Up to 24 hours | None |
| | £10 | £10,000 | A few hours | None |
| | £10 | £100,000 | Few minutes to 1 working day | None |
Unibet provides seven different payment methods and is renowned for its speedy withdrawals, all without any associated withdrawal fees. While this variety should cover most punters' needs, there are a couple of glaring omissions, such as cryptocurrencies.
Before we take a closer look at each available option, there are a few important points common to every withdrawal method.
When you come to make your withdrawal, you must use the same method with which you made your deposit.
The method you use to withdraw must be registered in your name. This also applies to deposits.
If you still haven't received your funds within the time frames stated above, make sure to contact Unibet's customer service.
These are some common practices that all legitimate bookmakers have put in place in order to prevent money laundering and protect their customers.
Visa Withdrawals
Visa cards are possibly the most common method for deposits and withdrawals. It's important to note that only debit cards are allowed, as credit cards are banned from use for online gambling in the UK.
Using Visa as your payment method comes with a notable advantage: the Unibet withdrawal times are impressively fast, ranging from just a few minute to a maximum of one business day. It also offers a high £50,000 limit, making it an attractive choice for many. Furthermore, the £15 minimum is relatively high compared to the other methods.
Mastercard Withdrawals
Similarly, Mastercard betting is also fairly common amongst punters. It offers identical features, including the £15 minimum withdrawal limit, the same withdrawal time of a few minutes up to one working day, and no fees whatsoever.
Direct Banking
If you're looking to transfer large sums, direct banking could be the best option for you. The main benefit is in fact the £100,000 withdrawal limit, complemented by the low £10 minimum.
You can even request higher amounts, but they'll be processed in increments. It's also faster compared to direct banking with other bookies as it boasts a one-business-day maximum time frame.
Apple Pay
Apple Pay betting is the fastest Unibet withdrawal method available and is an excellent choice if you have an iPhone. The processing time for payouts is literally just up to a few hours. There are no fees involved, and the £10 minimum is also favourable.
The biggest drawback is that only Apple users can take advantage of the speed.
Skrill
The first of the e-wallets available to you, Skrill, is a top international payment service and an excellent option for withdrawals. The best reasons to try out this method are its security and speedy processing time, which takes no more than 12 hours. The £10 minimum limit is an added bonus; however, the £10,000 maximum is among the lowest available.
NETELLER
The second e-wallet available, NETELLER is another well-established brand and offers the same benefits as other digital wallets. Like Skrill, there's a 12-hour maximum time frame for payouts to be processed. The least you can withdraw is £10 and the most is £10,000. Sadly, one of the biggest e-wallets around – PayPal – isn't available on Unibet.
Trustly
If you'd rather go for a bank transfer, Unibet customers can use Trustly to speed up what is normally a relatively lengthy process. Being slightly slower than e-wallets, it will take up to 24 hours to receive your funds from this payment method. There are no fees involved, but there is a withdrawal limit of between £5 and £50,000.
paysafecard
paysafecard is an interesting alternative and is a great method to withdraw securely. Since it's a prepaid card, you can avoid sharing your personal bank card details with bookmakers. paysafecard vouchers are accepted across multiple betting sites, with fee-free payouts being one of their most attractive benefits. The main issue is the relatively longer three-day processing time, making it the slowest method on the site.
How To Add a Payment Method on Unibet: A Step-by-Step Guide
Before you can even dream of withdrawing your winnings, you'll need to place some bets — and to do that, you need to make a deposit.
But how do you add a payment method in the first place? Let's go through the steps below.
Step 1: Access the Deposit Section
Unibet makes this step easy for you, as you can go straight to the deposit section by clicking on the deposit button on the top right of your screen.

Alternatively, you can click on the downwards arrow, select 'Account', and proceed from there.
Step 2: Select a Payment Method
Once you make it to the deposit section, you'll be greeted with the page depicted in the below image. All you need to do is select which method you would like to use. Remember, to make a withdrawal using a particular method, you have to make a deposit using the same method first.

Step 3 – Fill in the Details
The last step is to fill in the necessary details required according to the payment method you've chosen. Hit 'Deposit', and your funds should be added in a couple of seconds.
What is a Closed Loop Policy?
Essentially, this term refers to the fact that punters are only allowed to withdraw funds using the same method that they used to deposit. By ensuring that money goes out the same way it came in, online bookmakers can reduce the risk of fraudulent activity on their platform while complying with financial regulations set out by the relevant authorities.
How To Withdraw on Unibet
You've obtained some winnings and are ready to withdraw, but how do you go about it? We're here to help with our step-by-step guide.
Step 1: Access Your Account
Unlike deposits, there's no way to withdraw from the home screen at Unibet. You'll need to access your account by clicking on the icon on the top right, then select 'Bank', choose 'Withdraw money', and proceed from there.
Step 2: Pick Your Withdrawal Method
Since you can only withdraw using the payment method used to deposit, your options will be limited until you add more alternatives. Choose which one you'd like to use, keeping the various Unibet withdrawal times in mind.

Step 3 – Confirm Your Withdrawal
Once you've chosen your payment method, select the amount you want to withdraw, then click 'Confirm' to trigger the payout. All you have to do now is sit back and wait until the funds arrive in your account!
Top Security Features at Unibet
When it comes to money, you can never be too careful. Unibet has a number of standard safety measures in place to make sure that your details and funds remain protected. We've outlined these features for your reference below.
KYC requirements: The Know Your Customer (KYC) protocol is an integral part of the registration process at Unibet, designed to verify the accuracy of the information you've supplied. In this bookie's case, you'll need to send a photo of your driver's licence or passport. You won't be allowed to do anything else – including making withdrawals – until these documents have been approved.
The closed loop system: As mentioned, you can only withdraw using the same payments methods you've used for deposits.
Switching payment methods: In Unibet's case, you cannot have two active payment methods, so if you want to make a switch, you must withdraw all your funds first. For example, if you have £20 deposited by card and want to switch to Skrill, you must first withdraw all £20 to card before depositing with Skrill.
Unibet Community: A feature unique to this bookie, the Unibet Community features support and advice from other punters and Unibet themselves. These internal forums could be extremely useful for getting accurate information.
Credit card policy: In the UK, it is illegal to deposit or withdraw funds using a credit card. This has been in effect since April 2020 to prevent problematic gambling and protect vulnerable customers from financial harm.
How To Verify Your Account
After registering at Unibet, you're going to have to verify that the information you filled in is legitimate. This is fairly straightforward, and while it may vary slightly from bookie to bookie, most do their best to make it a stress-free process.
Unibet's verification process only asks you for a valid identification document — namely your driver's licence or passport. Keep in mind that it may take up to 48 to verify your account. However, we're happy to report that when we tried things out ourselves, we received the below notification confirming our approval sooner than the stated time frame.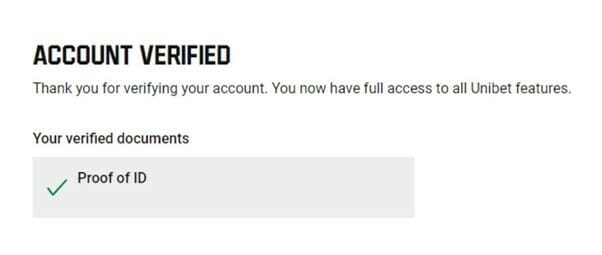 What Could Slow Down Your Unibet Withdrawals?
Many of us feel the need to begin checking to see whether our funds have arrived the second that 'Withdraw' button is hit — but have patience! In most cases, your payout will be completed well within the stated time frame of your chosen payment method.
However, there are circumstances when this isn't the case. Here are a few reasons why this could happen and how you could avoid them.
Get the Timing Right
Making withdrawals when the site is at its busiest could mean that your request won't be looked at straight away, and this may lead to longer waiting times. This is mostly the case during weekends or during major sporting events. Here are a few tips to avoid this:
Make withdrawals early on during the week.
Make sure that your payment provider operates on weekdays and holidays.
Use online payment methods such as e-wallets Skrill and NETELLER if necessary.
Check for Any Identification and Processing Issues
Although Unibet's verification process is supposed to take no longer than 48 hours, delays can sometimes occur. To prevent this from happening, make sure that you stick to the following checklist:
Fill in all your details correctly while completing the registration form.
Inform Unibet of any changes in your personal information as soon as possible (more on this below).
Provide any identification documents right away. Make sure that any scans you send are of good quality and that important information is not blurred out.
Update Any Changes in Your Personal Information
Changes to your personal or financial information are a part of life. You may have moved to a new address, or a card might expire. If this info is not up to date, you may run into a few delays until you've sorted them out. We suggest keeping these tips in mind:
Inform Unibet of any changes to your personal information by sending the necessary documents. If unsure, contact customer service.
If possible, provide Unibet with any documents ahead of these changes actually taking place.
If you want to change payment methods, add the details to your account in advance.
Plan Large Transactions Carefully
Depending on the types and amounts of bets you place, you may find yourself wanting to withdraw larger sums at one go. However, each payment method offers different limits, and coming close to or reaching that limit could slow down the process from Unibet's end. Here are ways to combat this:
Select payment methods with high limits.
Withdraw funds in increments.
Set a higher withdrawal limit for yourself.
ThePuntersPage Final Say
Unibet withdrawal times are some of the fastest around, making it an ideal bookmaker if you prioritise swift access to your winnings!
If you're thinking about signing up, make sure to keep this page bookmarked so our tips remain close at hand while creating your new account. And, whatever you do, always remember to bet responsibly!
Unibet Withdrawal Times FAQs
The fastest method to withdraw from Unibet is Apple Pay, which should only take a few hours. Alternatively, all the e-wallets take up to 12 hours to process.
The withdrawal speed at Unibet is superbly fast for most payment methods supported by the bookmaker. In order to view expected time frames for withdrawal requests across different options, please refer to our table above.
This varies depending on your payment provider, with Trustly and paysafecard offering the lowest minimum at £5.
Yes, Unibet operates under a closed loop policy, meaning that whatever winnings you generate must go back to the same source as your initial deposit.
The maximum amount is different for each payment method, and you can even set a limit for yourself. Having said that, the default maximum is through Direct Banking, which is £100,000.