Parimatch is among the leading bookmakers, offering a selection of markets on a wide array of sports, fantastic odds, as well as a number of excellent promotions. In this article, we will detail the Parimatch withdrawal times and break down exactly how to withdraw your funds.
Parimatch Withdrawal Time Scales & Options
| | | | | |
| --- | --- | --- | --- | --- |
| | £5 | £30,000 | Instant | None |
| | £5 | £30,000 | Instant | None |
| | £10 | £5,500 | Instant | None |
| | | | | |
| --- | --- | --- | --- | --- |
| | £5 | £30,000 | 30 minutes | None |
| | £5 | £30,000 | 30 minutes | None |
| | £10 | £5,500 | Up to 24 hours | None |
| | £10 | £2,500 | Up to 24 hours | None |
Parimatch accepts a wide range of payment options, but it's worth noting that UK customers can't use credit cards any longer due to a change in legislation. However, the remaining options still offer highly reasonable processing times with no added fees from the operator, though you may still incur charges from the payment provider.
All in all, this makes Parimatch among the fairest bookmakers in the UK when it comes to banking options available, not to mention one of the fastest for withdrawals.
Betting with a Visa debit card is much like shopping on the internet. The payment is made almost immediately, then your funds are available and within 30 minutes of withdrawing them they will be back in your bank account. If you have a Visa debit card, then you can use it to deposit and withdraw into your Parimatch betting account. However, as we mentioned above, UK residents will not be able to use a Visa credit card.
Mastercard is similar to Visa in that credit cards issued by the former provider cannot be used in the UK; however, debit cards can be.

To withdraw funds, your account must have a minimum balance of £5. Withdrawals are processed within 30 minutes of the request, and are subject to a limit of £30,000.
If you would rather use an e-wallet to fund your account, then Parimatch allows you you do that via PayPal.

There are slight differences between PayPal and using a card, though. PayPal withdrawals have a minimum of £10 and a maximum of £5,500 at any one time (unlike £5 for debit cards).
On the other hand, while withdrawals are usually instant to PayPal, it may take up to 24 hours for the funds to reach your account, as this is the time needed to manually approve your transfer.
Faster Bank Transfer thanks to FastFunds!
Parimatch offers an instant bank transfer service via FastFunds. In order for you to be able to use this option, your bank must have the FastFunds option. This enables almost immediate bank transfers, which should go as fast as PayPal.
You can withdraw up to £2,500 via this method. Of course, things could be slowed down by up to 24 hours should there be any need for compliance or security checks.
Step by Step Guide – How To Add a Payment Method on Parimatch
In order to add a new payment method, you simply need to make a new deposit. One account can use multiple deposit options.
Click the 'Deposit' button.

Select one of the available deposit options
If you are using that payment method for the first time, you will need to set up all of the details — whether that is inserting the card number or the email address for the e-wallet you wish to use. Once you have used it, the details will be saved for the next time you wish to deposit.
It is also important to note that you may need to add a payment method to participate in Parimatch promotions.
Step by Step – How To Withdraw From Parimatch
Withdrawing from Parimatch is very similar to depositing. Once you have decided how much to withdraw, follow the steps below:
Step 1: Head to 'My Account'
Step 2: Click the 'Withdrawal button.
Step 3: Enter the amount you want to withdraw.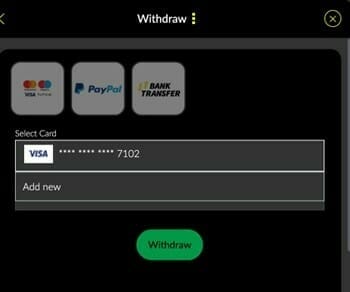 Step 4: Select one of the available options and confirm.
Keep in mind that bookmakers usually only let you withdraw to the same payment method you used to add funds to your account, which means you might not see all options here. In most cases, you will see just one.
Key Parimatch Withdrawal Terms
Before making a withdrawal from Parimatch, there are a number of key terms and conditions to be aware of. Let's take a look:
72-Hour Rule
Parimatch has a two-way rule when it comes to withdrawals. The first part of the policy concerns processing times, which have been outlined in our table above.
The second part involves Parimatch's team members themselves, who are effectively given 72 hours to conduct thorough safety checks. This ensures that all security measures are upheld throughout the entire transaction process.
Identification Verification Policy
All legitimate online bookmakers have to adhere to strict laws regarding identification to prevent fraud, money laundering, and underage from gambling.
As part of this process, Parimatch may need to confirm your identity using ID documents such as a passport or driving licence. It may also need to confirm your address using utility bills. Sometimes, copies of recent bank statements are required to prove that you own a certain payment method.
See our step-by-step guide on how to verify below.
Same Deposit/Withdrawal Policy
It is generally accepted that players will withdraw funds with the same payment method as the one which they deposited with wherever possible. Parimatch also uses that policy. Governing bodies do not like to see that bookmakers are used to transfer money between various accounts as it is considered suspicious.
Basically, if you have deposited by debit card, your withdrawal should be to that same card or the associated bank account. If you deposited by PayPal, you can withdraw back to the same PayPal account.
Fees/Minimum Withdrawal Policy
One of the many benefits of Parimatch is that this bookmaker does not charge fees on any of your withdrawals. There is, however, a minimum amount that you need in your account before you can request a withdrawal. Depending on your payment method, this amount is either £5 or £10, as detailed in the table above.
Maximum Withdrawal Policy
While Parimatch does have a maximum withdrawal limit, most punters never exceed it because of how high it is. This is detailed in the above table as well, with the maximum being between £2,500 and £5,500 depending on the method used.
How To Verify on Parimatch
Having a verified account will greatly speed up your withdrawal times, and it is a necessity in order to withdraw at all. Follow these steps to get your account verified:
Navigate to the 'Personal Data' tab.

Click on 'Account Verification'.

Upload an ID document (such as ID card, driving licence or passport).

Upload a clear photo of yourself holding your ID document card next to your face.
As soon as the security team checks your documents manually, your account should be verified. This should not take more than 24 hours.
What Could Slow Down Your Parimatch Withdrawal?
While most withdrawals are processed without any issues, there are occasions when things can take longer than expected. Here we highlight the main reasons why that could be the case.
Verification
The first issue could be to do with the site's verification process. If you have not been successfully identified by Parimatch, then any withdrawal you have requested will be delayed.
In addition to this, there may be issues with the documents you have submitted, which could slow down the process — particularly if Parimatch require more information from you.
A Change in Bank Details
Changing your banking information would require further security checks to be carried out, possibly extending the transaction period.
Withdrawing at the Weekends
You might need to wait a little longer for a withdrawal request to be processed at the weekend as certain banks do not operate on Saturdays or Sundays. Therefore, a withdrawal late Friday night might be a bit slower than a withdrawal on Monday afternoon.
Large Withdrawals
Safety is paramount when it comes to banking, and so unusually large withdrawals could be flagged by Parimatch's system, triggering additional checks on their end. While this might be frustrating, this is all done to ensure your safety.
FAQs
The fastest method of withdrawal is a debit card issued by either a Visa or Mastercard. Your funds should appear in your account within 30 minutes of the request.
Depending on which payment method you use, Parimatch will pay out your funds between 30 minutes and up to 24 hours. If you use or Mastercard, you should receive your transaction in 30 minutes; however, if you opt for PayPal or bank transfer, it can take up to 24 hours.
Depending on the payment method, the minimum amount you can withdraw is either £5 or £10.
Yes. This means that as a general rule, you need to withdraw to the same payment method you used for deposits.
You can withdraw up to £30,000 via Visa or Mastercard.
TPP Final Say
When it comes to withdrawing money, Parimatch is very much a positive for customers. While they only offer a select number of payment methods, they do not charge for withdrawals, and the time the money takes to reach your account is usually very quick.
With so much else to like about this bookie, this is definitely a brand you should try out for a fantastic betting experience.