Sometimes it is smart to bet against yourself! Hedge betting opportunities can be hard to find, however, once you understand the concept, you will be applying it to many of your outrights, multiples and live bets. In this article, we will discuss when to hedge your bets and how to calculate your hedging stakes.
Looking to workout out your Hedge Betting? Then try our own online Hedging Calculator! It is very easy and quick to use.
Best Betting Sites for Hedging Your Bets
0% Commission on all sports for 90 days for new players
2% Commission on net profits for UK & ROI Customers
Multiples, cash out & streaming on sportsbook
0% Commission for 90 days
Only 2% commission on exchange bets
Get a £20 cash refund on losses
Statistical indicators, and a dedicated "Blog" section
Trade with 0% commission for 60 days
Use code COMMFREE to trade with 0% commission for 60 days. Min. £10/€10 first deposit using Debit Card or Instant Banking. Full T&C's apply.18+. BeGambleAware.org.
Full T&Cs apply
. 18+ BeGambleAware.org #ad .
0% Commission on all sports for 100 days
A wide range of welcome offers
A Sportsbook, Exchange, and Casino
0% Commission on all sports for 100 days!
New 18+ Customers only. 0% commission on all exchange sports for 100 days. Promo code 0COMM100 must be entered during registration. Offer only available to users who deposit via debit card. Standard 2% commission rate applies on 101st day. Not available to API, RDT or trading software customers.
T&Cs Apply
. BeGambleAware.org #ad
What is Hedging?
Hedge betting means placing bets on different outcomes on a single sporting event, which will help you minimise losses or even guarantee profit, regardless of the outcome. It usually involves capitalising on movement in odds for bets you have already placed.
There are multiple hedging strategies which can guarantee profit. Usually, these opportunities will not present themselves naturally. It takes a sharp mind and a fast response to deal with changing odds on various markets.
Hedge Betting Versus Arbitrage Betting
While arbitrage betting also involves wagering on multiple outcomes, arbitrage refers to betting on two outcomes for the same event at the same time. This is usually done by comparing odds at different bookies that have opposite favourites.
Hedging usually involves taking advantage of movement in odds. If you see odds changing drastically for a bet you have already placed, you can consider betting against yourself in order to compensate for any loss, or to make sure you make a profit regardless.
Hedge Calculator
How To Use The Punters Page Hedging Calculator
Insert the odds you will back/lay
Insert the total stake you want to back/lay
Insert the commission % you will paying.
Your net profit/loss for both your back/lay bets will then be calculated automatically.
Should you wish to use the Hedging Calculator for a new calculation, simply tap the RESET button in green.
Hedging Bets at Betting Exchanges
Betting exchanges like Betfair Exchange, Smarkets, or Betdaq are the best sites which enable you to take advantage of hedging opportunities. This is for two reasons:
They allow you to back or lay any type of bet. While most bookies only let you bet on 2 or 3 outcomes, you can bet against a specific outcome by placing a lay bet. This allows you to bet directly against yourself.

You have no chance of being gubbed, since you are betting for other players' money. While regular bookies may frown upon smart betting strategies such as hedging, exchanges have no issue with them, as they charge a 2% commission on exchange bets.
Lay Odds
Lay odds can be tricky. While back odds work the same way as regular odds, lay odds come with liability, meaning you can potentially lose more than you bet.
Lay bets mean betting on something not to happen. If you place a lay bet for a team to win, you are betting that the team will not win, meaning you are betting on a draw or the other team to win.
Betfair Exchange Lay Odds: Example
Let us use a lay bet at odds of 2.0 (1/1) for £100 with 2% commission at Betfair Exchange as an example.
If you win the bet, you will win £98 for your £100 stake. However, if you lose your bet, you will lose £100, plus £100 liability, adding up to £200.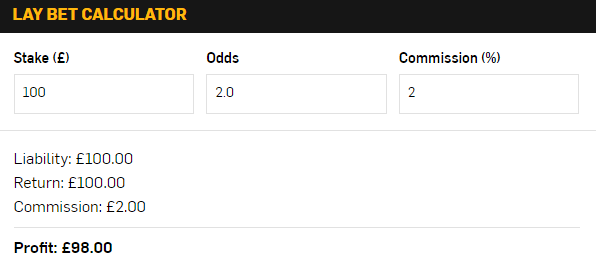 Hedging Betting Strategy
There are plenty of ways you can take advantage of movements in odds. Here are a few of the main strategies for hedging bets.
Outright market hedging
An outright market lets you bet on who the final winner of a tournament or competition will be. For example, you can bet on the Champions League winner, the Premier League winner, the top goal scorer, who will win Wimbledon and so on.
Usually odds start very high, even for favourites, but gradually get lower as the competition progresses. For example, a team with odds 10/1 as outright winner might have odds 3/1 or lower as the season progresses. As odds for a certain win get lower, odds for that win not to happen get higher. You can take advantage of this by laying the bet or placing an opposite bet.
Example
Early on in a hypothetical Premier League season, most bookies are offering odds 2/1 (3.00) as for Manchester United to win the league. You feel confident in your bet and put down a bet of £100. You see good value in this, as the team has a good squad and you want to take advantage of the odds while they are still high.
If Manchester United wins the league, you stand to win £300, with a profit of £200.
However, as the season progresses, you see that Liverpool is also doing well and is only a few points behind. Although you are confident Manchester United still has a good chance, you want to guarantee profit. While you could sit back and watch the rest of the season nervously, you could also hedge your bet.
This is where betting exchanges come in handy. By choosing lay odds (betting for something not to happen), you can insure yourself against loss. At the time of writing this article, Betfair is offering 1/4 (1.25) odds for Manchester to win, meaning you can place a lay bet on these odds. If you bet £100 on Manchester United not to win, you will effectively ensure yourself against any possible loss: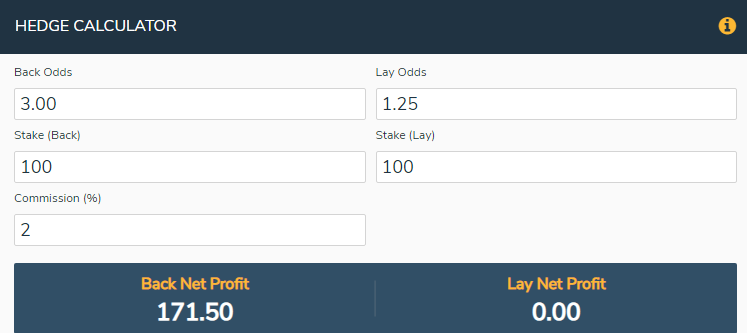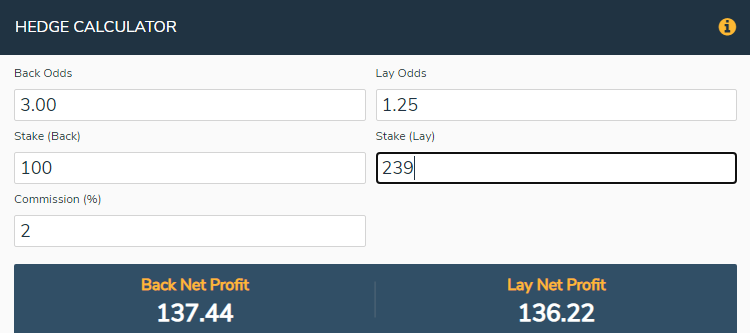 An even better approach is to guarantee profit. Any bet over £80 (the minimum bet at 1.25 to cover your potential loss) and below £300 (your potential payout if you win) will ensure you make a profit.
An optimal bet would be at £236.80, ensuring that you get a profit of 136.80, regardless of the outcome.
Of course, this is a hypothetical example. To find a real example, you will need to pay close attention to changing odds.
In-Play Hedging
In-play hedging works just the same way as outright hedging. The only difference is that you will have to be very sharp, watching the odds as they progress during a game.
Football Example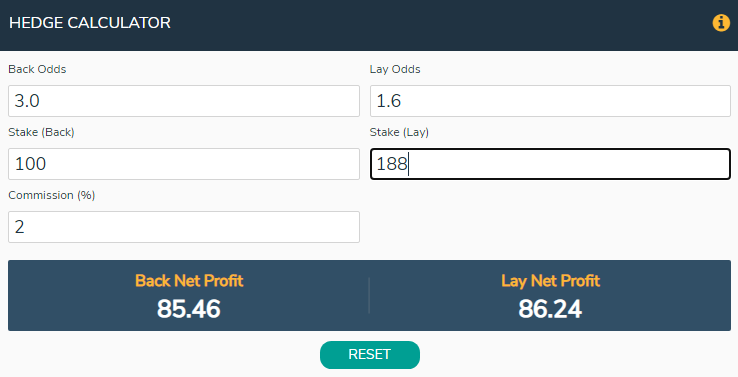 You placed a pre-match bet on team A to win at 2/1 (3.0). Your team is doing well. After 70 minutes, the score is 1 – 0 to team A. The odds are going down for Team A to win, and are now only at 3/5 (1.6).
You can hope for your team to win, or place a lay bet on Team A to win (which is essentially betting on them not to win). By betting £188, you are assuring yourself £86 regardless of the outcome!
Hedging Parlays
Parlays can be a very good way to build your bankroll fast. However, the more selections on your bet slip, the more chances you have for something to go wrong. One common way to ensure profit is to ensure your last bet if your first selections are correct. For this type of hedging, any bookie or exchange will do.
MMA Betting Example
At the Betfair sportsbook, you place an MMA Treble on 3 fighters: Overeem, Rosa, and Pereira. You bet £100 at combined odds of 4.53, meaning you can win up £353 if your bets are all correct. As the night of fights progresses, Rosa and Pereira both win their fights.
You could sit and wait for the Overeem – Sakai fight, or you could place a bet on Sakai as well to ensure profit. Sakai is the underdog at 2.4.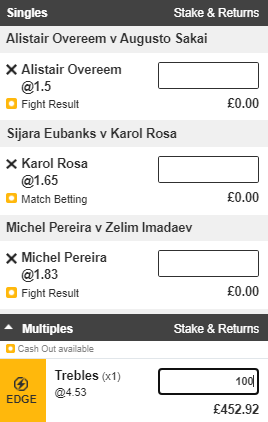 Using our Arbitrage calculator, you bet £188.75 on Sakai. (In this instance, we are not using an exchange, so no laying odds).
Now, if Overeem wins, you get the total treble paid out at £452.92, total stake 188.75, with guaranteed a profit of £164.75.
If Sakai wins, you get the same payout of £452.92, total stake 388.75, with a guaranteed profit of £164.75.
Of course, this betting strategy will reduce your potential profit, but since it guarantees profit anyway, it is the smarter one.
Hedging your losses
This is a more basic hedging strategy, and usually does not involve guaranteed profit or even breaking even. If you feel you have made the wrong bet, you can simply bet against yourself. If odds are not showing any movement beneficial to the opposite outcome, you can place a bet on the opposite outcome.
Some bookies do not allow you to cash in your bets, so this can be a smart way to minimise losses on a bad bet.
This strategy does not come with guaranteed profit, though there is no reason you cannot place a larger bet than your original one.
Matched Betting
Matched betting is a way to cover all potential outcomes and still make a profit by taking advantage of welcome bonuses, free bets or other promos. All you need to do is place an opposite bet at another bookie.
Free bet example
Bookmaker A offers a £20 free bet.
You use the free bet on outcome A of an event, for example, Manchester United to win. You place it at your regular bookie.
You now head to an exchange betting site and place a lay bet on Manchester United to win.
Since you have nothing to lose on the free bet, and the winnings from it can cover any potential loss on your lay bet, you can expect a guaranteed profit.
This strategy can make you some cash, but usually not that much, since bookies welcome offers are £20 or less.
Hedging FAQs
Hedge betting means betting against yourself. By using movements in betting prices for the same event, you can protect yourself from losses or ensure profit. You do this by placing a bet on the opposite outcome if odds for your bet have gone down considerably.
If you do it the right way, hedging is a valid strategy which can create a sure profit. Of course, you can usually only hedge your bet if you see odds move after your bet is placed.
While hedging is a smart strategy for punters, bookies always hedge bets to try to ensure they will have a profit regardless of the outcome. They do this by moving the betting lines depending on how much money comes in on each side. They also have an average 2% edge.
Hedging is a similar strategy to Arbing. However, there are key differences: Hedging uses movement of odds to bet against yourself to guarantee a profit. Arbing is taking advantage of discrepancies between different bookies to bet on opposite outcomes of an event.
Hedging is a bad idea if there is no movement or difference between the odds. If the odds do not change, it will be almost impossible to make a guaranteed profit by hedging.
Hedging bets can help you make a profit, though it is hard to guarantee this since you do not know beforehand if or when odds will move.
Absolutely not. As long as betting is legal in your country, you can place as many hedged bets as you please. However, we recommend you do not place your hedge bets on the same site as you placed your original bets, as this may be frowned upon by bookies and could get your account limited. Exchanges are the way to go, though the amount you can bet depends on how much other people are betting.
ThePuntersPage Final Say
'Hedging your bets' is a common phrase, used in many different contexts. However, in terms of betting, it means betting against yourself to ensure profit. If odds for your outcome have moved drastically downwards, you can consider placing a lay bet (backing the opposite outcome) on your bet, or placing a regular wager on the opposite outcome. If the odds are right and your second bet is the right size relative to the first, you will have a guaranteed profit!