Sports betting is a tale as old as certain sports themselves, adding extra excitement and suspense to everything. With the right betting strategy, you stand a higher chance of beating the bookies in the long run. In this article, we will discuss sport betting strategies that actually work. Read on to learn more!
The Basics of Betting Strategy
There are a few forms of gambling that can lead to long-term profits, such as poker and sports betting. Still, it can be hard to land consistent wins. This is because most bookies have a house advantage of at least 2%-3%, and it takes a lot of focus and self-discipline to become a professional punter. In fact, betting pros only win about 55% of their bets.
Still, with enough patience and the right betting strategy, you should be able to beat the bookies in the long run.
While there are many betting strategies you can use, there are two central concepts that are present in almost every one of them: the concept of value and the importance of sound bankroll management.
Value Betting
Every set of odds a bookie offers comes with an implied probability, reflecting how likely an outcome is expected to occur. This could be a win, loss, or draw for a football team, the winner of a boxing match, or the final score of a hockey match. For example, odds of 3/4 or 1.75 have an implied probability of 57.1%.
It is up to you to judge if those odds are correct. If you see an event more or less likely that the bookies do, you have perhaps found a value bet. If you can consistently detect value bets, you will eventually win more money than you lose. Check out our detailed guide to value betting here.
Bankroll management
Bankroll management is the most important factor in not going broke. Even if you place bets on what you perceive to be value bets, there is still a chance for you to lose your entire budget. A common strategy is to divide your bankroll in units of 1%-3% of the total, and never bet more than that. This helps you diversify your risk while improving your handicap skills.
Being careful with your money is the most important thing. While betting can be a lot of fun, making sure you can afford your hobby is key to ensuring that it doesn't become a problem over time. Placing some money aside to bet is surely a better option than gambling away your pay cheque.
All the best bookies will offer some form of responsible gambling tools to help you out if you need support. These usually include features like deposit and/or loss limits, time outs, session limits, and more.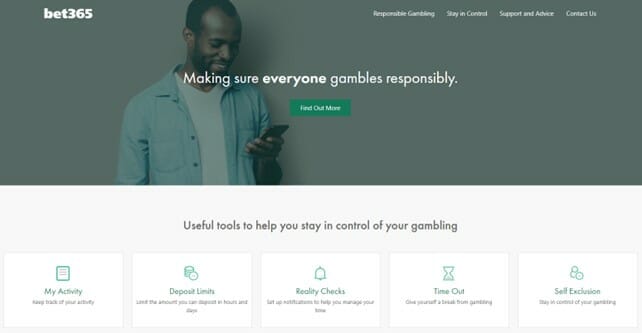 Patience in Betting
With so many sporting events and even more betting markets to choose from, punters are treated to an enormous variety of options online. However, just because there's lots to choose from, it doesn't mean you should go overboard. Waiting for the right bet could make all the difference.

Being patient when betting is, therefore, not only the safest betting strategy, but also a great skill which will help you find more value in betting. Much of it involves waiting for the right odds or markets, which can be a brilliant way of increasing your chances of winning.
Return of Investment (ROI)
The most basic concept in any type of investment (including sports betting) is Return on Investment or Yield. Moreover, investment is exactly how you should look at betting as a whole. Your bankroll is your initial investment, so you need to make sure you can capitalise on it.
Kelly Criterion
Some punters and investors swear by the Kelly Criterion. This formula tells you how much to bet, depending on your perception of value.
Take a look at our online Kelly Criterion Calculator to get a feeling of what this strategy is all about. Somewhat aggressive when applied to sports betting – since it can see you betting a huge percentage of your bankroll on a single bet – it is more common in investment and financial betting. Still, it does force you to consider and estimate the value of your bet in much more detail.
Gambler's Fallacy
Anyone new to sports betting needs to look out for the gambler's fallacy. Essentially, you need to know that each bet (at least in 'pure' forms of gambling, such as roulette or blackjack) is independent from the next. For example, if a ball falls on black in a number of roulette rounds in a row, it does not mean that the ball landing on red on the next round will be more likely. The opposite is also true: a ball landing many times in a row on black does not make landing on black in the next spin more likely.
Best Bookmakers We Recommend for Smart Betting results
Better odds for a better profit
Offer a specific football stats centre
Bet £10 get £30 (credited as 2 x £15 bets)
18+. New customers using Promo code R30 only. Min £10 stake, min odds ½, free bets paid as 3x £10, free bets credited after settlement of first qualifying bet, free bets will expire 30 days after the qualifying bet is placed, payment methods/player/country restrictions apply.
Full T&Cs apply
. BeGambleAware.org #ad
Previous team form available on match centre for specific matches
Terrific results section on site
Live stat updated for in-play football matches
18+. Min deposit requirement. Free Bets are paid as Bet Credits and are available for use upon settlement of qualifying bets. Min odds, bet and payment method exclusions apply. Returns exclude Bet Credits stake. Time limits and
T&Cs apply
. BeGambleAware.org #ad
Great football stats centre
Over 30 sports available
Well-known UK bookmakers with thousands of users
Bet £5 Get £20 in Free Bets
18+ New UK+IRE Customers only. Certain deposit methods & bet types excl. Min first 5 bet within 14 days of account reg at min odds 1/2 = 4x 5 free bets. Free bets valid for 7 days, stake not returned. No cashout, restrictions +
Full T&Cs apply
. BeGambleAware.org #ad
Common Betting Strategies
With the above in mind, let us discuss some of the most common betting strategies. Of course, not all are as relevant or even smart. We will discuss each briefly, while linking to more comprehensive articles on the subject whenever possible. If you're thinking, 'How can I beat the bookies?' the below could be the best way to do so.
Chasing Steam
Chasing steam is a valid betting strategy – one that has been proven to work, too. Steam is a term that describes significant movements in the betting market. If you see odds moving significantly, that is often because serious punters, such as betting syndicates of professional gamblers, are wagering on one side. Since their bets can represent a huge chunk of cash, their bets make the bookies change their odds in order to have to pay out less.
The idea is that these major gamblers have a good idea of what the likely outcome will be. It is up to you to copy them. To use this strategy, you need to monitor all odds on various sites for your preferred sport or league. When you see odds changing dramatically on several sites, go for the site that has not changed its odds yet. That will give you a way to follow the educated betting public while still getting a better value bet.
A case in point would be the World Cup 2022 in Qatar, which saw Argentina go from a team with an outside chance and odds of around 10/1 in autumn to one of the favourites, with a price increase of 6/1 just before the tournament began. This was seemingly due to hype alone, but punters who chased the steam were bang on the money.
Fading the Public
Fading the public is the exact opposite of chasing steam. Instead of following your betting peers, you are actually betting against them. In this case, when you see lines and odds moving sharply, you bet against the trend.
Here, the idea is that the public is actually wrong. This strategy works best in highly publicised events or major competitions. While lines are often moved by educated punters, they can just as well be moved by casuals, i.e. ignorant bettors, the bookies' cash cows.
It can be hard to know when to follow the public, but in general, the latter looks for hyped events and hyped athletes to bet on. People are more likely to bet on the team or athlete they know and love than to bet on unknown athletes or smaller teams. Of course, athletes become famous from past achievements; however, these former successes do not always reflect current form.
For example, a famous tennis player comes back after an injury and is matched up with an up-and-coming talent. Many casuals will bet on the famous player for name value alone, without looking at the other player's talent, record, or win streak.
Backing Heavy Favourites
Backing heavy favourites is one of the most basic sports betting strategies. It essentially requires no real skill. Favourites are favourites for a reason. In some sports, such as tennis or boxing, favourites have ridiculously high odds of winning.
In this strategy, you need a large bankroll in order to make any money from your bet, since you may only make 5%-10% profit from each wager. This strategy may seem solid, but still comes with a lot of risk. Even though the odds of losing are small, it can be hard to win your money back when you lose. The margins can be so small, that favourite betting might not even be worth it.
Remember that bookies try to minimise losses, and since so many people bet on the favourite, the odds are often unrealistically low.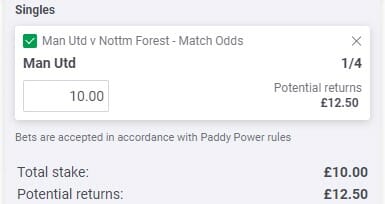 Betting Based on Winning Streaks
Form and momentum are very important factors in determining odds. If a team has won seven games in a row, there is a high probability that they will win the eighth. Still, every team has to lose eventually, so sometimes betting on the underdog can be the smarter bet, especially if the odds are overly inflated.
All good things must come to an end – just ask Argentina, who, after enjoying an unbelievable run of 36 unbeaten matches, winning the Copa America in the process, went on to lose 2-1 to Saudi Arabia in their opening match of the 2022 World Cup.
Using Accumulators and System Bets
An accumulator involves combining multiple selections on a single bet slip. The odd of each individual wager are multiplied as a result, creating some great potential value.
On a similar note, you may be tempted to create some slightly more complicated bets which could increase your odds without increasing the overall risk factor – this may be in the form of a system bet.
A system bet gives punters a chance to make some money even if you don't get every single selection correct. To ensure that your system bet makes sense and is viable, check out our dedicated bet calculator page.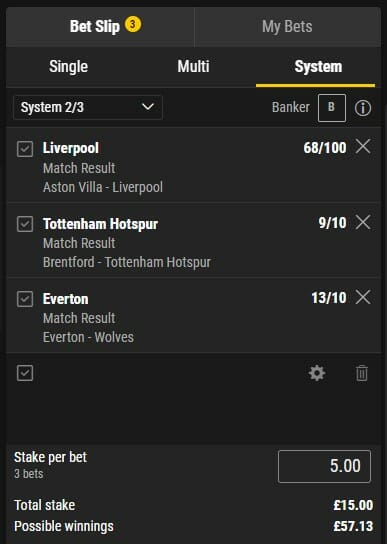 Long-Term Betting Strategies
The below long-term betting strategies we have listed differ from the previous methods due to one main factor: patience.
In the short term, you may find that the following scenarios may be scarce; but over a longer period of time, you will see more and more of these opportunities to exploit and find value, leading to, hopefully, more profits in the long run.
Looking for Outliers
This is a very common-sense betting strategy. Outliers are odds that go against the trend. In order to find the best value, you simply look for the best odds for your bet. This involves comparing different bookies, so it is best to have multiple accounts across various betting sites.
The idea of finding the best odds for your bet is simple, but it can be a full betting strategy. Some punters have a strategy of consistently betting on outliers, regardless of the event and their knowledge of it. The reasoning behind this is that the market is usually right. Odds tend to follow the money, which in turn usually comes from smart and professional punters. By finding outliers, you can consistently find value bets.
Being patient is key in looking for outliers, as doing so may take both time and research. Doing your homework is more likely to pay off and will always be better than betting blindly without having done your due diligence beforehand.
The point of arbitrage betting or arbing (sometimes called sure bets or miracle bets) is a rather strange and uncommon method of betting. This type of bet requires you to bet on both outcomes of an event, in order to guarantee a profit. The best way to do this is to find bookies offering opposite odds on an event. By betting on both sides, you can win regardless of the outcome.This sounds too good to be true, and it usually is. Most bookie's odds are updated regularly, so it can be hard to find arbing opportunities. You will have to be very fast when you find one.
Hedge Betting
Hedge betting is similar to arbitrage betting, since you are betting against yourself. This can help you in various situations. Usually it involves taking advantage of movement in odds for bets you have already placed (for example, in outright betting). Another example is with multiples. If you have an acca with only one leg left and you have won the previous legs, you can place a lay bet (or opposite bet) for the last outcome in order to guarantee a profit.
Dutching
Dutching has multiple meanings, and is sometimes used as an umbrella term for any set of bets that are guaranteed to give you a profit, if you win at least one of them. This includes hedge betting and arbitrage betting.
The term is also specific to horse racing, where you bet on more than one horse in a race or tournament. As long as at least one of your horses wins or places, you will gain a profit.
Dutching also involves adjusting your bet size, so you win the same amount, no matter the outcome. You can make use of our Dutching Calculator to get more insight on that strategy.
Hutching
Hutching is similar to Dutching. However, instead of balancing your bets, you lean towards the outcome you think is most likely. Thus, you will win more depending on which of your bets you win.
Statistical Methods of Betting Strategy
These methods of making betting decisions are vital to any punter who wants to go the extra mile ensuring that they are indeed getting the most out of their hard-earned cash.
There are many ways to do so, with the simplest being actually looking up statistics of previous games to see what exactly is going on during a game of football. ThePuntersPage has got you covered with a vast array of football statistical data which are a vital tool for any football punter. Check out our football stats centre for more. Remember, five minutes of quality research could be a winning factor.
Betting Software
There are various kinds of betting software that you can use to become a better punter, such as software solutions that help you identify value bets and arbing opportunities, as well as tools that help you see your overall betting record. While there are plenty of paid options for the last part, a simple Excel file can be a good start to help you keep track of your betting record.
Using Statistical Models
Gathering statistics and calculating probabilities based on them is the task of any serious bettor. While you could simply trust your gut, having actual maths to back up your claim is the more profitable strategy in the long term. Two of the most commonly used models are Normal Distribution and Poisson Distribution.
Standard Deviation, Variance and Normal distribution
One of the most important ways of predicting what an outcome will be is normal distribution. Sports results, such as number of goals scored in a game (i.e. over 2.5 goals betting), fall into a pattern of likelihood which can be represented in a Bell Curve, the top of the curve being the most likely outcome. By calculating standard deviation and variance, you can see how likely and by how much results differ from the mean.
Poisson distribution is another way of predicting the likelihood of a game score and outcome. By using data based on a team's past performances, comparing those performances to the other team's data as well as league averages, you can calculate the probability of any specific score, as well as win or loss for each team.
Elo Ratings or Other Rating Systems
While a team's standing in its respective league is an important indication, there can be many alternate and perhaps more accurate ways to express a team or athlete's relative strength. How good is a player compared to his peers? Many leagues have an official ranking system, though anyone can create their own.
Chess uses the Elo Ratings System to create rankings based on the quality of opponents beat in official competition. The idea is that beating a stronger opponent will give you more points than beating a weaker opponent. A similar system was adopted by FIFA in 2018 to rank different countries in order to seed them for the 2020 World Cup.
You are free to create any system you want in order to rank the quality of teams or individual athletes, but Elo Ratings can be a great starting point.
Matched Betting
Matched betting is a betting strategy which punters use to take advantage of the various bookie promotions on offer. However, it is very unpopular with online betting sites, many of which offer free bets or deposit bonuses. By taking a free bet and then placing a lay bet at an exchange betting site, or simply placing the opposite bet at a different site, you can have guaranteed profit, no matter the outcome.
Of course, bookies are on to this, which is why most free bets or welcome offers have very complicated terms, involving accumulators or requiring you to wager your bonus multiple times.
Expected Goals
Expected Goals are a useful tool in football betting sites, as well as most other ball sports sites. Essentially, they show how well a team should have performed, based on the chances offered to them. There are plenty of advanced metrics which can help predict a match outcome.
Draw betting
Betting on draws is often one of the best sports betting strategies, especially in football. Most punters naively bet on their favourite team to win and ignore draws completely. This moves the betting lines, creating lower paying odds for win / lose outcomes and higher paying odds for draws. Thus, there is often great value in draw betting.
Staking Plans
A staking plan is a system that tells you how much of your bankroll to place on each bet. We have already discussed the Kelly Criterion as a relevant system for sports betting. At the same time, there are plenty of sports bettors who use staking plans that were actually designed for casino games like roulette.
The Fibonacci betting system is a negative progression betting system. The idea is to increase your stake after a loss and decrease it after a win. The idea is that if you bet more after a loss, you can recuperate money that you lost on previous bets. The bet size follows the Fibonacci sequence (1, 1, 2, 3, 5, 8, 13, 21,…), with each bet the sum of the previous two.
The Labouchère staking method in sports betting
The Labouchère staking method is another negative progression system. It is a lot like the Fibonacci system, except that it is slightly more complicated. You start with writing down a sequence of numbers, with your bet always the sum of the first and last number. If you lose, you add a number to the sequence. If you win, you remove a number from the sequence.
The Martingale staking method in sports betting
The Martingale staking method is the easiest negative progression staking plan. Here you simply double up after a loss.
Do these staking plans work?
The above staking plans are designed for roulette, which has odds of roughly 50% per game. Doubling your bet after a loss to win back your loss does work in an ideal set of circumstances, which unfortunately do not exist in real life. You would have to have an infinite bankroll, play a game with no house edge, and play at a table that has no limits on bet size. This is why these staking plans have little relevance. Looking for value and managing your bankroll makes much more sense.
The Pareto Principle in Sports Betting
The Pareto Principle is also called the 80/20 rule. It is not a betting strategy itself, but it can be useful to help you identify your most successful betting strategy. In many fields, distribution is more or less 80/20. For example, 80% of the land is owned by 20% of the people, 80% of a bookie's income comes from 20% of the players. Similarly, 80% of your profits may come from just 20% of your bets. This can ultimately help you identify which bets you should focus on and which you should discard.
Reaching or even surpassing the 20% should be every serious punter's goal. To be able to calculate this, it's important to keep track of your bets. Implementing the markets which you tend to do better add could create a positive pattern leading to more winnings.
What is Gubbing?
While this may not be an issue for a beginning punter, as soon as you start making a serious ROI for your bets, you need to avoid being gubbed. Punters who win too much, or use strategies like matched betting, hedge betting or arbitrage betting will often be excluded from betting promos or even have their bet size restricted.
Following Tipsters
Tipsters can be a great for finding smart bets, and are often successful punters who are so good that they are no longer accepted by bookies, or have their bets limited so they can only make a small amount of money. They usually sell their tips as a subscription service. Of course, you should be wary of fraudsters who sell bogus tips. While they may advertise "proof" of huge bets won, this may not reflect their overall betting record.
Here are a couple of the best betting tipsters around.
Sonny Banks, or So Money as he's known on Twitter, is a Canadian sports punter, with a relatively large audience of 24,000 followers. Banks is renowned for his betting expertise and tips.
Tony Bloom is a famous sports bettor from Britain, and is well known for making huge sums of cash from sporting events. 'The Lizard' also participated in many prestigious poker tournaments.
Bloom now owns Brighton and Hove Albion football club, as well as StarLizard, which is a betting consultancy firm.
Multiple Betting Accounts
There are quite a few reasons to have multiple betting accounts. While loyalty may be appreciated and rewarded by a single operator, the benefits to having access to more than one bookmaker can't be matched.
Betting Strategies
If you are planning to use hedge betting, matched betting, or even arbitrage betting, it is important or even essential to have multiple betting accounts. Bookies will not be pleased if you hedge your bets on the same site as where you place your original bets. Additionally, the risk of gubbing makes it a good idea to spread your larger bets over multiple sites.
Another added benefit is the ability to shop around for odds, as even just a difference of 5% can be a great boost to your bankroll.
Bookies Benefits
Bookies love new customers, which is why they offer great welcome promotions. These range from Bet £10 Get £20 offers to a return of investment if your bet loses, and many more.
After the initial welcome offer, betting sites offer bet boosts, free bets, and several other specials, especially during a major tournament. The more bookies you are signed up to, the of these deals you'll be able to claim.
Aggregators
A few sportsbook aggregators even let you combine bookies on a single platform. This allows you to shop odds without the need to create multiple accounts.
How Bookies Make Money
Any smart punter would do well to consider how bookies make their money. This gives you an insight into how they create their odds and helps you consider how you can outsmart them. Balancing the books and making sure there is an overround can be highly useful, among other betting strategies.
Overround Betting
Overround (vigourish, vig, or juice in American English) is an essential key for how bookies make profit. Essentially, the total implied probability of all outcomes of an event is usually kept above 100%. This means that each bet you place has a margin of profit for the bookies, which is similar to the house edge in casino games.
Of course, bookies might even make a profit regardless of the overround, as many naïve punters simply double up on their wins and chase their losses.
Sports Betting Strategy FAQs
While there are multiple valid betting strategies, every betting strategy that works has one thing in common: a way to find value in betting. Looking for value means looking for outcomes that are undervalued by bookies. Another important aspect is bankroll management. Even if you bet systematically on value bets, there is still a chance that you lose your whole bankroll.
Arbitrage betting is the best way to bet, since by betting on both outcomes, you can have a guaranteed profit. Still, arbing possibilities are hard to find, making them the holy grail of sports betting.
The best bets are value bets. It only makes sense to bet if you see value in it. If you think something is more likely to happen than bookie odds imply, you can estimate how much value it has.
The only way to win consistently is to find value bets. As long as you have a betting strategy to find value, you can win more than you lose.
ThePuntersPage Final Say
While chasing steam, fading the public and looking for outliers are universal ways of finding value in bets, there can be betting strategies as diverse as punters themselves. Deciding who will likely win a match can be done in various mathematical, statistical, or intuitive ways. Get creative, make your own rankings, invent your own models, or simply follow your gut. As long as you have a way of finding value and a smart bankroll management strategy, you can make long-term profits!