Which Ladbrokes withdrawal method is right for you? Well, that depends — do you value low withdrawal limits or do you prefer fast processing times? We will take a look at this and more in our detailed guide to Ladbrokes withdrawals.
Ladbrokes Withdrawal & Deposit Options
| | | | | |
| --- | --- | --- | --- | --- |
| | £5 | £2,000 | Instant | None |
| | £5 | £2,000 | Instant | None |
| | £5 | £2,000 | Instant | None |
| | £10 | £2,000 | Instant | None |
| | £10 | £2,000 | Instant | None |
| | £5 | £2,000 | Instant | None |
| | £5 | £2,000 | Instant | None |
| | £5 | £2,000 | Instant | None |
| | | | | |
| --- | --- | --- | --- | --- |
| | £5 | Not Specified | 1-3 Working Days | None |
| | £5 | Not Specified | 1-3 Working Days | None |
| | £5 | Not Specified | 1-3 Working Days | None |
| | £5 | Not Specified | Within 8 hours | None |
| | £10 | £50,000 | 2-6 hours | None |
| | £5 | Not Specified | Instant | None |
| | £5 | Not Specified | Within 8 hours | None |
| | £5 | Not Specified | 1-3 Working days | None |
| | £10 | £70,000 | Up to 5 working days | None |
*Since February 2022 all deposits have been capped at £2,000, meaning you cannot make a single deposit over this amount.
How To Make a Withdrawal on Ladbrokes
Log into your account and click on your name, found at the top-right corner of the homepage.
Select 'My Account'.
Find the Banking section on the navigation menu and select 'Withdraw'.
In the withdrawal section, select your preferred withdrawal method by clicking on their logo.
Enter or select the amount of funds you would like to withdraw.
Hit 'Withdraw' and wait for a 'successful payment' confirmation.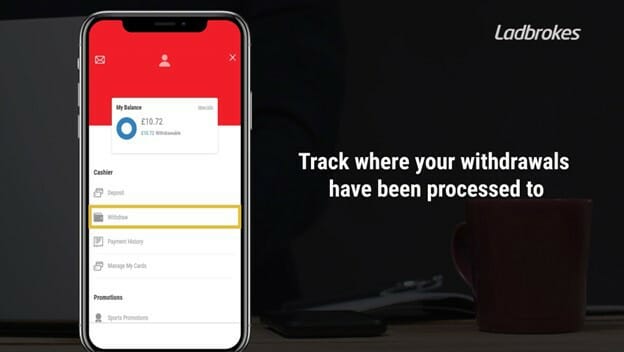 Ladbrokes Withdrawals With Debit Cards
Ladbrokes offers three debit card options for deposits and withdrawals: Visa, Mastercard, and Maestro, all of which are easy to use. To make a deposit, simply click 'Cashier', select your preferred option, enter some bank details, and you're all done.
The amount should be added to your balance within two minutes. If it's not, you may need to log out and log back in. Withdrawals are almost as straightforward: go to your account, select 'Banking' and then 'Withdrawal', choose your method and the amount, and click on 'Withdraw'.
Additional notes:
Visa debit operates with a closed loop, meaning that whatever is deposited using Visa will be withdrawn onto your Visa card.
To withdraw using Mastercard and Maestro, you must have first made a deposit using the same card within the last six months.
Ladbrokes Withdrawals With PayPal
With one of the fastest processing times on the site (only up to 8 hours), PayPal is a solid choice when it comes to withdrawals. The biggest caveat is that all deposits made through PayPal must also be withdrawn using this method.
This online payment platform can still be used to withdraw funds deposited using other methods, making it an ideal withdrawal option.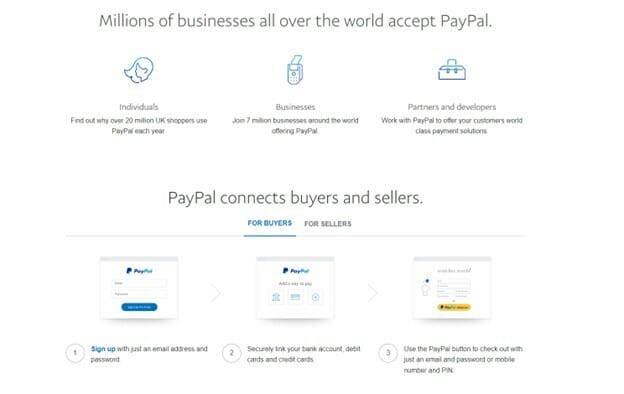 Ladbrokes Withdrawals With Apple Pay
Apple Pay is becoming increasingly popular with punters, so more and more providers are making this option available. There's no denying that Apple Pay is fantastic for Apple users as it's quick, easy, and everything can be done from your phone.
The only minor faults are that Apple Pay cannot be the first deposit method at Ladbrokes and that withdrawals can take up to three days.
Ladbrokes Withdrawals With paysafecard
paysafecard is one of the leading brands when it comes to prepaid cards, and can be purchased in many outlets with a pre-determined balance on the card. This is ideal for those who don't want to give away any unnecessary sensitive data.
Withdrawals are possible — provided you have already made a deposit with the same paysafecard account. With a super-fast processing time, paysafecard is a great option for withdrawals.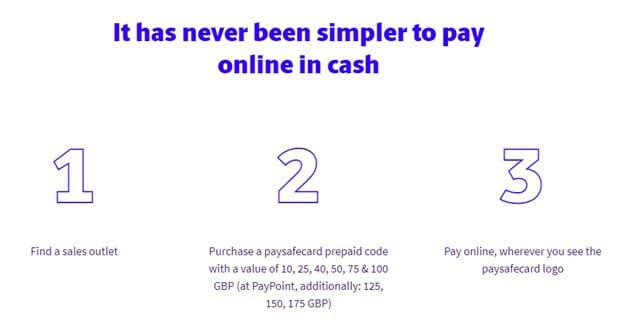 Ladbrokes Withdrawals with Skrill
Skrill is an e-wallet service that is popular and available with many bookmakers. It offers instant withdrawals and can also be used for deposits.
When you make your first deposit, you will be redirected to the Skrill website to sign up, but this does not happen for subsequent deposits and withdrawals.
Ladbrokes Withdrawals With NETELLER
Another e-wallet that is very well known in the gambling scene is NETELLER. One of its main advantages is that it can be funded with 26 different currencies, and it is one of the few payment options with a minimum deposit and withdrawal of £10. Apart from that, transactions are fast and only take up to six hours.
Note: To make withdrawals with NETELLER, you must first make a deposit through the same account. Once this is done, you can withdraw any and all of your funds, even if they were not deposited by NETELLER.
Ladbrokes Withdrawals With Bank Transfer
The only method that doesn't offer deposits is bank transfer — a more traditional method of withdrawing money from your account. One of the main pros of bank transfer is the maximum withdrawal limit of £70,000, which is perfect for high-rolling punters.
The withdrawal time is much longer than any other withdrawal method and can take up to five working days. Labrokes makes bank transfer withdrawals easy — click on 'Cashier', select 'Withdrawals', and choose 'Bank Transfer' and you' will be redirected.
Ladbrokes Withdrawal With The Grid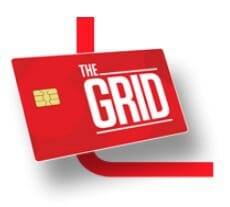 The Ladbrokes Grid card is a brilliant innovation that allows players to place safe bets while earning points to win rewards and prizes. Our guide to the Ladbrokes Grid card is a great way to understand the card in detail.
The biggest downside is that you have to visit a branch to make online deposits and withdrawals, which isn't ideal for anyone who doesn't live near a Ladbrokes store.
How To Add a Payment Method on Ladbrokes
As is the case with most of Ladbrokes' withdrawal methods, you must first make a deposit. With this, the bookie can verify the payment method so you can use it for withdrawals.
The withdrawal time is slightly longer if you use a new payment method as it has to be approved by Ladbrokes internal review team. This happens for each payment method and can take up to three working days.
Adding a new payment method is simple: click on the deposit icon in the top-right corner of your screen, select the method you want to use, and enter all the required details. It's that simple — your transaction will be processed and the amount will be credited to your account.
Ladbrokes Welcome Offer
Haven't joined this bookmaker yet? Take advantage of Ladbrokes' great welcome offer: bet £5 and get £20 in free bets. Welcome bonuses are always a great way to start betting with a new bookmaker!

Labrokes' welcome offer is generous to say the least, and the low initial stake means it's super easy to claim — perfect for new punters just dipping their toes into the betting pond.
With a 400% return on investment, it's worth signing up, and there are only a handful of other bookmakers offering bet £5 and get £20 in free bets. Be ready to place a number of bets in quick succession as the promotional period is relatively short.
Here are the main terms and conditions you should be aware of:
Create a Ladbrokes account. You can do so by clicking on Ladbrokes Registration.
Once you open an account, you'll have 14 days to place bets accumulating to a £5 total stake.
Your qualifying bets must be on wins or eachway bets with at least 1/2 odds.
As soon as the bets are placed, you will be credited with four £5 free bets.
You will have seven days to use all the free bets.
For more information on Ladbrokes, check out the Ladbrokes review page, where we go in detail about this great brand.
Ladbrokes Withdrawals FAQS
There are several online withdrawal methods to choose from, including Visa, Mastercard, Maestro, PayPal, Apple Pay, paysafecard, NETELLER, Skrill, and bank transfers.
No, Ladbrokes doesn't charge any fees to transfer money into or out of your account. That being said, some payment methods may charge a percentage from their end.
Ladbrokes withdrawal times vary depending on the method chosen. The majority take up to three working days, with a few e-wallets taking a few hours.
ThePuntersPage Final Say
Ladbrokes withdrawal methods are numerous and will certainly be useful for many bettors who use the bookmaker. The website is also user-friendly with a clear way to make deposits and withdrawals. We think Ladbrokes excels in this regard and makes payments stress-free, and who doesn't love that?