Matchbook Zero is the latest product from Matchbook that provides users one of the best betting sites for value on the market. Read on to find out more about this great feature.
What Is Matchbook Zero?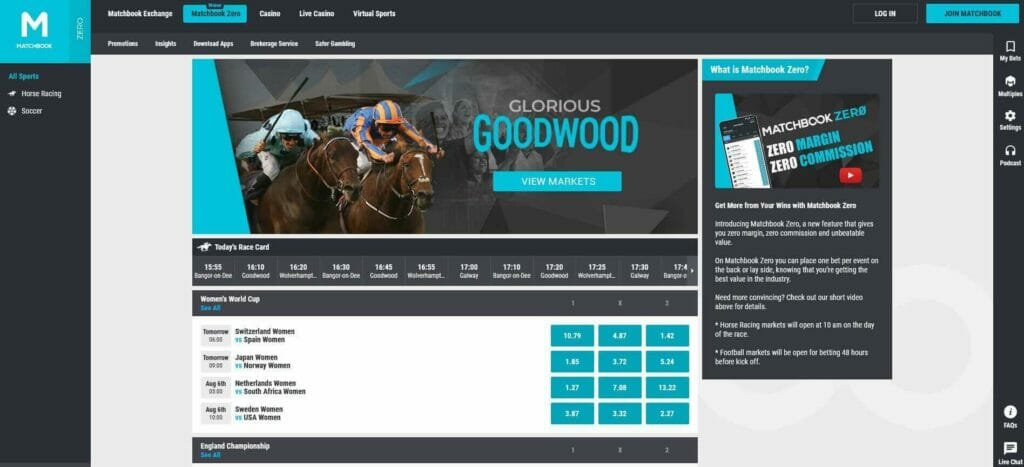 Matchbook's newest feature, Matchbook Zero, differs from Matchbook Exchange, as it offers fixed-odds betting rather than peer-to-peer wagering, which is offered on the exchange.
However, what makes it different than normal fixed odds betting is that customers using Matchbook Zero are betting on selections with zero margin.
Betting sportsbooks will have a margin built into their price to give them a cut of all wagers made online, but since this feature has no margin, the user can enjoy the best value for money on their bets.
This product also gives customers the option to back and lay bets, which is very unique for a fixed-odds betting platform. You can therefore enjoy lay betting without using an exchange platform, which is a big pro, as most betting exchanges sites charge a commission for providing the medium for punters to bet against other users. The commission can range between 2% up to 5% depending on the exchange.
Markets are currently limited to pre-game options for betting on football and horse racing, but that could expand in the future as further sports become available. Maximum bets are also limited to £20 per bet.
You can expect a top service when using Matchbook Zero as it provides customers with optimum value for all wagers made on their newest product.
Current Sports Available on Matchbook Zero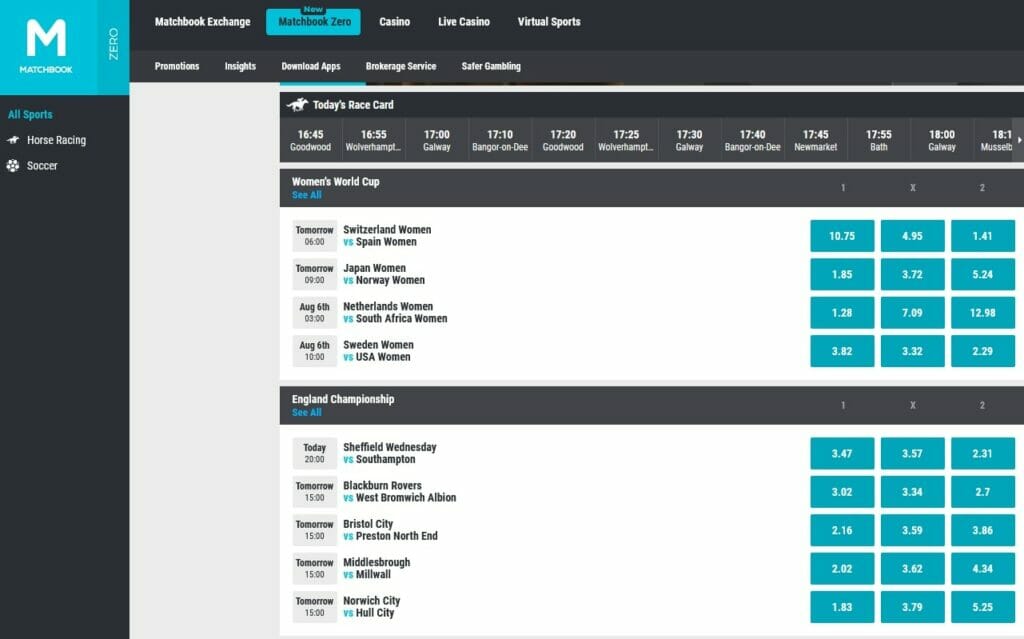 This new product currently offers betting on two sports: soccer and horse racing.
You'll find a solid range of options available for betting on soccer, including major leagues from around Europe such as the Premier League, Championship, Champions League, Europa League, Ligue 1, Bundesliga and Serie A, among others. These football bets are available within 48 hours of kick-off.
Horse racing bets are available from the leading flat and jumps races across the UK and Ireland, including festivals such as Ascot, Goodwood, Cheltenham, and Aintree. Markets will open at 10am on the day of the race.
Betting options for both are limited to back or lay bets on the outright result of games/races. For other sports and betting markets, you can use the Matchbook Exchange, although you will not receive the zero-commission benefit.
Remember that since the maximum bet you can place on an event is only £20, this limits your potential winnings.
Matchbook Zero vs Other Bookmakers Odds
This product offers competitive odds across its soccer and horse racing betting markets. As an example, we picked out a soccer game between Sheffield Wednesday and Southampton at the start of the Championship season.

Matchbook Zero offers a price of 3.41 for a Wednesday win, which gives a very solid return from a £10 back bet worth £24.19 profit. A lay bet would result in a £24.19 liability. A £10 back wager on Southampton would yield £13.46, while a lay would be liable for £13.46.
Of course, you have to factor in the zero commission when using this feature compared to traditional betting exchanges.
This product provides stronger value than Betdaq. There are small differences in the discrepancy in price that can be realised by the margin added by the betting exchange to the value of the odds. Those punters using higher stakes on their bets will especially see the advantage of using this product.

In another example, we can compare the prices you'll receive from Matchbook Zero with a typical fixed-odds sportsbook such as bet365. Since we can't lay bets on fixed-odds sportsbooks, we'll be looking at the back prices.

For all the outright result markets on these two Women's World Cup matches, you'll find competitive value from Matchbook Zero. If we look at the game between Colombia and Jamaica, a £10 bet on Colombia would yield a return of £21.90, while taking the draw would secure £32.50 and a Jamaica win £43.20.

Compare this product to bet365, one of the best betting sites for value in the industry. A £10 bet on Colombia there would yield £21.00 and the draw £32.50. Finally, a £10 bet on Jamaica would return £40.
So, it's quite clear that you're getting premier value for betting with Matchbook Zero compared to one of the best sportsbooks around. While it might not result in hundreds of pounds in one bet since you're limited to £20 stakes, over a period of time you could notice a sizable difference between the two bookies.
Pros & Cons of Matchbook Zero
This product is fairly unique in the world of online betting as it is a feature of Matchbook rather than a separate site. As with all the best betting sites, there are positive and negative aspects that need to be considered before signing up online.
Pros
Odds – As the operator offers zero margin, you're going to get the best possible price on your odds. Whereas other betting sites will mark up the price of their odds to take a cut of the wager, Matchbook Zero ensures that you receive the best price possible.
Commission – The majority of exchange sites take a commission on placing your bets online, and this can range between 2% and 5% depending on the betting site. This product removes this from the equation entirely; so you can rest knowing that you only have to put down the value of your stake and nothing else on top.
Cons
Limited Options – Matchbook Zero offers limited betting options compared to your usual betting sites as the only sports currently available are soccer and horse racing. Although they are two of the most popular to bet on, there's not great flexibility for bettors that wish to wager on other sports — even notable ones like cricket, boxing, and tennis.
Narrow Timeframe – Bettors wishing to place bets on games or races that are days ahead will be disappointed using this product. It only provides its soccer odds two days before kick-off, while its horse racing markets only go live at 10am on the day of the race. This means there isn't a great deal of opportunity for bettors to get their wagers in ahead of time.
Limited Markets – There are also limited markets available on Matchbook Zero — you can only place back and lay bets on the results of soccer games and races. There are no other markets such as totals or props, which narrow the field of your wagers using the betting site. You can use Matchbook for those wages, although you will not find the same advantages for using this product.
Stakes – You can only bet £20 on Matchbook Zero on one event, limiting your potential winnings.
How To Sign Up for Matchbook Zero
Signing up for this product is a straightforward process. By following our step-by-step guide below, you can create your account and get started with your online betting.
Step 1: Enter the Matchbook Zero website or app and click the 'Join' button.


Step 2: The next step requires you to fill out your personal information and create a unique username and password. Bear in mind that you require a code to unlock the Matchbook sign-up offer.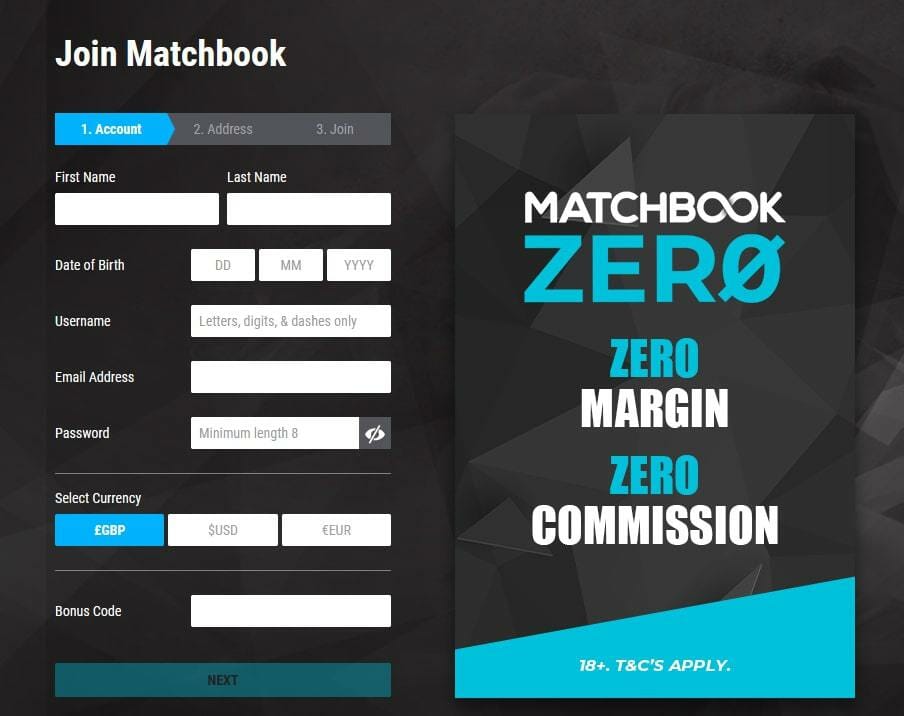 Step 3: After that you'll be required to fill out your address and phone number to confirm your residency in the UK or Ireland.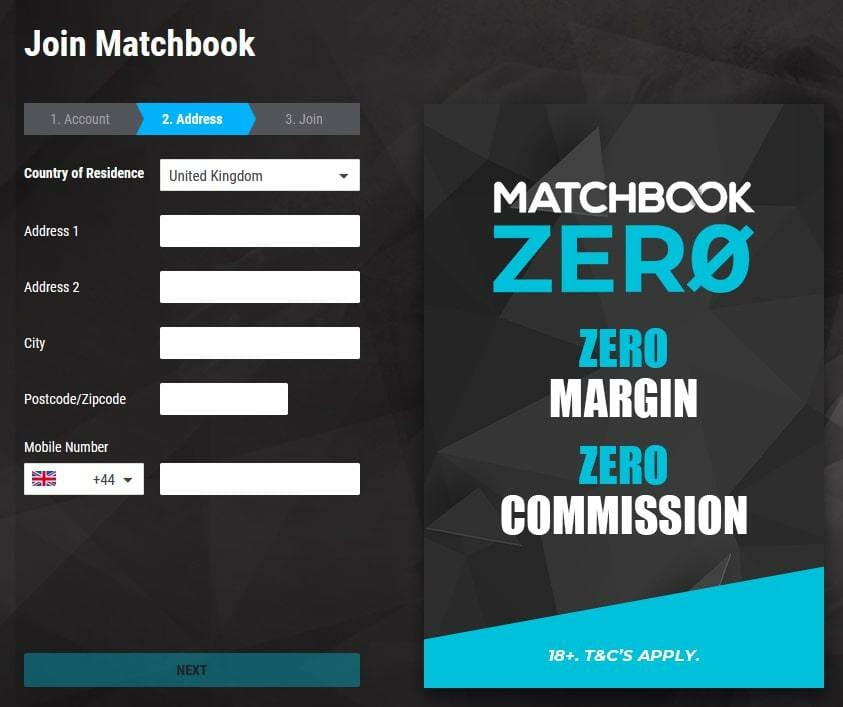 Step 4: Finally, you'll need to confirm your security question and agree to the Matchbook terms and conditions before clicking 'Join Matchbook'.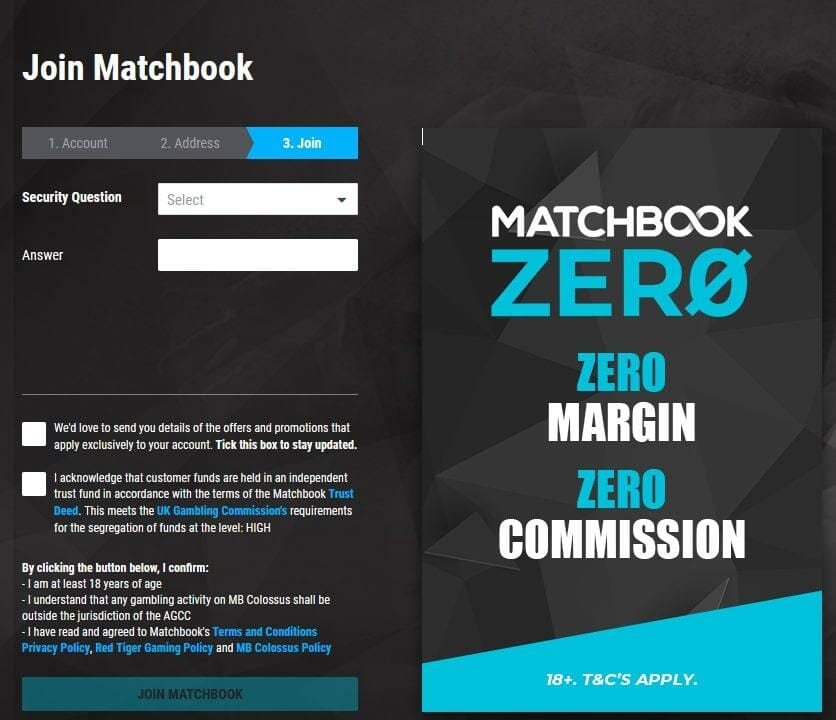 FAQs
Matchbook Zero is a new separate product from Matchbook that offers customers zero margin and zero commission on their sports bets.
Matchbook Zero provides betting markets for soccer and horse racing on a range of leagues and meets.
You can sign up for Matchbook Zero by entering the betting site or app online, and clicking 'Join Now'. Once you have filled out your personal details, you'll be able to create your account as long as you're over the age of 18 and living in the UK or Ireland.
No. Matchbook Zero is the only betting site in the industry in the UK or Ireland that offers zero margin on its fixed odds.
ThePuntersPage Final Say
Matchbook's newest product offers users a unique experience and value with its zero-commission and zero-margin stance . You'll struggle to find better prices on your odds when betting online, although your sports and markets are limited to soccer and horse racing for now. Nevertheless, it's certainly worth keeping an eye out in case the offering increases in the future!