When entering Rolletto, crypto fans will surely be impressed by everything the platform has to offer. Find out all you need to know about betting with Bitcoin and other cryptocurrencies in the below review.
TPP Overview on Rolletto Crypto Betting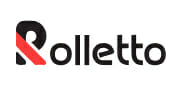 A relatively young page, Rolletto is an excellent site, especially for punters looking to find an operator who accepts cryptocurrency. I personally enjoyed my time on the site and feel that it certainly won't be my last visit.
From great sports markets to an amazing customer care service, Rolletto really does take care of their customers. Below I will run through the main highs and lows I found when reviewing the site.
Pros:
Amazing welcome bonus options
Great selection of deposit methods
Brilliant esports offering
Livestreaming available
Superb live chat
Cons:
Low withdrawal limits
A few negative reviews
FAQ section could be more detailed
About Rolletto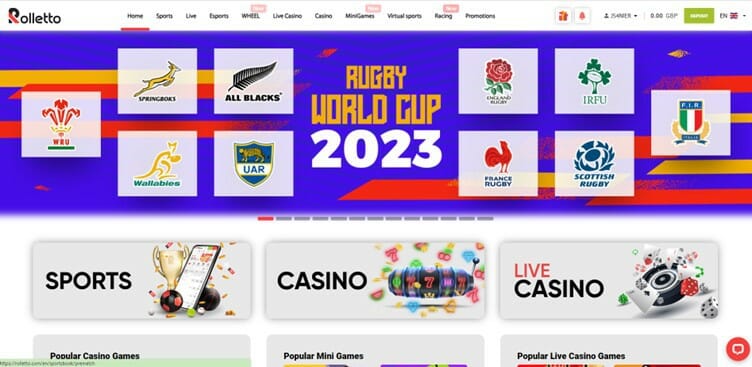 Rolletto is another powerhouse in an ever-growing list of crypto betting sites. Founded in 2020, the bookie, as they themselves put it, aim 'to make customers' lives exciting'' – and boy have they done it! With brilliant promotions, a sleek design and lots of potential, this is an international bookie worth keeping your eye on.
English isn't your mother tongue? No problem – Rolletto supports nine languages, including English, Italian, Spanish, French, German, Finnish, Indian, Russian, and Portuguese (Brazil).
As for cryptocurrency options, you can choose from Bitcoin, Ethereum, Bitcoin Cash, Ripple and many more.

Rolletto – Scam or Legit?
The first question that often comes up when discussing international bookmakers, especially those accepting crypto, is whether they're trustworthy. Well, fear not, I've done the research and personally used Rolletto myself, and I can confidently say it's legitimate.
Furthermore, a 4.1 rating on Trustpilot can't deny the site's quality, with many praising the withdrawal speeds and the fairness of the games. One thing which was mentioned quite often is the importance of filling in the Know Your Customer requirements straight away. Therefore, be sure to have your details ready before registering an account (I'll delve into the specific requirements shortly).
Security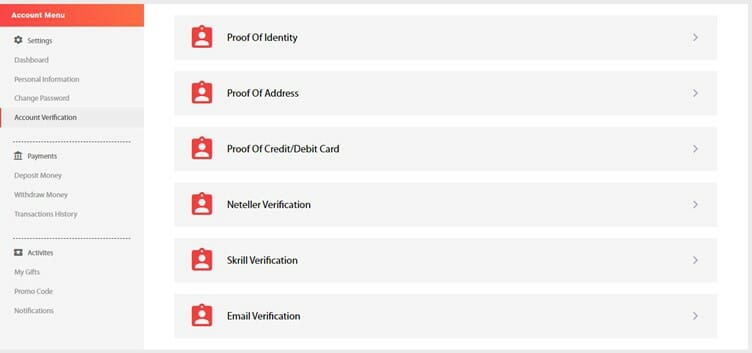 While you may not find much on the site about Rolletto's security, it's clear that the operator does its best to ensure that the possibility of fraudulent behaviour is non-existent. The site is also fully licensed which is yet another sign of the legitimate nature of the crypto bookie.
License
Rolletto licensed and authorised by the Government of Curaçao.
You can verify the site's legitimacy as a licensed bookmaker by locating the Curaçao Gambling Commission's logo at the site's footer, which links to their licence information.
Is Gambling With Cryptocurrency on Rolletto Legal?
Rolletto is authorised to operate in countries permitting betting and crypto trading under its Curaçao licence.
However, it cannot legally operate in countries that have banned either cryptocurrency or betting altogether. Fortunately, this list of restricted locations is relatively small, and in most cases, you'll be in a region that welcomes crypto betting.
Requirements to Access Rolletto
There are a few requirements to registering with the bookie.
Firstly, and most importantly, you need to be at least 18 years of age to create an account.
Rolletto will require that you send over some KYC documentation. This is becoming an industry standard, and I'm all for it, as it protects us punters and the operators from fraudulent behaviour.

All you need to do is provide any form of identification, be it an ID card, drivers licence or a passport – anything that can confirm that you are old enough to bet.
You're also given a few options to choose from when providing your proof of address. These include any utility bill which is less than 90 days old, a phone service provider bill or a bank statement. All these measures help to ensure that you can bet safely on the site.
As with any international bookie, there are a few countries that ban Rolletto and other sites like it from operating within their borders.
These are as follows: Afghanistan, Albania, Algeria, Angola, Australia, Bahamas, Botswana, Cambodia, Ecuador, Ethiopia, Ghana, Guyana, Hong Kong, Iran, Iraq, Israel, Kuwait, Laos, Myanmar, Namibia, Nicaragua, North Korea, Pakistan, Panama, Papua New Guinea, Philippines, Singapore, Sri Lanka, Sudan, Syria, Taiwan, Trinidad and Tobago, Tunisia, Uganda, Yemen, and Zimbabwe.
Rolletto VPN
While reviewing the site, I discovered that I could access Rolletto using a VPN. In case you have any doubts, betting with a VPN is entirely legal, as long as the country you're in hasn't banned VPN usage and the bookmaker doesn't explicitly prohibit its use.
Cryptocurrency Deposit Options
As we've mentioned, Rolletto's biggest asset is that the platform accepts a range of cryptocurrencies. Deposit options include Bitcoin, Bitcoin Cash, Ethereum, Ripple, Dash, Monero, USD Tether and Litecoin.
There's even the option to buy Bitcoin, essentially making the site a one-stop-shop for many of your crypto needs.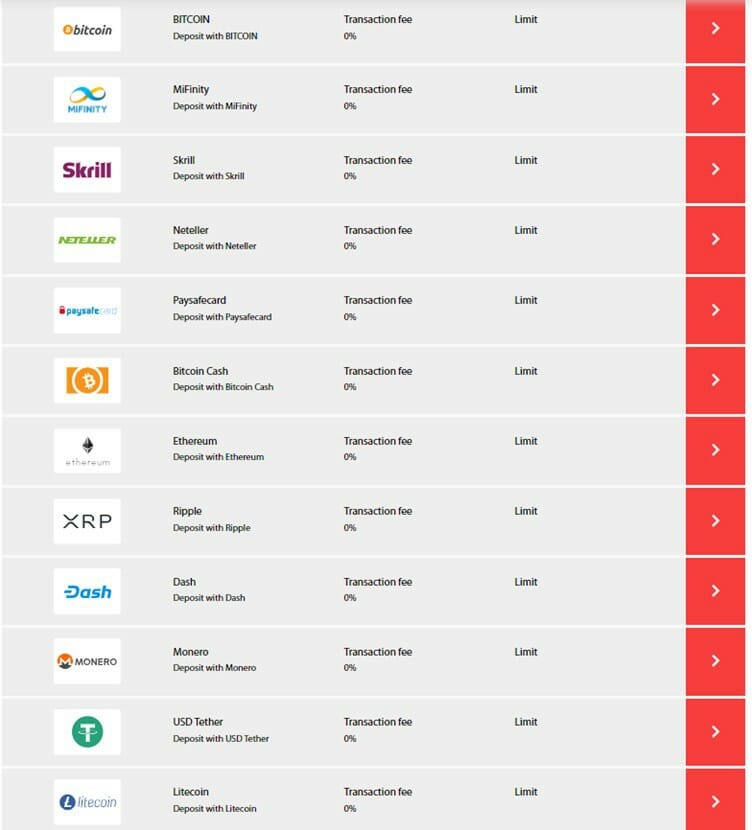 Maximum Withdrawal Amount Available Using Rolletto
Withdrawal amounts is where Rolletto seems to fall short for my liking – there is a set maximum withdrawal limit which is standard for every payment method available. The main issue is that it's excessively low when compared to other bookies at $7,500 or its equivalent in any other currency.
This is one of the lowest I've ever seen, and while it may be fine for punters who enjoy placing small bets, it can prove to be a nuisance for high rollers.
The worst part is that it can't be changed, meaning that you can't make it higher if you want to withdraw more at one go, and of course there's no way of lowering it either.
Rolletto Registration Process
Who doesn't love a clean, simple and easy registration? Well, Rolletto has provided you with all that, rolled into a single page.
It's one of the best registration processes I've seen in a while.
All you need to do is give your name, surname, email address and mobile number, your date of birth, select a currency, and create a password. There is also a space for a referral code; if another punter told you about the site, this is where you'd add it in.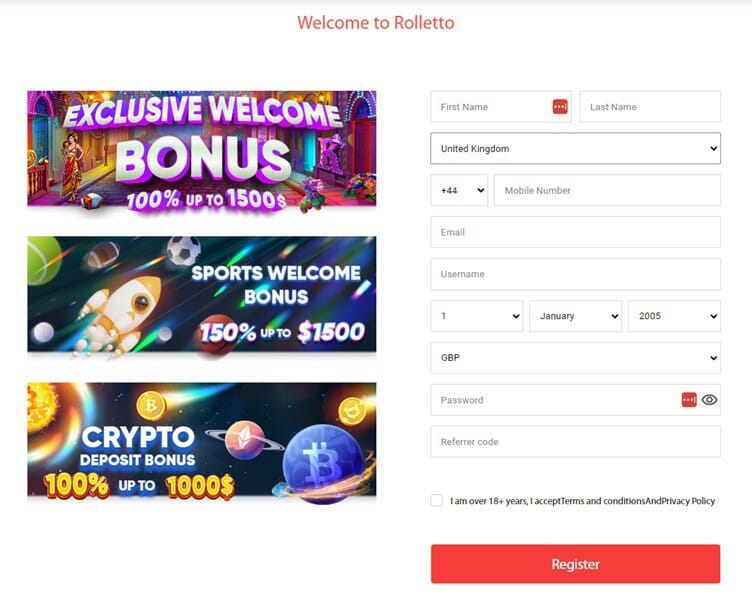 After you register, logging in is simple, with the relevant button found at the top-right corner of your screen.
Once that's done and dusted, you'll want to move on to the next step, which is actually depositing some funds into your account.
Step 1: Find the deposit page
The button to begin the deposit process can be found in the top-right corner of the screen, between the amount of funds you have and the language you have selected. Press 'Deposit' and you're off!

Step 2: Select your preferred payment method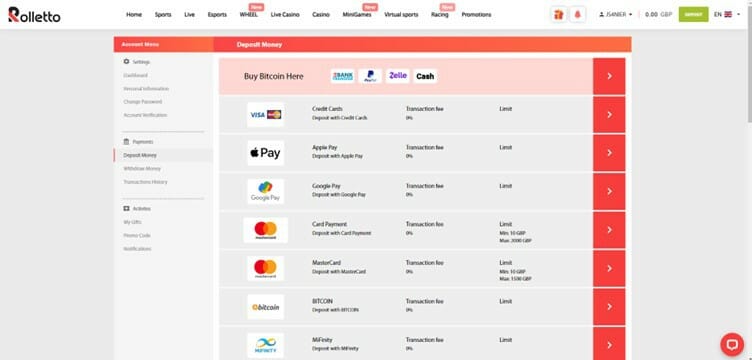 The great thing about this type of site is that there are a whole host of choices to pick when deciding on your preferred payment method. If you choose a regular currency, all you need to do is select it, input the details, and select 'deposit'. Funds should appear instantly.
If you want to buy crypto, go on to the next step (if you already own cryptocurrency, you can skip to step 4):
Step 3: Buy Bitcoin

Given its widespread popularity, especially in cryptocurrency betting, we recommend starting with Bitcoin if you're new to the world of crypto.
To purchase Bitcoin directly through Rolletto, begin by navigating to the top of the page. Register with localbitcoins.com and follow the deposit instructions provided in the next step.
Step 4: Deposit your selected cryptocurrency
Go to your preferred crypto wallet such as Binance or Coinbase, and send the amount of funds you wish to deposit to the address given to you by Rolletto.
There are many alternative coin betting options available so you should be spoiled for choice.

This process is the same for every other type of blockchain currency and confirming your deposit comes down to your chosen crypto wallet and how it operates. Once you confirm the transfer, the funds will be added to your account.
Rolletto Offering, Features and Functionality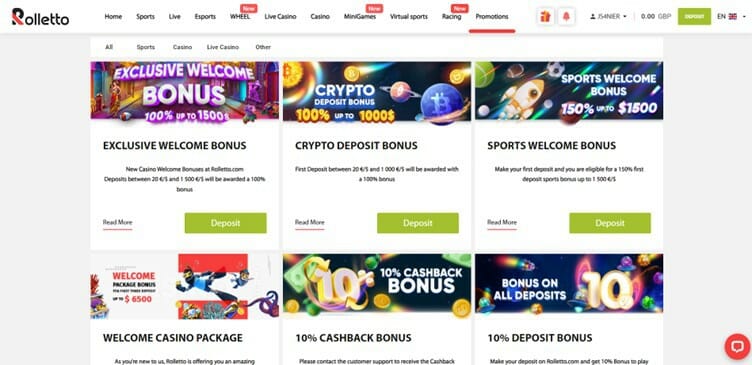 If you're on the hunt for some brilliant welcome offers, you may have just found the jackpot. Rolletto has quite possibly the best and most diverse range of welcome offer choices that I've ever seen.
Firstly, their 'Crypto Deposit Bonus' is a staggering 100% matched deposit bonus when placing a first deposit of between $20 and $1000.
This is very generous, although it's pretty standard at this point when compared to other cryptocurrency bookmakers.
In order to get the most from this offer, be sure to consider the few terms and conditions:
This bonus can be used for Casino Slots, Live Casino games only.
The offer can only be used by depositing Bitcoin, Bitcoin Cash, Ethereum, Litecoin, Ripple, Dash, Monero, or Stellar
This promotion cannot be used in conjunction with any other welcome offer.
Not really into crypto welcome bonuses? Rolletto have some of the best welcome offers available, especially if you love a matched deposit.
Exclusive Welcome Bonus: 100% matched bonus between $20 up to $1,500 for casino slots

Sports Welcome Bonus: 150% matched deposit between $20 up to $1,500

Welcome Casino Package: Over $3000 worth of deposit bonuses with your first three deposits.
Sports Betting on Rolletto
I'm all about sports betting, so when I review a new site the first place I look is the sportsbook. I found that Rolletto has many strings to its bow, including 38 sports, a dedicated esports page, and a great live section with live streaming on popular events.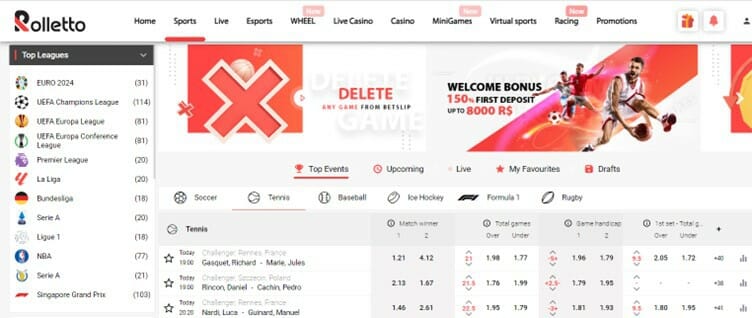 If you want to know how good their odds are for yourself, you can use a betting margin calculator to see how fair a bookie is. From the sample of markets I chose, Rolletto stuck to around 6% which means that the odds are decent, but not the best in the world. The truly great sites offer around 4%.
The design of the sportsbook is good and quite easy to navigate. The search bar can be found on the left of the screen just below the 'Top Leagues' dropdown menu. I especially like the top bar as you can go straight to Live betting options, esports and racing.
The mobile version of the site is also respectable, and offers the same features as the main site, although you may find it to be slightly harder to navigate.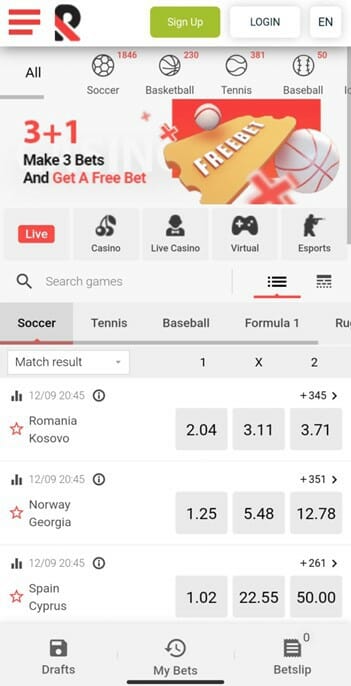 Customer Service
If there's one thing which sets a great bookie apart from a lousy one, it's a solid customer service offering. We're talking live chat, emails, social media, and any other form of communications as long as they're fast, efficient and above all, helpful.
It's safe to say that Rolletto is firmly within the 'great bookie' category when it comes to customer service.
Their best attribute is their live chat feature, which can be found, as an icon, on the bottom right-hand corner of your screen. Once you enter, give in your account details and you're good to go. In this case I asked about withdrawal limits.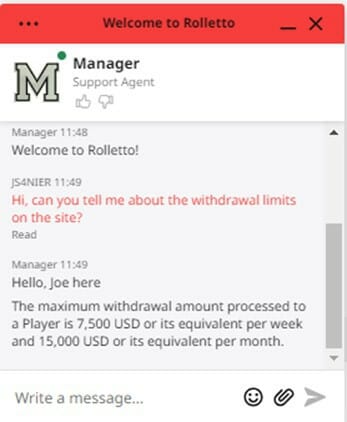 It literally took about 15 seconds till a customer service worker answered my query. I also asked a follow up question which, again, was answered almost instantly. What's the best part? The service is available 24/7.
In addition, you can contact Rolletto via email on support@rolletto.com at any time, although the response time may not be as quick.
The only drawback is that the FAQ page isn't very extensive, but in my opinion, you can skip all that and go straight to the live chat feature.
ThePuntersPage Final Say
The site is fast and easy to navigate, which made Rolletto an enjoyable site to use.
Moreover, The live chat was super helpful, and one of the fastest I've found – it's also 24/7.
Ultimately, the odds could be more favourable, but their boosts and offers offset this massively.
Rolletto FAQs
Rolletto is owned and operated by Santeda International B.V. which is registered in Curaçao.
Rolletto is completely safe to use and falls under the Curaçao Gambling Commission which means that they're licensed to operate a betting company.
Yes, Rolletto is a completely legitimate site and is fully licensed. With good backing from many punters, Rolletto is definitely legitimate.
Luckily for us punters, Rolletto rarely goes down. If they do go down however, it's likely to be due maintenance and shouldn't be long.
Rolletto as of right now, offers a total of eight different crypto currencies to choose from. These are: Bitcoin, Bitcoin Cash, Ethereum, Ripple, Dash, Monero, USD Tether and Litecoin.