A live score app provides results and scores in real time directly to your mobile device, ensuring that you never miss any sports action while on the go. In this article, we go over the benefits of live score apps, the top 10 most useful ones and how they come up against the best betting apps in general.
The Best Live Score Apps in the UK – Top 10 Ranked
We've ranked the best live score apps currently available. Don't forget to check out our detailed reviews of each app below to find out why they made our list!
#1 – LiveScore
#2 – Flashscore.com
#3 – Futbol24
#4 – FotMob
#5 – SofaScore
#6 – Goal Live Score
#7 – Forza Football
#8 – 365Scores
#9 – OneFootball
#10 – BeSoccer
What Are Live Score Apps?
Live score apps allow you to follow your favourite teams and sports through a simple tap on your screen, allowing you to take advantage of their best features to avoid missing games.
Premium sports comes with a fee, and accessing a streaming service via a betting app generally involves signing up to one of the bookies. A live score app provides all the latest updates, even bringing you comprehensive sports news with a host of innovative features. In addition, many have streaming services which allow you to watch many games, leagues, and events while on the go.
If the existing sports schedule clashes with your daily schedule or other commitments, why not use a live score app to keep updated? The best ones are compatible with iOS or Android, and can be downloaded from the Apple or Google Play stores.
What to Look Out for When Downloading a Live Score App
While most live score apps are broadly similar, there are some discernible features that set some apart from others. Here are a few key aspects to look out for.
The primary purpose of these applications is to provide live updates of football matches. Thus, speed is imperative. Customers want to be as up to date as they possibly can be. The very best live score apps will be bereft of any lag and continuously updated.
Live score apps often provide a vast array of statistics for users to access. These can be hugely beneficial for football bettors, providing seemingly everything you need to know about any given match.League tables, head-to-head records and form guides are supplied pre-match, while in-play statistics can aid live betting. Thus, it's imperative that these stats are updated swiftly. Match trackers and live commentary also enhance the live experience for users.
Sure, providing live updates is cool, but nothing beats watching the event live! While we've seen some apps provide live streams for Europe's top-five leagues in the past, the current supply is pretty scarce.Thus, apps shouldn't be judged too harshly if streams aren't provided. They're hard to come by.
Punters can be distinct beneficiaries of using a live score app. The majority have partnerships with bookmakers, with match odds provided beforehand. Some apps, however, will go the extra mile, supplying the bookmakers who are offering the best odds on prominent markets for a given match.
If you're attempting to keep on top of matches on the go, you don't want to be checking your phone every few minutes for updates. Thus, through push notifications, users are provided alerts without having to unlock their device.Live score apps will allow users to 'favourite' matches, teams, and leagues as part of the personalisation process. Once favourited, you'll receive live notifications.
Live score apps can serve a greater purpose for customers, as they can also function as news providers. Some report their own news, but the majority will collect the latest scoops from various sources.
While live streams are scarce, some apps provide highlights of matches for users to access. These are rarely extensive highlights, with short clips favoured. However, it's not only match highlights that are supplied. Moreover, users can watch press conferences and interviews from players and managers.That said, it's worth noting that very few of the best live score apps we've listed provide such highlights.
Providing coverage of other sports shouldn't be considered a necessity, but it's a nice bonus to have for those that hold interests outside of football. Some live score apps will provide play-by-play updates for cricket, tennis, basketball, hockey, and others.
The 10 Most Useful Apps for Checking Live Football Scores
Sports fans love being connected to their favourite team and related news. Check out the list of the top 10 live score apps we've put together just for you:
Live Score App 1 – LiveScore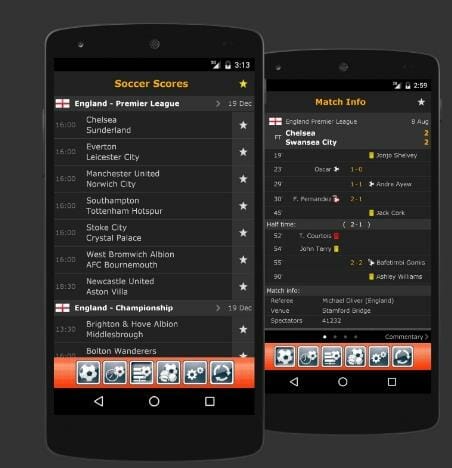 This exceptional app has everything from goals to cards, taking in every single stat that you could ever possibly need! It also provides in-depth coverage as well as analyses of football and other popular sports.
The Star icon presents itself in front of any match on your feed to activate live notifications and details about the related league. The team lineups are announced just before kick-off and you can keep track of multiple matches simultaneously while keeping tabs of the latest scores on the go.
There are also useful statistics available, like ball possession, shots on target, and fouls at the end of each event, as well as other real-time updates on football matches. There's also entertaining live commentary, detailed match statistics, starting team lineups, and sports news, with impressive and comprehensive coverage.
LiveScore also boasts their own betting app called LiveScore Bet. New customers are entitled to £20 in free bets (credited as x2 £10 bets) after they place their first £10 (minimum) bet.
Furthermore, you'll be able to enjoy sports news related to football, hockey, basketball, tennis, and cricket, and is available to download from Google Play Store or the App Store.
Live Score App 2 – Flashscore.com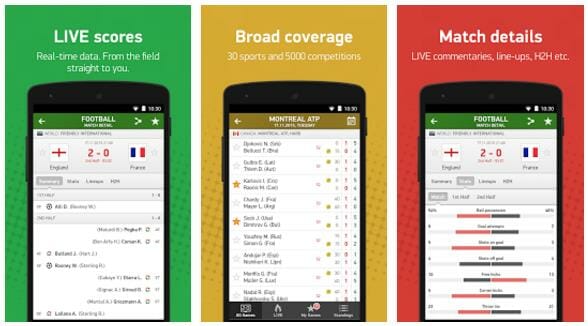 Flashscore.com is another popular app that provides statistics on football, tennis, golf, basketball, cricket, darts and more. It is straightforward to navigate and has quite a stylish interface to boot.
Click on a sport like tennis or football and get match summaries, stats, and more. Push notifications inform you when your team plays, goals are scored, or yellow and red cards are awarded. Flashscore.com is free to download and is continuously updated, living up to its reputation as one of the most extensive live score services in the world.
For more popular football matches, Flashscore.com supplies pre-match and in-play odds from bet365, 888sport, Unibet and William Hill.
Live Score App 3 – Futbol24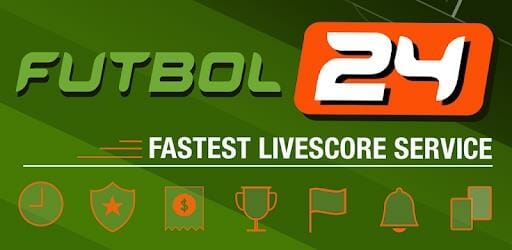 Futbol24 offers one of the fastest football live score results from around the globe. Apart from live scores, you can follow fixtures, compare team stats and a lot more.
As the name implies, this app is made for football, which is why you can enjoy over 800 football competitions from around the world and get results and scores in real time.
Adding a match to your Favourites list with a title tap permits you to filter through the competitions to find what to follow. A team name tap reveals extra information, and you can use the navigation buttons to organise your games list and fully customise the events for a unique Futbol24 experience.
In addition, you should also check out the best football betting apps to complete your mobile soccer betting experience!
Live Score App 4 – FotMob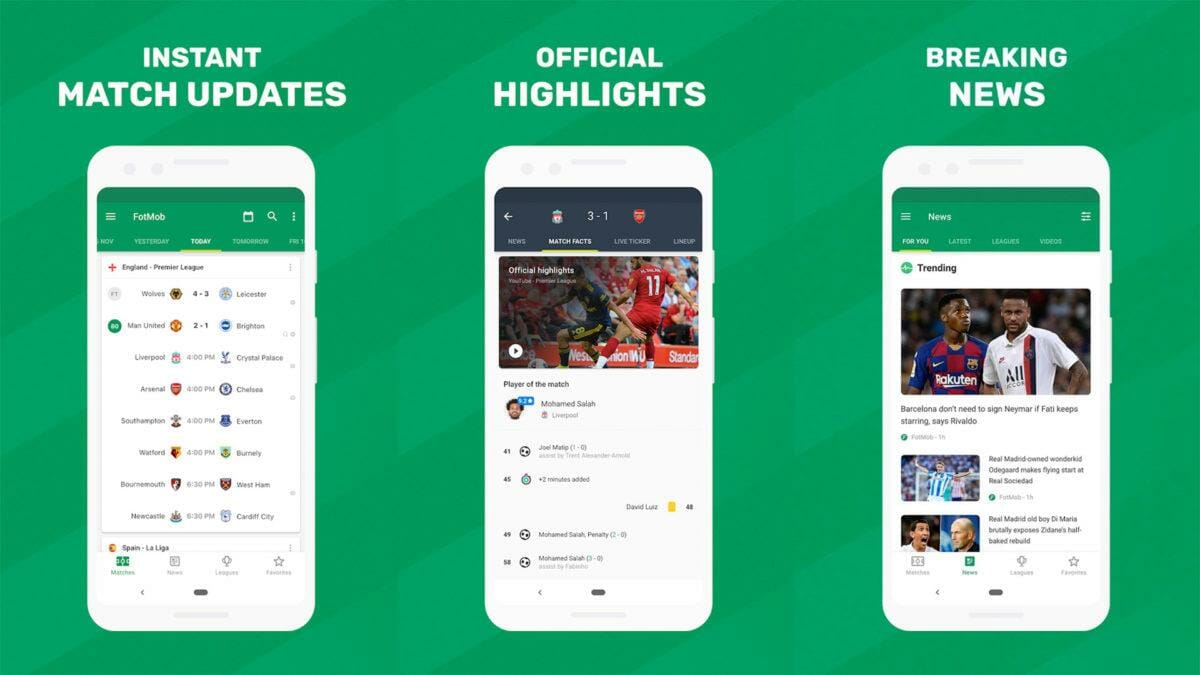 FotMob is a competitive app for football on mobile, covering most significant leagues including the Premier League, La Liga, Serie A, Bundesliga, Ligue 1, and many others. It covers basics like starting lineups, stats, goals, cards, substitutions, schedules and so many more features that football fans and punters could ever need.
In addition to live scores, FotMob also provides detailed transfer news. The app is one of the favourites for European football with over 10 million users, and given its sheer dedication to the improving the football experience, it should come as no surprise that FotMob has cemented its place into our top 5 live score apps on the market.
FotMob even has odds provided by bet365, which will automatically take you to the bookie's app itself. If you're not already a customer, you're invited to join and take advantage of the bookie's welcome bonus: bet £10, get £50 in Free Bets.
Live Score App 5 – SofaScore Live Score
The SofaScore app brings every excitement possible from the field of football onto your phone, providing player ratings, insights, and every detail about a match.
The user interface is simple, which makes using the app all the more accessible. Besides showing detailed info about football, the app also provides real-time updates on 22 other sports, including cricket, rugby, and tennis.
SofaScore offers extensive live coverage and all sorts of match info, and you can follow significant tournaments throughits platform. It is available for Microsoft, iOS and Android users.
One final thing about Sofascore is the speed at which the user receives the mobile notifications for goals scored, line-ups available, and half-time and full-time scores. What's more, if you follow specific players, you'll receive live notifications about them (such as when they score, when they receive a card, and when they are subbed on or off).
Live Score App 6 – Goal Live Scores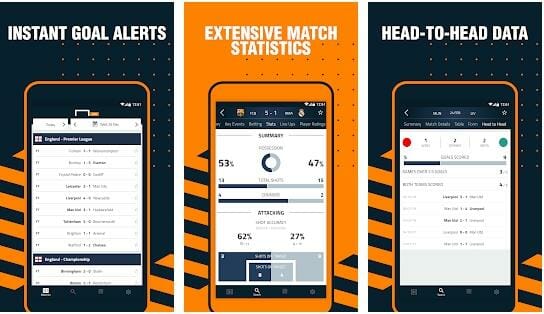 Brought to you by Goal.com, Goal Live Scores is possibly the fastest football live scores app on the market, sending you instant goal alerts as soon the ball crosses the line.
Aside from goal alerts, Goal Live Scores does a terrific job of providing live match coverage with line-ups, live text commentary, live tables, player ratings, and in-game statistics powered by stat giants Opta. Additionally, you'll find all the pre-match info that you'll need, such as head-to-head data, form of both teams, and the latest news.
Live Score App 7 –
Forza Football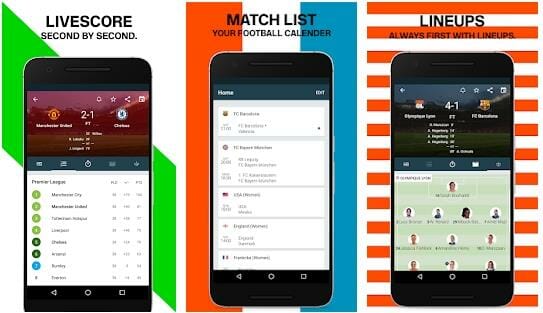 Forza Football is another much-loved and widely used football live score app, supporting hundreds of leagues, complete with scores, live updates, schedules, and polls. You'll be sent up-to-date bulletins about the latest injuries, suspensions, and team news, as well as the latest match odds on a variety of bookmakers.
One of the best things about Forza Football is that they provide instant video highlights for loads of top competitions, a feature many football fans will undoubtedly adore.
Live Score App 8 –
365Scores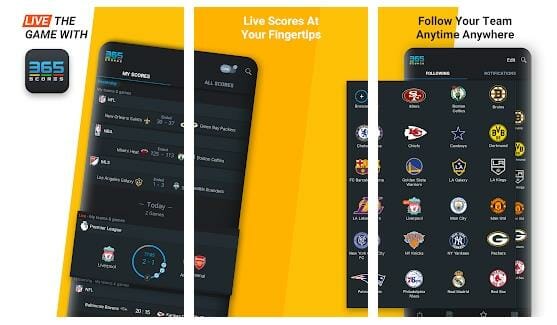 Since its launch in 2013, 365Scores has risen to become the go-to app for loads of sports fans across the globe. Get real-time updates, scores, highlights, news and events schedules for a multitude of different sports, including football, basketball, tennis, baseball, rugby, and hockey on its attractive, user-friendly interface.
It's also worth noting that the app is 100% personalised – meaning you'll only receive updates on your favourite teams.
Live Score App 9 –
OneFootball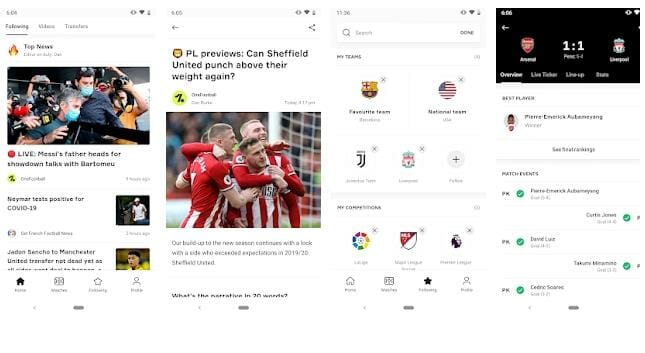 OneFootball is deservedly recognised as one of the leading live score apps around, allowing you to follow hundreds of leagues worldwide, supplying the latest news, videos, key dates and stats for your favourite teams.
Browse through the handy TV guide to discover which channels upcoming sporting events will be, and follow ongoing matches with live commentary and instant push notifications.
Live Score App 10 –
BeSoccer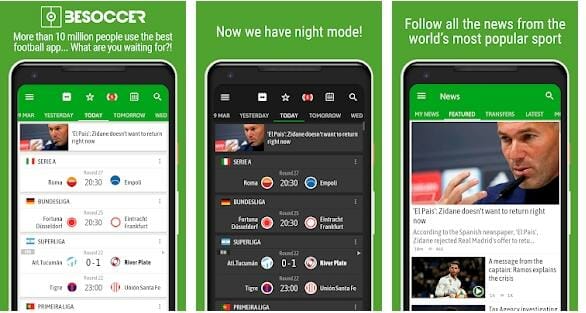 If you're looking for a live score app with a great stats database, you'll find it at BeSoccer. This app has a library of statistics on thousands of competitions and players, while also providing you with notifications of goals, lineups, news and more.
Their player comparison feature is unique and helpful, letting you analyse two players side-by-side to see how they match up on a number of selected stats.
BONUS: KickForm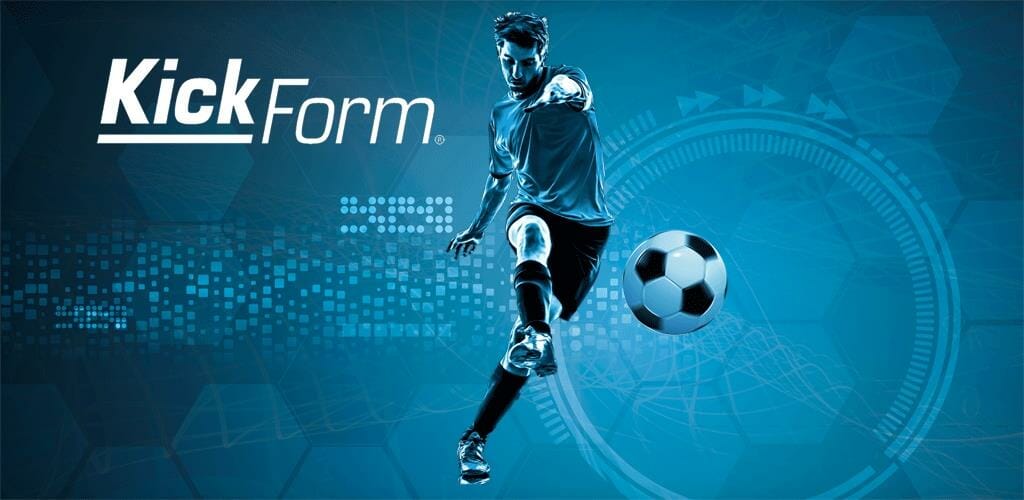 Whilst not actually a live score app, we thought KickForm definitely deserved a mention.
KickForm provides a new service with in-depth coverage and useful statistics for all the top football leagues and betting markets. The site is named after a unique "Football Formula", which is a mathematical algorithm that aims to predict the outcome of a football match. It calculates the most precise predictions for football matches based on vital, relevant figures.
The methodology can be applied to English, German and other top European football leagues, along with the UEFA Champions League competitions. There are matchday predictions for the Bundesliga, Premier League, La Liga, Serie A, Ligue 1 and SüperLig.
Football betting tools include Strategies, Predictions and Prognosis, Best Bookmakers, Types of Bets, Football Bets Wagers and Odds. Also available are guides on how to wager, free football predictions, and tips for upcoming matches.
KickForm can take your sports betting experience to the next level – if all this doesn't have your mouth watering, we don't know what will!
Live Score Apps – Comparison Table
Live Score App

Statistics

News
Coverage

Live
Streaming

Highlights

Match
Odds

Other Sports
Covered

Other Sports
Covered

Live Score

✔

✔

✔

✔

✔

✔

✔

OneFootball

✔

✔

✔

✔

✔

x

x

BeSoccer

✔

✔

x

✔

✔

x

x

Goal Live Scores

✔

✔

x

✔

✔

x

x

FotMob

✔

✔

x

✔

✔

x

x

365Scores

✔

✔

x

x

x

✔

✔

Flash Score

✔

x

x

✔

✔

✔

✔

Futbol24

✔

x

x

x

✔

x

x

SofaScore

✔

x

x

x

✔

✔

✔

Forza Football

✔

x

x

✔

✔

x

x
Which Live Score Apps are the Best for the Most Popular Football Leagues?
For the vast majority of users, the most popular European football leagues will be of particular interest. You want to keep up to date with the game's biggest teams and stars, right?
Most live score apps certainly prioritise Europe's top-five domestic leagues (Premier League, Serie A, Ligue 1, Bundesliga, and La Liga). In fact, some apps order the display of matches arbitrarily via the supposed popularity of leagues. LiveScore, for example, lists Premier League fixtures at the very top of their match list for that day's action. This grants users easy access to such matches on the app.
To work out which live score apps are the best for Europe's most popular leagues, you have to take into account the features offered by each app. Our leading live score app, LiveScore, should be considered here due to its efficiency, availability of statistics, and the emphasis placed upon the more popular leagues.
Moreover, SofaScore's player ratings and comprehensive individual statistics make this app an intriguing proposition for those who enjoy the analytical side of the sport. Such features are more widely available on the most popular leagues and matches. 365Scores, Forza Football and FotMob also supply player ratings, with match highlights offered by some of the apps.
Overall, the leading live score apps unsurprisingly place a strong emphasis upon the most popular European leagues. As we've noted, LiveScore and SofaScore both stand out in this regard, while FlashScore's match reports and stellar live coverage means they're hard to overlook. All the apps we've listed, though, supply brilliant coverage of Europe's top-five leagues.
What Are the Benefits of Downloading a Live Score App?
If you are a fan of sports and an online bettor, then having a live score app is a must. Not only can you can check live results for all your favourite sports such as football, rugby, tennis, or cricket, but you'll also be able to find the best odds across multiple bookmakers!
Each of best live score apps around have unique features that set them apart from one another, such as enhanced odds selections and live match commentary. Most live score apps have handy interfaces with vibrant and colourful graphics and up-to-date statistics related to the event; livestreaming is also a welcome feature.
As we've alluded to, live streaming apps differ from live score apps. While live score apps' primarily function is for users to gain live updates, statistics and commentary of sporting events, livestreaming allows users to view the event.
Most live score apps provide a live visualisation service for its users, but livestreaming, especially for matches in Europe's top-five leagues, is currently hard to come by. Live streams are much easier to access through top bookmakers, such as bet365 and others.
There are no country restrictions for live score apps, but sports betting apps are licensed for specific regions. Moreover, live score apps have similar features to a desktop site, and many of them provide a second screen during a match so you can view replays and check the scores of other ongoing games.
Which Sports Results Can I View on Live Score Apps?
While some apps are specific to one or very few sports, the vast majority of live score apps on the market provide detailed coverage on just about any popular sport you can think of. As an example, you can get breaking news and highlights from every English Premier League and Football League match.
Live Score Apps vs Betting Apps
Betting apps are widely available from most online operators and allow you to bet while on the go. Most have similar features and promo offers to their desktop counterparts; however, with the added convenience of being accessible from anywhere with a mobile or tablet.
As opposed to a live score app, though, you'll only be able to receive odds and betting options from one provider. This means you would need to download several sports betting apps if you would like to compare different betting odds for live games.
Live Score Apps
Positive
Live updates
In-depth statistics – player ratings, individual statistics.
Match odds provided pre-match and in-play
News coverage
Personalisation of favourite leagues and teams
Easy access on the move
Push notifications
Fan connection
Negative
Live streams scarce
Odds often provided by one bookmaker (usually bet365 among leading apps)
Betting Apps
Positive
Live streams available for some of Europe's top-five leagues
Live updates are arguably faster than live score apps
Able to bet on the go
Negative
Statistics typically basic
Less feeling of community
No news available
When compared to betting apps, live score apps provide more extensive features like box scores, live player data, bet lines, sports news, video match highlights and multimedia services. Some apps even have chat and messaging services so punters can talk about sports, which you don't normally get with a sports betting app.
Live score apps also give you the opportunity to connect with other like-minded fans around the world about games and content you love. The best offer more detailed team statistics, real-time live scores, and the latest news across major sports.
Live Score Apps & In-Play Betting
The features provided by live score apps can be incredibly useful for punters, particularly in-depth statistics as well as pre-match and in-play match odds.
Some, such as LiveScore, even have their own betting app! Flashscore.com, meanwhile, provide a multitude of different pre-match and in-play markets, along with odds supplied by four bookmakers: bet365, 888sport, Unibet and William Hill.
Those that use a live score app with match odds provided by bet365 are invited to take advantage of their 'Open Account Offer'. To qualify for the offer, new customers must make an initial deposit between £5 and £10. In return, they'll receive five times their deposit in Free Bets.
888sport, meanwhile, gift £60 in free bets when new customers wager their first £10 using Bet Builder. To qualify, punters must deposit with the promo code 'PREM60'.
These free bets will be credited in six £10 instalments every weekend following the settlement of the qualifying bet.
Finally, Unibet's welcome bonus is a money-back promotion. New customers will get the entirety of their first deposit (minimum £10 and up to £40) back if their first sports bet loses.
These offers can be accessed via clicking the odds on the live score app.
Overall, most welcome offers are generous, but bet365's ubiquitous presence among the leading live score apps means they're a stand-out in this regard.
Live Score Apps FAQs
Yes – there are apps available for both popular operating systems and mobile devices.
The most obvious way is to visit Google Play Store or the App store, look for the live score app you want, and download it. Make sure you read the relevant user reviews and view the feature list and device compatibility.
The Apple Store and Google Play only allow downloads of registered and licensed providers.
As long as the live score app provides that option, yes you can.
Absolutely! Live score apps provide a wide array of features which may not be found on mobile betting apps; these features could prove to be extremely useful when placing in-play bets or using in-app cash outs.
ThePuntersPage Final Say
A good live score app will allow you to follow your favourite team wherever you are by placing you right in the centre of the action, with most free of charge or only charging a minor subscription fee. Just ensure it is compatible with your mobile device, and the fun can begin!
To learn more, check out our detailed guide on live betting.