Fantasy football offers a fun and entertaining way of keeping up with all the latest football action as it unfolds. With millions of people around the world creating fantasy football teams, either for fun or even to join leagues, we've put together a list of our best fantasy football betting sites, apps and a comprehensive list of fantasy football tips to help you beat your competition!
Fantasy Premier League – The Most Popular Fantasy Football Game

By far the most popular fantasy football app is the official Premier League app, which is essential for any passionate fan. In fact, a record-breaking 8.3 million users played the game in the 2020/21 season.
As with all apps, the easy access is crucial for tinkering (see below) with your team and making any critical last-minute changes on the move. Players are given a budget of £100 million to spend wisely in a bid to pick 15 players that are in with a chance of winning you any prize from a selection of top prizes across the weeks, months, and season. As you might expect from the official Premier League fantasy app, it also comes equipped with official stats and video highlights from the league.
Again, the game is free to play and easy to use. Given its popularity, the app now allows fantasy managers to set up mini-leagues between their friends, and which are accessible via a private PIN. The setup of these mini-leagues is fairly simple. Fantasy teams can be entered into numerous leagues, as well as the main Premier League tournament between all managers.
Prizes may be won for the overall season, and on a monthly and weekly basis through the Manager of the Month and Manager of the Week awards. On the flip side, the game does not offer cash prizes.
How Do You Win Fantasy Premier League?
After choosing your 15 players, managers are requested to choose a starting 11 and captain (who gets double points) every week, keeping the rest of the players on the bench. Between one Gameweek and another, managers may choose to sub in any player off the bench, give the captain's armband to someone else or use the weekly free transfer available to get a new player in.
The starting 11 chosen will gain points depending on their performances on the pitch (see the point table below) and all points will be added up at the end of the Gameweek, with the grand total making up the manager's points for that week. Points are added week after week until the 38th matchday is played, and the manager with the most points at the end of the season is the winner.
Scoring Points in Fantasy Premier League
Point scoring is broken down like so:
| Achievement | Award |
| --- | --- |
| For playing up to 60 minutes | 1 |
| For playing 60 minutes or more (excluding stoppage time) | 2 |
| For each goal scored by a goalkeeper or defender | 6 |
| For each goal scored by a midfielder | 5 |
| For each goal scored by a forward | 4 |
| For each goal assist | 3 |
| For a clean sheet by a goalkeeper or defender | 4 |
| For a clean sheet by a midfielder | 1 |
| For every 3 shot saves by a goalkeeper | 1 |
| For each penalty save | 5 |
| For each penalty miss | -2 |
| Bonus points for the best players in a match | 1-3 |
| For every 2 goals conceded by a goalkeeper or defender | -1 |
| For each yellow card | -1 |
| For each red card | -3 |
| For each own goal | -2 |
What Are Chips and Wildcards?
Fantasy Premier League spices things up with a few special chips, which managers may use as the fantasy season progresses. These include the Bench Boost, Triple Captain, Free Hit and Wildcard.
The Bench Boost gives an opportunity to the manager to gain points from all the 15 players, not just the starting 11, for a particular Gameweek.
The Triple Captain allows the manager to get three times the points the captain earns, rather than double as usual.
The Free Hit allows you to have unlimited transfers for one Gameweek. After the latter has ended, the manager's team will revert to what it was before the Free Hit chip was played.
Similar to the free hit, the Wildcard also allows managers unlimited transfers for a Gameweek
however, in this case, the changes made are permanent and will not revert after the week is over.
All these chips may be used once during the Premier League season. If the Wildcard is used during the first half of the season, then managers will get another one to be used during the second half.
Draft vs Classic
Fantasy Premier League has recently also included the option of a draft league as from the 2017/18 season, especially after the system gained popularity in the Italian version 'Fantacalcio'. The draft system works in near-identical manner to the classic fantasy team, with just two big twists.
Firstly, there is no budget allocated. Players do not come with a price tag, so you may put together a star-studded team without the hassle of budget restrictions. The catch is this – which brings us to the second twist in the game – you are not allowed to own a player that another fantasy manager in your league already owns – i.e. only one manager can own Harry Kane (for example).
The way this works is that you may add up to a maximum of 16 players in your draft league, with a draft is set for a particular date and time. Up until that time, participating managers may look through the list of players available and add interesting players to their individual watchlist.
Once the time of the draft arrives, all participants need to be online and an order of choosing is fixed. The first player will make his pick, after which the system will then allow the second person to make his selections, and so on. Once everyone has chosen one player, the system will then start from the last person who chose and move backwards, thus creating a 'snake' system.
After the selection process is over and all managers have 15 players, the league may begin. After every round, players may propose transfers or swap deals with other participants. The suggested number of participants in a draft league is around 8.
One other minor difference between the FPL Draft League and the classic way of playing is that the Draft league does not have any chips available.
Auto-Subs
If you're a serious FPL player, then you're in luck, because attention to detail surely pays off here. However, even if you happen to be more of a casual player who forgets about their team a few weeks in, worry not – the Fantasy Premier League has a fantastic auto pilot engine which automatically subs players in if one or more of your selected first 11 fail in play during a Gameweek.
The system will identify which player has not played and will replace him with the first player on the bench, provided this does not break the formation rules. These state that, at any given time, a starting formation must include 1 goalkeeper, 3 defenders and 1 forward.
Given this, it is important to change the position of your players on the bench so that you may decide which player is given priority when auto-subs are triggered. This is applicable in both the classic and draft fantasy games.
Other Top Fantasy Football Sites & Mobile Apps
Sky Sports Fantasy Football

From the nation's number one sports broadcaster and main provider of live televised Premier League matches comes their own official Sky fantasy football game on its own dedicated app. The game, which is free to play, comes with a top prize of £50,000, and in order to win, you simply need to draft the best team possible from your substantial budget of £100 million.
In this case, you only need to select 11 players, not 15 as in Fantasy Premier League. Throughout the season, you will be able to perform 40 transfers, with up to a maximum of 5 per Gameweek. Customisable leagues are also available, allowing groups of friends to compete against each other too.
Fantasy Hub App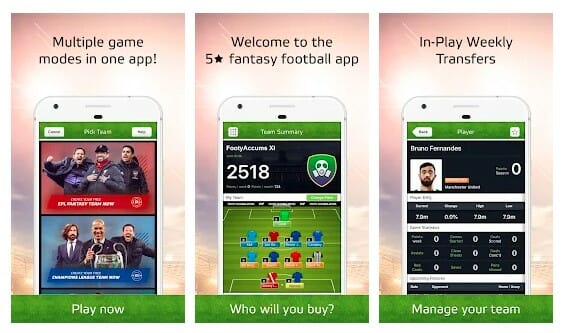 Fantasy Hub gives players a £75 million budget in order to create their winning team. As per norm, players will acquire points based on their performance in real-life matches, and anyone letting the side down can be sold as part of your weekly transfer allowance. Likewise, you can also bring in that star player you neglected to select at the start of the season.
The app also includes a live and interactive news feed, achievements, a match centre powered by OPTA, social mini-leagues and a unique Head-to-Head feature.
Telegraph Fantasy Football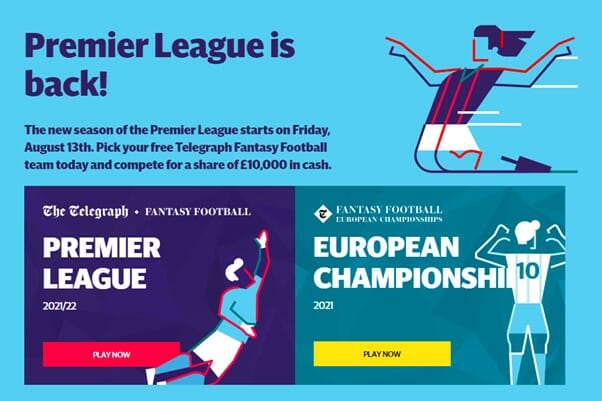 The first thing you need to know about the fantasy football game provided by The Telegraph is that it is now available for free. This is a serious game though, much more for the studied thinker. As a matter of fact, it's the oldest in the UK, and such success didn't come by accident.
Users need to select a team of 11 players from the player pool with a budget of £50 million, employing their choice of formation from a list of 7 different ones. Players can then make 40 transfers over the season, with a limit of five per week in order to put themselves in the running for weekly and monthly prizes. There is also no restriction on the number of players from a particular club.
The curious thing about this one is that it not only takes the Premier League into consideration, but also the FA Cup! It is also worth noting that players can also be transferred within particular Gameweeks. So, let's say we have got Jadon Sancho on the team and Man Utd are playing against Norwich on Saturday – we may choose to wait for Sancho to play the match and then transfer him out for Emiliano Buendía, who will be playing against Newcastle on Sunday.
FanTeam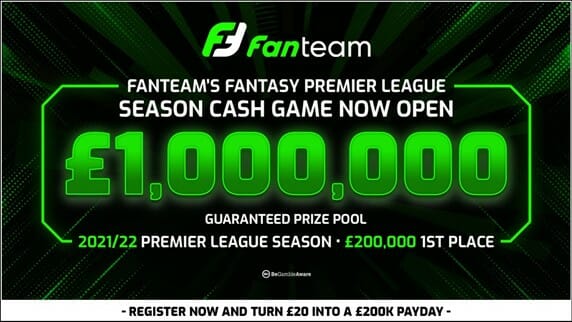 FanTeam is not only a home to Premier League Fantasy but also offer paid Fantasy Team tournaments in various other competitions, even outside of football. In fact, FanTeam offers fantasy tournaments in 6 different sports, including cricket, MMA and motorsports.
Each tournament comes with an entry fee and prize money – sometimes, the latter is just the total of the players registration fee; other times, it's more than that. It depends on whether the tournament in question was created by a group of friends or is a public tournament.
For the main English Premier League tournament, participation costs £20. Here, players are given £100 million to be spent on 15 players with one free weekly transfer available. Two wildcards are available during the season.
Draft Fantasy Football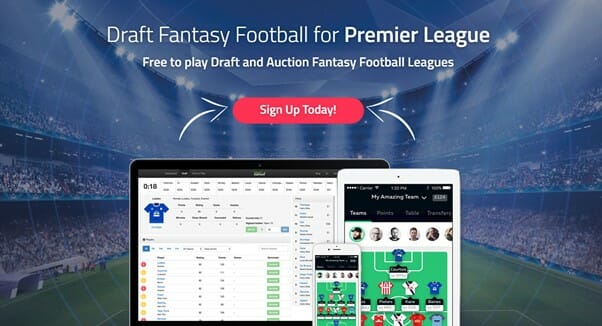 As one would assume, Draft Fantasy Football is all about draft tournaments. In this case, tournaments are organised for the English Premier League as well as the UEFA Champions League. This would be an ideal app to use if you and your friends are interested in organising a draft league between yourselves.
Apart from the classic draft rules, Draft Fantasy Football allows you to customise the settings of the draft in order to allow more players from each club and to have different formation settings. You can also trade players from different positions thanks to the Flex position feature.
Additionally, the Auction draft feature allows players to bid money from a set budget to purchase the players for their squad. If you are a dedicated fantasy football fan, this is an excellent chance to get your hands on those unpopular players who can give you lots of points.
Draft Fantasy Football is available through your normal web browser, as well as iOS and Android through a mobile app.
Bundesliga Fantasy Manager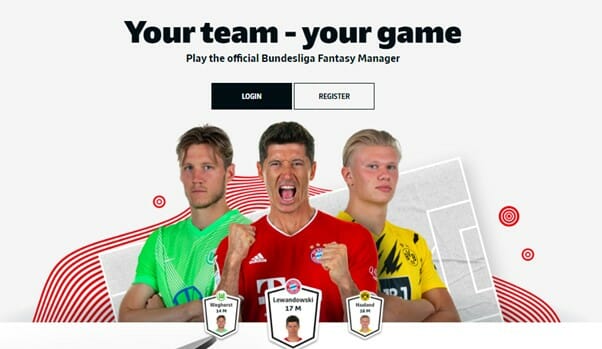 This is the official Bundesliga football fantasy game available for free from Bundesliga.com or via mobile app. In general, it works very similar to the Premier League app but has a different scoring table, along with a few different rules that help make the tournament more exciting. These include extra points for the player scoring the winning goal and having 3 available transfers per match day.
At the end of the season there are also prizes and match tickets to be won!
Superbru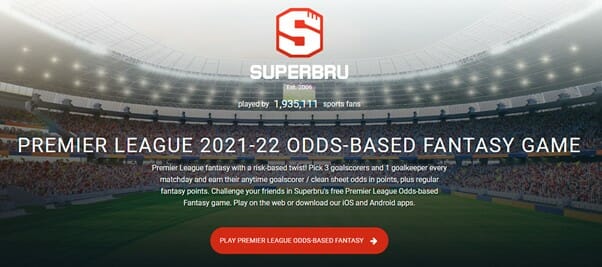 Superbru is a free-to-play predictor and fantasy game. With tournaments taking place throughout the year and prizes to be won, there is no wonder why this platform is extremely popular and enjoyed by over 1.5 million players from around the world.
Bringing something different to the table, Superbru offers players the chance to compete by predicting the scores of matches from various leagues. Players then gain points depending on which parts of the result they would have guessed or nearly guessed.
Apart from this, players can also enjoy an odds-based fantasy game. Here, participants must pick 3 potential goalscorers and 1 goalkeeper from a particular match (and a substitute for each of them). If they really do score or keep a clean sheet, they will then earn the anytime goalscorer/clean sheet odds on those players as points.
Based on the number of fans playing, it is safe to say that many have found this game worth a try, even if just out of curiosity.
Fantasy Football Strategy
As ever with sports, football betting, fantasy football betting and gaming, there are a few steps we can take to improve our chances of success. Below are a few of our top fantasy football tips:
In order to be a successful Fantasy Football League manager, it really is worth doing some research before making your picks by the time May comes around. While most sites keep registration open all year round, you obviously stand to give yourself a leg up if you register your team over the summer, before the season gets underway in mid-August.In this case, have a look at pre-season form, along with who has been playing regularly and how well they have done over that time. Go back over recent seasons and look at the fitness records of the players you are considering giving a starring role. Pay close attention to youngsters who might have broken into the first team squad, as they will likely represent the best value.Pay attention to players with poor disciplinary records. How well are they thought to get on with the manager? Have there been any publicised issues? Basically, any potential influencing factor that you can think of is worth investigating in detail, as it could end up costing you points further down the line.
A critical weapon to have any bettor's arsenal are statistics. They can tell us everything we need to know about what we can expect, which allows us to craft fully informed bets.Only when we understand what happened before can we attempt to predict what might happen in the future. For more information, check out our KickForm page on Premier League tips and predictions.
Over the course of the football season, it would be wise to rotate your goalkeepers and defenders. For this reason, don't be tempted to select one world-class goalkeeper and pair him with a cheap backup. Instead, pick two top-class goalkeepers which you can rotate, depending on who the real-life player's team is playing against that week.This way, if he's playing against Manchester City, for example, you can drop him for a week and bring your equally good number two, who, with any luck, is playing against lesser opposition. By doing this, you can give yourself more chances of picking up clean sheet bonuses across the season. The same advice also applies to defenders.
When it comes to defenders, it is worth spending heavily. Many players skimp on this section of their team, packing their defences with several cheap options in order to afford more expensive midfielders and forwards.In actual fact, this is a mistake, as defenders have the chance to earn much more points with a clean sheet bonus. Moreover, the right defender can also weigh in with goals, which in most leagues count as double points.Take the high-assisting Liverpool fullback pair, Trent Alexander-Arnold and Andy Robertson, two very good examples of this. These two players have the highest assist rate in the Premier League most seasons and so are well worth considering, although as you might expect, neither player will come cheap. Again, the stats tell us what we need to know.
In some cases, players have been listed in the wrong category. When Mo Salah and Sadio Mane first signed for Liverpool, they were considered to be midfielders. While this has likely been updated by now, it goes without saying that midfielders – for whom goals usually count double – that score a lot are incredibly valuable in a Fantasy Football League competition, so two top scorers like these are definitely worth their weight in gold.And, of course, it is important to pick the best strikers you can find upfront. As you might expect, going heavy at the back might not leave enough spare change to throw in Manchester City's Sergio Aguero or Tottenham's Harry Kane, so pick the best you can.
One key trap that players fall into is picking players purely on reputation or the points tally they accrued last season. We're not suggesting that picking players who performed strongly the previous year is a bad idea; you just need to take into account much more than simply previous displays.
Leave club bias behind. It's easy for players to cool on footballers that ply their trade with a hated rival, but that would be a mistake when picking your fantasy football team. Fans of Liverpool are unlikely to wish Manchester United defenders well on a Saturday afternoon, so either leave them out of your team altogether or simply suck it up and hope that the old enemy doesn't concede.This also works in reverse. It is an extremely common mistake to pick as many players as possible from the big six clubs, on the entirely reasonable assumption that they win more games, score more goals and let in less. But these teams also have the biggest squads and play the most fixtures, running deep in the knockout competitions. For this reason, squad rotation applies much more with the top six teams than it does with the league's other teams, and your expensive new signing might miss out.
If you can, select your backline from as few clubs as possible. While we understand that it is tempting to pick from seven different clubs in the hope that one of them might keep a clean sheet, in reality, you are actually reducing your chances of getting a high score, as the odds on all seven teams keeping a clean sheet is slim to non-existent.
Don't Rush to Get the Latest Superstar
Finally, go easy on the summer's intake of players* brought in from abroad. It is always exciting to sign players from overseas, but don't forget that the Premier League is the toughest around, and there is often a settling-in period for new foreign signings while they adapt to the English game. Sure, there are exceptions, and these might well turn out to be very good signings in the long run, but a rush to sign them could cost you valuable early season points.
Our final fantasy football tip is to make constant changes to your first eleven. True, this is fairly hard to stick to, as many people pick their team and then ignore it (a sure-fire way to lose). However, only attentive players tend to succeed at this game, so be sure to invest a little time before each game week to make certain that you are rotating your players effectively. Remember to consider player opponents, injuries, suspensions and other key factors.Also, analyse your set-piece takers and how effective they are from dead-ball situations. While the game hosts are likely wise to the player's set-piece brilliance, often, these players can be employed with smaller clubs, so it's worth checking who's been taking set-pieces and penalties during the recent pre-season. Finding which players have been taking corners for the various teams will also serve you well. Also, look into which team gets the most penalties, and which of their players is normally on spot-kick duty.
*Check out Sky Sport's Transfer Centre!
Understanding Fantasy Football Betting
With fantasy football betting, a team of 11-25 players is created by selecting real-life footballers from a league – in this case, the Premier League. The selected 11 then earn points for the team by way of their performances on the pitch in actual football games.
When played between friends, points are awarded or deducted according to goals scored, assists, clean sheets and referee cards issued, for example. Over the season, you will normally be allowed a set amount of transfers to compensate for injuries and such like.
For the wagering game, however, players can pick a side for a particular round of fixtures, or place real-money bets on their team's performance against that of their rivals and friends. Selecting your fantasy 11 in fantasy football betting requires having a great deal of sports knowledge, since you have to pick the players that you think will perform best and earn you the most points.
Additionally, in fantasy football betting, players can be selected by way of a draft. Here, players are selected for a team during one session, and no player can own the same footballer as another player. This is in contrast to the fantasy football game, where all players have a price tag and each manager has a budget. Instead, all players are available to everyone.
Playing Fantasy Football Leagues for Fun
Non-gambling fantasy football casts you in the role of a team manager in a league, where there is normally a prize for a high-place finish. Typically, these have been run by websites, newspapers and broadcasters.
At the beginning of the game, managers are assigned a budget with which to select a squad of between 11 and 15 real-life players, with one player being nominated by you to be your team's captain. Points are awarded on how well these players perform on each matchday and, in the longer term, over the whole of the football season. Captains score double points and can be changed after each matchday. The more points you score each week, the higher up the table your team will climb.
Fantasy Football FAQs
No – these are not the same games, although they require similar skills and will appeal to the same players. Basically, if you like one, then you are likely to enjoy the other.
Yes. Because of the contribution-based prize pools, there is a great deal of money to be won playing DFS. Fantasy Football League, on the other hand, includes more recreation-based games that do have an end-of-season top prize.
It depends on who you are playing with. In most cases, no. Typically, these games are free to play. You do need to pay a pre-designated buy-in to take part in a DFS game; however, like most bets, things are settled quickly, and you can potentially win large amounts.
Yes, it isn't just football. Because this type of wager is rooted in the US, American sports are popular for DFS games; that being said, you can also find markets on other sports.
You have a few options in this case. The player can remain in your squad, but he will continue to earn 0 points. If you want to remove him permanently, then you will need to swap him with either a free agent or put in for a waiver request.
ThePuntersPage Final Say
Whichever type of fantasy game you decide to play, or whether you decide to try out fantasy football betting, you are sure to be in for a treat! If reading this article has stoked your curiosity, we suggest trying out a free-play version of a DFS game. Remember that while free-to-play fantasy football games and buy-in based games are largely different, there are many transferable skills that will stand you in good stead should you decide to give Daily Fantasy Sports a try.