Our constantly updated TPP Total Team Goals Stats are a fantastic resource to help you with your team goals and clean sheet predictions. There are numerous variations to choose from, such as Over 0.5, Over 1.5 and Over 2.5 scored, as well as Over 0.5, Over 1.5 and Over 2.5 conceded. Clean sheets statistics are also included.
Use the search bar to filter each stats table by league, team or country.
TPP Total Team Goals Stats Table – Use the Search Bar to Filter Results
The below table encompasses the most important data you'll need while conjuring up your team goals or clean sheets predictions. This handy tool outlines card stats for hundreds of teams from the top football leagues worldwide.
Alternatively, visit our Kickform page now to get the latest match stats, predictions, odds and tips on all the top European football leagues. It's free to use and calculates everything with a data-driven Football Formula to increase accuracy and reliability!
Over 0.5 Scored
Over 1.5 Scored
Over 2.5 Scored
Clean Sheets
Over 0.5 Let In
Over 1.5 Let In
Over 2.5 Let In
Hint: To find these stats more quickly next time, search "TPP Goals Stats" on Google.
How to Use the Total Team Goals Stats Table
The table above features the Total Team Goals Statistics for over 500 teams across around the globe for the current season. Here you can select between:
Goals scored
Goals conceded
Clean sheets
To make the most out of it:
Use the 'Search' bar to find a specific team, league or country.
Select between tabs based on information needs.
Use the directional arrows to sort the data according to 'League', 'Team', 'Matches Played' (Pd) or 'Percentage' (%).
The data is updated daily to ensure we have the most up-to-date stats available.
We also provide:
Important: If the stats on this page haven't updated, please clear your cache.
Which Leagues Do You Offer Total Team Goals Statistics for?
We currently offer Total Team Goals statistics for teams from the following countries and leagues:
Australia – Australian Football League
Austria – A-League
Belgium – First Division A
Brazil – Serie A
England – Premier League, EFL Championship, League One, League Two & National League
Finland – Veikkausliiga
France – Ligue 1
Germany – Bundesliga & 2. Bundesliga
Greece – Superleague
Holland – Eredivisie
Italy – Serie A & Serie B
Norway – Eliteserien
Portugal – Primeira Liga
Scotland – Scottish Premiership
Spain – La Liga & Segunda División
Sweden – Allsvenskan
Switzerland – Super League
Turkey – Süper Lig
USA – MLS
What Is Team Goals Betting?
Traditionally, football betting is about predicting the correct outcome (winner) of a match. You place your bet on either a home win, a draw or an away win, and you get your winnings only if you pick the right result. Final Result Betting can be useful in many scenarios, but there are also times where this type of betting simply isn't profitable. In these scenarios, we have betting types like Total Team Goals.
Total Team Goals allows you to wager on how many goals a teams will score or concede.  Let's take a match between Tottenham and West Ham as an example. You feel confident in Tottenham's attacking prowess, so you decide to wager on team goals. If you select over 2.5, this means that Tottenham will have to score 3 or more goals for you to win. If Tottenham only score 2 goals, you lose. In the same way, if you're confident Tottenham won't let in more than 1 goal, you can wager on under 1.5 goals conceded.
That's just one of many examples in this broad market. Team goals can be applied in numerous situations, from one team, to both teams, both halves and more.
Total Team Goals Variations
Over/Under
This is a simple wager on the amount of goals that will be scored. Bookmakers will give you a variety of Over/Under options, such as:
Team A will score over 0.5 goals
Team A will score over 1.5 goals
Team A will concede over 0.5 goals
Team A will concede over 1.5 goals
Total goals over 2.5
Total goals under 2.5
This is an extremely versatile market which allows you to bet on a lot of different scenarios. You can bet on a specific team, on total goals by both teams, on goals in every half and so much more.
Result/BTTS
Result betting is based around wagering on one of three outcomes: team A winning, team B winning, or a draw between team A and B. On the other hand, BTTS stands for Both Teams to Score. Therefore, to win this bet, you'll need to predict which team will win the match and whether both teams will score over 0.5 goals.  For example, in a match between Liverpool and Everton, you place a bet on Liverpool & BTTS "yes". To win the bet, Liverpool will need to win the match, but Everton will also have to score.
Result/Total Goals
Result/Total goals can be viewed as a safer version of Result/BTTS, and the odds will reflect this. With this bet, you're no longer required to predict whether both teams will score, but rather the cumulative goals scored by both teams in the final result. Going back to the Liverpool – Everton example, if you bet on Liverpool + over 2.5 goals, Liverpool could win 3-0, or 2-1 – it wouldn't matter. As long as 3 or more goals are scored in total and Liverpool finish as winners, your bet will be successful.
Exact Goals
This is exactly what it says on the tin – punters bet on the exact number of goals to be scored in a game. A few examples are Liverpool to score exactly 2 goals, 1 goal to be scored in the first half, and 3 goals to be scored in the whole match.  
Clean Sheet Betting
In recent years, punters have been drawn towards Clean Sheet Betting, which lets you wager on whether a team will concede a goal in match or not. A popular and straightforward way to bet on this market is by placing on "Yes" this team will keep a clean sheet or "No" they will not. But this isn't the only way. For example, betting under 0.5 goals for West Ham will imply Tottenham will keep a clean sheet. Betting Tottenham & BTTS No would imply that Tottenham will win without conceding a goal. And, of course, betting exactly 0 total goals for West Ham would also suggest Tottenham won't concede.
When Should You Bet on Team Goals & Clean Sheets?
Betting on team goals is useful in a lot of situations. If you're betting on the likes of Liverpool, Manchester City or Barcelona against a minnow teams, you're unlikely to get good betting odds. Wagering on the favourite to score more than 2.5 or 3.5 goals will offer you better value.
It's also really handy when you're confident in a side's attacking or defensive capabilities but not in their overall team. Let's say that, in a match between Everton vs Brighton, you're optimistic Everton will find the back of the net twice; however, the stats tell you that their defence is as reliable as Wayne Rooney at a World Cup. Therefore, you place on Everton over 1.5 team goals and rid yourself of the stress of trusting in that leaky defence.
Clean sheet betting also has the potential to offer excellent value throughout the season, when some teams will become renowned for their defensive solidity. If you monitor this market and discover which teams these are before prices drop, you could benefit from some great prices.
One of our favourite ways to bet on team goals and clean sheets is through same game multi bets or bet builders. Bookies such as Betfair or bet365 will allow you to build an accumulator within a single match from a range of markets. Combining Over/Under team goals and clean sheets with markets such as match result, total cards and corners gives you great flexibility in trying to predict how the game will pan out, and you'll also benefit from higher odds.
Total Team Goals Betting Tips and Strategies
Using our Total Team Goals Statistics Table, consider the following factors when creating your bets:
A team's attacking stats (percentage of matches they scored over 0.5, 1.5, 2.5 goals)
A team's defensive stats (percentage of matches they kept a clean sheet or conceded over 0.5, 1.5, 2.5 goals)
It might be obvious, but we highly recommend you do this for both teams. For example, if you're thinking about betting on Manchester United team goals, start by checking their attacking stats, then move on to checking the defensive stats of their opponents. This will give you a balanced view on how the match will go.
Furthermore, check the recent form of the two teams on our KickForm page. Some teams get better as the season goes on; others get worse. Leicester's "great escape" in the 2014/2015 season is a great example of this. The Foxes found themselves at the bottom of the league at Christmas with a mere 10 points from 17 games. However, they went on an extraordinary run at the beginning of April, scoring 14 goals and conceding just 6, picking up 5 clean sheets out of a possible 8 in the process. Punters who backed them to score goals and avoid conceding them during that period would have been in the money.
It's crucial to remember that you shouldn't take the stats alone. Context is important. If Newcastle played 5 of the top 6 teams in their first 5 weeks of the season, then the stats are likely to create a distorted image of the true quality of their team by the 6th week.
It's also worth mentioning that team goals and clean sheet bets fit perfectly into an accumulator bet. This allows you to lower your overall stake and enhance your total returns on a winning ticket. For example:
Everton vs Liverpool – Liverpool clean sheet "yes" @ 12/5
Newcastle vs Man Utd – Man Utd over 2.0 goals @ 9/4
Man City vs Arsenal – Man City under 2.0 goals @ 9/4
That amounts to total odds of 34.91/1, which would return £39.91 if a stake of £10 was placed on bet365 at the time of writing.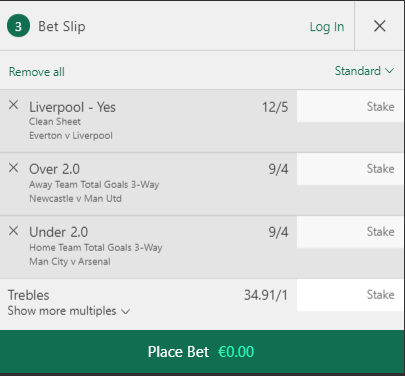 Last but not least, find a top bookmaker. First of all, the best bookmakers offer a myriad of promotions that add to the thrill of goal and clean sheet betting. For example, bet365 and QuinnBet are both willing to refund your stake in the case of a 0-0 bore draw (T&Cs apply). Moreover, leading bookmakers will also provide you with a wide selection of markets, giving you greater flexibility when it comes to making your predictions. Need some suggestions? Take a look of our top 5 bookmakers for Total Team Goals Stats below.
Top 5 Bookies for Total Team Goals Stats
bet365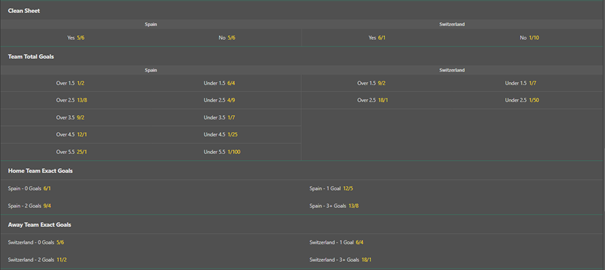 bet365 are known for their extensive range of markets, and this unsurprisingly extends to their goal markets. Players can punt on a list of over/under team goal bets, clean sheet "yes" or "no", Result/BTTS and Result/Total Goals. The home/away team exact markets are also intriguing, offering you generous odds if you can predict the exact number of goals a team will score.  As we mentioned earlier, the bet365 bet builder is one of the best – according to our bet builder comparison the best –  bet builders around, which will let you combine these selections to conjure up the perfect looking bet slip.
Ladbrokes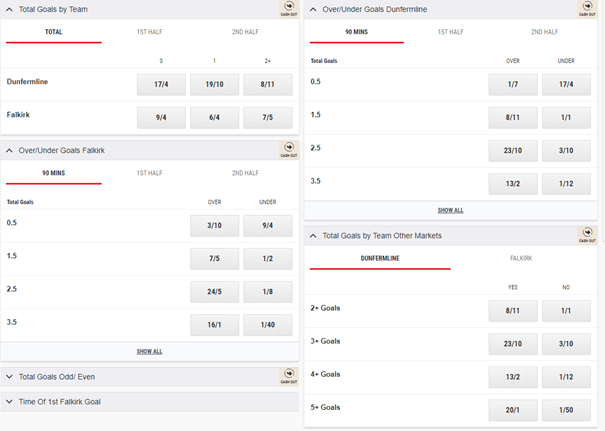 At Ladbrokes, team goal markets come in vast quantities. On their Team Goals section, you'll be able to wager on Over/Under goals or exact goals for each team. What's even better is that you can do this for each half, meaning if you want to bet on the home team to score over 1.5 goals in the second half, that's possible. Betting on clean sheets can also be done easily through their bet builder, which, by the way, isn't too bad either.
Betfred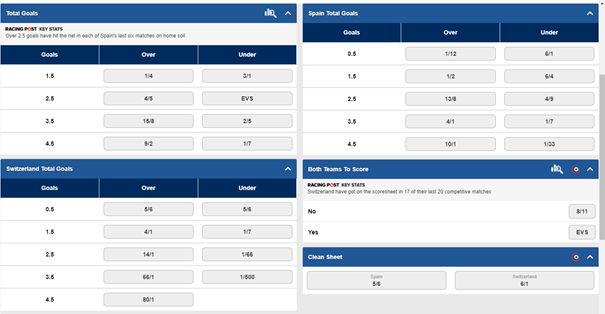 When it comes to team goals and clean sheets, Betfred are a reliable pick. On their super user-friendly website, you'll find a healthy offering for team goals, as well as clean sheet "yes" or "no". Something we really like about Betfred is their predicted line ups feature, which does a great job at forecasting which players will be on the pitch – a crucial aspect of predicting goals and clean sheets.
SportNation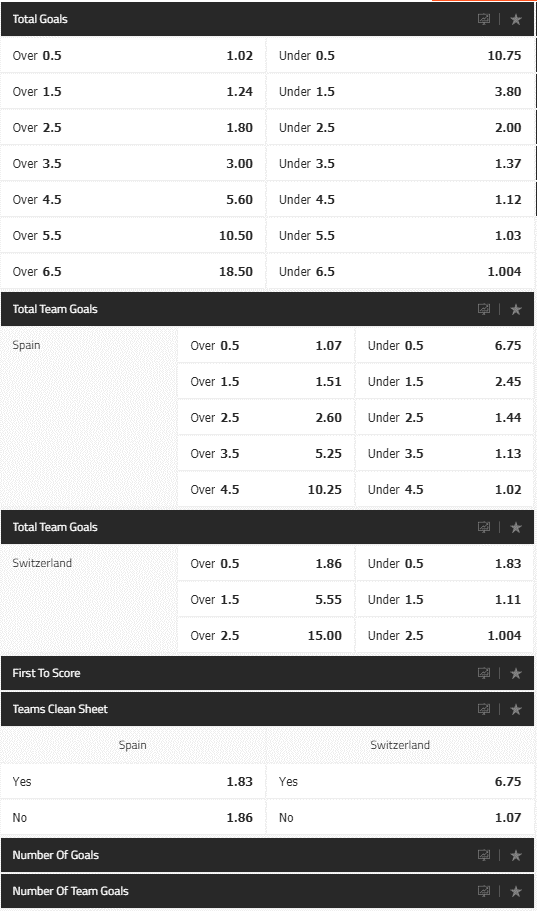 On SportNation, betting on team goals and clean sheets certainly isn't an issue. You'll find a bountiful selection of goal-related markets to punt on, and their Create YourBet feature makes combining multiple selections into one ticket an effortless task.
STSBet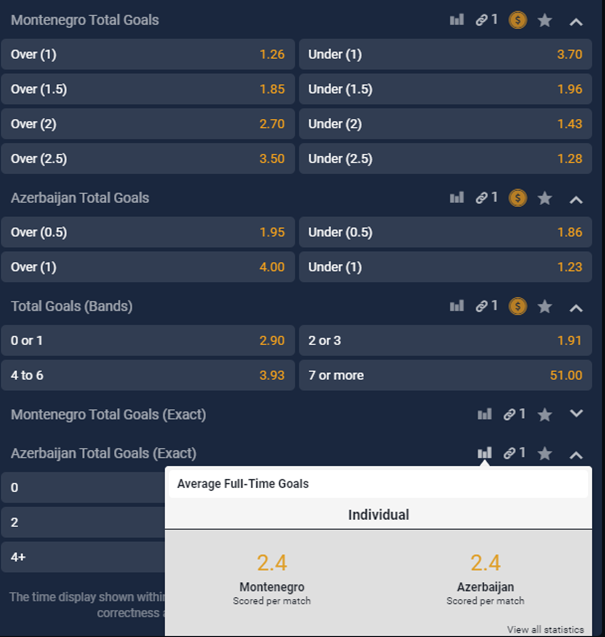 Besides having one of the most stunning website designs we've seen, STSBet offer a quality sportsbook with a seemingly limitless range of markets to bet on. Their goals catalogue is packed with diversity, with readily available statistics provided for each bet. A great touch indeed.
Total Team Goals Betting FAQs
 🤷‍♂️ How does Team Goals betting work?

Total team goals work in the following way: you pick either the home or away team to score or concede a certain amount of goals. A typical example is betting on the home team to score over 2.5 goals. If that team scores 3 or more goals, you win. If they score under 3, you lose.

 ⚽ What is the difference between Total Team Goals and Total Goals?

If you choose Total Team Goals, you are putting your money on only one team to score a certain amount of goals. Total Goals represents the total amount of goals in a match, completely independent of which team scores them.

🧼 What is a clean sheet and how can I bet on it?

Clean sheet is a term used in football to describe a match where specific team has not conceded a single goal. Betting on clean sheets can be done in a variety of ways. One way is to wager on "yes" or "no" clean sheet. Another is to place on over 0.5 or under 0.5 goals conceded.

👌 What should I do to help with my predictions?

In the Total Team Goals Statistics table at the top of this page, you'll find the most important data related to team goal betting. For every match, we recommend looking at the attacking and defending statistics of both teams to get a balanced view on how it is likely to be played.
ThePuntersPage Final Say
With punting, it's important to be adaptable to find value and opportunity in different situations. There are many scenarios where traditional Final Result isn't optimal, so expanding your betting horizons to include goals is a major benefit. As with any market, do your research, analyse the stats and find value to give yourself the best chance of winning.