Financial betting lets you bet on how stocks, currencies (forex), cryptos or other financial products will perform. In this article, we explain how it works and list the top ten financial betting sites online.
Best Betting Sites We Recommend for Financial Betting in 2023
Financial Spread Betting
Sports Spread Betting
Tax free financial speculation
Up to £25 free bets with Spreadex Join and place a £25 fixed odds single bet at min odds of 1/2 and get 5 x free £5 fixed odds single bets. Free bets awarded on consecutive days after qualifying bet is settled. Place a smaller qualifying bet and get different amounts of free bets. E.g. £20 qualifying bet = 4 x £5 free bets, £15 bet = 3 x £5 free bets etc. 18+ begambleaware
Trade CFDs, Crypto and Other Financial Products
The World's Leading Social Trading Platform
Free £100,000 Demo Account
Trade on various platforms
Variety of features to gain control of your account
Free demo available
What Is Financial Betting?
Financial betting is betting on how stocks, commodities, rates, or other financial markets will behave. This does not involve investing; you are placing a bet, just as you would on the outcome of any sporting event. If the market behaves as well or as poorly as you have predicted, you will have won your bet.
Essentially, you are betting whether a stock will go up or down, or what level it will be at, at a given point in time. You are not purchasing the stock, but betting on odds offered by a bookie.
The clearest form of financial betting is fixed odds betting, which is a simple bet, like any other at a bookie.
A more complex form is spread betting. Here, your payout depends on how well your stock performs.
CFDs (contracts for differences) are a more complex type of investment, though with some creativity, they could also be lumped under financial betting.
Following our recommendation of which bookies to use, we discuss the ins and outs of financial betting, including a discussion of each type of financial wager in detail.
Best Financial Betting Sites
Financial Betting Site #1 – Spreadex
Spreadex is the main site for financial spread betting in the UK, and allows you to bet on indices, shares, FX and commodities, as well as sports. There are over 60,000 account holders, with the platform having dominated the spread betting industry in the UK since 1999. In addition, you can bet on more than 10,000 global markets.
Financial spread betting
The more right you are, about a stock or indice, the more you win. The more wrong you are, the more you lose.
Sports spread betting
Spreadex also offers sports spread betting, allowing you to bet on a team or player's performance in a match. This applies to game stats such as points in rubgy, goals in football, or the distance a horse will win by in a race.
Other financial products
Trade CFDs* with the same account
Trading with margin rates
Deal AIM stock shares
Financial Betting Site #2 – eToro
eToro is the world's leading social trading platform and one of the leading exchanges for an ever-increasing number of cryptocurrencies. It lets you trade and invest in a large variety of stocks, cryptocurrencies, and more, without the need to pay mark-ups, ticketing or management fees. You can trade any volume you want.
CFDs
Here, you'll have a choice between 'real investing', i.e. buying actual and selling stock or currencies, or trading in CFDs. The latter option comes with advanced risk management features, including real-time alerts and a customisable stop loss.
Demo Account
If you want to see what trading CFDs, FX or stocks betting is like, try the free $100,000 demo account to experience trading without any risk.
Financial Betting Site #3 – Betfair
Betfair is one of the biggest and best betting sites in the world. Apart from their sports markets, you can also bet on financial statistics. These include:
Bitcoin Specials
Ethereum Specials
UK Interest Rates
USA Interest Rates
Australian Interest Rates
For example, you can bet on the Closing Price of Bitcoin for this month, or this year.
Bet on Financial Markets at Betfair
On the Betfair site, head to the exchange section and choose Financial Bets. Here, you can bet for or against an outcome, such as whether Bitcoin will be worth between USD 10000.00 and 14999.99 by the end of this year.
Risk-Free Bet on the Exchange
While promotions for financial betting are limited, Betfair offers a fun risk-free bet on its Exchange platform. Bet £20 and, if it loses, the site will refund your £20. This promo also applies to sports as well as anything else on the Exchange.
Financial Betting Site #4 – Plus500
Plus500 is a specialised platform for Forex CFDs*. If you want to capitalise on rising or falling exchange rates, this site is the best. with no commissions and ultimate money security. A free demo account at Plus500 is the best way to learn Forex CFDs.
CFDs
Specialised platform for trade shares, indices, FX, commodities and cryptocurrencies CFDs.
Demo account
Open a demo account and start practising today!
Types of Financial Bets and Where You Can Place Them
Financial betting can be divided into three categories, depending on how payouts work and how much you can win or lose. The most common types of bets are:
You can find these bets available at some of the best online bookies, spread betting sites, and trading platforms, respectively.
Fixed Odds Betting – Bookies
Fixed odds are the easiest to bet on and are the most commonly found across online bookies. Here, you bet that the markets will reach a certain point, and if they do so in the given time frame, you win your bet.
The bet has a set closing time, meaning you win according to predetermined odds.
For example, you can bet on the price of US dollars in Pounds at the end of the year or month. The bookie will pay your winnings in the same way they settle sports bets.
Most of the larger betting sites offer financial specials, along with their regular betting options. There, you will often find financial bets (or financials) as part of the sportsbook, similar to how you can bet on sports, politics, or other specials.
Financial Spread Betting – Spread Betting Sites
Financial spread bets are becoming increasingly popular. With spread bets, the risk is slightly higher – but so are the rewards.
Spread betting works by betting a certain sum per point. You can bet on shares, FX, indices, and so on. If you bet a stock will rise, you will win for every point it rises; however, you will lose for every point it falls.
Betting on the price of crypto also falls under this category (which is not the same as betting on sports with crypto). This can lead to big wins, but also big losses. Nevertheless, the risk is limited by the fact that you can cash out at any moment and that the bet has a time limit.
Certain sites, such asSpreadex, are dedicated specifically to financial spread betting. Here, you bet a sum per point you expect a certain product to rise or fall by. Read our full guide to spread betting here.
How to place a spread bet
If you have never placed a spread bet before, here is our step-by-step guide.
Choose a site with spread betting. We recommend Spreadex.

Decide which market to trade on. Choose between indices, FX, Commodities, Stocks and Rates. Make sure to do plenty of research, although most spread betting sites offer plenty of extra information.

Decide to buy or sell. Choose to buy if you think the price will go up. Sell if you think the price will go down.

Choose your stake size. Choose how much you will stake per point. A stake of £10 means you will win or lose £10 for every point you are right or wrong by.

Do not forget a stop loss. A stop loss is an order to close the position if it moves too far against you. This is how you minimise losses.

Close your trade. When you have reached the desired position, close your trade and collect your winnings.
For example: A share is currently at 100p, with the spread at 99p to 101pYou can either buy at 101 or sell at 99.
You choose to buy at £10 per point.
If the stock goes up at, you gain £10 per point.
If the stock goes down, you lose £10 per point.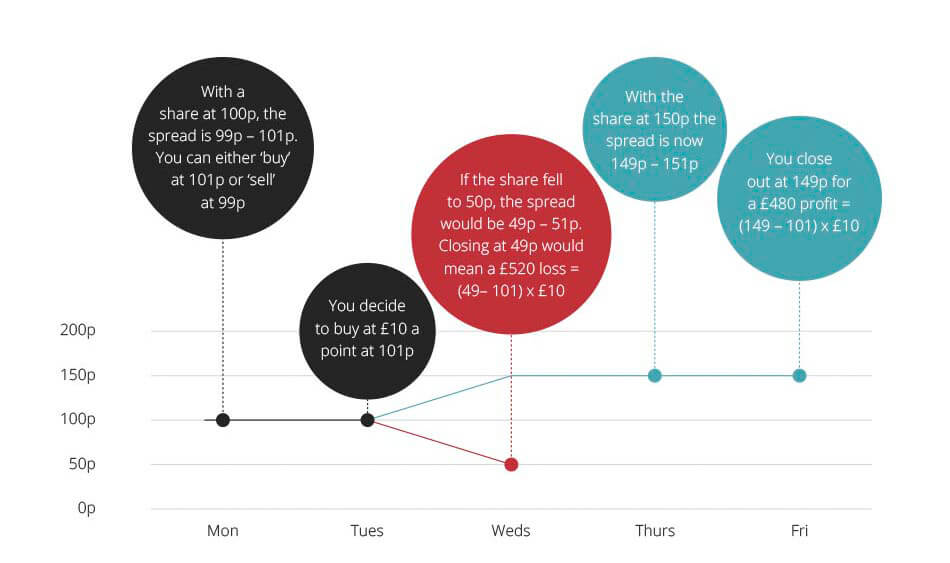 This method of betting has many advantages compared to traditional speculation. It requires less investment of time and money, and since it is a bet, it is completely tax-free in the UK!
*CFDs – Trading Sites or Specific Platforms for CFDs
While this is not betting in the strictest sense of the word, many trading platforms offer financial products, which are closely related to betting, such as FX and CFDs.
CFDs are complex financial products that settle the difference between opening and closing prices. These are typically used for FX Index, cryptos, stocks, and commodities. Essentially, these are price bets on whether the price of the underlying asset or security will rise or fall. Instead of buying the asset, you make the contract with a CFD broker. You will not own the asset; you will receive a profit based on how well it performs.
For example: – You believe stock A will rise. – You set a contract with a CFD broker. – You "buy" 100 shares of stock A for £10 a share. – The broker only requires you to pay 5% or £50. – As expected, stock A does rise. – The broker sells the stock on closing day. – You pocket the difference in value.
CFDs are complex instruments and come with a high risk of losing money rapidly due to leverage. Most retail investor accounts lose money when trading them, so you should consider whether you understand how CFDs work beforehand in order to avoid suffering significant losses.
Common Financial Betting Markets
Whether you are using CFDs, Spread Bets, or Fixed Odds Bets at a bookie, it is important to know exactly what you are betting on. Remember that you are not actually buying any of these products; you are simply betting on how well or poorly they will perform.
The six markets below are the most common for financial specials, spread bets, and CFDs.
1. Betting on Equities
Equities is another word for stocks or shares. When you buy equities, you are buying a percentage of a company, making you a partial owner.
This is what people use the London Stock Exchange for. Stock prices vary from day to day, month to month, or year to year. When people buy stock, they are speculating that the price will go up, so that they can sell at a higher price. People also buy stock for dividends (a share of the company's profit), or to get a controlling stake in a company.
When you engage in stock betting or on equities, you are not buying them – you are betting on what their price will be in a given time frame or at a specific time.
2. Betting on Indices
Indices is the plural of Index. A good example is the Financial Times Stock Exchange 100 Index, or FTSE 100. This index measures the price of the top 100 companies listed on the London Stock Exchange.
Many people see it as an indication of the prosperity of UK businesses. You can bet that the FTSE100 or any other index will rise or fall.
3. Currency Betting (Forex)
Forex is short for Foreign Exchange Market, where you can trade or buy currencies over a decentralised platform. When betting on forex, you bet on the price a certain currency will have at a certain time. For example, you can bet on the price of US dollars in British Pounds. The Forex market is divided in:
The Spot Market: The current market price for immediate payment and delivery.
The Forwards Market: The market price for future delivery and payment.
The Futures Market: Futures are contracts to buy or sell currency at a set date, time, and for a certain amount.
4. Betting on Commodities
The commodity market is the primary economic sector, dealing with raw goods rather than manufactured products, such as cocoa, rice, grain or sugar. Gold and silver are also considered commodities. You can bet on what the price of these goods will be at a given date.
5. Betting on Rates
Interest rates are another financial product you can bet on. The most important interest rate in the UK is the LIBOR (the London Inter-bank Offered Rate), which is calculated from estimates provided by the most prominent UK banks.
Each bank estimates what it would cost them to would borrow from other banks. Other interest rates you can bet on include rates set by the European Central Bank or Bank of England Base Rate.
6. Cryptocurrency Betting
Just like betting on fiat currencies like dollars, euros and pounds, you can also bet on what the value of a certain cryptocurrency will be at a given date. For example, you could bet on the price of Bitcoin in Pounds at a given moment in the future at Betfair.
Other cryptos you can bet on include Ethereum, Litecoin, Bitcoin Cash, and XRP.
Market Investment vs Financial Betting
We hope that we have made the difference between financial betting and market investment clearer.
While buying stocks could be considered a bit of a gamble since you don't know how well they will perform, this is obviously very different to financial betting.
When you are stock betting, you are not actually buying anything. You will not own stocks, bonds, foreign currencies or any other financial product. You are simply wagering against a bookie that certain financial product will perform in a certain way.
You can bet that a price will fall and make a profit, or bet that a price will rise and make a profit. As long as you are right, you will win.
The Advantages of Financial Betting and CFDs
Financial spread betting, betting on financial specials and CFDs have a much lower entry barrier than real market investment. They are suitable for casual bettors and financial experts alike. Here are the top six advantages.

Lower fees: No matter where you set up a trading account, there will always be fees involved. When you are betting, there will of course be a small house edge, but there will be no fixed fees or transfer fees involved.
Faster: When you are betting on the performance of financial products, it will take less than a month for your bet to be settled. Most financial products only yield once per year, or give profit when sold. You will need plenty of time to make money off traditional financial products like stocks and bonds.
Less cash needed: If you want to make a profit of just £1000 on traditional financial products, you will need to have a huge budget, since profit margins are not very high.
Easier to learn: Simply betting on how well a certain market will perform in the short term is probably much easier than knowing how well a stock will perform over the course of an extended period.
Anonymous: When you are betting, you are technically not buying anything, nothing will be registered to your name, so there is nothing anyone can come looking for.
Tax laws:The UK hasgreat tax lawswhen it comes to gambling. While most types of income are subject to tax, income from betting is completely tax-free! While you may have to pay tax on winnings from CFDs or financial investments, all winnings from betting, casino, lotteries or any other type of gambling are tax-exempt, and you do not even need to declare them to HMRC.
Disadvantages of Financial Betting and CFDs
It should come as no surprise that financial betting is each of the forms we have discussed here has several disadvantages, especially the high risk involved in some of these products. You should also be aware that since spread betting can be less profitable, if the stock you are betting on does not move too much.
Limited number of financial specials available at bookies: Most bookies have just a few financial specials – we do not see how you can build a valid betting/investment strategy around such a limited set of bets. That does not mean you cannot win at least a few bets, of course.
Limited profits on spread betting: Spread betting has slightly less risk than conventional betting – still, the payouts might be minimal.
CFDs are very high risk: If you are unacquainted with financial markets, probably this form of "investment" is not for you.
Financial Betting Sites FAQs
Based on our research: eToro, SpreadEx and Betfair Exchange are the best financial and stock betting sites.
Sports spread betting works in a similar way to financial spread betting. Instead of betting on how well a stock will perform in a market, you are betting on how well a team or player will do in a match. You can bet on game stats like Goals in Football, the distance a horse will win by in a race, or how many points a basketball player will score. The bigger the spread, the more money you will win or lose.
Yes. Instead of buying stocks and speculating on what their value will be in the future, you can simply head to a stock betting site like Spreadex where you can bet on how well or poorly the stock will perform.
We recognise fixed odds betting, spread betting, and CFDs as forms of financial betting.
Several bookies have a limited offer of financial specials. These could be the price of Bitcoin at a given point in the future, etc.
ThePuntersPage Final Say
Financial betting or stock betting is not the same as actual investment. It has many benefits, including that it is tax-free. Fixed odds betting at bookies is the easiest, while spread betting is becoming increasingly popular. Since you can cash out or use a stop loss, this method can protect you against heavy losses. CFDs are more risky, but the risk does come with a potential reward. A demo account at Spreadex or eToro is a good way to get started without taking any risk.