In this article we explain all you should know about Ladbrokes 5-A-Side, including a step-by-step guide on how to play as well as the key terms you need to know.
Ladbrokes 5-A-Side allows you to play on the biggest leagues across Europe: the English Premier League, the Italian Serie A, the French Lique 1, the Spanish La Liga, and the German Bundesliga.
What is Ladbrokes 5-A-Side?

With Ladbrokes, you are able to take great control over your 5-A-Side experience. Pick your formation, choose your players and stats, and build your team.
It combines the best of fantasy football with Ladbrokes' range of football markets – it's an exciting new way to bet, and you're going to want to try it!
Not Yet Joined Ladbrokes?
Sign up with Ladbrokes now to benefit from their 'Bet £5, Get £20' offer!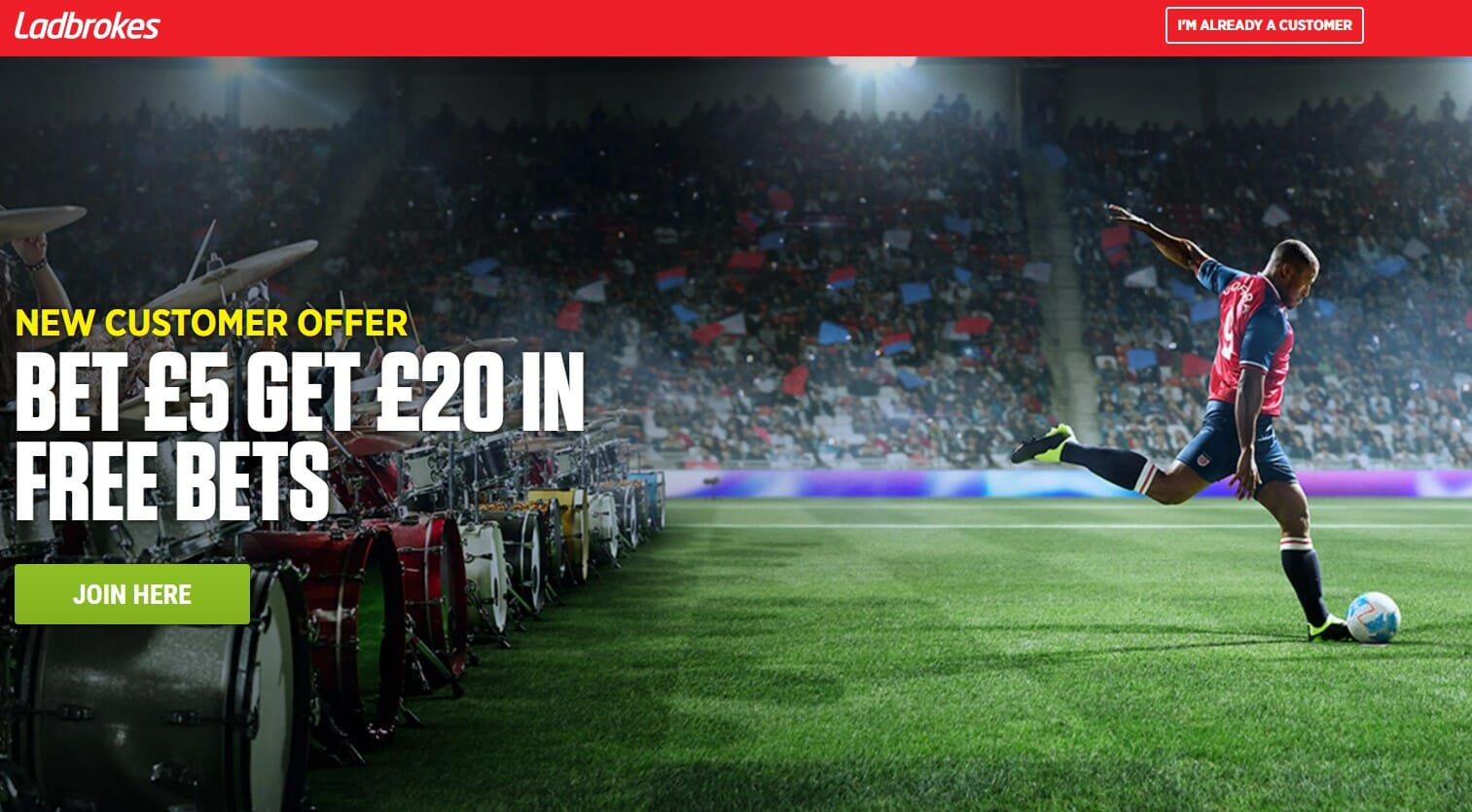 Ladbrokes 5-A-Side Formations
With Ladbrokes 5-A-Side, you are also able to choose from several bespoke formations:
Balanced: Your standard 1-1-2-1 5-A-Side formation. It is simple, yet as Ladbrokes shows, balanced, from defence to attack.
All Out Attack: With a 1-1-0-3 line-up, All Out Attack focuses on goals and a straight-up attacking plan.
Rush Goalie: Not a fan of goalkeepers? Opt for Rush Goalie for a 0-1-2-2 line-up.
Park The Bus: Pack your team with defenders in this 1-3-0-1 formation.
Gung Ho!: With this 1-1-3 formation, you will have just one defender and one midfielder behind you.
Shoot On Sight: This 1-0-2-2 formation is the ideal choice when leaving your defenders behind and allowing strikers to get those shots.
Ladbrokes 5-A-Side Player Positions
Ladbrokes 5-A-Side allows you to choose from several key positions:
Keeper: You can choose how many goals you think your goalkeeper will concede, or opt for a clean sheet instead.
Hacker: If you are in need of a player to keep the referee busy, this player position is for you.
Cruncher: Place a defensive cruncher in your team to make a number of tackles.
Baller: If you would like a player to make a lot of passes, then choose a baller to form part of your team and select how many passes they'll make.
Playmaker: Pick a playmaker to have a number of assists and set up those goals.
Chancer: If you are eyeing an impressive player who could shoot at a goal from outside the box, choose him as your chancer!
Sniper: If you think a player will keep shooting at any chance he gets – even when achieving the goal does not seem at all likely – this player should be your sniper.
Finisher: A finisher's role is entirely focused on getting the ball into the net, so this is your player for scoring a high number of goals.
Sharp-shooter: While a sniper is always a good option, the sharp-shooter will shoot AND hit the target.
How to Play Ladbrokes 5-A-Side
Sign in to your Ladbrokes account.

Head to the 5-A-Side page to find the most recent 5-A-Side fixtures.

Choose your fixture and start building your team.

When your 5-A-Side window is opened, you will find a unique pitch layout with formations lined up along the top.

Click through each to see which formation is ideal for you.
ThePuntersPage Final Say
Ladbrokes 5-A-Side guarantees a unique betting experience, and with the range of options available, you'll be able to enjoy great control over your game. There's nothing to lose – try it out! However, if you'd like to explore other options, read through our fantasy football guide for more recommendations!