More and more states in the US have begun to embrace online gambling as a source of revenue and entertainment. On this note, our detailed Arizona sports betting guide covers everything you need to know, from top bookmakers available in the state to local sports teams and popular events.
Arizona Legal Sports Betting
Great futures markets
Promotions for major league sports throughout the year
Good range of markets on popular US sports
Official partner of Phoenix Suns
Merged wallet for sports and horse betting
User-friendly platform for beginners
Official partner of the Arizona Cardinals
Fantastic rewards program
Great range of special parlay bets
Is Sports Betting Legal in Arizona?
Sports betting became legal in Arizona on April 15, 2021, after Governor Doug Ducey signed SB 1797. The market then went live on September 9 of the same year.
The new law allowed the Arizona Department of Gaming to provide licenses to professional sports teams and Native American casinos in the state, also allowing these organizations to partner with sportsbook operators. Every Native American tribe must renegotiate gaming compacts before launching sports betting.
Professional and collegiate sports wagering are available at sportsbooks in Arizona, but college prop bets are prohibited as a responsible gambling measure towards young people. Even so, Arizona is one of the few states that allows esports betting.
Milestones in Arizona Sports Betting
February 24, 2023 – DraftKings opens its retail sportsbook at TPC Scottsdale, the first in the country to partner with the PGA Tour.



February 12, 2023 – Arizona hosts Super Bowl 57, the first time a Super Bowl has been hosted in a legal sports betting state.



February 7, 2023 – December figures from the Department of Gaming indicate the second-largest sports betting handle in the state's history of $618.8 million.



January 12, 2023 – Arizona reports a sports betting handle of $618.6 million in October, according to the Arizona Department of Gaming, the second-largest on record and a 27.3% increase from October 2022.



December 12, 2022 – Tribes in Arizona meet for the Indian Gaming Association's mid-year conference in Fort McDowell and express concerns about the harm losing gaming exclusivity will do to them.



December 5, 2022 – DraftKings holds a ground-breaking ceremony for its new retail sportsbook at TPC Scottsdale.
Sports Betting Revenue and Taxation in Arizona
Arizona applies an 8% tax on all the bets collected by retail sportsbooks and a 10% tax on all online bets taken, which is on the lower end of sports betting taxes nationally compared to New York (51%) and Pennsylvania (36%). However, it is still higher than the rates in states like Iowa (6.75%) and Michigan (8.4%).
From the launch of sports betting in Arizona to December 2022, the Arizona Department of Gaming reported that sportsbooks have processed a total betting handle of $7.2 billion, with nearly $580 million of gross sportsbook revenue and over $300 million in adjusted revenue. This has led to almost £32 million in taxes for Arizona since legalization. The Federal Revenue Code indicates that 0.25% of all sportsbook handles must be taxed, with each sportsbook charged a $50 fee per employee involved in taking bets.
Sports bettors are also taxed on winnings in Arizona, as you have to include your profits in your income tax, which ranges from 2.56% to 4.5%. You must all declare all your winnings to the IRS and complete a W-2G form if you win over $600 in a year. Sportsbooks can also hold up to 25% of your winnings for tax purposes.
Comparison of Top Sportsbooks
Since the state's launch of sports betting in September 2021, the Arizona market has exploded, with dozens of operators available. You can choose from a selection of some of the biggest operators in the US and local platforms backed by Native American tribes. There are dozens of options, though, so it can be challenging to choose a site. With that in mind, we've selected some of our favorite sites so you can find the perfect match for you.
DraftKings
DraftKings (DK) is nationally renowned for its Daily Fantasy Sports (DFS) product and its sportsbook, which is available in 20 US states. DK went live on the opening day of sports betting in AZ on September 9, 2021, through a partnership with TPC Scottsdale.
The sportsbook offers a great range of markets on various popular US sports, including an extensive range of betting lines on the major professional leagues and collegiate sports. There's also a wide variety of esports markets to choose from. While all the odds are competitive overall, you'll find particularly generous betting lines for futures and in-play markets.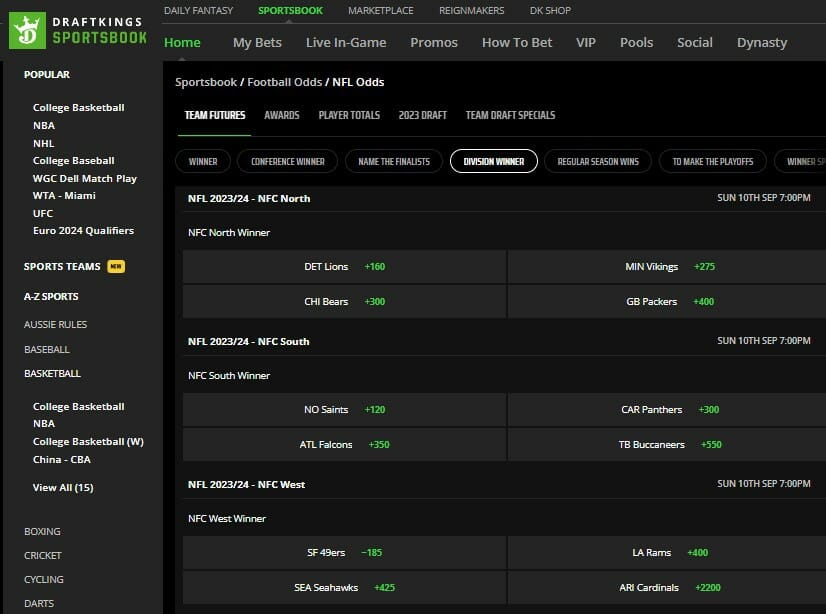 DraftKings boasts a straightforward and highly user-friendly platform, complete with 24/7 customer through live chat and email if you run into any issues. The sportsbook accepts all the most popular payment methods, with withdrawals taking 3-5 business days. We also really liked that you can use your DK-powered wallet to fund DFS contests on its fantasy sports platform.
Pros
Excellent in-play betting selections
Impressive futures markets
Great customer service
FanDuel
Like DraftKings, FanDuel launched in September 2021, on the day sports betting legally went live in Arizona. The site partnered with the Phoenix Suns to obtain a license with the Arizona Department of Gaming. As a part of this agreement, the operator opened a sportsbook inside the Suns' Footprint Center.
FanDuel has a wide range of markets, with major league and college betting available alongside niche sports like cricket, handball, and rugby. Every event has various markets, with FanDuel excelling at prop bets like first-scorers betting.
In addition, the platform accepts a variety of payment methods, including bank cards and wire transfers. FanDuel also has a partnership with Play+, meaning you can purchase items with your bet winnings using a FanDuel-branded card wherever Discover is accepted. The betting site will process withdrawals in 2-5 business days.
The FanDuel-powered wallet is a significant advantage, as you can use bet winnings to fund your DFS play and bets at TVG, the pari-mutuel horse racing site operated by the site itself.
Pros
Great selection of sports
Excellent range of markets
Fund DFS and pari-mutuel betting with an all-in-one FanDuel-powered wallet
BetMGM
BetMGM Sportsbook is operated by MGM Resorts International, owner of the iconic MGM Grand in Las Vegas. The betting site obtained a license with the Arizona Department of Gaming through a partnership with the Gila River Casino and opened retail sportsbooks at each Gila River Casino site: Vee Quiva, Wild Horse Pass, and Lone Butte.
The sportsbook offers wagers on a good range of sports comparable to its competitors. Not only do its major league markets provide a wide selection for you to choose from, but you'll also find generous betting lines for sports like MMA, motorsports, and soccer.
One of the areas in which BetMGM excels is its customer service, with 24/7 support for players available via phone, live chat, and email.
Another big plus of BetMGM is its rewards program, MGM Rewards, where you can exchange points earned through betting for prizes like hotel stays and meals at MGM Resorts locations. The sportsbook is also an official betting partner of the Arizona Cardinals, so special promotions are available on Cardinals games throughout the season.
Pros
Best-in-class reward program
Great customer support
Official betting partner of Arizona Cardinals.
Cons
No live-chat customer support
Best Sports Betting Apps in Arizona
Most bettors like to place their wagers on the go, so betting sites in Arizona must offer a great mobile experience to compete with the best operators. While every app claims to be the best, we've narrowed down the best of the bunch below for your reference.
DraftKings: As with its main desktop platform, DK launched its app in September 2021 and has been a popular option with bettors ever since. It has a 4.6 rating on Google Play Store and a score of 4.8 on the iOS App Store. One standout feature is its exclusive livestreaming service, providing users with an immersive and convenient way of following the action directly from their mobile devices.
FanDuel: Another that went live in September 9, 2021, FanDuel's app is highly intuitive and popular among the site's users, with a strong 4.7 rating on the Google Play Store and a score of 4.8 on the iOS App Store.
BetMGM: Available for both Android and iOS users, BetMGM's app is rated 4.4 and 4.8 on Google Play and the App Store respectively. Just as with its desktop counterpart, you'll also get the chance to collect MGM Rewards.
Arizona Sports Betting Promotions
Many betting operators online offer an array of bonuses and special offers to their customers, with sites available in Arizona also following suit. You'll find welcome bonuses, no-deposit bonuses, risk-free bets, cashback offers, enhanced odds, and loyalty programs. Check out some of the most popular promotions in Arizona below.
DraftKings
To warmly welcome all prospective Arizona sports bettors, DraftKings Sportsbook boasts a 20% deposit bonus up to a massive $1,000. Simply deposit a minimum of $5 to claim the offer. Several other promotions are also up for grabs for existing customers, including daily free-to-play pools.
FanDuel
FanDuel's welcome offer will allow you to multiply your first bet by 10, meaning that a simple $20 wager (for example) can give you up to $200 in bonus bets, regardless if your wagers wins or loses. Returning players can also boost their bankrolls with a massive range of generous promotions. You'll find parlay insurance, bonus bet offers, same-game parlays, refer-a-friend bonuses, profit boosts, and plenty more.
BetMGM
Sign up and place your first $10 minimum bet at BetMGM, and you can grab up to $1,000 in bonus bets if your stake loses. What better way to kick-start your betting adventure online? Other promotions here include a refer-a-friend offer, spread parlay wagers, $10 bonus bets, one-game parlays, and early cash outs. And we'll mention again the iconic BetMGM Rewards program, where you can grab fantastic prizes.
Popular Types of Bets
You have thousands of potential betting markets to choose from in Arizona with so many platforms now having been licensed. To give you a taste of what's out there, we've compiled some of the most popular bet types available.
Moneyline: A moneyline bet simply asks you to predict who will win a game. For example, this could be the Arizona Cardinals triumphing in an NFC West divisional matchup or the Arizona Coyotes beating the Detroit Red Wings in the NHL. If you correctly predict the winning team, you'll get your stake a profit.
Point Spread: With a points-spread bet, the favorite must overcome an imaginary points deficit, called a handicap, to 'cover the spread.' When you bet on the point-spread favorite, you need them to win by more than the handicap for your bet to pay out. When betting on the underdog, your wager will pay out if the team loses by less than the handicap.For example, if the Phoenix Suns are a 7.5-point favorite for a matchup with the Orlando Magic, and you bet on the favorite, the Suns would need to win by eight points or more for your bet to be successful. The bet will be unsuccessful if the Suns win by seven or fewer. Conversely, if you bet on the Magic, you'll win if the team wins or loses by seven points or less.
Over/Under: With an over/under bet, your sportsbook will set a total for a particular statistic, so you have to predict whether the final total will be over or under this amount. For example, total points, individual player points, and total passing and rushing yards are common over/under markets. The over/under line is set by the sportsbook.Basketball is a common market for over/under bets, with many bettors placing wagers on total points in a game. For example, a sportsbook might offer over or under 210.5 points scored in the game by the Phoenix Suns and Sacramento Kings. If the score is 110-100 (210 total), then the bet will be unsuccessful, but if it is 110-102 (212 total), the bet will pay out.
Parlay: Parlay bets simply combine several selections into one wager. Each bet added to your parlay is called a leg, and your odds will increase the more legs you add to your bet. If each of your selections is successful, your bet will pay out, but if just one of them fails, the whole bet is unsuccessful. Parlays are one of the riskiest bets you can place, but the rewards can be much larger than single selections. You can also place single-game parlays, which combine multiple selections from one event.
Prop: Proposition bets, often called props, are made on an individual player or event rather than the game's score. For example, will a basketball team score a free throw in the first minute, will there be a safety or a touchback in a football game, or will there be a home run in a baseball game? While prop bets on college sports are prohibited in Arizona, you can still place props on professional and international action.
Teasers: Teaser betting combines parlays and point spreads, where you make multiple point spread selections. However, you can adjust the spreads on offer with teasers to give your bet more chance of success and more control over the lines.For example, a teaser bet could involve the Arizona Cardinals, a 3.5-point favorite, the Las Vegas Raiders, a 7.5-point underdog, and the Miami Dolphins, a 1.5-point favorite. You could adjust the lines and place a three-team, six-point teaser bet with the Cardinals at +7.5, Raiders at +1.5, and Dolphins at -9.5, with all three teams needing to cover for you to win.
Futures: A future bet is wager on significant events in the future, such as the winners of major competitions or the winners of prestigious awards. For example, you can bet on the Cardinals winning the Super Bowl or a Suns player winning NBA MVP. The earlier you place your bets, the better odds you'll get.
Live Betting: While most betting markets are available before an event starts, you can also bet on events as they happen with live betting. What you have to bear in mind here is that live markets have more volatile odds, with prices changing from second to second as the action unfolds. The upside here is that you stand to profit from momentum shifts in the game by placing your wagers at the right time. Blink, and you'll miss the best prices!
Best Local Sports Teams To Bet on
Arizona has professional sports teams in each of the major leagues, but the team that has resided in the state longest are the Phoenix Suns of the NBA, who arrived in AZ in 1968. The WNBA arrived in Phoenix in 1997 when the Phoenix Mercury was admitted as a charter franchise of the league.
Most of its other major league teams have relocated from elsewhere, like the Arizona Cardinals, who are actually one of the oldest gridiron teams in the NFL, having been formed in 1892 and relocating to the Grand Canyon State in 1988. Similarly, the NHL's Arizona Coyotes were founded as Winnipeg Jets in 1972 in the World Hockey League (WHL) before relocating to Phoenix in 1996.
Finally, the newest addition to the city were the Arizona Diamondbacks, who were inaugurated as an expansion team in Major League Baseball in 1998. The Diamondbacks won the World Series in 2001 with Hall of Famer Randy Johnson and Curt Schilling leading the team.1
You'll discover a wide range of online betting markets dedicated to the teams online, available on the sites recommended in this article.
| Team | League | Established |
| --- | --- | --- |
| Arizona Diamondbacks | MLB | 1998 |
| Phoenix Suns | NBA | 1968 |
| Arizona Cardinals | NFL | 1898 |
| Arizona Coyotes | NHL | 1972 |
| Phoenix Mercury | WNBA | 1997 |
Arizona Sports Events To Watch Out for in 2023
Arizona hosts plenty of top sporting events throughout the year as a warm-weather state. The cornerstone of the Arizona sporting calendar in 2023 was the Super Bowl 57, held at State Farm Stadium on February 12, 2023. The first half of the year also saw high-quality golf and horse racing events in AZ, with the WM Phoenix Open coming to TPC Scottsdale in mid-February and the Turf Paradise Derby coming to the Deer Valley.
The later months see the finale of the NASCAR season, Championship Weekend, taking place at Phoenix Raceway. Finally, the state's two NCAA Division I football programs meet for the Duel in the Desert on Thanksgiving weekend.
See our list of the major upcoming sporting events in 2023 in the Grand Canyon State.2
| Sport | Event | Date |
| --- | --- | --- |
| Motorsports | NASCAR Championship Weekend | November 4, 2023 |
| Football | Duel in the Desert | November 25, 2023 |
| Football | Fiesta Bowl | December 30, 2023 |
A Timeline for Sports Betting in Arizona
May 14, 2018 – The US Supreme Court strikes down the Professional and Amateur Sports Protection Act of 1992 (PASPA), allowing every US state to pass sports betting legislation.
January 23, 2019 – SB 1158 is introduced to the Arizona Senate by Senators Sonny Borrelli, Leo Biasiucci, and Mark Finchem to legalize sports betting at liquor retailers. The bill fails.
February 4, 2020 – Sen. Borrelli and Senator Steve Pierce introduce SB 1525. The bill would legalize sports betting at tribal casinos through liquor locations with betting kiosks. Once again, the bill fails to get support.
February 3, 2021 – Sen. Borrelli, Senator Thomas Shope, and Representative Jeff Weninger introduce another bill, SB 1797, to the Senate. The bill allows online and retail sportsbooks to launch through partnerships with sports franchises and tribal casinos. The bill passes both houses.
April 15, 2021 – Governor Doug Ducey signs SB1797 into law, legalizing sports betting and Daily Fantasy Sports (DFS) in Arizona.
July 26, 2021 – The Arizona Department of Gaming finalizes sportsbook regulations and opens a two-week application window for licenses.
September 9, 2021 – Arizona launches online sportsbooks in time for the beginning of the NFL season.
November 19, 2021 – Retail sportsbooks launch in AZ with the opening of the BetMGM Sportsbook at the Gila River Hotels and Casino.
February 3, 2022 – Senator Sally Ann Gonzales introduces SB1674 to increase the number of tribal casinos that can partner with sportsbooks from 10 to 23, but the bill fails.
September 9, 2022 – BetMGM opens a sportsbook at the Arizona Cardinals State Farm Stadium.
States Where It Is Legal To Bet on Sports
In May 2018, the US Supreme Court struck down the Professional and Amateur Sports Protection Act of 1992 (PASPA), allowing US states to pass laws legalizing sports betting. As each state has the right to introduce its own laws, you must follow the rules wherever you are playing. At the time of writing, the following states can also offer sports betting through retail, land-based stores or online.
Arizona – Online and retail sports betting available
Arkansas – Online and retail sports betting available
Colorado – Online and retail sports betting available
Connecticut – Online and retail sports betting available
Delaware – Online and retail sportsbooks legal; only retail available
Illinois – Online and retail sports betting available
Indiana – Online and retail sports betting available
Iowa – Online and retail sports betting available
Kansas – Online and retail sports betting available
Louisiana – Online and retail sports betting available
Maine – Legal, not launched
Maryland – Online and retail sports betting available
Massachusetts – Online and retail sports betting available
Michigan – Online and retail sports betting available
Mississippi – Online and retail sports betting available
Montana – Sports betting available through State Lottery
Nebraska – Retail sports betting available
Nevada – Online and retail sports betting available
New Hampshire – Online and retail sports betting available
New Jersey – Online and retail sports betting available
New Mexico – Only retail sports betting available
New York – Online and retail sports betting available
North Carolina – Only retail sports betting available
Ohio – Online and retail sports betting available
Oregon – Online and retail sports betting available
Pennsylvania – Online and retail sports betting available
Rhode Island – Online and retail sports betting available
South Dakota – Only retail sports betting available
Tennessee – Only online sports betting available
Virginia – Online and retail sports betting available
Washington – Only retail sports betting available
West Virginia – Online and retail sports betting available
Wisconsin – Only retail sports betting available
Wyoming – Online and retail sports betting available
While sports betting is legal in each state listed above, sports and wagering options, as well as mobile availability, may vary from state to state.
ThePuntersPage Final Say
The betting market in Arizona is highly competitive, boasting a plethora of renowned operators all catering to the needs of eager, local bettors. With a remarkable selection of markets, top-tier odds, and lucrative promotions, you'll be absolutely spoilt for choice. Furthermore, with legislative proposals in recent years aimed at expanding the number of licenses, the future looks promising indeed, ensuring an ever-growing and dynamic landscape.
Resources
1 Warner, A. (n.d.). Sports Teams in Arizona [Complete Guide]. [online] thatsportlife.com. Available at: https://thatsportlife.com/sports-teams-in-arizona-complete-guide/ [Accessed 3 Apr. 2023].
2 www.visitphoenix.com. (n.d.). Sports in Phoenix | Things to Do. [online] Available at: https://www.visitphoenix.com/events/sports-events/.