While Indiana isn't especially revered for sport, it's still one of 31 US states that have legalized sports betting to some degree. In this guide, we'll detail everything there is to know about Indiana sports betting — so read on!
Where To Place Sports Bets in Indiana
Comprehensive sportsbook
Generous first deposit bonus
Available in 17 states
Competitive odds
Extensive sportsbook covering 27 sports
Up to $1,000 welcome bonus rebate
Huge fantasy sports market
Wide range of sports promotions
$150 in bonus bets new customer offer
Sports bettors in Indiana have a multitude of options in terms of bookmakers, but the above are our top three sportsbooks available in the state.
Is Sports Betting Legal in Indiana?
Following the collapse of the Professional and Amateur Sports Protection Act (1992), Indiana moved to legalize sports betting. Things were finalized when Governer Eric Holcomb signed HB 10151 in May 2019.
In fact, the first Indiana sportsbook opened in September 2019, with online sports betting beginning a month later.
Speaking about the decision to pass the bill into law, Holcomb said2: "By modernizing our laws, this legislation will spur positive economic growth for our state and for an industry that employs over 11,000 Hoosiers. Additionally, it will bring in new revenue and create hundreds of new jobs — both permanent and in construction."
There's no doubt that Indiana has benefited from the legislation, as we'll see just below.
Present & Future of Sports Betting in Indiana
Things are starting to pick up after a relatively slow start to 2023 for the sports betting industry in Indiana. The state's sports betting handle was at its lowest since August 2022 in February 2023.
In March, however, Indiana took $433m in bets — a 21.6% increase from February.
Sports Betting Revenue & Taxation in Indiana
Since Indiana sports betting was legalized, just shy of $11bn have been wagered, generating $908m in revenue for the state. In total, $87m has been generated in tax, too.
In regard to revenue and taxation, here are some of the key points from bill H1325:
Initial license fees of $100,000, plus a $50,000 annual administrative fee for retail sportsbooks.
Online sportsbooks would pay a $10,000 initial license fee plus $5,000 in annual fees.
A flat 9.25% tax rate on gross sports betting revenue.
Comparison of Top Sportsbooks
It can be intimidating to navigate the vast world of online sportsbooks, especially with so many options available to you right now. With this in mind, we've analyzed and compared leading platforms in the market below to help you find the one that best suits your betting preferences.
1. DraftKings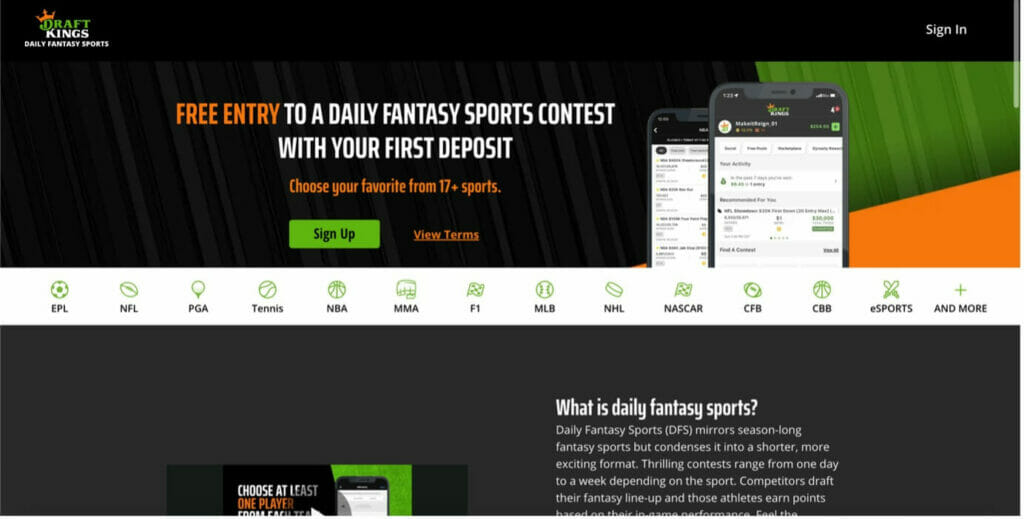 After Indiana became the 14th state to legalize sports betting in May 2019, DraftKings was quick to open its doors in the state and became one of the first sportsbooks to do so on 3 October 2019.
After initially starting out as a fantasy sports platform, DraftKings has emerged into one of America's most popular sportsbooks, and it's easy to understand why. It remains an excellent resource for fantasy lovers, but its increasing focus on sports betting means you're treated to a premier experience as soon as you've signed up!
DraftKings' odds are superb, with the bookie covering an array of sports which range from the most popular to the more niche. As you'd expect, major leagues such as the NFL, NBA, and MLB are covered in impressive depth, and these often occupy the majority of the bookmaker's promotions page.
New customers can earn a whopping $1,250 in bonuses after creating an account with DraftKings.
2. BetMGM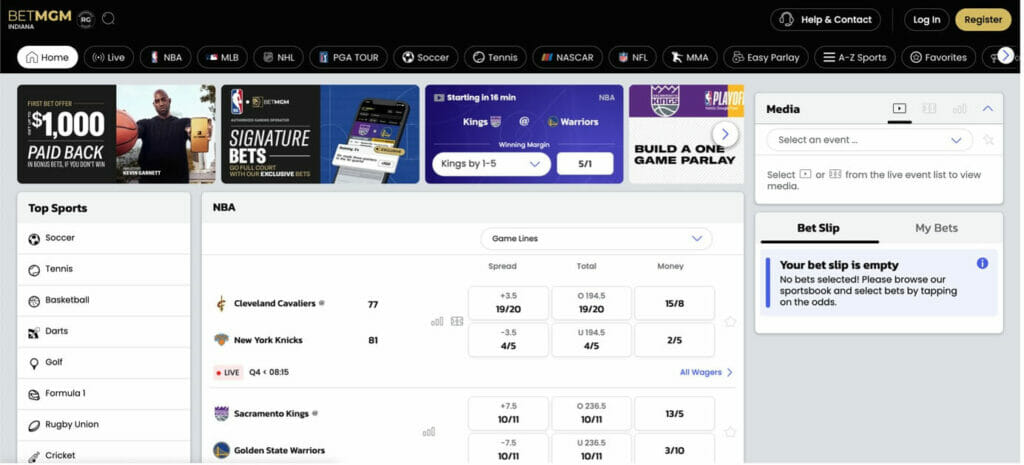 Another widely available betting site, BetMGM can be accessed in 16 states as well as Washington DC. Boyd Gaming3, who operates the Belterra Casino in Florence, Indiana, helped bring this bookmaker to the state.
BetMGM will undoubtedly appeal to many new customers as a result of its excellent welcome offer, which grants up to $1,000 in bonuses should your first bet with the bookmaker lose. While this isn't a risk-free offer, it's certainly worth going bold with your qualifying bet, given this offer's generosity!
This offer is just a small part of why BetMGM has established itself as a leading American bookmaker. Crucially, this bookie does all the basics correctly, providing a user-friendly and stress-free experience on both desktop and mobile. All components of the sportsbook work with the utmost efficiency, and those that stick around for a while could earn a list of exclusive once-in-a-lifetime experiences as a result of the site's rewards scheme.
3. FanDuel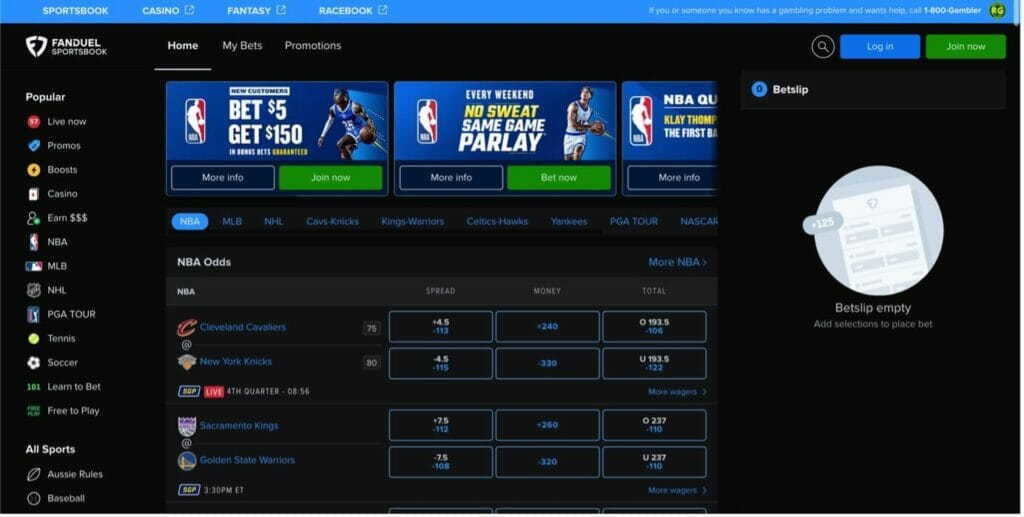 Another bookmaker partnered with Boyd Gaming, FanDuel is now available in Indiana and owns establishments in two Boyd properties in the state: Belterra Casino Resort and Blue Chip Casino.
Once a revered fantasy sports platform, FanDuel is now regarded as a premier bookmaker, with new customers enjoying a No-Sweat First Bet of up to $1,000 after signing up. Creating an account takes just under two minutes, and you shouldn't have any hassles making your first deposit either.
After enjoying the bookmaker's generous welcome offer, you will then be able to appreciate what is a mightily enjoyable sportsbook to use. There's a plentiful supply of different sports, with a bottomless pit of promotions ensuring that interests are constantly retained.
While many still use FanDuel for their fantasy sports coverage, we very much recommend you venturing into their sportsbook should you fancy dabbling into the sports betting sphere.
Best Indiana Sports Betting Apps
Indiana bettors can make the most of DraftKings' excellent mobile app, which is available to download for both iOS and Android devices. The app is particularly popular for fantasy sports, and you can easily access all components of the app due to its user-friendly interface. This premier bookmaker also launched its dedicated horse racing app, DK Horse, in Indiana ahead of the 2023 Kentucky Derby on 6 May.
Seeing that you can earn up to $1,000 in free bets after singing up with BetMGM, what are you waiting for?! Not only is their new customer offer laden with value, but their mobile app is also regarded as one of the very best around. There's very little to fault, with the app essentially operating as a smaller-screen iteration of its desktop counterpart. You can access all the components of the sportsbook with ease, with all of the main site's distinct features available too.
FanDuel's mobile app is highly impressive, with the endless list of promotions available ensuring that their customers are perpetually intrigued. As a result of the app's efficiency, placing bets on the move is an easy process, and the bookie does an excellent job of catering for everyone's needs. There's something for everyone at FanDuel!
Indiana Sports Betting Promotions
Here are some of the most common sports betting promotions offered by bookmakers licensed in Indiana:
DraftKings
Bonus Bet on Deposit
DraftKings's new customer offer has to be regarded as one of the most generous among US sportsbooks, giving you the chance to claim several rewards after signing up. Once you've created an account, you'll then be entitled to a free $50 bet after making your first deposit (which can be as low as $5).
$1,000 Matched Deposit Bonus
However, there's more to DraftKings' superb new customer offer. The sportsbook, along with the $50 freebie, offers a 20% matched deposit bonus up to $1,000. For example, if you place a $100 deposit first up, DraftKings will give you $20 in bonus funds. If you go all the way up to $1,000, the bookie will gift you a whopping $200 in bonuses.
BetMGM
Parlay Boosts
Parlay boosts are a simple but always useful promotion, available to both new and existing customers at BetMGM. As their name implies, they give you the chance to earn bigger payouts on your parlay bets through boosted odds. Some boosts are sport- or event-specific, while others are generic and eligible on all sports and markets offered by the bookmaker. While you can claim parlay boosts via other promotions at BetMGM, more often than not, you don't have to do anything to get them.
$1,000 First Bet Offer
After creating an account with BetMGM, you will be eligible for the site's $1,000 First Bet offer. If your first bet loses with this sportsbook, you'll be entitled to up to $1,000 back in bonus bets. A mere $10 deposit is all it takes to qualify for this promotion, although some might go bold early doors and make a big first deposit, in the knowledge that they'll have plenty of bonuses waiting for them if their qualifying bet doesn't come in.
FanDuel
No-Sweat First Bet
FanDuel's new customer offer is a No-Sweat First Bet, through which you can win $2,500 in bonus bets should your first bet with the bookmaker fail to be successful. However, while this promotion is attractive, you should be aware of the risk involved. Even with bonus bets for a lost first bet, there's no guaranteed profit.
Same Game Parlays
While some bookmakers refer to them as 'Bet Builders', in the USA they're more commonly known as 'Same Game Parlays' (SGP). These modern betting options are gaining popularity due to their potential for high payouts and the added excitement they bring to watching sports. FanDuel lets you place SGPs on sports like soccer and baseball. If you're unsure how to craft an SGP, the bookmaker's SGP+ promotion creates one for you daily across various sports..
Popular Types of Bets
Here are some of the most popular types of bets that Indiana bettors make on a variety of sports.
This is betting at its most basic. With money line betting, you're backing a team to win the match in question.
So, if you place a money line bet on the Indianapolis Colts to beat the Houston Texans, the Colts must win the contest for your bet to win. Your bet loses if the Ravens win or if they tie.
The high-scoring nature of most popular American sports mean there's less scope for variance and, as a result, money line betting typically lacks value. Consequently, many have turned to spread betting.
The point spread is the number of points that a team must win by for the bet to pay out. The favourite will have a '-' next to their points spread, while the underdog will have a '+'.
For example, let's say the spread reads 'Indianapolis Colts (-7) @ Jacksonville Jaguars (+7)'. This means that, if you backed the Colts, they must win by more than seven points for your bet to be successful.
The match outcome is irrelevant with over/under betting, which instead focuses on a specific statistic.
These bets are also called 'total' bets, and the most common over/under bet involves points. In this case, you need to bet on whether the two teams involved will combine for over/under the pre-determined points line set by the bookmaker.
For instance, the bookie might set the line for NFL match-up between the Colts and Jags at 46.5. 47 or more points will have to be scored for the over bet to win. Anything less and the under wins.
The often-huge payouts involved with parlay betting often attracts novice bettors. As lucrative as these wagers appear, they are unfortunately tricky to pull off.
In short, a parlay bet is made up of two or more bets which are combined to make one big wager. However, even if only one selection lets you down, your entire bet loses. That's what makes them so difficult to get right.
Nevertheless, you can still get creative with your parlay bets by getting various sports and markets involved.
Prop bets are essentially side bets you make on a game. They don't involve the match outcomes; instead, they focus on the occurrence of a particular event during the contest.
There are a multitude of different prop bets ranging from player and team statistics to the coin toss, as well as whacky novelty bets.
These bets are extremely popular when betting on major sporting events and leagues. With football, for example, you can bet on how many passing yards the quarterback will throw for in the game, or how many receptions a wide receiver will register. The options here are seemingly endless!
With futures bets, you're wagering on events that will occur later on, often at the end of a sports season or even further out. Fitting name, right?
Such bets appeal to patient bettors who aren't necessarily looking for immediate returns. For instance, betting on the Super Bowl winner before the season starts is a common futures bet, as are wagers on end-of-season individual awards.
Where To Bet on Local Indiana Teams
It's fair to say that there isn't an array of professional sports teams in Indiana, with The Colts (NFL) and Pacers (NBA) being the two prominent franchises in the state. College sports, however, are hugely popular. Notre Dame sit among the most historically successful colleges in the NCAA, while Purdue and Indiana both ranked in the top five ahead of March Madness.
| Franchise | Sport | Founded | Odds |
| --- | --- | --- | --- |
| Indianapolis Colts | Football | 1953 | Win Super Bowl LVIII +10000 |
| Indiana Pacers | Basketball | 1967 | Win NBA Finals N/A |
| Purdue University | College basketball | 1896 | Win National Championship N/A |
| University of Notre Dame | College football | 1887 | Win National Championship N/A |
| Indiana State University | College basketball | 1896 | Win National Championship N/A |
| Indiana University | College basketball | 1971 | Win National Championship N/A |
Important Sports Events in Indiana 2023
Here's a list of significant sporting events that Indiana sports fans will take a keen interest in this year and might fancy betting on:
15th April — 2023 NBA playoffs start
26th August — University of Notre Dame's NCAA regular season starts
8th September — NFL regular season starts
Mid-October — 2023/24 NBA regular season starts
Indiana's gambling laws are pretty lenient, but bettors here cannot wager on on esports, and nor on athletes who are younger than 18. However, Hoosiers can bet on in-state college teams, as well as NCAA games that take place in the state. Meanwhile, live betting is available at the discretion of the Indiana Gaming Commission.
Indiana Sports Betting Timeline
Let's take a look at the history of sports betting in Indiana:
1989 – Pari-mutuel betting is legalized.
1994 – Harrah's Hoosier Park opens in Anderson.
1995 – Off-track betting parlors open.
2002 – Horseshow Indianapolis, then known as Indiana Downs, opens in Shelbyville.
May 2019 – Sports betting is legalized following signing of HB1015.
September 2019 – The first sportsbook in the state opens.
October 2019 – Online sports betting launches.
States Where It Is Legal to Bet on Sports
Changes to federal law has facilitated the legalization of sports gambling in 31 states to some degree, among which Indiana is currently included.
| State | Sports betting legal in person | Sports betting legal online |
| --- | --- | --- |
| Arizona | YES | YES |
| Arkansas | YES | YES |
| Colorado | YES | YES |
| Connecticut | YES | YES |
| Delaware | YES | |
| Illinois | YES | YES |
| Indiana | YES | YES |
| Iowa | YES | YES |
| Louisiana | YES | YES |
| Maryland | YES | YES |
| Michigan | YES | YES |
| Mississippi | YES | |
| Montana | YES | YES |
| New Mexico | YES | |
| Nevada | YES | YES |
| North Carolina | YES | |
| North Dakota | YES | |
| New Hampshire | YES | YES |
| New Jersey | YES | YES |
| New York | YES | YES |
| Oregon | YES | YES |
| Pennsylvania | YES | YES |
| Rhode Island | YES | YES |
| South Dakota | YES | |
| Rhode Island | YES | YES |
| Tennessee | | YES |
| Virginia | YES | YES |
| Washington | YES | |
| West Virginia | YES | YES |
| Wisconsin | YES | |
| Wyoming | | YES |
Indiana Sports Betting – FAQs
Sports betting was legalized in Indiana in 2019. The first retail sportsbook was opened in September 2019.
At the time of writing, there are 16 online sportsbooks in operation.
DraftKings, BetMGM, and FanDuel are the best sportsbooks available in Indiana.
Yes, you can bet on college events, including in-state teams.
There aren't too many professional franchises in the state — the Indianapolis Colts (NFL) and Indiana Pacers (NBA) are the only two. There are, however, several big college institutions, such as Notre Dame.
ThePuntersPage Final Say
The legalization of Indiana sports betting in 2019 has brought about obvious benefits to the state. While not a major sporting state, there are numerous online sportsbooks accessible to bettors in the state, including all premier bookmakers available in the USA.
References
1 trackbill.com. (n.d.). Indiana HB1015 | TrackBill. [online] Available at: https://trackbill.com/bill/indiana-house-bill-1015-various-gaming-matters/1614380/ [Accessed 24 Apr. 2023].
2 Lange, K. (n.d.). Holcomb signs bill legalizing sports betting, allowing lucrative casino industry changes. [online] The Indianapolis Star. Available at: https://eu.indystar.com/story/news/politics/2019/05/08/governor-holcomb-signs-bill-legalizing-indiana-sports-betting-allowing-terre-haute-casino/1128554001/ [Accessed 24 Apr. 2023
3 Boydgaming.com. (2023). Indiana Hotels & Casinos | Boyd Casinos, Hotels, & Shows. [online] Available at: https://www.boydgaming.com/locations/indiana [Accessed 24 Apr. 2023].