A state synonymous with gambling, we'll detail everything there is to know about New Jersey sports betting in this guide. Read on to learn about the legal situation, the top bookmakers available, and more!
Where to Place Sports Bets in New Jersey
Comprehensive sportsbook
Generous first deposit bonus
Available in 17 states
Competitive odds
Extensive sportsbook covering 27 sports
Risk-free first bet
Huge fantasy sports market
Wide range of sports promotions
No sweat first bet – up to $1,000 in bonus bets
Parlay boosts
Exclusive rewards
Bet $10 Get $100 sign-up bonus
Is Sports Betting Legal in New Jersey?
New Jersey has a long history with gambling that traces back to the 18th century. The state is, of course, home to the famed casinos of Atlantic City, and their laws have typically been among the least restrictive in the US.
It hasn't always been so easy with sports betting, however. While the state moved to legalize it in 2012, it faced major pushback from prominent governing bodies. In 2013, the US District Court ruled against the state, further setting things back. However, in what would be a pivotal moment, the tide turned in 2018 when the Supreme Court overturned the earlier decision.
Thus, sports betting has been legal in New Jersey since June 2018, with 27 legal online sportsbooks licensed by the New Jersey Division of Gaming Enforcement at the time of writing. In the above table, we have listed the top four.
The Growth of Sports Betting in New Jersey
Sports betting is alive and kicking in New Jersey, with the overall future looking bright. In January 2023, a proposal for a ten-year extension of the region's online gaming laws was discussed at the state's legislative session to start the new year.
In January, New Jersey posted its fourth consecutive month with more than $1bn in sports betting handle. That resulted in $72.3m in revenue for the state. However, the handle dipped to $847.4m in February – the state's lowest revenue generation since July 2022.
New Jersey has also taken steps in recent times to resolve responsible gambling issues. Since the 10 February, the New Jersey Division of Gaming Enforcement has started to deploy a program where online bookmakers are now required to study player data to identify possible problem gamblers. These operators must also have strategies in place to help said gamblers.
Sports Betting Revenue & Taxation in New Jersey
Following the arduous process of legalization which eventually concluded in 2018, things moved swiftly. New Jersey's casinos and racetracks started to open physical betting stops that summer, with online betting sites following soon after.
The aforementioned legislation covered several aspects from a revenue and taxation point of view. Here are some notable points:
Licenses for the casinos and racetracks cost $100,000 at issue.
Internet gambling licenses cost $400,000, plus $250,000 for responsible gaming fees.
Casinos pay 8.5% in taxes for land-based wagers and 13% for electronic wagers.
Racetracks also pay 8.5% plus an additional 1.25% for bets placed online.
All sports are subject to 0.25% in federal taxes.
Comparison of Top Sportsbooks
1. DraftKings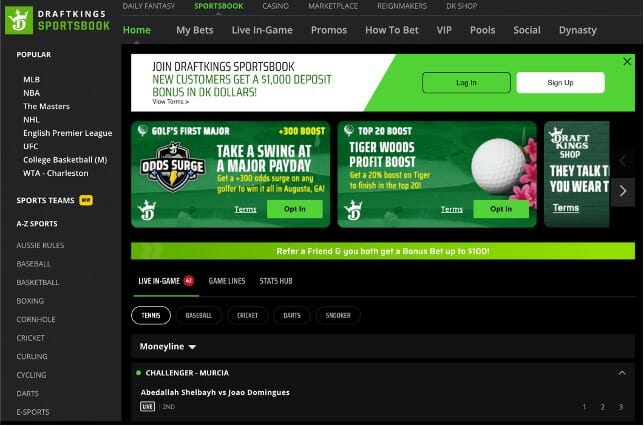 A huge player on the American sports betting scene, DraftKings has blossomed into, arguably, the country's most popular bookmaker. Punters in 22 states can use this bookie, which was formed in 2012 primarily for the use of fantasy sports.
Overall, this is an excellent betting site with very few faults. Their odds have long been competitive, while the quality of their platform is unrivalled. Placing bets is a simple process, and DraftKings offer an array of markets across a ton of sports. The NBA and the NFL are, as you'd expect, the primary focus, but even more niche sports such as cricket, which is slowly gaining popularity in the States, are also covered in impressive detail.
Fantasy lovers can still utilize DraftKings to full effect, while traditionalists are also appeased with the bookie's coverage of pools betting.
Their promotions are original and exciting, covering a myriad of sports, although some have disputed whether there are enough promos offered by the bookie at one time. Nevertheless, new customers are treated to an excellent welcome offer that could see them earn up to $1,250 in bonuses.
2. BetMGM

Accessible in 20 states, BetMGM is another widely available US bookmaker.
The bookmaker boasts a comprehensive sportsbook of up to 30 different sports, although this does differ by the state. What makes BetMGM such an excellent bookmaker is the ease at which you can access all parts of their efficient and technically sound website. It's superbly designed. Punters will also be encouraged by their competitive odds.
The bookie's excellent customer service and rigorous FAQ section ensure all queries are covered, so it's unlikely you'll have any trouble given just how well the website functions and operates. On the promotions front, BetMGM slacks somewhat compared to its competitors, but their welcome offer is laden with value.
New customers can earn up to $1,000 in bonus bets (up to $1,000) should their first bet lose. However, there are an array of rules and terms to familiarise yourself with to ensure your profit the most from this generous offer.
3. FanDuel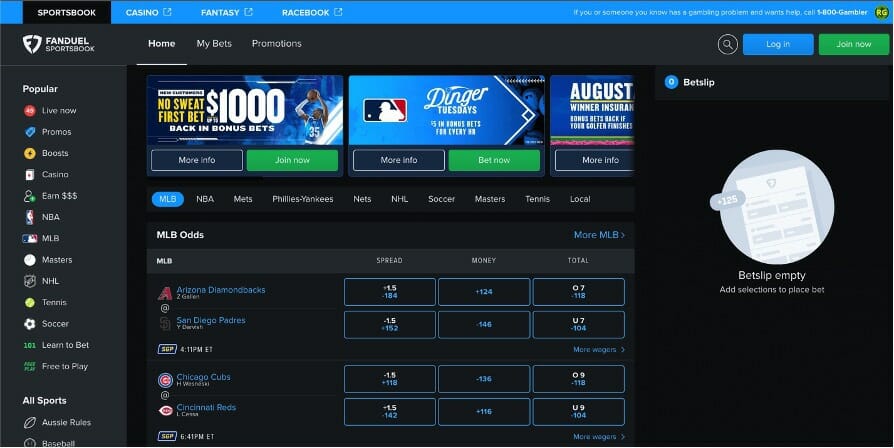 FanDuel is no longer merely a respected fantasy sports provider; it has developed into one of America's leading bookmakers in recent years alongside DraftKings and BetMGM.
The site is available in 18 states and is still hugely popular among fantasy football lovers. However, as a bookmaker, its intriguing and exciting sportsbook promotions ensures that plenty of punters are enticed.
Bet boosts, win bonuses, and parlay specials are just a few examples of what you'll find here, but New Jersey punters must make use of the bookie's welcome offer before they enjoy their promotions offering. FanDuel's new customer offer is a no-sweat bet of up to $2,500.
Navigating FanDuel's website is a breeze, with basic processes such as depositing and withdrawing a piece of cake, leaving you to focus on the fun stuff.
4. Borgata Online

A sister company to BetMGM, New Jersey and Pennsylvania are the only two states where Borgata is licensed to operate.
Given its links to BetMGM, it's no surprise that the Borgata site bears resemblances. Nevertheless, the latter certainly isn't a copycat, with enough distinction to separate the two.
Borgata's sign-up offer is a lucrative Bet $20 Get $100 promotion – just be sure to check out all the terms and conditions beforehand to ensure you qualify.
Furthermore, Borgata, similar to BetMGM, offers other exclusive promotions and rewards for its users, and those that enjoy creating parlay bets will particularly enjoy the frequent parlay boosts here. Early cash out, betting guides, and livestreaming are other useful features found at this platform.
Best Sports Betting Apps in New Jersey
#1. DraftKings
America's most prominent sportsbook is complemented by an excellent mobile app. Both traditional bettors and fantasy sports lovers will appreciate the user-friendly interface, an array of exciting features, and a long list of promotions.
#2. BetMGM
Laden with features and promotions, BetMGM's app is deservedly regarded as one of the best in the US.
In-play betting is made simple by the speed at which the bookie's live markets are updated, although some have encountered technical issues which can prove mightily frustrating when betting on the move.
Nevertheless, that's only a minor detraction.
#3. FanDuel
It's pretty tough to make a distinction between FanDuel's app and desktop site, but that's not necessarily a bad thing considering just how efficiently the latter functions.
As a result, all banking, betting, and personal options are available, as well as the bookmaker's sportsbook promotions. The app, which has unsurprisingly proved to be immensely popular, is available to download on both iOS and Android.
#4. Borgata Online
Borgata certainly aren't bereft of confidence, describing themselves as 'New Jersey's best sportsbook' – though the likes of DraftKings, FanDuel, and, of course, BetMGM, might have something to say about that.
Nevertheless, like FanDuel, Borgata's app is essentially its website condensed into a smaller screen. Thus, the bookie's leading sportsbook promotions, such as parlay boost, are accessible on mobile. While some will debate whether it truly is the best bookie the state's got to offer, Borgata has certainly made a case.
New Jersey Sports Betting Promotions
Here are some of the most common sports betting promotions offered by bookmakers licensed in New Jersey.
Deposit Match Bonus
Deposit match bonuses are common among US bookmakers and involves the bookie giving new customers bonus bets equal to the amount you deposit when you first sign up.
For example, if you make a first deposit of $30 with a bookmaker that offers a deposit match bonus promotion, the bookie will then gift the new customer $30 in bonus bets.
These bonuses are typically separated into multiple bets, and some bookmakers may limit which markets they can be used on. So, it's always worth checking the terms and conditions to ensure you take full advantage of the offer.
There are some bookies that, instead of matching a new customer's maiden deposit, match the punter's first bet stake. The concept is pretty much the same otherwise.
No Deposit Bonus
A no deposit bonus is a hugely popular promotion among bettors as you don't even need to deposit funds into your account before getting your bonus.
With this promotion, merely signing up with the bookmaker is often enough to earn the bonus in question. It's likely that you'll have to enter a bonus code during registration, but that's far from tough graft.
There's little risk involved here too, as you don't need to stake your own money to earn the bonus funds, and the free bets can be a superb way of getting your journey with the bookmaker in question underway.
Enhanced Parlays
No matter whether you're a novice or an expert punter, there's always time for a quick parlay. They're just so exciting – even when one team agonizingly lets you down!
A parlay, just in case you needed reminding, is when a bettor makes multiple wagers and combines them into one big bet. Such bets typically return big profits given the unlikelihood of them coming in, but that's what makes them such a popular bet. The dream.
So, if punters love a parlay, imagine how much they adore enhanced parlays. These are, in essence, bigger and better iterations of your standard parlay. Your odds are boosted, occasionally at random with certain bookies, and thus bigger returns are on offer.
Money Back Betting Offers
A 'no-sweat first bet' is a common new customer offer among US bookmakers. This type of promotion can be categorized as 'money back' promotions.
Bookmakers will refund your first bet should it lose up to a certain amount – which can vary from $50 all the way up to $1,000. Some might regard this offer as risk-free, but you will almost always receive your money back via bet credits/free bets, not real cash.
Boosted Bets
Boosted bets gifts you bigger odds and, thus, higher potential returns for your successful wager. With this promotion, the bets that are boosted could be random, or there are designated pre-match and live bets to select from.
There's little to complain about with boosted bets. What's not to like? Having said that, one small catch is that bookmakers may limit how much you can stake on particular boosted markets.
Parlay Insurance
It's a love/hate relationship with parlays, that's for sure. A major reason for such dismay is when just one of your selections lets you down. However, with parlay insurance, this frustration is somewhat mitigated.
The insurance manifests a full or partial refund (free bets) should just one leg of your parlay fail to hit.
Not all bookmakers are so kind, however, are this promotion is certainly harder to find than most.
Existing Customer Betting Offers
While new customer offers are key to attracting potential newcomers, existing customer offers are imperative to retaining their interest.
These promotions can vary from some that we've already noted, such as boosted bets and enhanced parlays, to exclusive VIP/loyalty reward schemes in which high rollers can earn an incredible list of prizes.
Special Events Promotions
Gambling revenue streams peak in the US in February mainly because of the Super Bowl. These major events are a massive opportunity for bookmakers to rake in the cash with special promotions.
Popular Types of Bets
Here are some of the most popular types of bets that New Jersey bettors make on a variety of sports.
Moneyline Bets: This is as simple as it gets. If you make a moneyline bet, you're betting on that team to win the contest. So, if you place a moneyline bet on the New York Giants to beat the Dallas Cowboys, the Giants must win the contest for your bet to be successful. Your bet loses if the Cowboys win, or if they tie.
Points Spread: Because of the lack of value typically associated with moneyline betting, punters will often turn to spread betting. The point spread is the number of points that a team must win by for the bet to pay out. The favorite will have a "-" next to their points spread, while the underdog will have a "+". For example, let's say the spread is: New York Jets (-2) @ New England Patriots (+2). This means that, if you backed the Jets, they must win by more than two points for your bet to be successful.
Over/Under Betting: If you don't fancy betting on the outcome of a game, over/under (totals) betting is a popular alternative. With this bet, you're betting on how many points will be scored in a game. The bookmaker will set a line, and you have to choose whether more or less points will be scored than that line. For example, the bookie might set the line for NFL match-up between the Jets and Patriots at 39.5. This means that 40 or more points will have to be scored for the over bet to win. Anything less, and the under wins.
Parlays: Parlay bets have us all dreaming of a vacation to Cancun. Known to Brits as 'accumulators' or 'accas', these are large bets which rely on multiple bets – called 'legs' – winning. So, even if you have a mammoth eight-leg parlay and only one 'leg' lets you down, your bet will still unfortunately lose. While parlays are very challenging to pull off, the low-stakes-high reward-nature of such wagers makes them incredibly popular.
Prop Bets: A proposition – more commonly known as 'prop' – bet is another bet type that doesn't focus on the outcome of a sporting event. The most common type of prop bet involves players. For example, you might want to bet on how many yards Patrick Mahomes will throw, or how many points Steph Curry will score in a particular game. Meawhile, game props require you to wager on something specific to happen in the game. For instance, you might back a particular team to score over a certain number of field goals in the first half.
Futures Bets: Futures bets refer to wagers placed on events or outcomes that will occur in the distant future. Typically placed on long-term events, examples of such wagers include championship winners, season-long performances, or awards in sports. With this market, you could place an early bet on the Super Bowl winner, League MVP, and the total number of wins a team achieves in the regular season. You can also bet on seasonal stats, like how many yards Russell Wilson will throw in the regular season, or how many yards Derrick Henry will rush for.
Where To Bet on Local New Jersey Teams
The most prominent New Jersey sports teams include the New York Giants and Jets of the NFL, the New York Red Bulls of the MLS, and the New Jersey Devils of the NHL. In addition, given the state's proximity to New York, teams based in the Big Apple also enjoy considerable support.
Important Sports Events in New Jersey 2023
Here's our pick of sporting events in 2023 that are sure to strike the interest of New Jersey sites.
8th September – Regular NFL season starts
16th September – NY City FC vs NY Red Bulls (MLS)
Mid-October – Regular NBA season starts
While current New Jersey betting laws are pretty lenient, but punters are not allowed to bet on any collegiate sport or athletic event that takes place in the state, nor on any event a New Jersey college team competes in – no matter where it takes place. All high school events are described by the state as "prohibited", as well as any electric sports or competitive video games event in which the majority of the competitors are under 18.
New Jersey Sports Betting Timeline
Here's a history of sports betting in New Jersey1:
1830s – Freehold Raceway, the oldest racetrack in the US, opens.
1870 – The first thoroughbred racetrack, Monmouth Park, opens in Eatontown.
1894 – All gambling is deemed illegal.
1939 – Racetrack gambling is officially re-legalized.
1992 – The Professional and Amateur Sports Protection Act outlaws sports betting across the US.
2009 – PASPA is formally challenged by the state.
2012 – State legislature enacts the Sport Wagering Act which allows sports wagering at casinos and racetracks. The law's contradiction to the 1992 PASPA brings about a lengthy legal battle, with several sporting governing bodies arguing New Jersey's new law violated PASPA.
2018 – The Supreme Court takes the case and rules in favor of the state. New Jersey quickly moves to legalize sports gambling.
States Where It Is Legal To Bet on Sports
Since 2018, states across the US have been making individual decisions on the legalization of sports betting. Presently, New Jersey is among the 31 that have embraced it, reflecting the expanding acceptance and availability of sports betting options throughout the nation.
| State | Sports betting legal in person | Sports betting legal online |
| --- | --- | --- |
| Arizona | YES | YES |
| Arkansas | YES | YES |
| Colorado | YES | YES |
| Connecticut | YES | YES |
| Delaware | YES | |
| Illinois | YES | YES |
| Indiana | YES | YES |
| Iowa | YES | YES |
| Louisiana | YES | YES |
| Maryland | YES | YES |
| Michigan | YES | YES |
| Mississippi | YES | |
| Montana | YES | YES |
| New Mexico | YES | |
| Nevada | YES | YES |
| North Carolina | YES | |
| North Dakota | YES | |
| New Hampshire | YES | YES |
| New Jersey | YES | YES |
| New York | YES | YES |
| Oregon | YES | YES |
| Pennsylvania | YES | YES |
| Rhode Island | YES | YES |
| South Dakota | YES | |
| Rhode Island | YES | YES |
| Tennessee | | YES |
| Virginia | YES | YES |
| Washington | YES | |
| West Virginia | YES | YES |
| Wisconsin | YES | |
| Wyoming | | YES |
New Jersey Sports Betting – FAQs
Sports betting has been legalized in New Jersey since 2018.
At the time of writing, there are 27 online sportsbooks in operation.
DraftKings, BetMGM, FanDuel, and Borgata Online are, in our eyes, the best sportsbooks available in New Jersey.
Not sports as such, but punters cannot place bets on any collegiate sport or athletic event that takes place in New Jersey. Nor can they wager on any event a New Jersey college team competes in – even if it takes place outside of the state.
As it's right on the doorstep of New York, both the Jets and the Giants are well supported in the state. New Jersey also has the Devils and Islanders in the NHL.
ThePuntersPage Final Say
New Jersey sports bettors have it pretty sweet, with access to the best US bookmakers in the country, and their state gambling laws are among the most lenient to boot. If you're still finding your way around, we suggest bookmarking this article to make sure you have all the information you need at hand!
References
1 Wikipedia. (2023). Gambling in New Jersey. [online] Available at: https://en.wikipedia.org/wiki/Gambling_in_New_Jersey#Sports_betting [Accessed 4 Apr. 2023].