In this Ohio sports betting guide, we'll take a look at how the so-called Buckeye State has quickly gone about making up for lost time, having only recently joined the party. Home to a whole host of professional franchises, there's plenty to enjoy here – read on to learn more!
Where to Place Sports Bets in Ohio?
One of first operators to go live in Ohio
Up to $1,200 welcome offer bonus
Available in 21 states
Enjoyed successful state launch
Extensive sportsbook covering 27 sports
Up to $1,000 in paid back bonuses welcome offer
Huge fantasy sports market
Bookmaker opened at Belterra Park Racino in Cincinnati
$150 in bonus bets new customer offer
Sports bettors in Ohio have a multitude of options in terms of bookmakers, but above are our top three sportsbooks available in the state.
Is Sports Betting Legal in Ohio?
Ohio is one of the most recent states to legalize sports betting, with HB 29 having been passed by state legislature in December 2021 and signed by Governor Mike DeWine. Nevertheless, online sportsbooks and physical betting locations didn't open in the state until 1 January 2023.
The law's supporters at the time of its passing said that the legalization of sports betting and expansion of the gambling industry would produce millions in new tax revenues for the state, which in turn would support education and pay for addiction services1.
Sports Betting Revenue & Taxation in Ohio
Ohio charges sports betting operators a 10% tax rate on their winnings after all bets are paid. Such a rate is similar to other states that have legalized gambling — except from New York, which charges 51% for brick-and-mortar establishments, and Pennsylvania, which boasts a tax rate of 36%.
However, Governor DeWine is keen to double Ohio's rate from 10% to 20%2. The national average is 19%.
When it comes to licensing fees, these vary depending on the license obtained. For example, Type A licenses (online wagering) cost $150,000, while Type B licenses (brick-and-mortar) cost $20,000.
Present & Future of Sports Betting in Ohio
Well, it's been a pretty hectic start since Ohio's major sports betting launch at the start of 2023.
The Ohio Casino Control Commission (OCCC) reported that the state earned a record-breaking $208.9m3 in taxable sports wagering revenue in January. While a big month was expected, considering the simultaneous launch of betting apps and physical retailers, such huge figures came as a surprise. The state's January handle topped $1.1bn, resulting in Ohio becoming the fifth state to record a monthly handle of over $1bn.
At the end of March, the OCCC reported that the handle for February hit more than $600m, netting $82m in revenue. While these were sharp declines from their record-setting opening month, it was very much expected given the financial heights the state hit in January.
Comparison of Top Sportsbooks
Whether you're a seasoned bettor or just getting started, our below comparisons will help you make informed decisions and find the perfect bookmaker that meets your needs and expectations.
1. DraftKings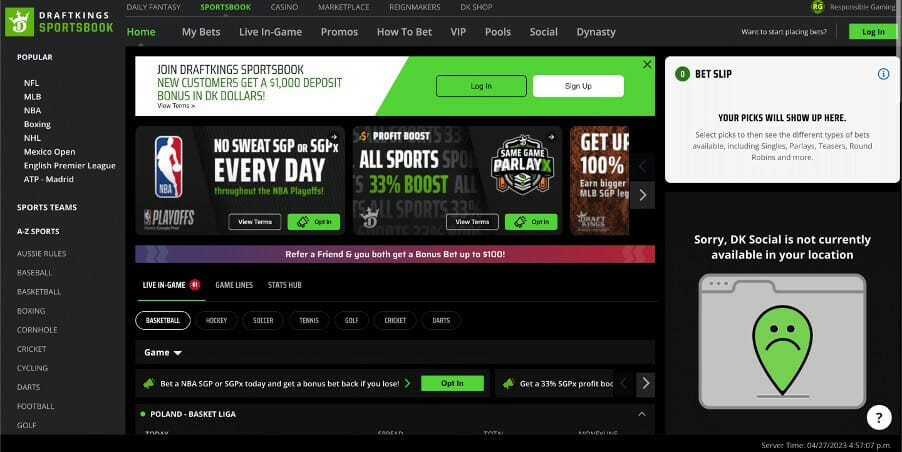 Established in 2012, DraftKings was one of the first operators to go live in Ohio, opening its doors on 1 January 2023. After initially starting out as a well-respected fantasy sports platform, DraftKings, over the past decade, has developed into one of the leading players in the American sports betting industry.
Bettors simply can't get enough of their comprehensive sportsbook, competitive odds, and the ease at which their website operates. Niche sports, such as cricket, are covered in impressive depth, too. There's something for everyone at DraftKings, that's for sure.
Fantasy lovers, meanwhile, can still utilize the site's stellar fantasy sports offering, and those that enjoy vintage betting can even enjoy a plentiful supply of pools.
A lack of original and exciting promotions is somewhat disappointing, but the welcome package tailored for bettors in the 22 states where the bookmaker operates will be undeniably appealing to many. New customers in Ohio can unlock up to $1,000 in deposit bonuses, a $50 bonus for signing up, and another $150 bonus as part of the bookie's Bet $5, Get $150 welcome offer.
2. BetMGM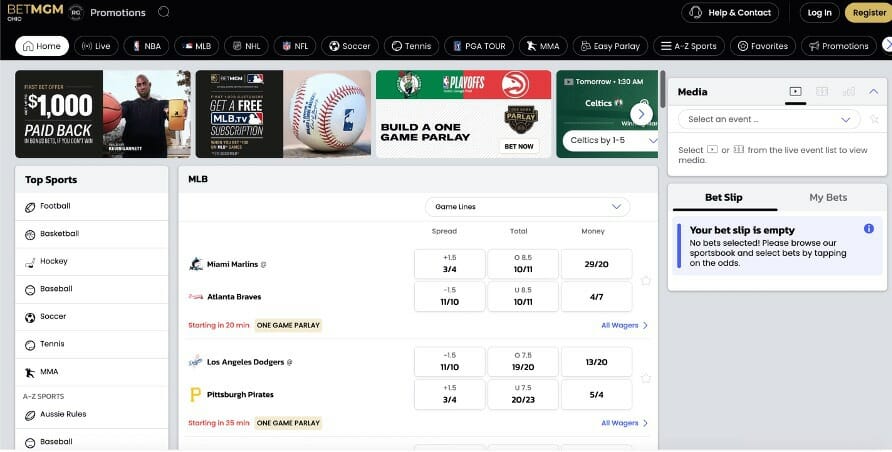 Another widely available betting site, BetMGM can be accessed in Ohio after operations started to open up at the beginning of 2023. This bookie enjoyed a successful launch in the state thanks to its standing with MGM Northfield Park, located just outside of Cleveland.
New customers in Ohio are given a risk-free first bet when they sign up, with the chance to earn up to $1,000 in free bets. Their welcome offer is one of the best in the state, without question.
Once you've taken advantage of the bookmaker's generous new customer offer, you'll discover a website that is well-designed and easy to navigate. Placing bets couldn't be any simpler, while the bookie's odds are, as you'd expect, more than merely competitive. Overall, BetMGM's sportsbook is one of the most impressive in the game, with a mammoth 27 sports being covered.
3. FanDuel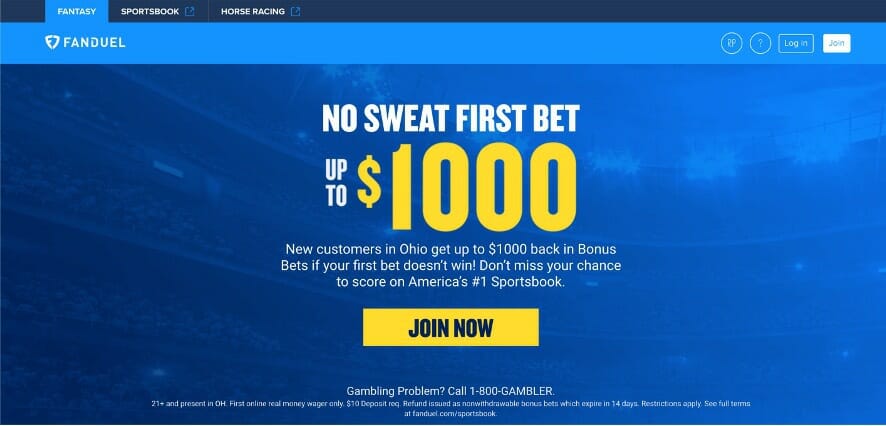 FanDuel went live in Ohio on 1 January 2023, with the bookmaker opening a sportsbook at Belterra Park Racino in Cincinnati — a property run by Boyd Gaming.
This site has enjoyed a similar trajectory to DraftKings in that it started out as an elite fantasy sports platform before blossoming into one of America's leading bookmakers.
Ohio is currently one of 19 states where FanDuel is live, and new customers can take advantage of an excellent welcome offer which includes a No Sweat First Bet of up to $1,000.
While some of its competitors leave plenty to be desired on the promotions front, FanDuel certainly doesn't miss a beat in this regard. You'll be treated to an array of exciting and innovative promotions that contribute to this bookmaker being a fun one to use, overall. Bet boosts, win bonuses, and enhanced parlays are almost always on offer.
Best Sports Betting Apps in Ohio
DraftKings' excellent mobile app is available in 21 states, including Ohio. The bookie does a great job of ensuring all of its components can be accessed on the app, including fantasy sports and its sports betting promotions. This premier bookmaker also launched its dedicated horse racing app — DK Horse — ahead of the 2023 Kentucky Derby on 6 May, but it's not yet available to download in Ohio.
BetMGM's exciting new customer bonus and exclusive rewards program has contributed to the bookmaker emerging as one of the most popular in Ohio, with the app reflecting the quality of its desktop counterpart. Daily boosts are available, while the app's live features are very good too. It's easy to place bets on the move, thanks to how quickly in-play markets are updated.
FanDuel's mobile app operates smoothly, and new customers can make use of the generous welcome offer we discussed in our brief review of the bookmaker. A wide variety of sports can be bet on, with FanDuel offering a myriad of markets, including prop bets. It's an app laden with features and promotions, and, like FanDuel's website, it's super fun to navigate and use.
Ohio Sports Betting Promotions
Here are some of the most common sports betting promotions offered by bookmakers licensed in Ohio:
DraftKings' No Sweat NBA Bet
LeBron James brought life to the city of Cleveland during his two spells with the franchise, with the Cavaliers one of the most supported sports teams in Ohio.
The state is rife with basketball lovers, so DraftKings' no sweat NBA offer will certainly interest many.
Should your Same Game Parlay on the NBA Finals, or any game at the start of next season, fail to come in, you'll receive a refund in bonus bets of up to $10.
FanDuel's No Sweat First Bet
FanDuel's new customer offer allows you to back yourself to win big on sports you feel comfortable betting on. However, there is an element of risk with the bookie's No Sweat First bet promotion.
Sure, you can bet up to $1,000 on any sports market of their choice offered by FanDuel, but should your qualifying bet lose, you'll be refunded via free bets – not real cash that can be withdrawn. The bookies aren't that generous! And, while there's a chance you could win big off your free bets, it's not a guarantee.
BetMGM's Bonus Bets
BetMGM's new customer offer is advertised differently to FanDuel's and uses different wording, but the premise is the same.
The bookie offers its new users up to $1,000 paid back in bonus bets should their first bet not win. You'll receive whatever you staked back in free bets.
For example, if you signed up to BetMGM and staked $500 on the Miami Heat to win Game 5 against the Denver Nuggets in the NBA Finals but the Nuggets win, you'll receive $500 in bonus bets from the bookmaker. These bets can then be used on BetMGM's comprehensive sportsbook.
BetMGM's Swing for the Fences
The 2023 MLB season kicked off at the end of March and Ohio is home to a couple of franchises in its two biggest cities: the Cleveland Guardians and Cincinnati Reds. The Reds are five-time World Series champions, but they haven't won the championship since 1990.
Nevertheless, baseball is huge in Ohio and BetMGM has tailored to the needs of fans by introducing their 'Swing for the Frences' promotion. This is a free-to-play game available on the app that gives users the chance to win daily bonus bets and tokens.
BetMGM's MLB Parlay Insurance
To celebrate the return of MLB back in March, BetMGM also introduced another baseball-related promotion that also tailors to the needs of parlay lovers.
Only Same Game Parlays of four legs or more and boasting odds of +400 qualify for this offer. Should only one leg of your parlay let you down, you'll receive your stake back (up to $25) in bonus bets.
Popular Types of Bets
Here are some of the most popular types of bets that Ohio bettors make on a variety of sports.
Basic sports betting, this. When placing a money line bet, you're betting on that team to win the contest.
So, if you place a money line bet on the Cleveland Browns to beat the Cincinnati Bengals, the Browns must win the contest for your bet to win. Your bet loses if the Bengals win or if they tie.
Due to the high-scoring nature of football and basketball, there's less chance of an underdog victory and thus, money line betting offers lacks value which means many turn to spread betting as a way of generating bigger returns.
The point spread is the number of points that a team must win by for the bet to pay out. The favourite will have a '-' next to their points spread, while the underdog will have a '+'.
So, let's say the spread is: Cleveland Browns (-5) @ Pittsburgh Steelers (+5). This means that, if you backed the Browns, they must win by more than five points for your bet to be successful.
Over/under betting completely takes away the need to bet on the winner of an event. There are multiple over/under markets associated with American sports, but the most common is points.
The bookmaker will set a line, and you have to decide whether to bet over or under that line.
For example, if the bookie sets the line for NFL match-up between the Bengals and Browns at 51.5, 52 or more points will have to be scored for the over bet to win. Anything less, and the under wins.
Parlays are what the English call accumulators, or 'accas'. They're extremely popular, especially among novice bettors.
A parlay bet is a combination of bets which are placed into one big bet. To win, all selections within the parlay must come in. Just one loss and the entire thing collapses.
These types of bets are hard to pull off, but they can garner mammoth returns.
With prop bets, you're not focussing on the outcome of an event, and these sorts of bets typically focus on a player's performance. But there are several team-associated prop bets as well.
Prop bets have soared in popularity following the establishment and growth of mobile apps as they're now easier to place than ever before. Markets for such bets have also increased.
For example, you might want to bet on how many yards Joe Burrow will throw, or how many rushing yards Nick Chubb will accumulate in a particular game.
There are other types of prop bets, including game props, where you're wagering on something specific to happen in the game. For example, you might back a particular team to score over a certain number of points in the first quarter.
These are long-term bets that require plenty of patience. If you've got an inkling in pre-season that a certain team might win the Super Bowl, placing that bet before the season's started is a prime example of a futures bet.
These are bets, as they say, that are decided in the future.
Other examples of futures bets include who will the MVP award, and the total number of wins a team achieves in the regular season. You can also bet on seasonal stats like how many yards Joe Burrow will throw in the regular season, or how many yards Nick Chubb will rush for.
Where To Bet on Local Ohio Teams
There are multiple sports teams based in Ohio's three most populous cities: Cleveland, Cincinnati, and state capital Columbus.
The Browns and Bengals are two significant NFL franchises, while the Cavaliers enjoyed a prolonged period of relevance thanks to LeBron James. The Reds, meanwhile, have five World Series crowns to their name. New franchises, such as FC Cincinnati in MLS and the Columbus Blue Jackets of the NHL are looking to make inroads in their respective sports leagues.
At a collegiate level, the Ohio State Buckeyes sit among the most successful football teams and continue to churn out NFL-level talent on a yearly basis.
| Franchise | Sport | Founded | Odds |
| --- | --- | --- | --- |
| Cincinnati Bengals | Football | 1967 | Win Super Bowl LVIII +1000 |
| Cleveland Browns | Football | 1946 | Win Super Bowl LVIII +2800 |
| Cleveland Cavaliers | Basketball | 1970 | Win NBA Finals N/A |
| Cleveland Guardians | Baseball | 1894 | Win National Championship N/A |
| Cincinnati Reds | Baseball | 1881 | Win National Championship N/A |
| Columbus Crew | Soccer | 1994 | Win MLS Cup +2900 |
| FC Cincinnati | Soccer | 2015 | Win MLS Cup +1000 |
| Columbus Blue Jackets | Ice hockey | 1997 | Win Stanley Cup N/A |
| Cincinnati Bearcats | College football/basketball | 1885 | Win National Championship N/A |
| Ohio State Buckeyes | College football | 1890 | Win National Championship N/A |
Important Sports Events in Ohio 2023
Here's a list of significant sporting events that Ohio sports fans will take a keen interest in this year and might fancy betting on:
15th April — 2023 NBA playoffs start
2nd September — Ohio State Buckeyes and Cincinnati Bearcats' NCAA regular season starts
9th September — Ohio State Buckeyes' home opener vs Youngstown State
8th September — NFL regular season starts
October 2023 — NHL regular season starts
Mid-October — 2023/24 NBA regular season starts
25th October — MLS playoffs start
25th November — Ohio State @ Michigan — 'The Game'
You must be 21 or over to place a bet in Ohio. In addition, while the state's gambling laws are pretty lenient, there are several prop bets that you cannot bet on. For example, Ohio-based bettors cannot bet on coin flips or the statistical actions of officials and coaches, such as the number of timeouts called. Events where more than 50% of the athletes are under 18 are also prohibited.
Ohio Sports Betting Timeline
Let's take a look at the recent history of sports betting in Ohio:
2019 — Bills are introduced, with much of year spent by senators and representatives building support for legalization of sports betting following the overturning of the Professional and Amateur Sports Protection Act of 1992.
2019 — The House Finance Committee holds eight hearings on the bill.
2020 — The House Finance Committee passes the bill, but it doesn't go through the Senate.
May 2021 — State Senator Kirk Schuring introduces new sports betting bill (SB 176), which doesn't go through the House.
2021 — Schuring focuses efforts on passing HB 29.
December 2021 — Governor DeWine signs off on the bill.
1st June 2022 — OCCC confirms that sports betting in Ohio will begin on 1st January 2023.
1st January 2023 — Legal sports betting officially launches in the state.
States Where It Is Legal To Bet on Sports
Changes to federal law has facilitated the legalization of sports gambling in 33 states to some degree, among which Ohio is currently included.
| State | Sports betting legal in person | Sports betting legal online |
| --- | --- | --- |
| Arizona | YES | YES |
| Arkansas | YES | YES |
| Colorado | YES | YES |
| Connecticut | YES | YES |
| Delaware | YES | |
| Illinois | YES | YES |
| Indiana | YES | YES |
| Iowa | YES | YES |
| Louisiana | YES | YES |
| Maryland | YES | YES |
| Michigan | YES | YES |
| Mississippi | YES | |
| Montana | YES | YES |
| New Mexico | YES | |
| Nevada | YES | YES |
| North Carolina | YES | |
| North Dakota | YES | |
| New Hampshire | YES | YES |
| New Jersey | YES | YES |
| New York | YES | YES |
| Ohio | YES | YES |
| Oregon | YES | YES |
| Pennsylvania | YES | YES |
| Rhode Island | YES | YES |
| South Dakota | YES | |
| Rhode Island | YES | YES |
| Tennessee | | YES |
| Virginia | YES | YES |
| Washington | YES | |
| West Virginia | YES | YES |
| Wisconsin | YES | |
| Wyoming | | YES |
Ohio Sports Betting – FAQs
Sports betting was legalized in Ohio in December 2021, with online sportsbooks and physical betting locations opening their doors on 1 January 2023.
At the time of writing, there are 17 online sportsbooks that have launched in the state.
DraftKings, BetMGM, and FanDuel are the best sportsbooks available in Ohio.
Yes, you can bet on college events, including in-state teams.
There are multiple popular sports franchises based in Ohio's three most popular cities: Cleveland, Cincinnati, and Columbus. You've got the Bengals and Browns (NFL), Cavaliers (NBA), Reds and Guardians (MLB), Columbus Crew and FC Cincinnati (MLS), as well as the Blue Jackets (NHL).
ThePuntersPage Final Say
Ohio has already set records since opening its doors to sports betting at the start of the 2023. This is a massive sporting state, and the availability of sportsbooks combined with the number of local sports teams means the opportunities are endless for sports bettors here!
References
1 The Lantern. (2023). Legalized sports gambling arrives in Ohio, experts say Ohio State students at the most risk for addiction. [online] Available at: https://www.thelantern.com/2023/02/legalized-sports-gambling-arrives-in-ohio-experts-say-ohio-state-students-at-the-most-risk-for-addiction/#:~:text=A%20state%20law%2C%20which%20took [Accessed 27 Apr. 2023].
2 News 5 Cleveland WEWS. (2023). Gov. DeWine seeks sports betting changes in budget, including doubling state's tax on winnings. [online] Available at: https://www.news5cleveland.com/news/local-news/gov-dewine-seeks-sports-betting-changes-in-budget-including-doubling-states-tax-on-winnings#:~:text=Ohio%20charges%20sports%20betting%20operators [Accessed 27 Apr. 2023].
3 January 2023 Ohio Sports Gaming Revenue Report. (n.d.). [online] Ohio Casino Control Commission. Available at: https://casinocontrol.ohio.gov/static/revenue-reports/2023/August%202023%20Sports%20Gaming%20Revenue%20Report.pdf [Accessed 28 Feb. 2023].