Our New York sports betting guide will be plenty useful for anyone looking to wager online in this great city. While doing so may be a new experience for many New Yorkers, we think quite a few will be surprised by the scope and standards of what's out there already.
Where Can I Place Sports Bets in New York?
Consistent, high-quality promotions
Entertaining and generous daily fantasy sports
Fast and easy withdrawals
Huge selection of US sports markets
Mobile options acclaimed by users
User friendly yet detailed site/app design
Ability to pick new fantasy team every week
Traditional sportsbook no afterthought
Fantastic horse racing option
Is Online Sports Betting Legal in New York?
Yes, you may legally bet on sports leagues and events in the state of New York, on mobile as well as desktop. This has been the case since January 2022, when the first four online sportsbooks opened their virtual doors. These included FanDuel, Caesars, DraftKings and BetRivers, and they have been joined by several other top names since then.
So, what's the story behind this?
Things started with the Supreme Court ruling in 2018, which allowed individual states to legalize betting online within their jurisdiction. Sports betting in New York was actually made legal at a state level in 2013, so, following the lifting of the federal ban, the wheels to move things along were already in motion.
Do note, however, that a betting site isn't necessarily legal in the state as a result of these rulings. Operators must also adhere to certain regulations and be licensed by the New York State Gaming Commission specifically to be considered fully legitimate.
Please note that these sports betting regulations do not legalize online casino betting, which remains illegal at the time of writing, although there is plenty of hope that may change sooner rather than later.
Present and Future of Sports Betting in New York
Sports betting in New York is legitimately available online, as long as your chosen operator has been licensed by the state itself. That covers most of what you need to know on a practical level.
Present restrictions are largely standard, such as a 21 minimum age limit, or that you need to be physically located in New York in order to place wagers online.
There is also a betting ban on in-state college teams, a rule shared by most other states such as Virginia.
Potential legislative changes at the time of writing mainly revolve around taxation rates and the restrictions on advertising which could target underage users.
Put simply, we're looking at a very healthy and growing New York sports betting scene. In terms of future developments, the most likely to us appear to be the following:
More bookmakers are likely to be legalized within state lines.
Ongoing discussions will continue regarding the tax rates on New York sports betting, with much of these concerned with lowering the rates for operators.
The legality of casino betting will remain contentious, with lawmakers and stakeholders still at odds with each other.
There are likely to be tougher restrictions on sports wagering commercials.
Existing online sportsbooks will be looking to steadily improve their products in New York state.
Promotions are set to become even more generous and competitive as the competition heats up.
Sports Betting Revenue and Taxation in New York
Taxes on New York sports betting are debated regularly, owing to the 51% tax rate on businesses for gross gaming revenue.
While there's a strong possibility that things could change for sportsbooks, the individual tax rate is much more likely to remain stable.
Presently, there are two tax rates you need to be aware of: a federal tax rate of 24%, and an additional state tax based on your annual income.
The tax rate for single New Yorkers, or those who file individually, are as follows at the time of writing:
| Earnings | Taxation Rate |
| --- | --- |
| $8,500 or under | 4% |
| $8,501 – $11,700 | 4.5% |
| $11,701 – $13,900 | 5.25% |
| $13,901 – $21,400 | 5.90% |
| $21,401 – $80,650 | 6.09% |
| $80,651 – $215,400 | 6.41% |
| $215,401 – $1,077,550 | 6.85% |
| More than $1,077,550 | 8.82% |
Do note that that this may differ for married couples filing jointly, and that you are only required to pay the tax rate above the minimum amount of that earnings bracket.
For example, you only pay 4.5% between the amount earned between $8,501 and $11,700, and anything earned less than that is charged at 4%. Winnings are to be reported via a W-2 F form, and you may deduct gambling losses if you itemize them on your tax returns.
Top Online Sportsbooks Reviewed
All three sites listed below get top marks from us. What will make the difference for you is how well they suit your own betting preferences. Remember too, whether it's to sample more promotional goodies or to just utilize more betting options, you can also sign up to more than one without consequence.
DraftKings: A Site of Betting Greatness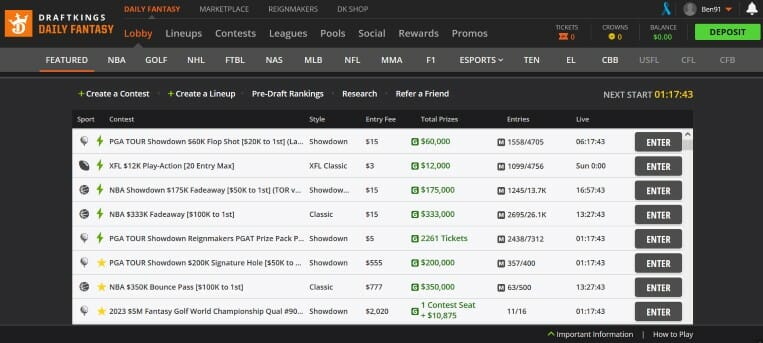 DraftKings provide an astounding betting variety without ever dropping in quality.
This means, for instance, that they are both an industry leader in fantasy as well as traditional sports.
Their daily fantasy sportsbook has new, exciting and creative contests every day, and you don't even need to finish first to win. In a nutshell, this bookmaker offers the most personalized version of fantasy gaming online, to the highest standards.
When it comes to traditional sports, you have a fantastic mix of classic American sports leagues favorites covered, like the Super Bowl and NBA Finals, alongside more obscure and international options. The latter covers everything from darts to lacrosse, and MMA fans can find a home here.
In addition, you'll find exciting live markets backed up by sturdy technical performance. All this is further sweetened by lucrative promotional offers, which can provide odds boosts and parlay bonuses, to mention just a couple of examples.
Pros
Fun, creative and accessible fantasy gaming
Equally excellent traditional sportsbook markets
International and American markets amply provided for
Cons
Promotions could be for broader range of global options
BetMGM: Superb Choice for Newcomers
Those new to betting online often prioritize useability at the forefront of everything in order to make the most of what's being offered. If you consider simplicity to be key, then look no further than BetMGM.
The site's slick and mature appearance reflect the operator's confident, professionally crafted experience, but also one with a soft side. Both the app and desktop site are impeccably designed, making navigation a breeze from registration all the way to withdrawing your winnings.
And don't just take our word for it – BetMGM are one of the most critically acclaimed sports operators in the world, with an astonishingly high score of up to 4.8 (at the time of writing) on the app stores.
This all provides the perfect platform for their terrific, odds generous selection of US-focused markets. Even these go above and beyond in the user experience, offering pre-made parlays for you to check out. Beyond a simple sportsbook, BetMGM is a sports betting experience.
Pros
Suitable for all kinds of bettors
Terrific mobile betting options
Pre-made parlays
Cons
Some popular European markets not available
Conservative appearance not for everyone
FanDuel: Jack-of-All-Trades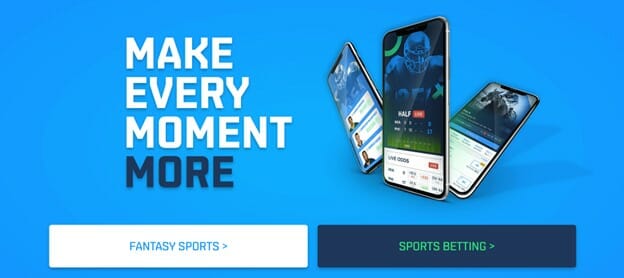 If DraftKings are No.1 when it comes to balancing out traditional sports wagering with the imaginative world of fantasy betting, then the awesome FanDuel are No.1A. They are superb at what they do, and bring so much creative, fun betting opportunities to New York sports betting fans.
FanDuel stands out for providing fantasy contests exclusively for beginners, and guiding you through that process as well. This means you are given an entertaining and affordable way of getting started. Afterwards, you can even take advantage of the many options they have via daily and weekly contests.
On top of this, they offer a fantastic array of traditional sports, with horse racing and UFC markets being a couple of unexpected highlights. Above and beyond too are their FanDuel TV services, which supplements their place as a great live betting site with 3000 hours of live sport. They even provide exclusive news, picks, and predictions.
All the fundamentals are covered here too, with a secure and trustworthy reputation, bolstered by fair terms and accessible, helpful customer service. Everything including the banking process is a straightforward and stress-free experience.
To sum up, FanDuel get all the important things right and then some.
Pros
Fantasy betting suitable for beginners and experts alike
Extensive, varied sports coverage
Great horse racing bookmaker
Best Sports Betting Apps in New York
If you're a New York sports bettor who enjoys placing wagers on the go, here's why our recommendations are ace on mobile too.
DraftKings boast an acclaimed mobile experience, supported by positive user reviews on Google Play and the App Store. What's notable here is that this level of praise is exceptional in the divisive world of New York sports betting.

Customers particularly appreciate the technical performance and extensive betting options available on the platform. Highlights include a seamless and user-friendly experience, encompassing fantasy gaming options and a wide range of American sports markets. The competitions and promotions are of high quality, ensuring an uncompromised experience.
Just as beloved are the betting apps offered by BetMGM sportsbook, again available on iOS and Android. All the big hitting American markets are here including football, baseball and basketball, with an immense amount of betting depth. They are especially great when it comes to parlay bets, which easily to locate and utilize on mobile.

What makes BetMGM so special generally is the inviting and user-friendly design. In fact, we think the super intuitive, cleverly designed, small-screen version may even have the edge on its desktop bigger brother. And, with daily boosted bets, fantastic live betting lines, and immense market depth, there's plenty of reasons quickly check out what's going on.
The colorful looks of FanDuel are incorporated in two separate apps for traditional sports and fantasy betting. Each is positively bursting at the seams with opportunities, whether it's a fantasy betting selection for esports or a great set of markets on a golf tournament.

Substance and style go hand in hand here, complete with great customer service, regularly updated promotions and top-notch security features.
New York Sports Betting Promotions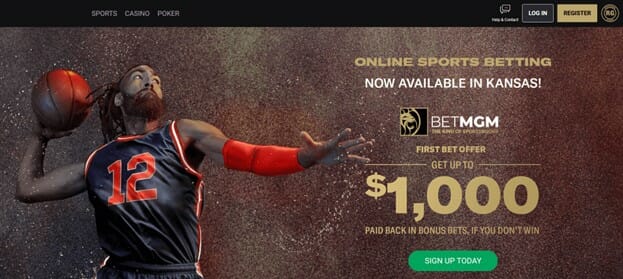 Every site we have recommended in this article offers a dynamic range of promotions, ensuring a consistently fresh and exciting experience.
Below is just a taster of what you can expect. Bear in mind, however, that online betting bonuses are always subject to change, so it's a good idea to check back with your chosen bookmaker frequently to remain updated with what's available.
DraftKings are well-known for their promotional generosity and creativity, with their new customer offer granting the opportunity to win $150 for a mere 5 buck wager. Simple deposit $5, go into your profile, and place a bet for that amount. If it wins, you'll not only get your winnings, but also six $25 bonus bets with a week time limit on each.
Meanwhile, FanDuel offers a sociable and generous refer-a-friend bonus. If you send a friend an invite link to the site, you and a friend can win $50 – as long as your friend makes a $10 bet within 30 days of signing up. You will receive the money within 72 hours.
Nothing beats a generous welcome bonus, and BetMGM certainly excels in this aspect. Theirs is a first bet offer of up to $1000, where if your initial bet doesn't win, you receive the money back as a free bet.
Popular Types of Bets
Top sports betting operators in New York provide a vast array of betting markets, catering to diverse interests, even the most niche ones. If you need inspiration for your next bet, our below list will certainly be of help.
While New York state has a healthy love of the great American sports – NBA, NFL, and MLB all spring to mind as top sports leagues – they are also a city of international tastes, even in the sporting world.

Soccer and the Big Apple have long enjoyed a love affair that's over a century old, showcased today with teams like the New York Red Bulls and New York City FC, both major players in the Eastern Conference of the MLS. And what better way to celebrate this than by getting invested in the biggest soccer event of them all, the World Cup?

Betting on a winner is a great way of getting invested in all areas of the tournament, ideal if you're not necessarily familiar with all the teams. This is especially true when you consider that all but the very favorites offer decent enough odds to enjoy a sizable return with small bet. And you could always back the USA, if you feel patriotic and fancy the long odds.
Picking A Fantasy Betting Team
,Do note that we did say different types of betting and not necessarily traditional betting markets. That's because we think it's fair to say, especially considering the top operators in the state, that fantasy betting is extremely popular in New York.

The basics of this come down to you picking a fantasy sports team with points accumulated based on various statistics. It can be on all kinds of sports and be determined on all sorts of factors, allowing you to pick your own adventure.
Over/Under Betting Markets
If the odds don't suit or you don't feel much interest can be garnered from traditional winner markets, over/under betting markets may be the perfect alternative you're looking for.

The principle here couldn't be simpler. You bet on whether a certain variable will be over or under an amount set out by the bookmaker. What's more, New Yorkers love baseball, and there's no sport better suited for this type of wager. Here, you bet on whether the overall score will be over or under a certain amount or runs, meaning you can actually bet on the kind of game you think is going to be played, rather than picking a winner.
New York Yankees vs Boston Red Sox Winner
If you're talking about New York sports betting, we've got to talk about baseball, and if we're talking about baseball, how could we fail to mention the historic rivalry between the New York Yankees and the Boston Red Sox? They have competed over 120 seasons and look to continue so long as the sports exists, which provides plenty of opportunity to cast your bets on the next epic showdown.

And if you're a proud New Yorker, we're willing to guess we know who you're going to pick. However, if you think your home team might struggle one game, do consider alternative markets like the above over/under markets suggested.
New York also loves basketball and this market highlights the culmination of everything which makes the sport great. You can also go about picking a winner two ways; either backing a team early for longer odds, or waiting until the match itself.

And if the New York Knicks don't make it, a smart betting strategy may help provide interest in the rival teams. Plus, if you win, that's bound to take the sting out of any season.
Where To Bet on Local Sports Teams
With numerous options available, it can be challenging for New Yorkers to keep track of all betting opportunities out there. To help you out, we've compiled a table featuring the top local teams, their respective leagues, and major markets where you can find them.
Please note that the odds for long-term futures are subject to change.
Best New York Sports Events in 2023
There's an absolutely mind-boggling amount of sports events to bet on in New York. Every month there are dozens, even hundreds to choose from, should the broadness of your sporting tastes allow for it.
To help provide an overview on New York sports betting options, we're selected what we think represent a great mixture of the kinds of events you can see and bet on in 2023.
| Sport | Event | Venue | Date |
| --- | --- | --- | --- |
| Basketball | Big EAST Men's Basketball Tournament Final | Madison Square Garden | 11th March |
| Lacrosse | New York Riptide vs Albany Firewolves | Nassau Veterans Memorial Coliseum | 18th March |
| Basketball | Brooklyn Nets vs Utah Jazz | Barclays Centre | 2nd April |
| Basketball | New York Knicks vs Washington Wizards | Madison Square Garden | 2nd April |
| Ice Hockey | New York Islanders vs Tampa Bay Lightning | UBS Arena | 7th April |
| Ice Hockey | New York Rangers vs Toronto Maple Leafs | Madison Square Garden | 14th April |
| Motorcycle Racing | Monster Energy Supercross | MetLife Stadium | 22nd April |
| Baseball | New York Mets vs Atlanta Braves | Citi Field | 1st May |
| Soccer | New York Red Bulls vs Philadelphia Union | Red Bull Arena | 7th May |
| Darts | bet365 U.S Darts Masters | The Theatre at MSG | 3rd June |
| Horse Racing | Belmont Stakes | Belmont Park | 10th June |
| Baseball | New York Yankees vs Boston Red Sox | Yankee Stadium | 10th June |
| Soccer | New York City Football Club vs Columbus | Yankee Stadium | 17th June |
New York Sports Betting Timeline
1967 – The New York Lottery begins again, marking the beginning of modern gambling history in the state. While the origins of betting in New York actually date back to the lotteries of Jamestown in the 1600s, the Big Apple actually became the first state to ban them in 1833. This is when the city welcomed back gambling after centuries and paved the way for the options we see today.
1970 – Off-track betting – that is, the sanctioned wagering on racing (either greyhound or horse) outside an actual race track – becomes the first form of sports betting legal in the state of New York.
2013 – New York decides to officially legalize sports betting on a state level. However, sports betting was broadly illegal on a federal level due to the passing of the "Professional and Amateur Sports Protection Act" (PASPA) in 1992. What this therefore meant was that sports betting in New York would be legal automatically if the federal ban were lifted.
2018 – PASPA is finally overturned on May 14th, 2018, doing away with any federal restrictions on sports betting.
2019 – The first fruits of the change in the law are seen with the opening of The River Sports at Rivers Casino on July 16th 2019 in Schenectady. Many more would soon follow.
2022 – In January of this year, the first sportsbook in New York was expected to go online legally. However, the COVID-19 pandemic delayed things, meaning the New York Gaming Commission spent 2021 finalizing regulations, rules, and licensing criteria before launch day could finally go ahead.
States Where it is Legal to Bet on Sports
The change in the law in 2018 did not just affect New York state, but the entire country. Of course, many states in the USA decided they did not want legalized betting, or are still stuck within that legislative process.
Below is a list of states that have chosen to legally provide sports betting at the time of writing.
Do note, though, that each has its own legal caveats, much like how New York bans in-state betting on college teams. If you wish to (and are able to) bet in another state, do be sure to check the individual laws and licenses in that jurisdiction.
Arizona
Arkansas
Colorado
Connecticut
Illinois
Indiana
Iowa
Louisiana
Michigan
Nevada
New Hampshire
New Jersey
New York
Ohio
Oregon
Pennsylvania
Rhode Island
Tennessee
West Virginia
Wyoming
ThePuntersPage Final Say
Considering that New York has one of the most passionate and important sporting cultures in the United States, and that they set the wheels in motion for legalization long before the 2018 overturn ever looked likely, the expectations for New York sports betting when it arrived online were astronomical.
We may only still be relatively early on down the track, but we'd say you already can expect both high standards and betting variety as strong as any alternative.