Soccer bettors are always looking for new ways to outsmart the bookmakers and maximise their profits. The prominence of data in the sport means there's a ton of information for punters to access, and there are an endless list of websites that can supply bettors with the stats and analysis they need to conjure up a smart long-term betting strategy.
Soccer Betting Stats & Analysis Sites: Top 8
Our KickForm page has the latest match stats, predictions, odds and tips on all the top European soccer leagues. It is free to use and uses a data-driven Soccer Formula to significantly increase accuracy and reliability!
#1 KickForm.com
#4 FBref.com
#6 Squawka.com
TIP: Don't forget to check out our complete guide to best football betting sites before placing any bets.
Most Useful Soccer Stats & Analysis for Betting Odds, Rankings, Tips & Prediction – Reviewed:
Below are some of the websites we believe are the very best for soccer statistics, analysis and predictions:
1. KickForm.com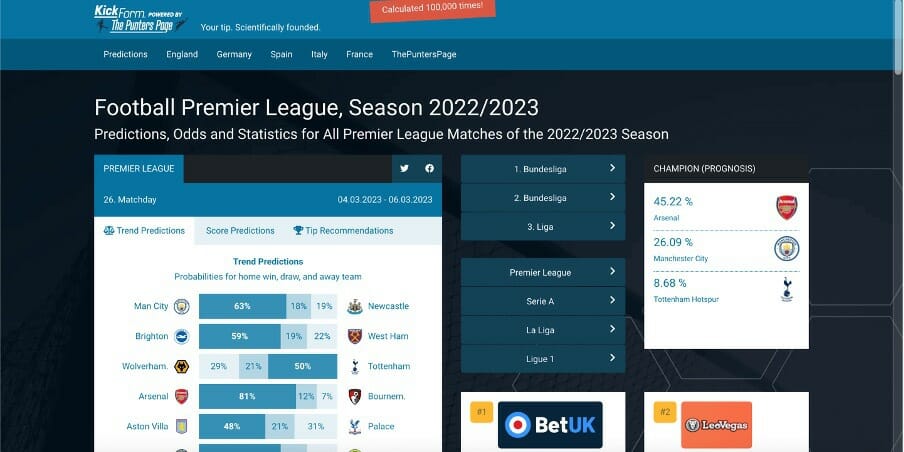 Our KickForm site is a statistical haven. It's free and easy to use, with an emphasis placed on Europe's top five leagues.
KickForm is a useful prediction site for soccer as tips are provided for every major upcoming match. They let the computers crunch the numbers and formulate the most sensible predictions for their users to take advantage of. Using their data, KickForm offers probabilities for a home win, draw, or away win for every game covered by the site. Exact score predictions are provided, too, as are recommended tips for games.
The data is updated by the matchday with data also being supplied for longer-term outlooks. For bettors, this soccer predictions site is not only incredibly useful for match betting, but also for outright betting. Using our scientifically founded data, probabilities for relegation and whether a team will finish in the top four of the Premier League are available to interpret.
In addition to predictions, users can also view an array of important match stats, head-to-head records, current form, and much more.
All data-driven predictions are formulated by KickForm's Football Formula.
2. Transfermarkt.co.uk
Transfermarkt is an incredibly useful tool. The website provides endless information about soccer that transcends mere stats and analysis. It's a go-to site for transfer gossip and ensuring you're up to date with every move, no matter how significant, that occurs across the globe. It's the best resource around for transfer fees and player values, too.
Transfermarkt has their own valuations for every single player on its database, and established media outlets use these figures when discussing potential transfers.
It's niche, if you will, is the transfer market. That's where this site excels. But there's plenty more to transfermarkt as well. Users can go back in time and find any match in the sport's modern history should they be feeling nostalgic, while a collection of soccer records are available to view. It's a super site for statistics, with form tables, and home and away tables supplied for the vast majority of competitions on its database.
In short, transfermarkt has absolutely everything you need to learn a little more about soccer, whether that be the current state of play of its history.
3. WhoScored.com
For many soccer fans and punters, WhoScored is the 'OG' data site. This is where we all went for our soccer statistics. The site has perhaps been usurped by some competitors, but that isn't to say it isn't still very useful.
WhoScored provides an array of metrics for a long list of soccer leagues across the world. While Europe's top five leagues are covered, users can also access stats for various prominent South American leagues, and MLS. WhoScored's match centre allows users to track live events and interpret any data supplied by the site. The live stats are constantly updated which means it could be a very useful soccer analysis site for in-play bettors who perhaps don't want to use bookmakers for their primary source of in-play stats.
Their statistical previews are well worth reading if you fancy a punt on a particular match. Here, predicted lineups, team news, and relevant figures are provided. The site also has a rather popular ratings system with players each given a rating for their performance in a match via WhoScored's own unique statistical algorithm.
4. FBref.com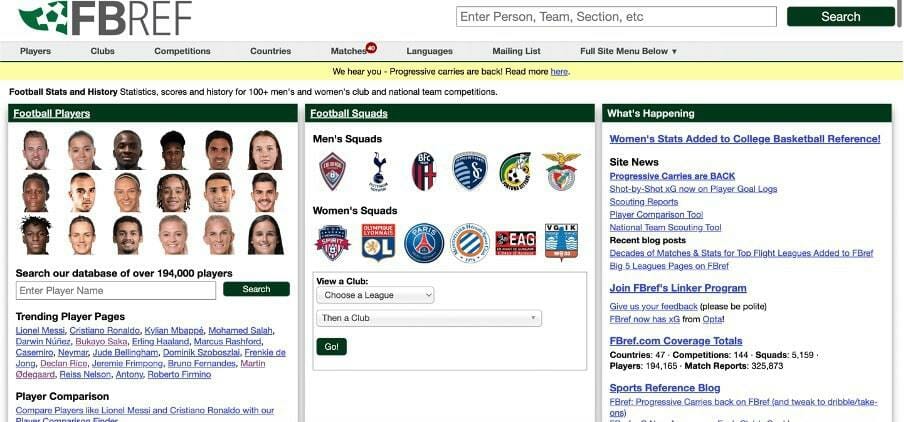 FBref is the website to turn to if you want to learn a little more about your favourite soccer player. Their database provides in-depth statistics of over 194,000 players – both men and women.
This is a site where numbers rule. There's little by way of written work. This is merely a database which can be accessed by anybody. A particularly useful feature is their scouting report which is provided for every player and ranks an array of individual statistics in terms of percentiles. Thus, it's easy to gauge where that player sits for a particular stat, say expected goals per 90 minutes, compared to his contemporaries. Overall, it's a great site for player comparisons.
While there is an emphasis placed on individual player statistics, team statistics are also supplied. These, too, are detailed with the numbers provided easy to compare against other teams from the same division.
FBref stands out from its competitors because they provide coherent post-match data for individual games. While other databases tend to update data charts without supplying individual match analysis, FBref provides all the numbers from the vast majority of games from Europe's top five leagues.
5. TheAnalyst.com
The newly-emerged The Analyst is quickly developing into one of the finest websites for soccer analysis. Their data driven approach is complemented superbly by wonderfully put together articles which tend to cover popular and relevant topics.
It's not all about serious analysis either, there are plenty of fun list articles for readers to enjoy. Nevertheless, for those that love their data, The Analyst is the place to be. Their stat hub is a comprehensive database providing figures on players and teams from Europe's most prominent leagues as well as UEFA's club competitions.
We can't stress enough the importance of data in soccer betting, and the detailed numbers provided by The Analyst can help punters gauge potential future trends. This website paints a clear picture of whether a team or player's run of form is sustainable, for example.
This truly is the home of soccer statistics, but users can also enjoy written work that span several other sports including baseball, basketball, and football. It's here where you can find various predictions and projections pieces, with data once again operating as the rationale.
6. Squawka.com
Squawka is another well-known soccer site that has developed into a more bettor-friendly resource. The site supplies advertisements for free bet offers and provides frequently posted soccer previews for popular matches. These previews supply predictions and betting tips which are based off statistics.
Users can also read featured posts which are very easy and enjoyable reads, while Squawka quizzes are also accessible. This is a unique feature of the site that very few, if any, of their competitors offer.
Their statistical database isn't vast, it must be said, but there is a useful comparison matrix tool which allows users to compare two players or teams. You have the option to customised which statistics you'd like to compare with a variety of options available such as aerial duel success % and unsuccessful take-ons.
7. SoccerSTATS.com
SoccerSTATS is another comprehensive database that's easy to access and use. This is one of the very best soccer stat sites given the analytical depth that's supplied.
For soccer bettors, this site could be incredibly useful when thinking of a betting strategy. So much information is available here, including form tables, home and away records, head-to-head records, and so much more.
Like FBref, SoccerSTATS provides detailed post-match statistics but these numbers tend to be more bettor friendly, shall we say. Instead of figures for progressive passes completed being displayed, this site provides updated data for how many times a particular team has scored in the first half, or how many times they've scored first. The data supplied is presented in such a way that it's super easy to understand and utilise.
The detail this soccer stat site provides means it's a must-use for prop and in-play soccer betting. The website provides statistics for teams and leagues all over the globe.
8. TotalFootballAnalysis.com
TotalFootballAnalysis is one of the most prominent sites for global soccer analysis after searing in popularity in recent years. This website allows contributors to write analytical pieces on a variety of soccer leagues, players, etc.
Described by themselves as 'The Home of Football Analysis', TFA will provide both pre- and post-game articles offering a comprehensive analysis of why results could be or are attained. The use of statistics are features of their articles, and their work can be incredibly helpful for soccer bettors by establishing reasons for why an outcome is achieved. This can help shape your future bets.
Due to their increased popularity, TFA has expanded in terms of the content they now provide for users. There is a live score tab as well as dedicated articles to soccer betting which provide tips and predictions. However, such pieces are infrequent with their primary focus failing to deviate from providing insightful soccer analysis on leagues and players from all over the world. There menu tab at the top of the homepage makes it easy to access any team or player you wish to learn more about.
A slight caveat is that users have to pay a small monthly subscription to read articles on the website.
Comparison of Predictions Soccer Websites
You have to take multiple aspects into account when assessing what is the very best soccer stats and predictions websites. Each site is different, however, with each focussing upon different components to ensure they stand out.
The table below details the characteristics of the aforementioned sites.
Website
Match/League
predictions
Pre-game
statistics
Post-match
statistics
Referee
statistics
League
analysis
Stats
comparisons
Transfer
updates
KickForm
X
X
X
Transfermarkt
X
X
WhoScored
X
X
X
X
X
FBref
X
X
TheAnalyst
X
X
X
Squawka
X
X
X
X
SoccerSTATS
X
X
X
X
TFA
X
X
Why are Soccer Prediction Sites Useful?
We all want to be right. That's the function of our ego. There are soccer tipsters out there who assure of guaranteed success should punters follow their lead, but the variance of the sport we all adore means it's incredibly tough to sustain your success when betting on soccer.
Instead of turning to tipsters, we highly recommend you use the stats, analysis and prediction sites mentioned above. They all provide something a little bit different and can each benefit your betting strategy moving forward.
These sites are free and easy to access, so why not take advantage of all of them? The ideal betting strategy takes into account raw numbers as well as the eye test. While dedicated analysis sites can tell you why a particular result occurred or might occur, statistics sites can be incredibly useful for live betting and a variety of player-based bets. The level of statistical detail out there nowadays is just remarkable, and soccer bettors would be silly not to take advantage of them.
It's the easiest way to gauge patterns and trends.
Soccer Prediction Sites FAQs
KickForm is the place to go for the very best soccer stats and reliable predictions.

KickForm is certainly the most reliable among the sites we've listed. There are other options out there, but many will force customer to pay a fee.

There are several excellent soccer stats sites and it does depend on what you're looking for in particular. FBref and SoccerSTATS both boast comprehensive databases.

The best app for soccer scores is LiveScore. Check out our review of

the best live score apps

to understand our decision.
ThePuntersPage Final Say
Relying on hunches or gut instincts just isn't going to cut it in a sport with so many variables. Data is paramount for soccer bettors, and, fortunately, punters can access an array of statistics and high-quality analysis online for absolutely no cost. Smartly utilizing data and combining it with your own intuition and analysis is the most likely way of making a profit when betting on soccer.