In this guide to Louisiana sports betting, we'll detail everything there is to know about gambling in the state. Though hardly a contemporary phenomenon, sports betting has only recently been thrust in the consciousness of locals, with Louisiana becoming one of over 30 to fully legalize the activity. For more on this, explore our in-depth article below!
Where to Place Sports Bets in Louisiana?
Comprehensive sportsbook
Generous first deposit bonus
Among six inaugural sportsbooks to launch in Louisiana
Competitive odds
Extensive sportsbook covering 27 sports
Up to $1,000 in paid back bonuses welcome offer
Huge fantasy sports market
Wide range of sports promotions
No sweat first bet – up to $1,000 in free bets
Is Sports Betting Legal in Louisiana?
Following the dissolution of the Professional and Amateur Sports Protection Act (PASPA) in 2018, multiple US states went ahead with legalizing sports gambling. Louisiana did so in November 2020, after 55 of the 64 state's parishes approved a ballot measure to allow sports wagering.
It's worth noting that the nine local parishes that voted against the legalization of sports betting are located in the northeast, where none of the state's 20 casinos/racetracks are based.
Sports betting was officially legalized in the state in June 2021 after Governor John Bel Edwards signed three bills into motion. The first retail betting stores opened in October 2021, while online sports betting debuted in January 2022.
Present & Future of Sports Betting in Louisiana
Louisiana's first full year of legal sports betting was full of promise, but there has been a minor dip after a record-breaking January 2022, which garnered a handle of $282.2m. This decreased by 30% in February, topping out at $197.7m – the lowest monthly total since August 2022.
However, there's no reason to be concerned with the recent dip, as Louisiana's decline is consistent with the rest of the US.
Sports Betting Revenue & Taxation in Louisiana
In its first full year after going live, Louisiana bettors wagered $1.8bn, while the state earned $26.5m in taxes1. At the end of October 2022, Louisiana casinos and sportsbooks were reported to have made over $35.8m in revenue from sports betting. Mobile apps earned around $152m during their first ten months and paid $22.8m.
While sportsbooks incurred heavy losses following their launch, the state of Louisiana has undoubtedly benefitted financially from the legalization of sports betting.
Here are some of the main points regarding sports betting revenue and taxation in the state of Louisiana2.
20 sports betting licenses are available for existing retail gambling facilities.
Each licensee is allowed to have two online skins.
10% retail sports betting tax rate.
15% tax rate for online sports betting.
Initial license applications cost $250,000.
A five-year license costs $500,000.
Comparison of Top Sportsbooks
1. DraftKings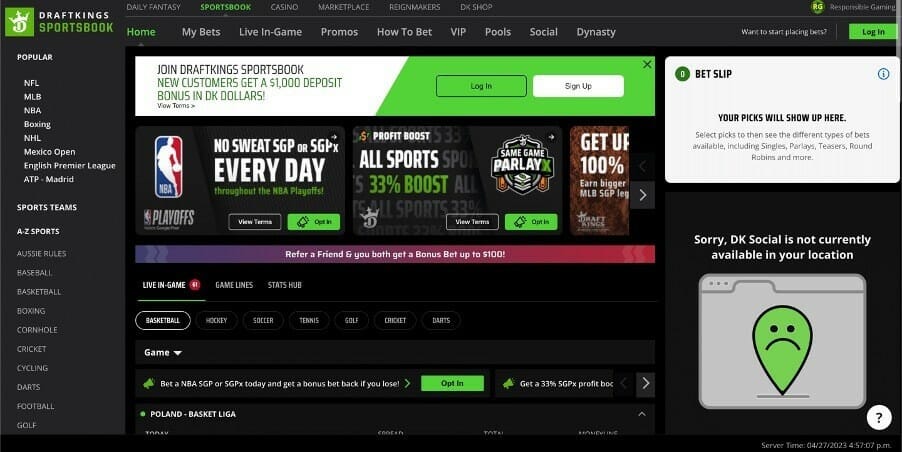 DraftKings was one of the first major sportsbooks to open for business in Louisiana following the legalisation of sports betting in June 2021. DraftKings opened their doors in the Bayou State five months later as one of six inaugural sportsbooks.
The platform is viewed as a sports betting behemoth in the country, available in 21 states – more than any other major US bookie.
Once an established fantasy sports platform, DraftKings has since developed into an excellent bookmaker – one which is hard to fault. Their website is of the highest quality, with punters treated to the most competitive odds and an impressive sportsbook which attempts to cover all bases.
Their coverage of leading leagues, such as the NBA and NFL, is very good. The operator appreciates inclusivity and tries to ensure a variety of sports are covered when it comes to their promotions. New customers, meanwhile, are gifted a $50 bonus bet after making their first deposit with the bookmaker. They also run a $1,000 matching first deposit bonus which Louisiana bettors can take advantage of.
2. BetMGM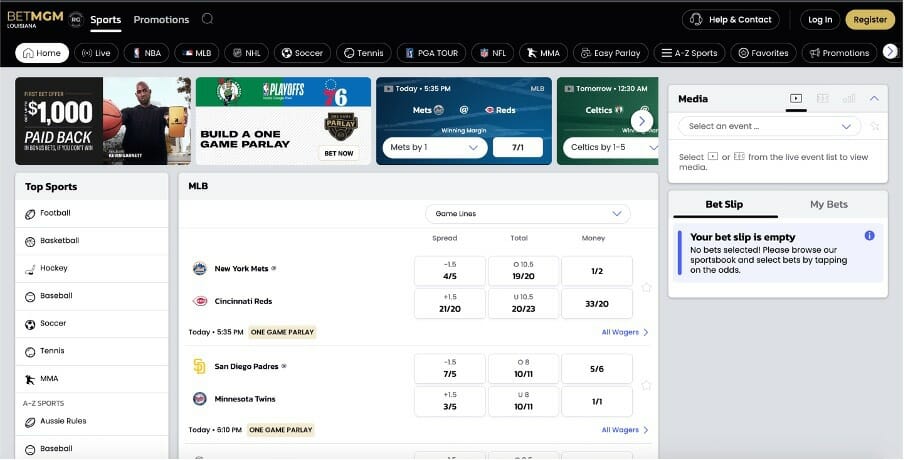 The sportsbook wing of the MGM Resorts empire, BetMGM was launched alongside DraftKings in the first wave of online sportsbooks to go live in Louisiana.
BetMGM has raised the standards of the gambling industry since its establishment, providing a superb experience for its users and rewarding their VIPs with once-in-a-lifetime experiences.
The bookie's sportsbook is comprehensive and, on the whole, there's something for everybody to enjoy. They're beginning to offer more on the promotions front, and bettors from Louisiana can make the most of their new customer promotions which gifts them $1,000 paid back in bonus bets, should their first bet with the bookie end in a loss.
This offer is laden with value, and punters will then be able to access the most competitive odds and impressive array of markets in the American market.
3. FanDuel
FanDuel launched in Louisiana at the start of 2022 and is currently available in 19 states. While still an excellent provider of fantasy sports, in particularly fantasy football, the site has also blossomed into one of America's most popular bookmakers.
Innovative promotions are crucial to FanDuel's popularity, and Louisiana bettors can also take advantage of the No-Sweat First Bet new customer offer in which they can earn up to $1,000 in bonus bets after signing up.
There's plenty to get stuck into on both the desktop offering and the app, with the supreme functionality of allowing for a user-friendly experience. Overall, it's no surprise that FanDuel is considered by many to be the country's leading bookie. Its evolution really is impressive.
Best Sports Betting Apps in Louisiana
America's most popular sportsbook is accompanied by a brilliant mobile app, which is available to Louisiana punters and anybody else residing in the 22 states where DraftKings operates. Many have lauded the app's functionality in particular, along with its high-quality features. Fantasy football lovers are particular admirers.
BetMGM's mobile app launched in Louisiana after its sportsbook opened its doors in January 2022. Having launched just in time for the NFL playoffs, many welcomed the operator with open arms, with special appreciation for their user-friendly and varied sportsbook. In December 2021, BetMGM then released its separate horse racing betting app, giving fans of this highly popular equine sport a dedicated tool of their own.
Like its website, FanDuel's mobile app, which is compatible with pretty much every platform, is a whole lot of fun to use. There's nothing you can do on the desktop version that you can't on the mobile product, with access to top features such as Odds Boosts and Same Game Parlays.
Louisiana Sports Betting Promotions
Here are some of the most common sports betting promotions offered by bookmakers licensed in Louisiana:
Those that sign up with FanDuel in Louisiana are entitled to a tasty reward after placing their first bet. The bookie's welcome offer is a $150 deposit bonus following a new customer's first stake of at least $5.
To qualify for this promotion, you need to deposit at least $10 before placing your bet, and you'll earn the $150 no matter whether your qualifying bet wins or loses.
BetMGM up to $1,000 Paid Back
BetMGM's welcome offer for Louisianians is incredibly generous, with the potential to win $1,000 in bonuses. There's nothing but value here!
To qualify for this promotion, simply create an account and deposit a minimum of $10. Place their qualifying bet on absolutely anything, and you'll receive your stake back (up to $1,000) if it loses. However, it's important to note that you'll receive your money back in bonus bets, not as cash, so there is an element of risk at play.
Fancy the opportunity of making some quick cash? Well, just sign up to DraftKings and you'll almost instantly earn yourself $50 in bonus bets after you make your first deposit of at least $5.
DraftKings' superb welcome offer also includes a $1,000 play through bonus, which means you will earn a 20% deposit bonus up to $1,000. So, let's say you deposit $100 – DraftKings will then add another $20 to your account.
DraftKings' NFL bonus will be very handy once the season rolls around in September. This offer is a generous sport-specific promotion that rewards you with $200 in bonuses, which in turn can be used on any NFL market after you place their first $5 bet.
Popular Types of Bets
Here are some of the most popular types of wagers that Louisiana bettors make on a variety of sports.
Moneyline betting is simple. With this type of bet, you're backing a team to win the match.
So, if you place this kind of bet on the New Orleans Saints to beat the Carolina Panthers, the Saints must win the contest for your bet to win. Your bet loses if the Ravens win or if they tie.
Spread betting is very popular among American bettors due to the lack of value that's typically associated with moneyline betting. Due to the high-scoring nature of sports like football and basketball, there's less scope for variance, and it's less likely for an underdog to win.
Spread betting, however, attempts to even the score and create more value.
The point spread is the number of points that a team must win by for the bet to pay out. The favorite will have a '-' next to their points spread, while the underdog will have a '+'.
So, let's say the spread is: New Orleans Saints (-2) @ Atlanta Falcons (+7). This means that if you backed the Saints, they must win by more than two points for your bet to be successful.
There are many over/under betting markets, but the most common is betting on how many points will be scored in a particular game. With this bet, the end result doesn't matter.
The bookmaker will set a line, and you must decide whether to bet over or under the given line.
For example, the bookie might set the line for NFL match-up between the Saints and Panthers at 41.5. So, 42 or more points will have to be scored for the over bet to win. Anything less and the under wins.
Everybody loves a parlay, right? It's where the dreamers come to play.
These bets are tough to pull off as you need multiple selections to come in to ensure your bet is a success. Just one failed selection, and your entire bet collapses.
A parlay bet constitutes of two or more singles bets which are combined into one big bet. The unlikelihood of them coming off means you are often treated to big returns should you conjure up a winning bet.
You can include multiple markets and events in a parlay bet, although Same Game Parlays are growing in popularity.
Proposition bets, or 'prop' bets as they're more commonly known, are, in essence, side wagers that do not affect the game's final outcome.
The vast majority of markets offered by bookmakers on a single game can be considered prop bets. Point spread, moneyline and total points, however, aren't.
Prop bets typically involve player stats. For example, you might fancy Derek Carr to throw over a certain number of yards in one game, or for Chris Olave to catch over a certain number of balls.
However, bookies will also offer game props such as 'which team will score first?' and novelty props such as 'who will win the coin toss?'. The possibilities are endless!
Futures bets require plenty of patience as they're long-term bets. If you're looking for a quick buck, this isn't the route to go down.
With these bets, you're banking on something to occur in the future. For example, you might fancy the New Orleans Saints to win an unlikely Super Bowl before the season gets underway. Perhaps Derek Carr is in line for his first MVP award? Such bets are common in pre-season as this is where the most value can be extracted.
Where To Bet on Local Louisiana Teams
Louisiana simply isn't a major sporting state, but its biggest city, New Orleans, possesses fervent supporters of two major franchises: the Saints (NFL) and Pelicans (NBA).
The Saints enjoyed their fair share of success with Drew Brees at quarterback, winning the Super Bowl in 2010, which emerged as one of the heartfelt stories in American sports in the wake of Hurricane Katrina. Brees, along with Sean Payton, helped New Orleanians believe again.
| Franchise | Sport | Founded | Odds |
| --- | --- | --- | --- |
| New Orleans Saints | Football | 1967 | Win Super Bowl LVIII +3500 |
| New Orleans Pelicans | Basketball | 1988 | Win NBA Finals N/A |
| Louisiana State University | College football | 1893 | Win National Championship N/A |
Important Sports Events in Louisiana 2023
Let's take a look at a list of significant sporting events that Louisiana sports fans might fancy betting on this year:
3rd September – Louisiana State University's NCAA regular season starts
10th September – New Orleans Saints' home opener against Tennessee Titans
Mid-October – 2023/24 NBA regular season starts
Louisiana bettors can bet on pretty much everything, but there are some restrictions. For example, some esports events are not available due to some of the competitors being younger than 18. The state has also banned wagering on high school and youth sports.
Moreover, it's worth noting that nine of the state's 64 parishes do not offer legal sports gambling.
Louisiana Sports Betting Timeline
Here's a history of sports betting in Louisiana:
May 2018 – US Supreme Court overturns PASPA.
2019 – Senator Danny Murphy begins to push sports betting legislation (SB153).
November 2020 – Referendum passed by Louisiana voters that legalized sports betting in the state.
June 2021 – Governor John Bel Edwards signs SB247 into law, which legalizes sports betting.
October 2021 – Retails sports betting officially launches.
January 2022 – Mobile sports betting officially launches.
States Where It Is Legal To Bet on Sports
Changes to federal law has facilitated the legalization of sports gambling in 31 states to some degree, and Louisiana is currently one of those.
| State | Sports betting legal in person | Sports betting legal online |
| --- | --- | --- |
| Arizona | YES | YES |
| Arkansas | YES | YES |
| Colorado | YES | YES |
| Connecticut | YES | YES |
| Delaware | YES | |
| Illinois | YES | YES |
| Indiana | YES | YES |
| Iowa | YES | YES |
| Louisiana | YES | YES |
| Maryland | YES | YES |
| Michigan | YES | YES |
| Mississippi | YES | |
| Montana | YES | YES |
| New Mexico | YES | |
| Nevada | YES | YES |
| North Carolina | YES | |
| North Dakota | YES | |
| New Hampshire | YES | YES |
| New Jersey | YES | YES |
| New York | YES | YES |
| Oregon | YES | YES |
| Pennsylvania | YES | YES |
| Rhode Island | YES | YES |
| South Dakota | YES | |
| Rhode Island | YES | YES |
| Tennessee | | YES |
| Virginia | YES | YES |
| Washington | YES | |
| West Virginia | YES | YES |
| Wisconsin | YES | |
| Wyoming | | YES |
Louisiana Sports Betting – FAQs
Sports betting was legalized in Louisiana in June 2021 with the first retail sportsbook opening October 2021. Online sports betting debuted in January 2022.
At the time of writing, there are eight online sportsbooks in operation.
DraftKings, BetMGM, and FanDuel are the best sportsbooks available in Louisiana.
Punters can bet on college events, including in-state teams.
There aren't too many professional franchises in the state. The New Orleans Saints (NFL) and New Orleans Pelicans (NBA) are the only two. Louisiana State University is also a major sporting institution.
ThePuntersPage Final Say
This guide has detailed everything there is to know about sports betting in Louisiana. While not a state revered for its sport, Louisiana is blessed with a couple of major institutions, and the leniency of their betting laws mean there's plenty for punters residing in the state to get stuck into.
References
1 The Daily Advertiser. (n.d.). In first year of sports betting, Louisiana made $26.5M, Mattress Mack won $75M. [online] Available at: https://eu.theadvertiser.com/story/money/business/2023/01/12/louisiana-brings-in-26-5-million-in-first-year-of-legal-sports-bets/69796159007/ [Accessed 11 May 2023].
2 lgcb.dps.louisiana.gov. (n.d.). Louisiana Gaming Control Board. [online] Available at: http://lgcb.dps.louisiana.gov/ [Accessed 11 May 2023].