In our following Kansas sports betting guide, we'll explain how, why, and where bettors in this state can make the most of their wagers online. From the top bookmakers available to an overview of the legal situation, we cover everything you need to know!
Where To Place Sports Bets in Kansas
Creative contests available every day
Sportsbook fantastic for big league futures
Top tier live betting experience
Pre-made parlays provide extra betting opportunities
Exquisite, user-friendly design
One of the highest app store scores
Fantastic for traditional and fantasy sports betting
Thousands of hours of live sports steaming
Beginner fantasy markets available
Is Sports Betting Legal in Kansas?
Yes. The legality of Kansas sports betting officially changed following the signing into law of bill SB 84 on May 12th.
This allows for four state casinos to provide for wagers on sports teams and events through three different skins, meaning 12 operators are available at the time of writing.
Below is a simple breakdown:
Barstool is available as a skin of Hollywood Casino at Kansas Speedway.
Fanduel is available as a skin of Kansas Star Casino.
DraftKings and Bally Bet are available as skins of Boot Hill Casino and Resort.
BetMGM, Caesars, and PointsBet are available as skins of Kansas Crossing Casino and Hotel.
In other words, 7 of 12 possible platforms are currently already approved via Kansas legislation, licensed and regulated by the Kansas Racing and Gaming Commission (KRGC). This will also apply to any approved operators in the future.
Casinos may also request an additional skin if in partnership with a professional sports team from the state, like the Kansas Jayhawks, for example.
These legal changes do not impact casino betting. Despite there being several retail casinos in Kansas, with many of them being involved in the regulation of sportsbooks, there are still no legally approved online casinos in the state. In fact, the subject is largely without regulation. To be on the safe side, we advise that you stick to the social/sweepstakes casinos broadly legal throughout the country.
Present and Future of Sports Betting in Kansas
The current legal situation of sports betting in Kansas is easy to understand. It is broadly legal, with professional, college, motor sports, and even special events all approved. As a result, Kansans can enjoy sports betting with fewer restrictions than many other jurisdictions.
College sports, for instance, have platforms here they would not in the likes of New York or Virginia.
Daily fantasy betting is also legal. In fact, they've been available since bill HB 2155 was passed in the Sunflower State in 2015, even allowing some types of lottery, raffles, and bingo.
However, there hasn't been much to speak of in terms of further regulation since September 2022.
In January 2023, it was announced the state set a revenue record of $10.3 million the previous December, with the same month seeing a fourth retail casino offer sports betting. In other words, overall legislation will remain overwhelmingly the same for the foreseeable future, barring any big legislation surprises.
The key things that seem most likely to change would be the following:
The tax status of Kansas sports betting platforms will probably be revised. This is always a point of discussion considering the immense amount of money involved.
More online sportsbook skins will be launched. There are 12 spots available, and we expect them all to be filled.
Online casino legalization discussions are set to begin. This will be a long and arduous road, though, so we can't predict where it will end.
Sports Betting Revenue and Taxation in Kansas
Under bill HB 2155, everything you win is considered taxable income by the Internal Revenue Service. There are two tax rates to be aware of: one on a federal level, and another on a state level.
The federal tax rate is easy to understand because it is at a blanket rate of 24%. The state tax rate ranges between 3.1% and 5.7%.
| Earnings | Taxation rate |
| --- | --- |
| $15,000 or under | 3.1% |
| Between $15,001 – $29,999 | $465 plus 5.25% |
| Above $30,000 | $1252.50 plus 5.7% |
Do note that you only pay an increased tax rate on earnings above the income bracket threshold. If you earned, say, $17,000, you would only pay 5.25% on the amount earned above $15.001, and would pay 3.1% and the amount below it.
These tax rates are both simpler and more generous than many other sports betting states.
To fill out your taxes, you will be provided with the form W-2G. This should be sent to you by your chosen sports betting platform. This will tell you how much you've won and how much tax has been withheld. It is sent if your winnings are at a minimum of $600 and the payout is 300 times your stake.
If your winnings do not meet this threshold, or you do not receive a W-2G form, it is still your legal responsibility to include them in your tax returns.
Legislation also allows for you to deduct gambling losses on your tax returns should you itemize those losses.
Comparison of Top Sportsbooks in Kansas
Every sports betting platform available in Kansas will provide an excellent experience for most. But, much like sports teams, there's often one which is just right for you. With that in mind, check out our detailed comparisons below.
DraftKings: New Ways To Play Every Day

DraftKings boast an impeccably well-designed platform, meaning no lags, no broken links, buttery-smooth responses, and a newcomer-friendly structure.
The customer service is world-class, available round the clock, and to high standards. You'll be able to enjoy creative and generous promotions, as well as a wide range of payment methods. And, as is no surprise for a site with such a reputation, the security standards are without reproach.
Offering both traditional sports and daily fantasy betting, DraftKings always seem to be coming up with new ways of improving the experience for their customers – whether that's the conveyer belt of creative contests or fantastic sports markets on everything from lacrosse to the Super Bowl.
In terms of betting options, they offer great odds on events both imaginative and international, complete with one of the finest live experiences we've ever seen.
Pros
Immense reputation is not without merit
Near flawless technical performance
New betting opportunities every day
Cons
Newcomers to fantasy betting could be confused
App needed for some promotions
BetMGM: A Masterpiece of Design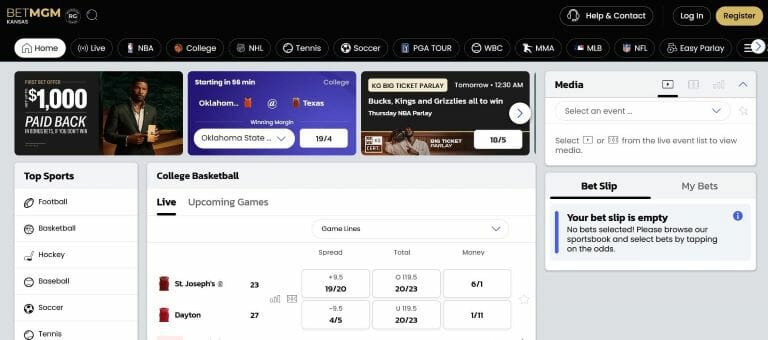 Not only does BetMGM look fantastic, with a slick and mature aesthetic, but everything is carefully structured for maximum user-friendliness. Whatever you're looking for, if it's here, you should be able to find it in moments,
And they'll probably have whatever sports markets you're after too, thanks to an immensely deep and versatile Kansas sports betting market selection. Not only are major events covered, like the Stanley Cup and NBA Finals, but so are lesser-known leagues and those suited to more global tastes.
Better still is that no matter what event we're looking at, no matter the size, the insistence on quality never wavers. The odds are always excellent, markets varied, and this goes for live betting just as much as in-play options.
And, just as the likes of FanDuel and DraftKings have a unique selling point with fantasy betting, BetMGM has their own with pre-made parlays. These provide simple ways of getting involved with parlay betting, suitable for newcomers and interesting enough for experts.
Pros
Acclaimed by users and critics alike
Fantastically user-friendly site design
Great odds whatever the market
Cons
No fantasy betting
Few event specific promotions
FanDuel: An All-Round Triumph

Whether you're looking for a traditional sportsbook or some of the most innovative fantasy betting options available, FanDuel has you covered. While they might be better known for the latter, they have proven themselves over recent years to be a true jack-of-all-trades and they're bringing all their betting brilliance to Kansas.
The sportsbook is rock solid, with competitive odds on all of the most popular sports in the United States. It's unlikely that many Kansans will find themselves lacking for options on this platform regardless of their personal tastes.
That's because it's not just the sports selection that's broad, but also the markets per event. They go far beyond your basic moneyline, providing all kinds of interesting prop bets for you to ponder.
Legalization has also allowed for operators to offer promotions, something that FanDuel have taken full advantage of with an ever changing roster of generous bonus offers for new and existing customer alike.
Plus, it's all user-friendly, from intuitive design and quality customer service right down to fantasy contests custom built for beginners.
Pros
Fantastically varied promotional options
Beginner fantasy betting contests
Broad selection of traditional sports betting markets
Cons
Bright design won't suit all
More international markets welcome
Best Sports Betting Apps in Kansas
Kansas sports betting is legal on computers, phones, and portable devices. Many in the state prefer betting on the go, with the below recommended platforms providing excellent mobile apps.
The strengths of the DraftKings browser experience find themselves perfectly ported over to mobile. Design quality is perhaps even better here, as their layout seems to naturally lend itself to the smaller, more interactive screen.

Furthermore, there's no loss of sports nor fantasy betting options, while you can even claim promotions that are curated specifically for mobile users.

Perhaps best of all, though, is the way the app complements the communal aspects of fantasy betting, such as making your weekly team selection and head-to-head contests even easier and more engaging. Another stellar performance from one of the industry's finest.
We've already talked at length about how highly we view BetMGM from a design standpoint, and we can assure you that the same sentiments apply to their app too. The latter provides a mobile experience perfectly suited to betting quickly on the go, which is even more impressive when you consider just how broad their betting options, including parlay suggestions, are. And you don't need to take our word for it. Head over to the relevant stores and you'll find one of the most critically acclaimed apps in online sports betting.
This one is a little bit different, as FanDuel is actually two apps as opposed to one. There's one for your traditional sportsbook, and another for fantasy betting. Considering how much is available on each, though, we think that it's a forgivable bit of extra downloading to enjoy two of the finest mobile platforms available in Kansas.

The beginner–friendly, generous markets and fantasy betting contests FanDuel are known for are all here, and we must say their baby blue style looks lovely on the small screen. All this extra room also provides them with the leg room for a consistent supply of promotions, to complement the wealth of betting options.
Kansas Sports Betting Promotions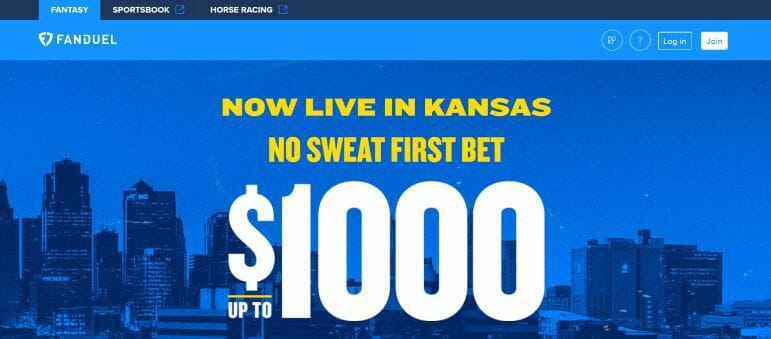 Kansas sports bettors have been blessed by generous promotions granted by various bookmakers in the state. To give you a taste of what's out there, here's a look at a few of our favorites.
First up, there's FanDuel, who offer a massive "No Sweat First Bet" offer of $1000 as a refund if your first bet loses. The way this works is simple. You join the site, deposit a minimum of $10 and then make your first wager. There are no stated restrictions beyond the general term that you cannot use bonus bets on round robin and "Same Game Parlay+" wagers. Everything else is up to you. If it loses, you'll get the money as a free bet, essentially doubling your opportunity to make your first wager a winner.
Just as impressive when it comes to promotions are DraftKings, who offer to ability to win $150 for a $5 wager. Again, simplicity is an asset on these platforms – you sign up, deposit some cash, and bet $5. If it wins, you get both your winnings and $150 in bonus bets. These are split into five $25 bonus bets, which you have a week to use.
We would recommend the latter offer for those with more confidence in their initial bet, as winning activates this promotion.
Know someone new to online sports betting in Kansas? Point them in the direction of BetMGM by sending an invitation, and you'll both receive $50 as a sign-up bonus if they wager that amount within 30 days. If they were planning on signing up and betting anyway, these are essentially rewards for betting as normally.
On a final yet important note, be sure to check the terms and conditions of any promotion that you claim in order to avoid any unwanted surprises later on.
Popular Types of Betting
To help you get an idea of what betting markets are available in Kansas, we have showcased some of the most popular types of betting in the state below. Do note that there's many more available, with hundreds of markets available on top events.
With the Kansas City Chiefs winning the Super Bowl in 2022, it's fair to say that football fever is at an all-time high in Kansas, even if the team is technically stationed in Missouri. And for a state which has as great a passion for football as Kansas, they hardly needed any encouraging. In terms of the biggest betting markets for the sport, well, it's obvious. There's no bigger betting market in the country than Super Bowl betting. After all, it represents the greatest achievement in the most popular sport in the USA. This is the kind of market that Kansas legislation was made for.
The only team actually located within Kansas itself and to play for a major league are Sporting Kansas City, who currently call the Western Conference of Major League Baseball their home. At the time of writing, an MLS Cup victory seems like a long shot, but betting markets are nothing if not versatile.

That's why something a little less ambitious but which can provide threads of interest throughout could be an ideal use of your favorite betting platforms. To qualify for the MLS Cup, Sporting Kansas City will need to finish in the top seventh of their conference, so this can provide interesting medium odds wagers.
Basketball is one of the most popular sports available to bet on in Kansas, and is also one with lots of great alternative markets. One fantastic way of kicking off the excitement is to bet on which team will reach 20 points first. Not only does this allow you to jump start your interest, but it's also an intriguing market from a strategic point of view, as you can consider which team tends to start strong specifically and back that as an outcome.
This is similar to handicap betting, which is ideal if you're looking at a lop-sided contest. A foregone conclusion can make for dull viewing even for the most ardent sports fan. Consider spread betting to be the antidote to easily predictable results.

Since Kansas are football fans, let's say you had a game between France and South Korea in the World Cup, and you want to back France but the odds offered are poor. Spread betting adds a disadvantage for better odds – let's say of -2.

In this scenario, France would have to win by 3 or more goals for your bet to be successful, with much larger returns as a result and, hopefully, a more exciting game. Spread betting could also work the other way, meaning someone backing South Korea would only require them to lose by less than 2 goals to win their wager.
Whether it's basketball or baseball, plenty of the top sports in Kansas have the potential to be high-scoring affairs. This makes them ideal for over/under markets, where you bet on whether or not a variable will be above or below an amount set by the bookmaker.

Points scored would be a typical example. This means you don't have to back any team to win, at all – you would simply be betting on how many points were scored by both teams at the end of play. This is a very tactically unique market in that you are really considering the kind of game that will be played, rather than the superiority of either team.
Where To Bet on Local Sports Teams
Kansas presents a somewhat unique situation. Kansas City, which is technically in Missouri, is home to the Kansas City Chiefs, Kansas City Royals, and Sporting Kansas City. Despite this, many Kansans consider these teams to be local.
Since Kansas has few teams for betting, these adoptive teams hold significant importance in the state's sports culture. While college teams are available for bets, they are generally not featured on mainstream sportsbooks due to their focus on general athletics.
Famous Sports Events in Kansas 2023
As is the case with the sports teams, most of the actual sports betting action takes place in Kansas City. Again, since this has been adopted by Kansan sports fans, and because it sits on the border, we will be including it as part of our look at top events coming up in 2023. Here's a selection of what you have to look forward to:
| Sport | Event | Venue | Date |
| --- | --- | --- | --- |
| Professional Wrestling | All Elite Wrestling | Cable Dahmer Arena | 22nd March |
| Basketball | NCAA Men's Basketball Tournament | T-Mobile Center | 24th March |
| Basketball | NCJAA Men's Basketball Tournament | Hutchinson Sports Arena | 25th March |
| Boxing | Golden Gloves Regional Boxing Tournament | Sand Hill Event Center | 1st April |
| Basketball | Harlem Globetrotters | INTRUST Bank Arena | 2nd April |
| Baseball | Kansas City Royals vs Colorado Rapids | Children's Mercy Park | 8th April |
| American Football | Southwest Storm vs Topeka Tropics | United Wireless Arena | 8th April |
| Soccer | Sporting KC vs Montreal Impact | Children's Mercy Park | 29th April |
| NASCAR | NASCAR Cup Series | Kansas Speedway | 7th May |
| American Football | Kansas Jayhawks vs UCF Knights | Memorial Stadium | 7th October |
Kansas Sports Betting Timeline
1986 – In the first piece of legislation relevant to modern era, voters amended Article 15, Section 3b of the Kansas Constitution. This allowed for the regulation of both pari-mutuel wagering, as well as horse and dog racing.
2007 – The Kansas Expanded Lottery Act is presented. This would allow Kansas to own and operate casino resorts in four zones. This would lay the groundwork for the casinos available today, who are the operators behind the Kansas sports betting sites you can place wagers on.
2018 – Following the footsteps of New York, Kansas puts forth a bill to make sports betting legal should there be a change in federal law. The US Supreme Court overturned PASPA, allowing states to decide their own sports betting laws that very year.
2019 – An attempt at implementing a 50% tax rate ended the efforts to join the legal sports betting markets early, following opposition from casinos.
2020 – The Kansas senate introduced a new bill which had a tiered tax structure, offering 7.5% for in person bets and 10% for those placed online. This got full support from casinos but some opposition from the horse and greyhound racing industry. Attempts to provide a positive legality status for sports betting this year were usurped by the coronavirus pandemic cutting the legislation process short.
2021 – A legislation bill SB 84 was passed in March 2021. This would allow for the state lottery to expand and for the four casinos to partner with three online brands, but the house voted against it.
2022 – Amends were made following several discussion on regulation, with the compromise bill HB2470 being included into SB 84. With this, the chambers came into agreement. It was signed into law on May 12th. This allowed for betting on practically all sports, both professional and college, and even left the door open for additional special events. Six sports betting sites launched in September, and Kansas took in $160 million in bets in the first month.
States Where It Is Legal To Bet on Sports
Of course, Kansas were far from the only state to benefit from the changes to federal regulation. Following the change in 2018 which allowed individual states to decide on the legality of sports betting, the following went for legalization:
Arizona
Arkansas
Colorado
Connecticut
Illinois
Indiana
Iowa
Louisiana
Michigan
Nevada
New Hampshire
New Jersey
New York
Ohio
Oregon
Pennsylvania
Rhode Island
Tennessee
West Virginia
Wyoming
If you are planning on betting in any of these areas, do check out the local laws before betting. That's because even though Kansas and another state may have the same legality status, the individual rules can be quite different.
Nevada, for instance, requires in person registration, while Arizona doesn't allow betting on in-state college teams. Plus, it's a good idea to be aware of who provides licensing and regulation, so you can review the credentials of any platforms you're interested in.
Conclusion: Kansas Sports Betting Already Offering Depth and Variety
Despite sports betting in Kansas being limited to the efforts of four state casinos, it is far from lacking compared to other legalized states. Even without all 12 operator slots filled, there is plenty of variety in betting experiences available.
In fact, if things remain unchanged for years, the vast majority of Kansan bettors would have their expectations fully met. Meanwhile, the trio of platforms we have recommended above are so appealing and high-quality that most of you won't need to look elsewhere!