With online bookmakers constantly looking to make life easier for their new customers, it's no surprise to see Revolut offered as a payment option. But before you dive in, we suggest that you examine the pros and cons of betting with Revolut, all discussed throughout this article in detail.
What Is Revolut?
Simply put, Revolut is a digital bank that gives you an electronic wallet with a personal IBAN, along with a payment card. Launched in the UK in 2015, it also offers its customers a bank card that is attached to accounts holding any one of 31 available currencies. Though it's not recognised as a bank in the UK, it nevertheless bills itself as a one-stop financial resource. As such, Revolut is a great platform to help you take charge of your spending, saving, and investing.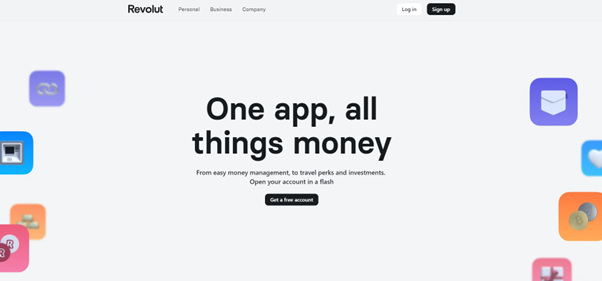 Because the card accepts and handles multiple currencies, it's proved to be a favourite of travellers and globetrotters. Revolut allows you to make instant transfers and exchange money seamlessly and affordably, all within the app itself. As for transferring money to your bank account, the whole process is straightforward and takes just a few minutes.
There are four types of Revolut cards to choose from – which one you'll receive depends on the type of account you have. Let's have a look at each one, along with the applicable fees:
Free Account: This comes with a standard plastic card and carries no fees.
Plus Account: The Revolut Plus Card (£2.99 per month).
Premium Account: The Premium Revolut Card (£6.99 monthly).
Metal Account: The Revolut Metal Card (£12.99 per month).
All these cards will come with either Visa or Mastercard, though you can't choose which, as the cards are assigned depending on the country where the customer lives. All physical cards come with a magstripe, so you're able to use any Revolut card for ATM withdrawals, as well as for contactless payments.
If you only want a card to use online, then their virtual card is perfect. It's free to order and connects to the Revolut app. However, because it's not a physical card, it lacks a PIN and thus can't be used at ATMs. That said, the virtual card does have a unique security feature in that it deletes itself every few months and is then replaced with a new one.
How To Join Revolut
Revolut is available for customers in the European Economic Area, Australia, Canada, Singapore, Japan, Switzerland, and the US.
The EEA includes: Austria, Belgium, Bulgaria, Croatia, Republic of Cyprus, Czech Republic, Denmark, Estonia, Finland, France, Germany, Greece, Hungary, Iceland, Ireland, Italy, Latvia, Liechtenstein, Lithuania, Luxembourg, Malta, Netherlands, Norway, Poland, Portugal, Romania, Slovakia, Slovenia, Spain, and Sweden.
To join Revolut, just follow this simple step–by–step guide:
Download the Revolut app using the Google Play Store or Apple App Store.
Install the app, open it, enter your phone number, and enter a 4-digit passcode.
A 6-digit PIN will be sent to you via text message. Enter this PIN into the app.
Type in your name, email address, and SSN or ITIN (in order to verify your identity, this information is required by law).
You'll need to provide a scan of proof of ID, such as a passport or driving licence. Once Revolut receives this, you'll be asked to use the camera function of your mobile phone to provide a photo that can be compared with your ID.
Agree to the Cardholder Agreement.
Order your card. If you're unsure which card to start with, then we suggest you simply order the free standard card. Keep in mind that you can always upgrade at a later date.
Ways to Fund Your Revolut Account
To add funds to your Revolut account, simply tap on the "Add Money" icon on the home screen of your Revolut betting app.
Here, you'll see the various options available. If you've previously linked your bank account, this will appear at the top of the list. For security reasons, once you've added the desired amount, you'll be taken to your own bank's page to confirm the transaction.
Bank Transfer
The method to transfer funds from your bank account to your Revolut card will depend on whether it's an international or domestic transfer. In the "Account Details" section of the Revolut betting app, you'll see which currencies are supported. If you don't see a "local" section, then you'll only be able to use SWIFT.
We suggest that you stick to local details, as the transfers are faster – in many cases, they are either much cheaper or free, especially when compared with SWIFT transfers associated with betting from abroad.
Adding GBP: For this, you'll need your local account number and sort code. The platform utilises the CHAPS or BACS transfer systems from UK bank accounts. If you're transferring from outside the UK, then SWIFT cross-border transfers can make use of the Faster Payments, SWIFT, BIC, or IBAN details. Faster Payments normally take a couple of hours, whereas BACS can take as long as three working days.
Adding EUR: Providing that you are situated within the SEPA area, you can use your IBAN and BIC to receive SEPA transfers. If your bank account is outside the SEPA zone, then use SWIFT, IBAN, or BIC. It is important to double-check that the correct account details are shown on the app. The transfer will bounce if you accidentally combine SWIFT with local details or input the incorrect details.
Credit Cards
Unfortunately, from July 2020, topping up your Revolut card using another credit card for betting with Revolut is no longer accepted. Nevertheless, you can still utilise a debit card or bank transfer.
E-Wallets
Many e-wallets are not listed as IBAN/BIC in the app's drop-down menu of payment options for UK customers. Since Brexit, though the UK remains part of the SEPA scheme, a number of new requirements have been introduced. Thankfully, there are some workarounds. For example, you could claim a Skrill Virtual Mastercard and then add it as a payment source, providing you're in the UK, as both Skrill and Revolut are UK companies.
Other e-wallets like NETELLER and PayPal can be added to your Revolut account, allowing you to transfer funds from your e-wallet to Revolut. Take note that this e-wallet feature is only available in Europe. If you're looking to transfer funds in the other direction, from Revolut to your e-wallet, then there's a fee.
How Do I Use Revolut for Betting?
Once you've found a betting site that lists Revolut as a payment option, using the card is as simple as using any other credit card. What's more, all deposits are instant, meaning you can start betting straight away. A main disadvantage is that withdrawals take much longer, up to six working days. The good news, though, is that Revolut charges no fees for using your card for your online betting account.
Online Betting Deposits:
Head over to the payment section and click on the VISA/Mastercard option.
Fill in the desired deposit amount, card name, card number, and CVC code.
Check to see what the minimum and maximum deposits are.
Confirm the transfer. The bookie will receive the Revolut funds instantly.
Online Betting Withdrawals:
Find the "cashier" section of the online bookmaker.
Select "Revolut" as your withdrawal option.
Enter your Revolut card details. That is it!
Which Betting Sites Accept Revolut?
Though Revolut has been an option for funding betting accounts over the last couple of years, it's been superseded by many other electronic payment platforms. As of the time of writing, we could only find a handful of bookmakers accepting funding via Revolut, but we will make sure to update this guide as soon as this changes.
Revolut Gambling Block
If you're looking for a means of helping you keep an eye on your gambling spending, then Revolut has a great tool within its app. Though disabled by default, the Gambling Block, once enabled, will automatically block any payments to online casinos, sportsbooks, and betting shops.
To enable Gambling Block, head over to your profile page in the mobile app. Open the app, and then scroll down to the Security settings, and you'll see the gambling block. Once you've selected it, you'll have to agree to the terms and conditions. You'll then receive a confirmation, and the block will start working instantly. The reverse procedure will deactivate the block, though you'll need to wait 48 hours for the unlocking process to complete.
We should also mention that Revolut is dedicated to helping problem gamblers, offering a long list of problem gambling signs. Their app lists support groups, charities, helplines, and gambling organisations where any player experiencing difficulties can reach out and receive a sympathetic ear.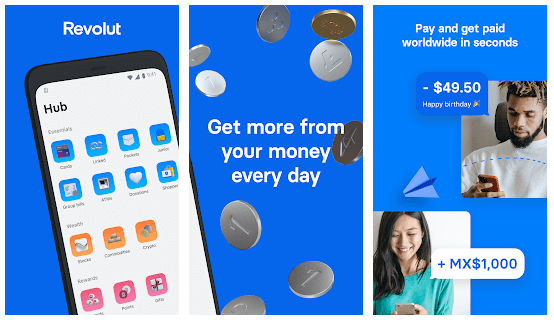 What Are Revolut's Fees and Withdrawal Limits?
With several different Revolut accounts to choose from, you'll find that fees are dependent on the type of card you're using.
| Name | Revolut Fees |
| --- | --- |
| Price for opening a personal account | Free |
| Price for opening a business account | Free |
| Personal account bank details fee | Free |
| Business account bank details fee | Free |
| Currency exchange fee | No cost up to £1,000 (or currency equivalent) per month. Any amount over is charged 0.5% + for the weekends 0.5% markup is applied. |
| Credit card payments fee | Free as long as the payment is in a currency that's already in your account. |
| Withdrawing money from ATM fee | Free up to £200 (or currency equivalent), after which a 2% fee will apply. |
| ATM limits | Limited to £3,000 or currency equivalent per 24 hours. |
| Card limits | ATM withdrawals are limited to £3,000 or equivalent per day for every card linked to the account. There's a £100,000 or equivalent spending limit per month per card. |
| Annual fee for holding EUR balance | None |
Security of Revolut
Always check any security protocols and features implemented before signing up to any betting site, such as 256-bit and SSL encryption. Just because your funding platform is secure, do not assume the same goes for all bookmakers!
Obviously, when gambling online, your safety is of paramount importance. Using Revolut should put your mind, as it's one of the most secure methods available! Here's why:
Enhanced Security Features
Fingerprint Identification: Secure login to your account.
Customisable Card Controls: Options to disable ATM withdrawals and e-commerce transactions.
Fraud Prevention Measures
Sherlock Anti-Fraud System: Real-time monitoring and alerts to prevent fraudulent activities.
2-Factor Authentication: Additional payment verification via mobile notifications.
Key Takeaway
Revolut provides a highly secure method for funding online betting accounts, ensuring user safety through multiple protective features.
Pros & Cons of Using Revolut
While it certainly offers its share of benefits, Revolut faces several challenges in its quest to become a one-stop banking solution, including for online betting.
Pros
Great for topping up and holding different currencies.
Premium subscriptions come with perks such as cashback on spending
Many extra features like virtual cards, travel insurance, and crypto trading
Easy to set up and start an account
Free ATM use, even abroad
Can be used to buy cryptocurrencies
You can easily block your card should you lose it from your Revolut app
Have a single account divided into different currencies
No hidden costs
Cons
No UK banking licence means no deposit guarantees
Security algorithms can freeze accounts without warning
Poor level of customer support, with a majority of negative ratings on Trustpilot
Weekend and public holiday surcharges
No option for a credit card, overdraft, or a savings account
Certain services are reserved for premium members
Few bookmakers accept Revolut
Extra fees for exchanging certain currencies like rubles, Thai baht, and the Ukrainian hryvnia
Some players have reported having gambling transactions flagged
Alternatives To Revolut Betting
ThePuntersPage Final Say
On paper, Revolut could stand to be a viable payment option for betting sites. However, it's increasingly difficult to find today. This may well be connected to its terrible reviews, which have seen its reputation take a beating.
In the age of social media and review platforms, this can greatly influence any company's standing. It's also hard to recommend a company that blocks customer account access at random and offers a frustrating customer support experience. Overall, until things change for the better, we'd recommend opting for one of the alternative payment methods listed above.
Betting with Revolut FAQs
While you can use Revolut for gambling in the EU, you cannot do so in the UK. The UK Gambling Commission recently banned all credit cards at both land-based and online betting sites.
Objectively, when looking for the best Revolut websites for gambling, make sure you do your due diligence before jumping in. Ensure that they have a reputable gaming licence and that the banking and gaming options are to your liking. However, to find online bookmakers or betting apps that accept Revolut, you'll need to do some searching.
Not necessarily. If, for example, you're waiting to receive your Revolut card, you can still make deposits with the Revolut app. Also, you can use the one-time virtual card. Both of these methods will also ensure that your card details are untrackable.
Providing the bookmaker accepts Revolut as a withdrawal option, the whole process is as simple as utilising a regular credit or debit card.
Yes and no. Revolut has an EU banking licence issued in Lithuania in 2018. On the back of this, the company has expanded to many countries. So far, it has failed to gain a UK banking licence, in spite of applying back in January 2021. Without this, UK customers would receive only limited protection should Revolut fail.
Domestic transfers should take no longer than a couple of hours. International ones can take up between two and five working days.
Unfortunately, we could find no online betting sites in Canada that accept Revolut.
Likewise, no betting sites available in Ireland presently offer Revolut as a funding option.
There are over 130 countries worldwide that accept Revolut as a form of payment.
Unfortunately, Revolut appears to be reluctant to offer any form of live chat support. Yes, they do advertise a 24/7 live chat option, but you'll be speaking to an AI chatbot called Rita. Obviously, this is less than satisfactory. Revolut offers email support, though.