Vbet Sports Betting Review (2023)
Cutting-edge modern betting site
Very low minimum stake
Bonus offers also for existing customers

BY Ben Gibson
No Results Found
VBET Quick Facts
Betting Options
Sportsbook, casino
Headquarters
Luxe Pavilion, 2nd level, Diamonds International Building, Portomaso, St Julian's, Malta
Deposit Methods
Withdrawal Methods
Pros:
24/7 Support with Live Chat and Phoneline
More than 50 different sports available
Welcome offer updated every few weeks
Website operates just as good as it looks
Cons:
Lack of Cryptocurrencies
No dedicated mobile app
Introduction
Although it has been around for a little over 12 years now, Vbet appears, perhaps more than any betting site we've seen, like what you would imagine a cutting-edge modern betting site in the UK to look like. If a betting site can give the impression of being fresh out the box, then this is it.
And we're hoping it's not just all substance and no style either considering the large amount of content available.
Still, it could all be smoke and mirrors, just because the paint job looks good doesn't mean the engine couldn't use a tune-up. So, let's look deeper to see if Vbet lives up to a great first impression.
Registration process 5

/

5
Very easy registration process
Only available to UK players
Registration available without a deposit.
First things first, Vbet is intended for UK players only according to their customer service team which means that it is only available in English. This isn't much of a criticism, there's nothing wrong with having a target market, but do keep that in mind.
Here, we'll be taking a look at the registration process. Even though most good bookmakers have made this incredibly simple it's still something that can put people off especially those who haven't signed up before. For this reason, we are going to be going through the process step by step, so you know exactly what to expect if you do decide to sign up.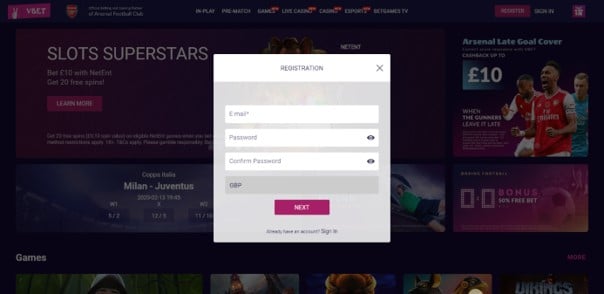 Things start off very simple, just include your email and your password, you'll want to make that password strong because this is a site which will require sensitive financial information. Doing so is pretty much common sense, don't use the name of your dog, for instance. Finally, the currency is set as GDP because as we mentioned this is a UK based site.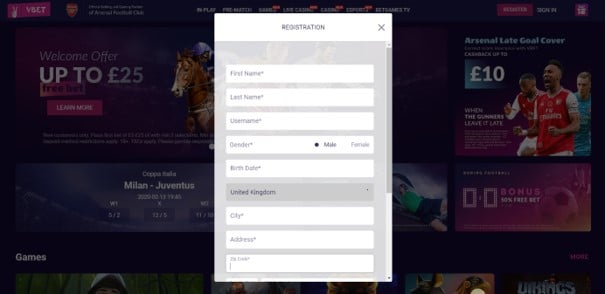 Next up we have a slightly more detailed page asking for your name, username, gender, birthdate (you will have to be over 18 of course), as well as your address and mobile number. Finally, there's the option to choose daily, weekly and monthly deposit limits. It's great to see how prominently responsible gaming is presented. Nearly there now!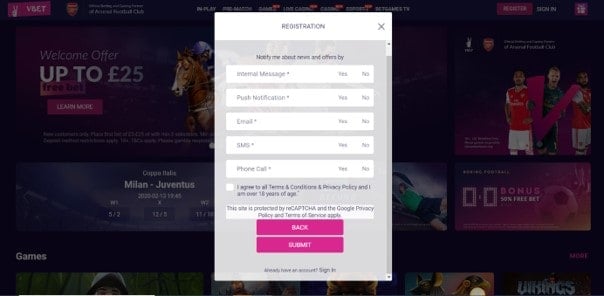 Lastly all you need to do is choose how you want the site to contact you, if at all, and click to agree with the terms and conditions.
And that's all there is to it. See, we told you it would be easy. The banking options aren't included as part of the registration process which means you can get an account without having to immediately deposit funds. However, that is immediately available to do after as an option, so you get the best of both worlds. All in all, we can't imagine this process being made much easier than this.
Deposits and withdrawals options 4

/

5
Wide selection of deposit and withdrawal options
All trustworthy for UK players
Only lacking cryptocurrency alternatives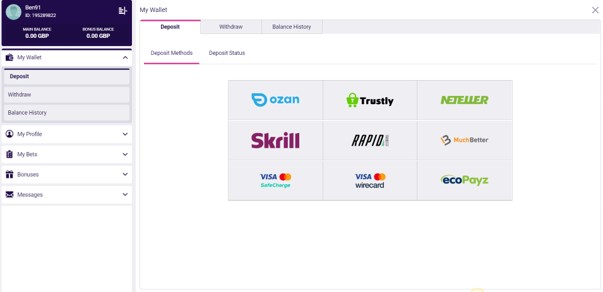 The deposit options are made immediately available to you and at the time of writing these include Ozan, Trustly Neteller, Skrill, Rapid Transfer, MuchBetter and Visa (both SafeCharge and WireCard), as well as Payz (formerly ecoPayz). So, an excellent, varied and trustworthy set of choices for UK players.
Of course, some will miss the lack of cryptocurrency options, but beyond that, we have no complaints.
The withdrawal options are the same except for Rapid Transfer which is not available.
This whole area is really well designed and easy to use, we just wish there was some easily laid out information with regards to fees and transaction times. Considering how well everything else is structured, it would be the perfect finishing touch. With that said they do have an excellent reputation for fair fees and fast transaction times compared to competitors using the same banking methods, so we're not overly concerned, It would just be the cherry on top.
Finally, when withdrawing funds, you may need to provide proof of identity. Proof of name can be provided via a passport, birth certificate, id card or driver's license. Proof of address can be provided via various bills, a driver's license, bank statement, mortgage statement, solicitors letter, electoral registers entry or NHS medical card to give some examples. Full details can be found in terms and conditions. All in all, the options here are very good, however, a few more details in a couple of areas would have made it perfect.
Welcome Offer 4

/

5
Welcome bonus bundle
Exceptionally fair terms and conditions
In what is a refreshing change in the online sports betting industry, Vbet is one of the few bookies that changes their welcome offer virtually every month.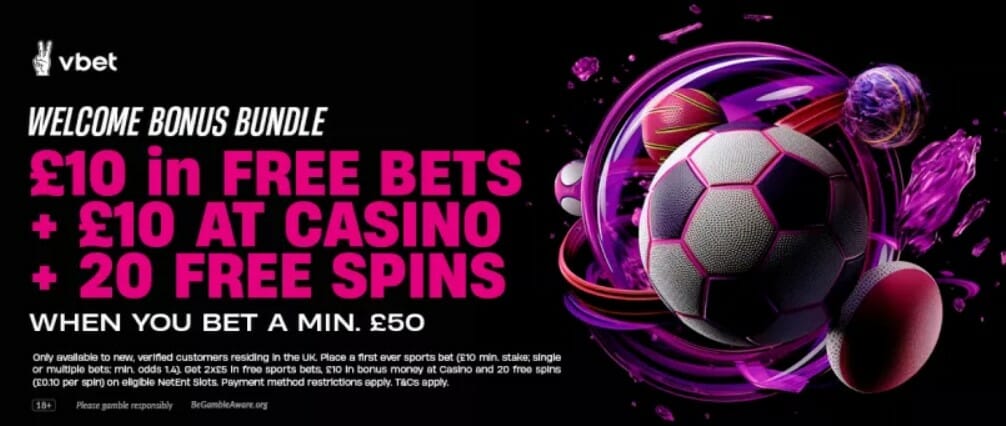 Punters can expect various bonuses ranging from free bets, free spins, bonus money, and other great offers which usually form part of a 'bundle' that can be used on sports, casino, virtuals and lotto.
Currently, you get a welcome bonus bundle of £10 in free bets, £10 casino bonus, and 20 in free spins, when placing a minimum bet of £50. Odds need to be minimum 1.4 per selection.
Vbet really gives its players the chance to try out all of its great products with its unique sign up offers.
If you are, for some reason, not convinced by the current welcome offer, wait a few weeks and check back here for the latest variation!
For Vbet's current welcome offer, see the top of this page.
Sportsbook promotions 4

/

5
Additional promotions alongside Welcome Bonus
Three available on promotional page at time of writing
More available through chosen contact options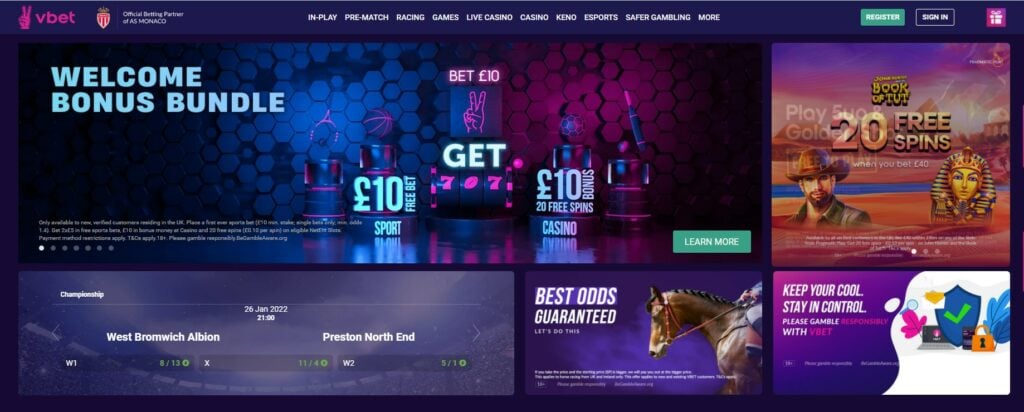 And that's not all in terms of bonuses available to its sportsbook users, as there's a few more at the time of writing (although of course promotions can always be adapted or replaced by the bookmakers) alongside those which can be sent to you via e-mail, text or any other contact methods you chose.
Yes, there is a downside to not selecting any contact options and considering that one of those is simply being messaged in the site itself, we see no reason not to check out what they have to offer.
Of course, we can't analyse the quality of those individual offers because they are all on a case by case basis, but we can check out those that are available on the promotional page. Not only can you see what's available there, but it should give you a more general idea of what kind of quality you can expect from Vbet.
Horse Racing With VBet: A nice simple one here, all you have to do is place five single bets with a £5 minimum on each, with 1.5 minimum odds, and you'll receive a free bet of £5 once a week after the fifth bet is settled. This is very much the horse racing equivalent of those free coffee tokens you get a Starbucks, except in that instance there's little chance of the cashier handing you a whole lot of cash after your purchase.
ACCA insurance: A classic promotion here and another one focused on those lovely accumulators. This is another one bolstered by its simplicity. Make an accumulator between £2 and £50 with at least six selections, and each selection with minimum odds of 1.6. If you lose by one of your selections, you get a refund. It's straightforward and it offers tangible added value to your experience. This is very much our kind of promotion.
Arsenal Late Goal Cover: This provides you with insurance if you lose as a result of a second-half injury-time goal by The Gunners, who are betting partners with the site. It's very specific, but there's little doubt it could come in handy.
We're very impressed by the promotions available here, and although three might seem slim keep in mind that there's always more to come so keep those contact options open. We think we might actually be even more impressed than with their Welcome Offer. The only real downside for some will be a lack of a long-term loyalty program.
Pre-match Offer 4.5

/

5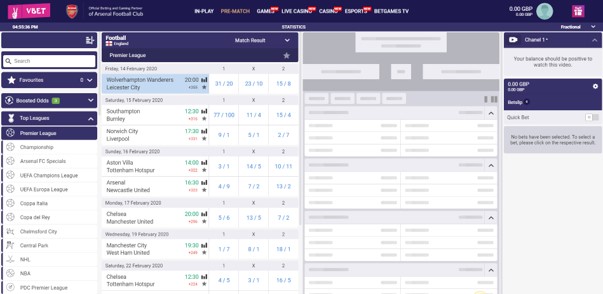 Sports
The key to any great sportsbook is, of course, a wonderful selection of betting markets and Vbet does not let us down with a great selection of sports.
Football clearly takes precedence over all else, as is often the case with UK bookmakers, but there's also a huge amount of markets on Tennis, Basketball, Ice Hockey, and many more. Most impressive is how this is laid out making navigation across leagues like as diverse as the EFL Championship and Copa del Rey as easy as possible, which is important when you have this many options to choose from. While it, of course, depends on the event, you'll easily find several dozen options for betting markets on larger events, such as Premier League clashes.
In terms of the quality of their odds, we check the overround, which is where we convert the odds to the percentages they represent.
100% is certain so would be the logical result of all 1X2 betting markets because one of those events must occur at the end of the game. However, it will be over 100% because the bookmaker requires an extra margin to ensure they stay in business. That's what the overround is.
However, overround's still need to be reasonable and generally under 110% is considered so.
For this, we'll be using Norwich City vs Liverpool as our example. Norwich City have 9/1 odds to win, which translates as 10%, a draw has 5/1 odds, which translates as 16.7%, while Man City has 2/7 odds to win, which comes out at a whopping 77.8%.
Add them all up and we get 104.5%, which are very reasonable odds with a solid margin. There's also easy to find odds boosts on a huge range of events. Great stuff all around.
eSports
And that's not all because we were also very impressed with the amount of e-sports available.
As we write this there are 79 League of Legends markets to choose from, alongside the likes of Counter-Strike, Dota 2 and Rocket League. This is a perfect example of Vbets efforts across a diverse range of bets. There are even additional markets like first blood and first to a certain number of kills. We're also going to take a look at the overround here but do keep in mind that eSports usually do have higher margins.
A League Of Legends match from South Korea pitted Team Dynamics vs Asura. Team Dynamics were given odds to win of 26/100, which translates to 79.4%, while ASURA had odds of 12/5, which translates to 29.4%. Together this comes out to 108.8%, which is more than the sports example, but that's to be expected and it is still well within the realms of high-quality odds.
Other Specials
There weren't a huge number of specials available at the time of writing, they included BBC Sports Personality Of The Year, as well as Love Island and Dancing On Ice winners, clearly showcasing that UK focus. However, that's all down to what is available at the time so you can expect plenty more when there are more viable markets.
Cashout & Bet Builder
A bit of good news and bad news here. Let's start with the good stuff.
Cash-out is available across a wide variety of sports and markets, as is common it is most widely available on football however you will find it elsewhere. In fact, customer service stated that there weren't any restrictions on what sports it could be available on it entirely depends on whether it seemed suitable to the bookmaker. It is also available in full and partial Cash Outs meaning that you can adjust the percentage to exactly how much you want to take and how much you want to keep riding on the bet.
Unfortunately, though we can't be as positive for the Bet Builder because there isn't one at this time.
We doubt this will have a hugely negative impact for many people purely because of the number of betting markets available, and we've been informed that you can request a bet from customer service.
Live Offer 5

/

5
Selection every bit as generous as the pre-match offering
Live streaming on selected events
Technically excellent site keeps things updated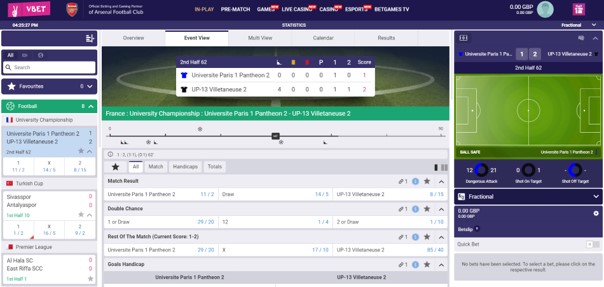 The live offer on Vbet is every bit as impressive as their pre-match offering and with such a technically sound site alongside Cash Out options, it is as smooth an experience as you could hope for, which is so important when trying to react quickly to ongoing events. They also offer live streaming across a wide range of events and also follow the live action via graphics for those events where live streaming is not possible. We really can't find anything to fault in the live experience at Vbet.
Security 5

/

5
Licensed by UK Gambling Commission
Extensive privacy policy
Excellent responsible gaming measures

Naturally, the official betting and gaming partner of Arsenal is a fully licensed and legitimate betting site both registered under the the laws of Malta and regulated by the United Kingdom Gambling Commission. Encryption is utilised to keep your data safe meaning your finances are protected and their privacy policy keeps strict limits on how your personal information is used, all per UK law. Furthermore, they have an excellent Responsible Gaming section alongside the limits we mentioned, as well as other tools such as deposit limits, reality checks to manage your playing time as well as time outs, self-exclusion and account closure, there's also links to GAMSTOP to help on a broader level. We have sky-high expectations when it comes to security, and Vbet more than meets them.
Service and customer support 5

/

5
24/7 live chat
24/7 phoneline
Fast and informative responses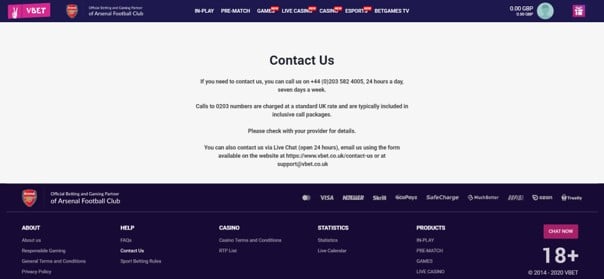 We've been impressed by plenty of things during our time with Vbet but one of our absolute highlights has to be customer service. We got a response from live chat pretty much instantly and they answered our questions quickly and thoroughly.
Plus, this is a 24/7 service meaning that you never have to be left alone with an issue. We tested their responses at several different points and found that no matter when we got in touch, the response was just as fast and just as friendly. There's also a dedicated phone line and an excellent FAQ section to round things off. The only slight criticism is that it is only available in English but considering its market that should not be an issue for the vast majority of potential users.
Design & Usability 5

/

5
Modern look with a classic touch
Expertly structured
Technically as good as you're likely to see anywhere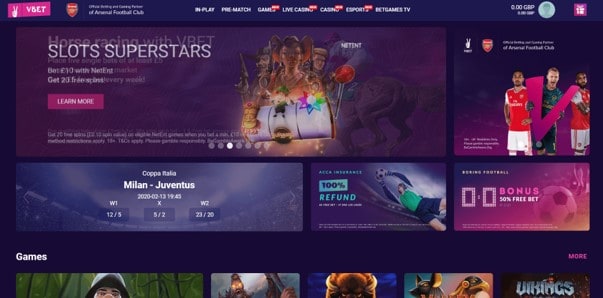 We've already mentioned how great the site appears on first impression and we're happy to say that it managed to maintain that level of design excellence throughout. It's incredibly modern while also following classic ideas for betting site design to provide what for many people will be a perfect balance.
Of course, aesthetic is always about preference and it's entirely up to you whether you like the looks of Vbet. With that said, we do think that from that point of view Vbet is likely to have more fans than most.
There's also the technical side of the site to consider. Well, we're happy to report that Vbet operates just as good as it looks. Everything responded seamlessly during our time with the site making things like live betting, in particular, an absolute joy. Lastly, the site is carefully structured making finding everything you need a breeze, which is so important when you are talking about a betting site with as much to offer as Vbet.
Mobile 3

/

5
No dedicated mobile app
Site is however optimised for mobile
Same content as on the big screen
Unfortunately, there is no dedicated app at the time of writing. There is however a mobile version of the site which does an excellent job of getting Vbet on the smaller screen however we hope to see an app at some point in the future. Still, the bottom line is you can use Vbet on your mobile without having to miss out on any content.
Other products
Casino and Live Casino both available
Huge selection of world-class software developers
Receive 20 free spins for a £10 bet

Here at The Punters Page, our focus is of course on the sportsbook, however, we are well aware that plenty of our readers also like to enjoy all the other things the many new betting sites we cover have to offer.
This will not count to our overall rating because that score is of the sportsbook and the sportsbook alone, but do note that Vbet also includes just as impressive a Casino and Live Casino. There you will find an enormous selection of slots, table games, video poker games all from a selection of the best software developers in the world including the likes of NetEnt, MicroGaming, Play'N Go and more.
There's even Vbet TV with additional games like Lucky 5 and DiceDual. The casino also has its own promotion, where you receive 20 free spins for a £10 bet. The same restrictions on payment methods do apply and these spins are available at the time of writing on Starburst, Jumanji, Wild Wild West, The Great Train Heist and Aloha: Cluster Pays. These are free of any wagering requirement.
ThePuntersPage Final Say 4.3

/

5
So often during this review, we've said that something about Vbet is close to perfect, but not quite. Whether that be through it only being available in English or a lack of cryptocurrencies, for instance. And we think that pretty much sums up Vbet. However, don't view that as a negative outcome. Sure, this site won't be for absolutely everyone, but itdoes plenty which will satisfy a huge number of people.
Close to perfect is far better than most and it also doesn't mean that it can't be the perfect bookmaker for you. Based on our time with Vbet, we'd say that is exactly what it will be for a lot of people.
In the end, yes, there are just too many small things that will be important for some readers for us to give it our topscore, but it's close, and it does come very highly recommended overall.
Vbet FAQs
The minimum deposit amount at Vbet is £10 regardless of the deposit method.
You will need to access your wallet, click on the Withdrawal tab and select one of the payment methods to process your withdrawal.
Vbet has an excellent reputation for fair fees and fast transaction times compared to competitors using the same banking methods
With new welcome offers every month, the possibility of a free bet promo is quite high. At the moment, both the welcome offer as well as horse-racing and greyhound offers give customers free bets in return for a bet.
Free bets won can easily be used by simply adding a bet to the betslip and selecting the free bets available when placing your stake. Sometimes free bets can only be used on particular markets so make sure to check out the promo terms first.
Customer support is available via 24/7 live chat and phoneline. You might also want to check the excellent FAQ section available just in case it already contains the answer to your questions.
You may close your Vbet Account at any time by contacting Vbet's Customer Support via the Help Centre section. Any funds in your account will be sent back to you.
To place an acca you will need to add the various selections to the betslip, scroll to the bottom and place your stake next to the option that has the odds written next to it. The acca will always be a 1x stake.
Further reading