Casumo Sports Betting Review (2023)
Colourful and friendly style
Huge live sports coverage
Fantastic casino platform

BY Ben Gibson
No Results Found
Casumo Quick Facts
Deposit Methods
Withdrawal Methods
Pros:
Bets on Entertainment or Politics also available
Offer nearly 2000 Casino Games
Huge amount of support with regards to responsible gambling
Focused on being universally easy to use and understand
Cons:
Lack of Crypto Currency payment methods
No extra promotion for the sportsbook at this time
Mainly a Casino provider, therefore Sportsbook section still young
No Live Streaming at all
Introduction
First impressions don't get much better than this. Casumo's colourful and friendly style might not be to everyone's tastes, but there's little doubting that in terms of making their target audience clear from the off, they've nailed it.
Made to appeal to more casual users alongside seasoned gamers, and available in English, Finnish, German, Norweigan and Swedish, the fact that they have near 2000 casino games alone should be enough to show you that there's plenty of substance amongst the style. But, can they keep that consistency up throughout? We'll have to dive deep into Casumo's colourful betting world to find out.
Registration process 4.5

/

5
Very simple sign up sheet
Broken into key sections
No need for banking info at this stage
Casumo is all about appealing to as many people as possible, which means that this is about as easy a registration process as you are ever likely to come across. However, just so you're sure of what you'd be getting yourself into, we'll be taking you through the process step by step.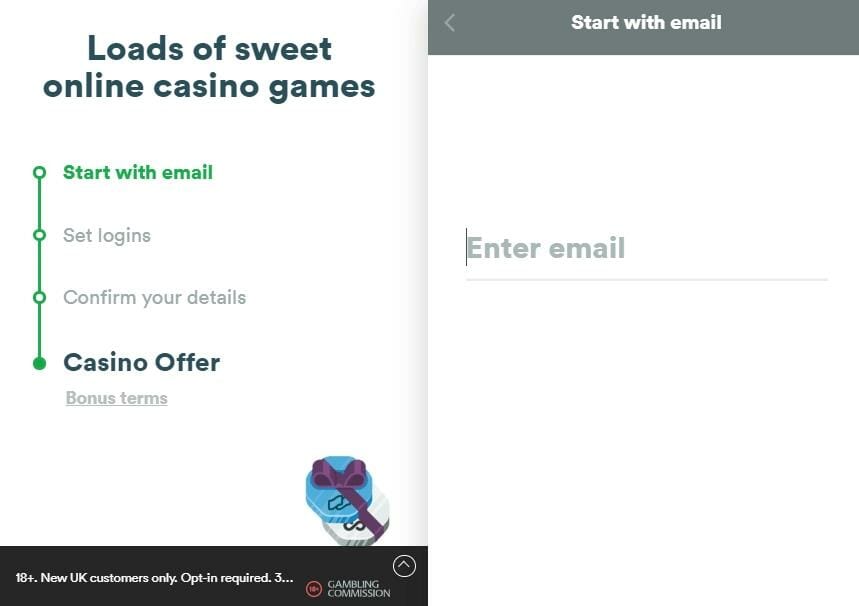 Enter your e-mail address for step one.  Press enter. We did say it was going to be simple, after all!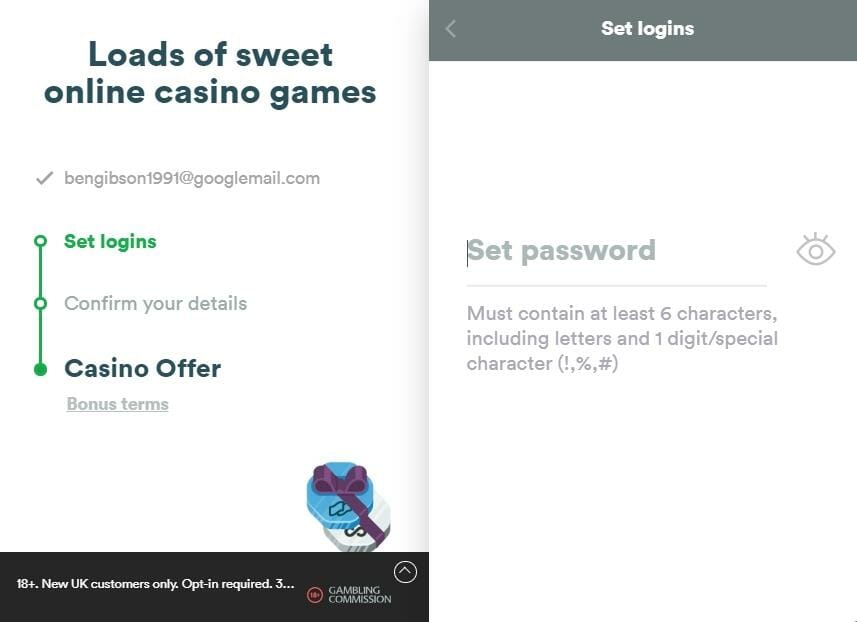 Set your password. Just as the image suggests it must be at least six characters long and include letters and either a digit or another special character. This is to ensure your password is strong and your sensitive information remains safe.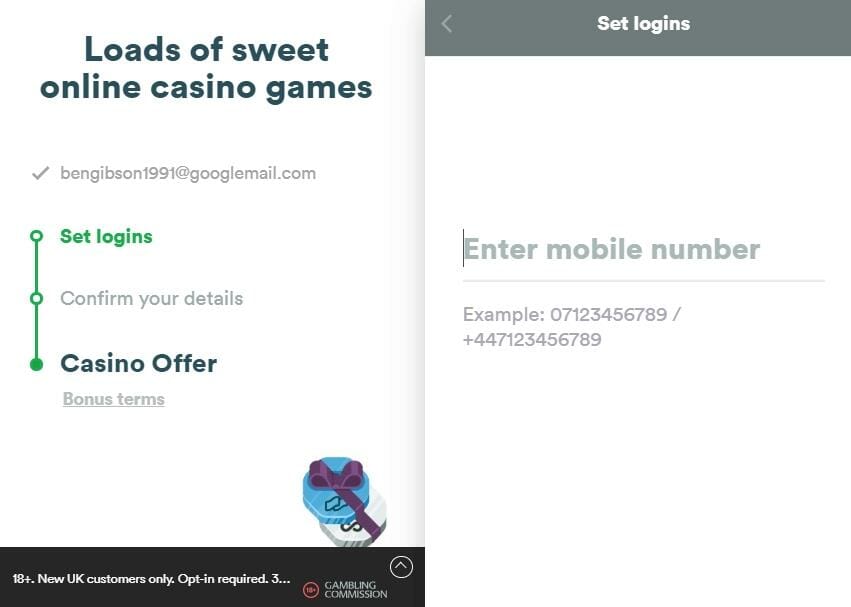 Enter a mobile number, make sure it is one you currently have access to otherwise that could cause issues at a later date.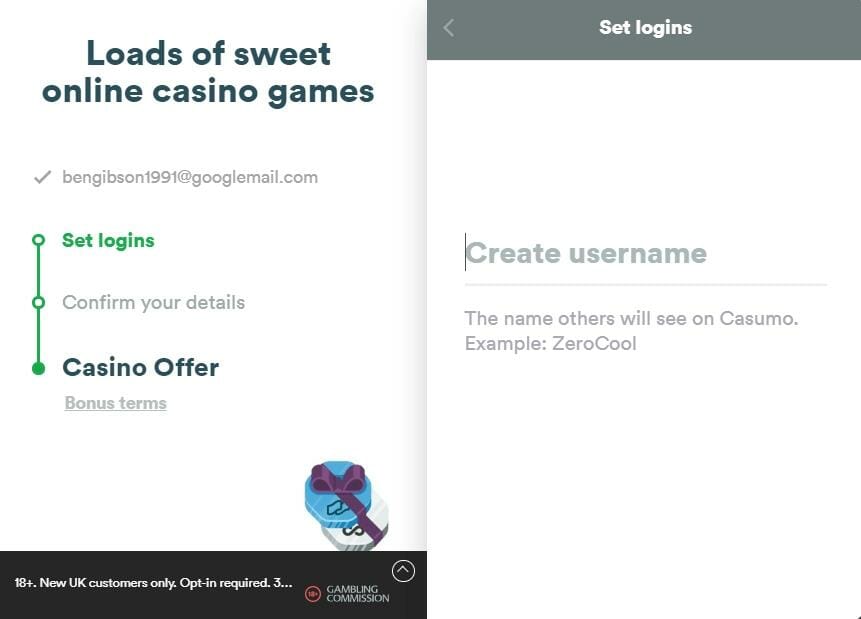 Create a username which will be your identity on Casumo. This part has a small flaw in that it doesn't tell you until later if the username is taken.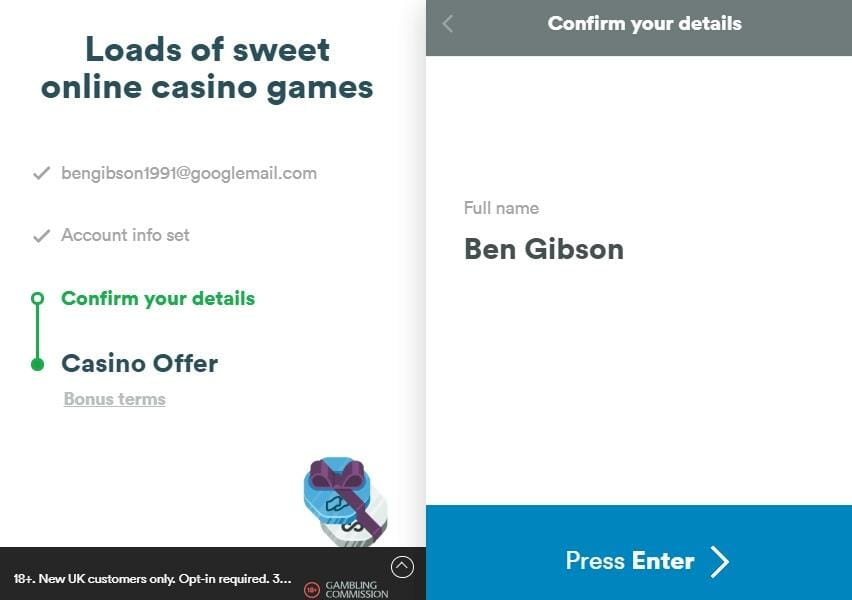 Confirming your details is by far the longest part of the form but is still very simple.
Enter your full name, gender, address and nationality. You often only need a postcode and house number for those last two points as the site does a great job of making the experience as streamlined as possible.
They'll also need your date of birth, you'll need to be over 18 of course.
This is also where you will get the chance to correct your username if the one you chose earlier is already in use. You can also confirm whether you want to receive info regarding news, promotions and bonuses.
Finally, accept the terms and conditions and you are good to go.
Deposits and Withdrawals Options 5

/

5
Well designed and easy to use banking section
No fees
Several options to facilitate responsible gaming

The deposit and withdrawal options follow the lead from the registration form with a very straightforward banking system.
You'll see a lack of funds at the top left of your account just below your username and by clicking on this you'll be able to choose from several banking methods.
These include Debit cards, Skrill, Mobile, Paysafecard, Neteller and Muchbetter.
It's pretty clear that the selection here is based on ease of use and we can hardly criticise them for that considering it's a major selling point. On others we may be more critical of the lack of things like cryptocurrencies but because Casumo makes mainstream appeal such an obvious part of their appeal we think of it as a choice rather than a flaw.
There are no fees on any transactions and withdrawals must be done by the same method as the deposit.
Deposits should all be instant, and withdrawals are processed within 23 hours, although usually much quicker than that. After which it can take the bank up to five banking days to process, which is beyond the control of any bookmaker. All the information is easy to find within the FAQ section, although one small nit-pick is that a link from the banking page would make that a touch clearer.
But we will end on a positive note and that's with the easy to use and find PlayOkay limits, which allow you to set deposit and loss limits, alongside logged in time limits and login time blocks, to help players keep control of their usage.
In terms of verifying your identity, it's all fairly standard and you can identify yourself using a passport, national identity card or driver's license. Your address can be identified using most types of government documents and bank statements issued in the last six months.
All in all, we'd say that the banking options, while not perfect for everyone, are perfect for what Casumo is trying to achieve. With that in mind, we're giving this one full marks.
Sportsbook Promotions (N/A)
No extra promotion for the sportsbook at this time
Likely more coming in the future
Selection of additional Casino promotions already available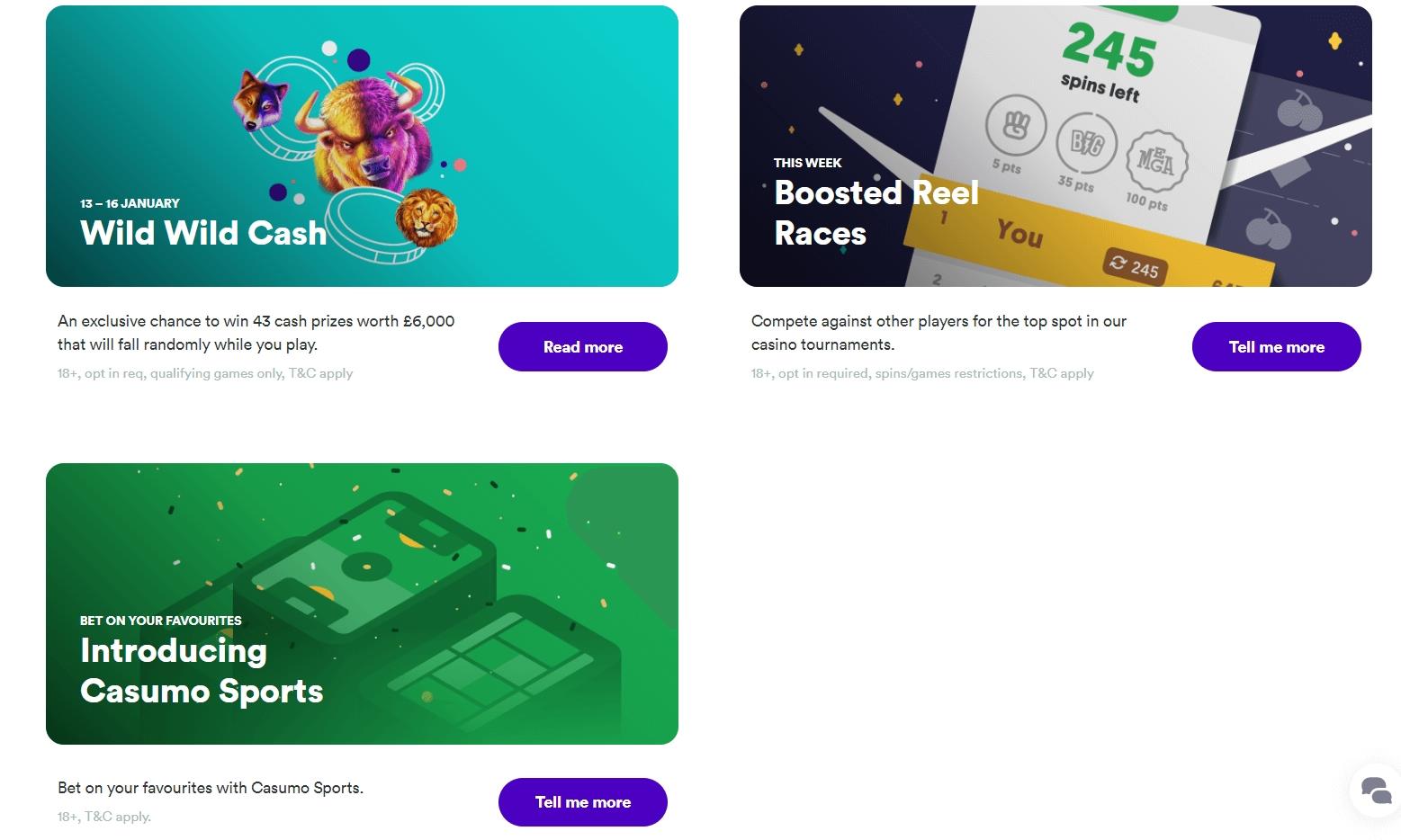 This is a bit of a tricky one for us because right now there aren't any additional promotions for the sportsbook and with that no Casumo promo codes. However, that is because the promotions are constantly changing and updating, and also because at this moment in time, the sportsbook is brand new.
But, as we've seen from the welcome bonus and as we can see from the casino bonuses their standard is very high. So, we do not doubt that the additional promotions for the sportsbook, which customer service have told us we should keep an eye out for, should be at a high level of quality.
However, right now, they aren't ready. We suppose that would mean we would have to give them a zero here however we don't think that is fair under the circumstances, so with that in mind, we're going to leave the score not applicable for now.
Score: N/A
Pre-match Offer 5

/

5
Choose between decimal, fractional and American odds formats
Blog helps keep you up to date with the action
Astonishing varied selection for such a new sportsbook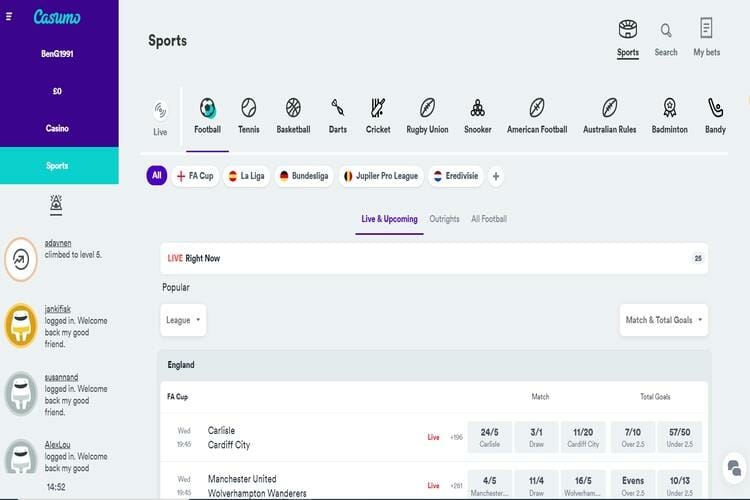 Sports
With the sportsbook section of Casumo still being very young, it is natural for people to be concerned that may mean a lack of content. We're happy to say this is far from the case with markets throughout the world and across a wide range of sports.
These include Basketball, American Football, Australian Rules, Bandy, Baseball, Boxing, Chess, Cycling, Cyclo-Cross, Esports, Floorball, Handball, Ice Hockey, Motorsports, Olympic Games, Politics, Squash, Sumo, Trotting, UFC/MMA, Volleyball, Water Polo, Winter Olympic Games, Winter Sports and Pro Wrestling.
Little doubt then that they have hit the ground running and we can't wait to see what additions they make in the future. They are equally generous when it comes to betting markets, with dozens to choose from on many events. However, the true number of betting markets is only limited by your imagination, but we'll go into that a little bit later.
Finally, there's the quality of the odds to discuss.
This can generally be assessed through a look at the overround. If you're unsure of what this means simply translate betting odds into a percentage. When you add all those percentages up for all possible outcomes, say for either team winning or a draw, the amount above 100% is the overround. This amount is essentially the margin for the bookmaker, and it's why they consistently make money. They are a necessity, still, from your perspective, you'll want that number to be as close to 100 as possible. For reference, under 110% is what is generally considered good.
So, how does Casumo stack up? Well, we took an example of a game between Blackpool and Reading. Blackpool had 7/4 odds to win. Reading had 31/20 odds to win and a draw came out at 23/10. Translated into percentages these come out at 36.4%, 39.2% and 30.3%. Add them together and you get 105.9%, which are very solid quality odds.
Esports
Many people probably expected Esports to be missing or lacking but Casumo has impressed us yet again with this selection.
You'll find markets across the likes of Call of Duty, Dota 2, League of Legends, Rainbow 6 and CS: GO. Betting markets currently come down to outright winners which does show some room for improvement but still manages to remain better than much of the competition.
In terms of quality of odds one example we looked at was between Chicago Huntsmen and Dallas Empire outrights on the Call of Duty league. The former had odds of 6/5 and the latter had odds of 3/5. Converted these come out at 45.5% and 62.5%. Together that gives us 108%, keep in mind that higher odds on Esports is expected and this still falls within the realm of high-quality odds.
Other Specials
And that's not all when it comes to left field betting options. They also have a series of specials. By the very nature of these kinds of bets, the markets depend on the times but at the time of writing, we could find bets on the Grammy's, BAFTA's, Oscar's, Love Island, Dancing On Ice and many more. Very impressive stuff.
Cashout& Bet Builder
Remember when we talked about how the number of markets was only limited to your imagination?
Well, we were referring to their excellent Bet Builder option which allows users to craft their wager from the bottom up. There's a huge amount of options available here meaning you have plenty of versatility to create something unique to you.
Both this and Cash Out are widely available across a large variety of sports. There doesn't appear to be any set criteria in terms of what events each is available for and is at the discretion of the bookmaker. We will, however, say that they appeared to be available very broadly when we checked.
Overall the pre-match offer is exceptional all around, we were amazed by the scope of what is on offer considering the sportsbook is still relatively new. A terrific selection any bookmaker would be proud of.
Live Offer 4

/

5
Massive amount of live sports coverage
Easy to use with various features
Sadly lacking any live streaming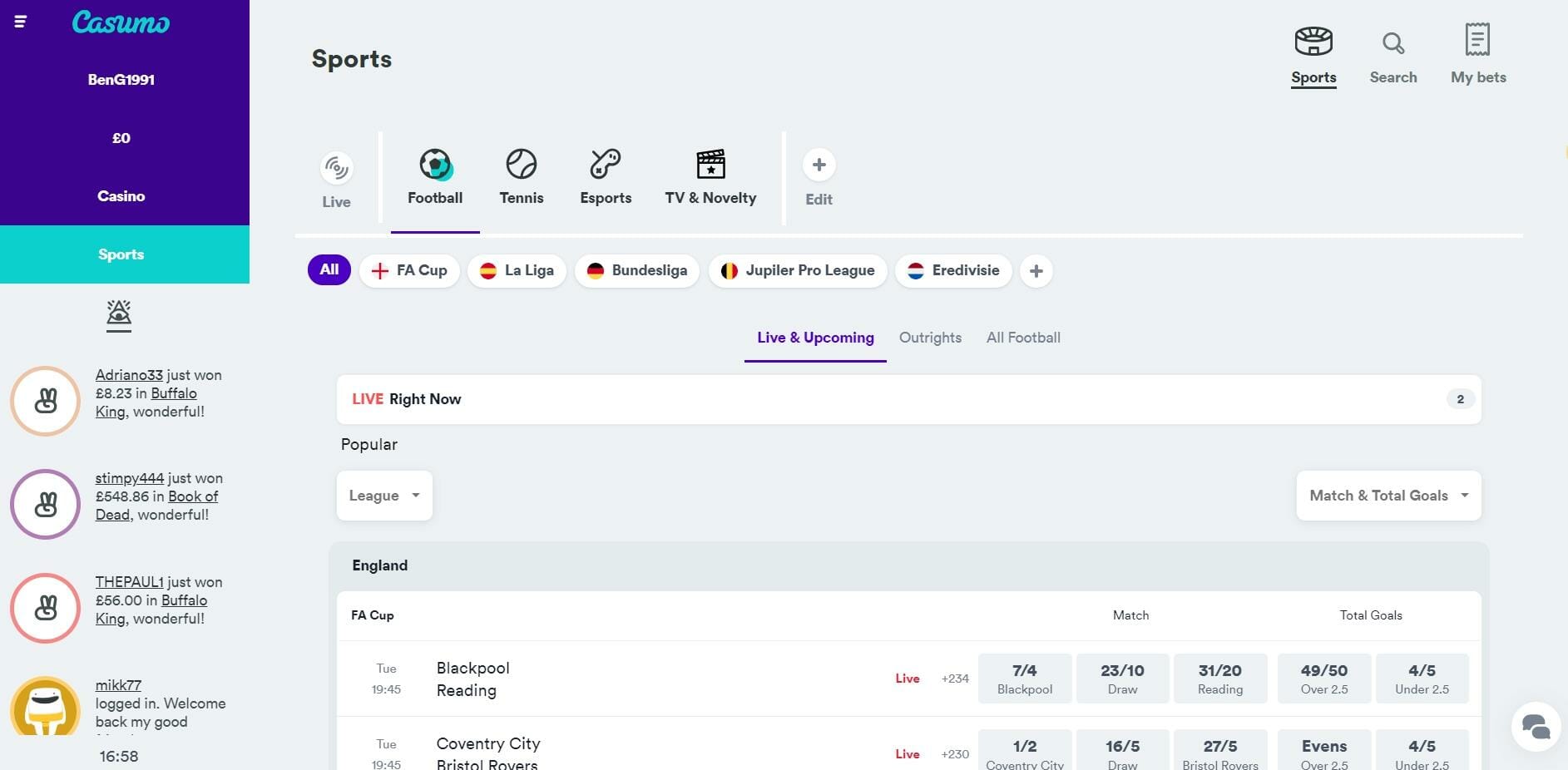 The live selection at Casumo is every bit as excellent as the general pre-match offer.
You'll find coverage from sports all across the globe and except for a few obvious examples, TV & Novelty, for instance, almost every sport we have mentioned thus far are also covered live.
This, alongside the likes of Cash Out and Bet Builder, create a truly interactive gaming experience while the layout of the site makes all of this easy to follow. You also have a similarly excellent amount of markets and odds.
The only downside here is a lack of live streaming, we think this is understandable considering it is out of the reach of most bookmakers, never mind one that has been launched so recently, but it does mean that we can't consider the live offer of Casumo perfect just yet.
Security 5

/

5
Licensed by UK Gambling Commission
Encryption keeps data safe
Huge amount of support with regards to responsible gambling

The excellent reputation of Casumo is backed up by its license from the UK Gambling Commission and world-class encryption technology.
We've already discussed the efforts they have gone to when it comes to responsible gaming in the form of various limits and other tools to help people bet responsibly. There's also the dedicated PlayOkay section, which goes above and beyond in offering advice and helping people understand if they have a problem.
On top of that, there's even their CasumoCares site for those who need additional help. Finally, their privacy policy is responsible and easy to find, and all the banking options available are also trustworthy. We can't give Casumo anything less than full marks in this regard.
Service and Customer Support 5

/

5
Live chat available 24/7
Near-instant responses in our experience
Excellent FAQ section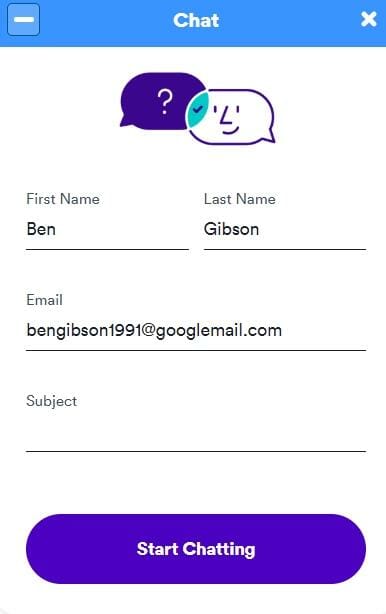 Now we get to what we think are the two areas in which Casumo truly excels and sets itself apart from the pack. They went above and beyond when it came to responsible gaming and that level of effort is also seen when it comes to customer support.
One area in which Casumo really does well in is explaining itself. The key to this site's appeal is being easy to use and it is obvious when it comes to the FAQ and terms and conditions that this was always at the forefront of the mind of the developers.
This means that very often you'll not need to use customer service. However, if you do you can rest assured that it is just as excellent.
24/7 live chat means you're never without assistance and on top of that the team responded almost instantly in our experience. Keep in mind we tried on several occasions at peak times and were never left more than a few seconds. Not only are they fast but they are also very knowledgeable, not to mention friendly. On top of that, they are available in all the languages that the site is available in.
Design & Usability 5

/

5
Colourful and approachable design
In terms of ease of use one of the best we've ever come across
Filled with clever and innovative features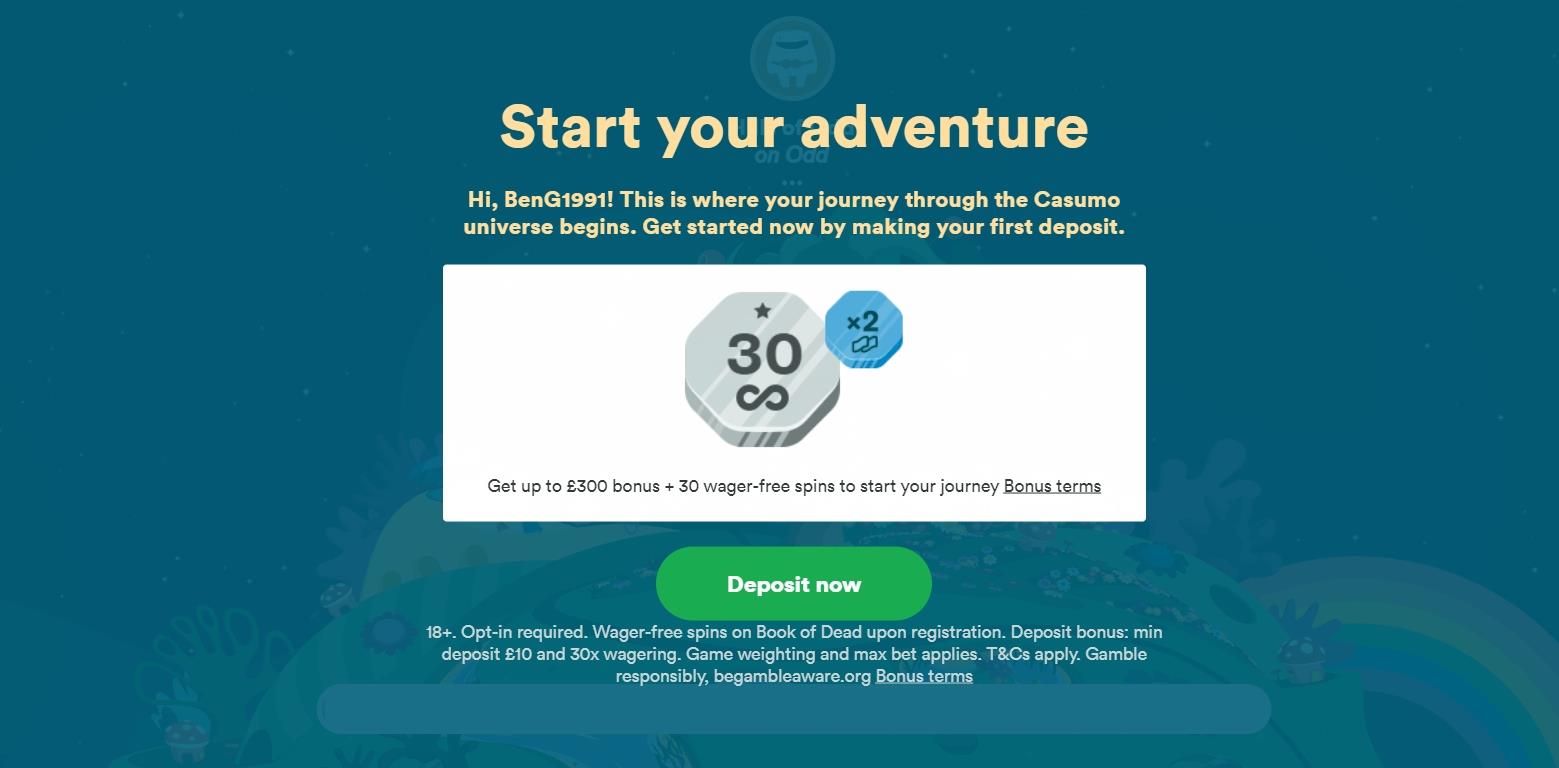 So how can Casumo top a virtually perfect customer service experience?
With what we view as the one thing that makes them worthy of anyone's consideration and that is their near flawless site design.
While we know that from an aesthetic standpoint this is a matter of taste and the bright, colourful, bouncy looks of Casumo might not be for everyone, we would still challenge them to spend a little while on the site and not be impressed.
It's all the little innovative touches that make it great, for instance, when you first enter the sportsbook you can tell it what sports you're interested in and from that, it will craft you your very own sportsbook homepage showcasing the things you are interested in.
And that's just one example, check out the Bet Builder, or the banking pages, for a couple of other examples of sheer design magic.
Most importantly of all, it is a joy to use. Everything from a technical standpoint was flawless for us and at no point when searching through all of Casumo's vast options did we feel lost.
If you were to introduce online betting to someone with little computer experience, we cannot think of a better alternative. The fact that it balances this with the depth of content it provides is what truly makes Casumo special.
Mobile 5

/

5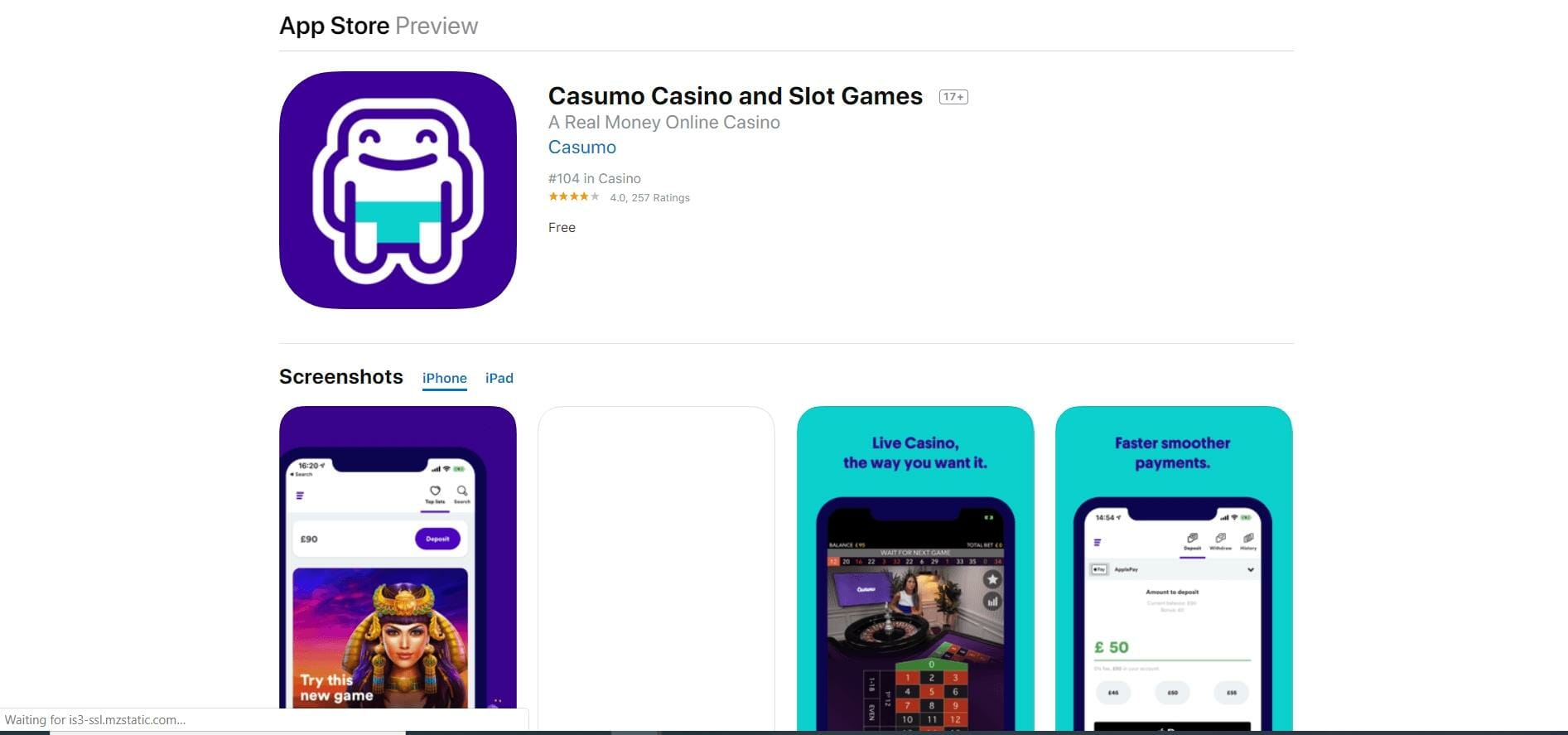 Worried all that design magic would be lost on the small screen? Well, have no fear because this intuitive, user-friendly layout is perfect for use on a tablet or small screen and their dedicated app ensures that there's no need for you to miss out. Both the sportsbook and the casino are available and we couldn't find any notable missing content, alongside an experience that is every bit as good as its big-screen brother.
Other Products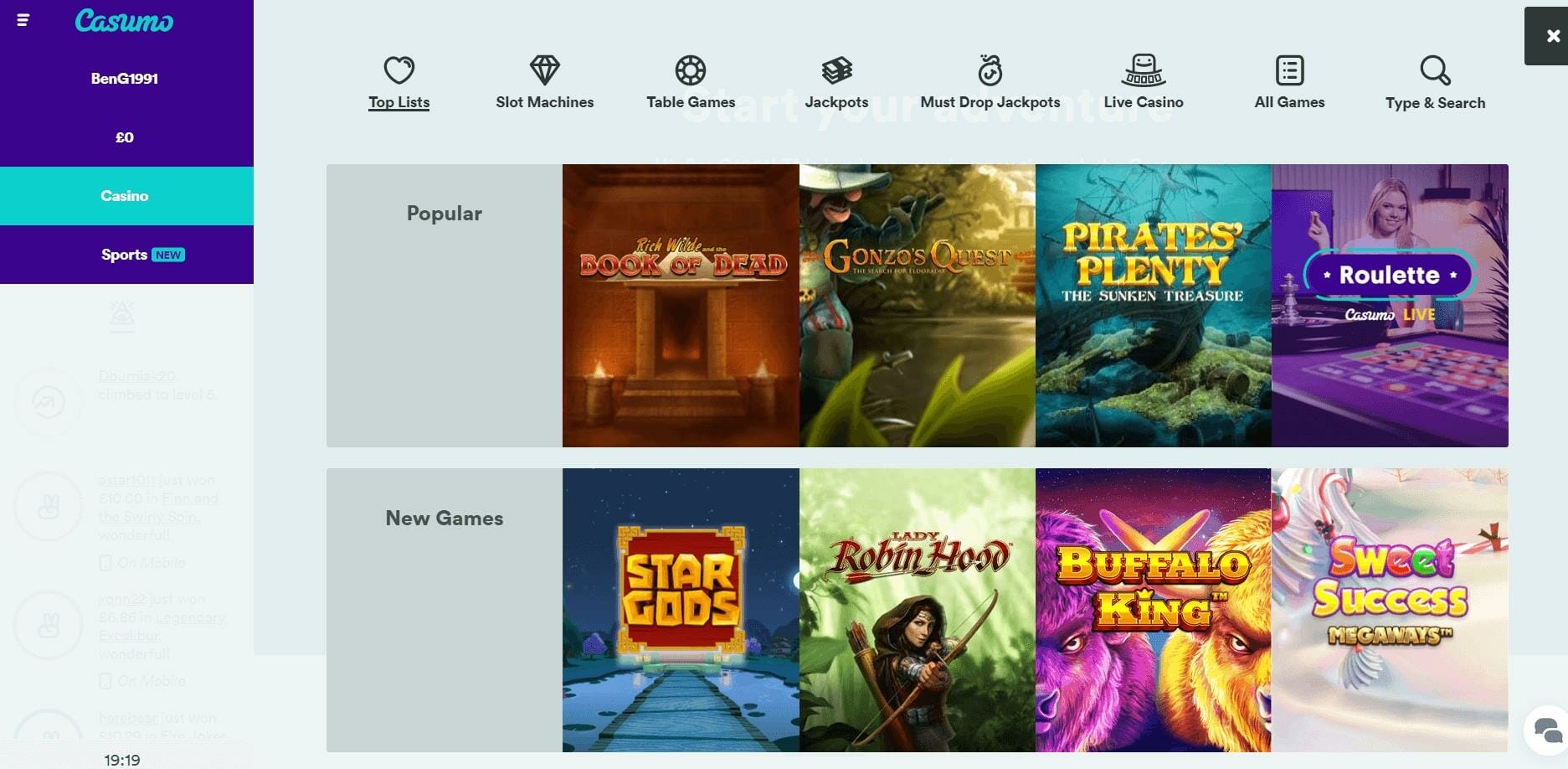 This is quite a unique situation for us because while our focus is primarily on the sportsbook, there's little doubting that Casumo is, as its name suggests, best known for its casino.
Considering how highly we have thought of the new sportsbook, that would mean that hopes are very, very high for the part of the site which made Casumo famous.
And, to put it simply, it lives up to the hype.
The amount of games here, from a huge variety of software developers' like NetEnt, Microgaming and IGT, is absolutely monstrous.
An almost endless selection of slots is complemented by table games, bingo, keno and a live casino that can stand up to the absolute best of the best. As an all-rounder, you don't get much more satisfying than this.
Casino Bonus Description
Topping this all off is a casino welcome bonus which offers 100% bonus up to £25 with 30x wagering on the bonus and bonus spins. Naturally, considering the amount it comes with wagering requirements, but at 30x it remains extremely competitive.
Plus, you also have the 20 free spins on Book of Dead, meaning this is a bonus which keeps up Casumo's levels of accessibility. Do remember that you have to pick this or the sportsbook welcome bonus after registration. Also, you must adhere to the following terms and conditions:
*18+. New UK customers only. Opt-in required. 20 Bonus Spins on "Book of Dead" and 100% Deposit Bonus up to £25 on first deposit. Min deposit £10. 30x wagering requirement for Bonus Spins and 30x wagering requirement for Deposit Bonus (game weighting applies). Max £5/spin or £0.50/line or £50/round (live casino). 30 days expiry. T&C's Apply. Please gamble responsibly • www.begambleaware.org
ThePuntersPage Final Say & Overall Rating 4.8

/

5
It's astonishing to us that the sportsbook offered by Casumo is as good as it is considering how early on it is in its life.
They have hit the ground running and have already darted past many of their competitors. This is the kind of betting site which makes us excited for the future, although even if they stayed the same, it would still be enough for a recommendation. The fact that it doesn't look out of place next to juggernaut's like Bet365, Betfair or Coral should speak for itself.
The only counter to that is that Casumo will put people off by being so focused on being universally easy to use and understand, and it will simply not be to everyone's tastes because of that.
However, for the audience they are trying to pull in we cannot imagine them doing a much better job. Perfect for beginners, but unlikely to disappoint an expert, Casumo is an astonishing betting site which just got that much better.
Further reading