Superbru is one of the world's leading sports predictor and fantasy platforms. In this article we will explain in detail what Superbru offers and how to sign up.
At ThePuntersPage, we are avid Superbru players, and we will soon be announcing our very own Euro 2020 Superbru League!
What is Superbru?
Superbru is a free-to-play social sports prediction game. It is one of the most popular prediction games featuring leagues in football, rugby, American Football, golf, motorsport, cycling, cricket and more. Players can place pre-match predictions, such as correct score, for a chance to win prizes or even set up fantasy leagues.
There are also two types of Superbru fantasy games, where you select a squad of real-world players. The better your players perform, the better your chance of winning a prize. Superbru also lets players set up their own private leagues.
How to sign up for Superbru
There are two ways to sign-up for Superbru, via the app and the website.
Superbru App
The Superbru app is available for both Android and iOS. Simply head to the Google Play store or the Apple App Store to download it. Now you can join the predictor or fantasy games free for a chance to win prizes. Superbru promises an ad-free experience.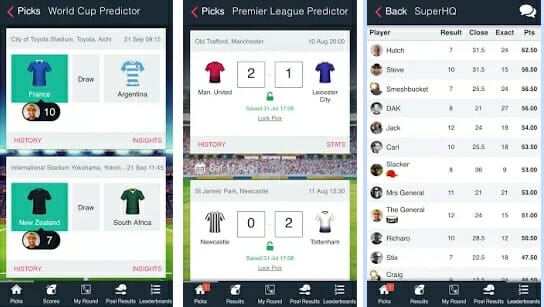 Superbru.com
You can also play the games through the Superbru website. Simply head to www.Superbru.com and create an account with your email address or Facebook account. You are now free to join any Superbru prediction or fantasy league of your choice..
Superbru Games
As we mentioned earlier in this guide, Superbru offers three types of games:
Superbru Predictor
The Superbru Predictor is the original Superbru game. In the Predictor, you get points by predicting winners, scores, and score margins for every game in a tournament. Depending how accurate your predictions are, you will get Win Points, Margin Points, Bonus Points or Grand Slam.
There are over 50 predictor tournaments each year, across various popular leagues, including rugby union, rugby league, rugby sevens, football, cricket, American football, and Aussie Rules.
Superbru Fantasy
Superbru also offers a fun fantasy game for major rugby union and football tournaments. To play, you will need to select a squad of four to five real world players in the tournament, and then choose a starting line-up for each round. You win points in the game, based on your team's performance. Over the course of the tournament, you will need to manage your squad carefully, as there are only limited transfer options and team size limits.
Superbru Daily Fantasy
Superbru also offers a more simple set of fantasy games, for a single match days or events. Here, you will not need to worry about squads, teams and transfers. Simply choose your squad for the day and hope that it does better than your competitors' squads do. The Daily Fantasy game covers all major ball sports, as well as golf, tennis, cycling and motorsports.
Superbru Sports Covered
Superbru covers a wide range of sports over its various games. Here is a brief overview.
Superbru Rugby
Superbru was originally developed as a rugby game, and it is still one of the most popular rugby predictor and fantasy games. It has all three categories of games for Rugby Union, Rugby League, Rugby Sevens, and more. Superbru Aotearoa Super Rugby is one of their most popular games.
Football
Superbru has at least 10 football predictor games in various leagues, and you will also find fantasy football games for major events, such as the Football Superbru World Cup or Euros.
Cricket
There are over eight cricket predictor tournaments per year for T20 and One Day events, and three fantasy tournaments per year for Test Matches, T20 and One Day events.
Motorsport
Superbru has two yearly fantasy motorsport tournaments, for F1 and MotoGP.
Golf
There are two or more fantasy golf tournaments per year, for top events such as the Ryder Cup or the Nedbank Golf Challenge.
Tennis
Superbru has tennis fantasy games for Grand Slam tournaments, such as the Australian open.
Other sports
You will also find tournaments for sports like Cycling or AFL, and there is a yearly NFL fantasy tournament.
Why Play Superbru?
There can be many reasons to play fantasy sports or predictor games. Here at ThePuntersPage, of course, we look at things from a smart punters' perspective.
Here are five reasons why a smart punter might want to try Superbru.
Improve your handicapping skills: Fantasy or predictor games are a great way to practice your prediction skills. Predicting game scores, winners, and score margins is part of the job of any professional.
Get Superbru Tips: Superbru is actually a great place for footy tipping. The site has its own Superbru picks section, which is great for both football and rugby predictions. You can also see the picks made by the top players on the leader boards.
Create your own pools: You can create your own fantasy and predictor pools to compete against your friends and colleagues.
Bragging rights: Compete against your friends to see who is the best at predicting match outcomes.
Real prizes: While this is not a form of real betting, there are various prizes to be won, as each tournament has a prize, from various sponsors.
Join ThePuntersPage Euro 2020 Superbru League
We've partnered with Superbru to create our Superbru predictor league for the upcoming Euro 2020! This league is free to play and there are lots of exciting prizes to be won!
We will update this page with more info about our Superbru league closer to the start of the tournament so stay tuned!
ThePuntersPage Final Say
Fantasy sports and predictor games may not be as profitable as regular sports betting, but they still give you the chance to polish your handicapping skills and win small prizes. Of course, they are also lots of fun to play.
If you are going to play at Superbru, make sure to join the games on time, as many of them close when the season or tournament starts!