With the introduction of VAR, football experienced quite a few changes, many of which have also impacted punters. Is this new technology for the better or worse? Read our detailed article below to find out what we think, and how VAR can impact you as a bettor.
Best Betting Sites We Recommend for VAR Betting in 2023
Regular VAR promotions
50+ categories of sporting events to play on
Great odds
£10 Free Bets + £10 Casino Bonus + 20 Free Spins
Only available to new, verified customers residing in the UK. Place a first ever sports bet (£10 min. stake; single or multiple bets: min. odds 1.4). Get 2x£5 in free sports bets, £10 in bonus money at Casino and 20 free spins (£0.10 per spin) on eligible NetEnt Slots. Payment method restrictions apply. 18+ Please gamble responsibly.
Full T&Cs apply
. BeGambleAware.org #ad
Loads of card and penalty markets
Fantastic live betting platform
Superb Bet Builder
18+. Min deposit requirement. Free Bets are paid as Bet Credits and are available for use upon settlement of qualifying bets. Min odds, bet and payment method exclusions apply. Returns exclude Bet Credits stake. Time limits and
T&Cs apply
. BeGambleAware.org #ad
Great odds on cards
£40 money back welcome bonus
Tremendous range of Premier League bets
£40 Money Back Offer + £10 Casino Bonus
18+ begambleaware.org. New customers only. Min deposit £10. Money back as bonus if first bet loses. Wagering requirements: sportsbook 3x at min. odds of 1.40 (2/5), casino 50x. Unless forfeited the sportsbook bonus must be wagered before using the casino bonus. Bonus expires 7 days after opt-in. No deposit required for NI customers. Call 08081699314 to claim.
Full T&Cs apply
. BeGambleAware.org #ad
What Is VAR?
VAR is used in football to make more accurate decisions in crucial moments during a match. This is done by a team of referees in conjunction with the match officials on the pitch.
The Video Assistant Referee (VAR) refers to the match official whose job it is to review the decisions made by a match referee. They have access to all cameras in stadiums, including those which feature slow-motion replays, and are therefore able to see the run of play from all angles.
Together with the VAR is an Assistant Video Assistant Referee (AVAR) and a Replay Operator (RO), who assist in making decisions. The team operates remotely from a specialised VAR hub, and are able to contact the referee through a dedicated earpiece.
VAR is currently used for four categories of potentially match-changing decisions, which include events leading to a goal/no goal (e.g. fouls, offsides, handballs), events leading to a penalty/no penalty (e.g. fouls, location of fouls, incorrect decisions), red cards (e.g. violent conduct, denying a goal-scoring opportunity, using offensive language/gestures), or cases of mistaken identity (when the referees award yellow or red cards).
How Does VAR Work?
When a questionable decision relating to one of the above categories is made, the VAR team will automatically assess the incident from every angle. If no error is seen, there will not be any further action taken. This is referred to as a silent check as it causes no delays to the game, and the players and viewers will not even be aware that is has taken place.
When VAR does notice that a potential error has taken place, the referee is informed through his earpiece, and an on-field review (OFR) can proceed. This involves the referee consulting a pitch side monitor to review video footage of the action. If there has been an error, the referee will draw a rectangle with his arms, signalling that the original decision has been reversed.
In VAR's first Premier League season, the lion's share of decisions were made by VAR officials, with the referee discouraged from making an on-field review. However, after a series of complaints, the Premier League announced a number of changes would be implemented going forward.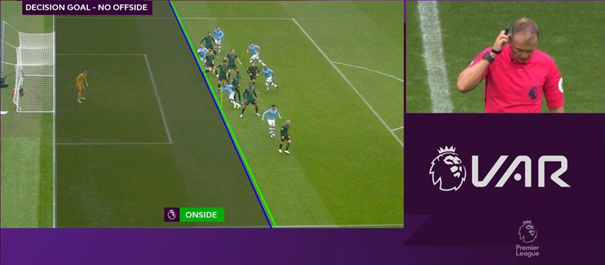 VAR Changes since the 2021/22 Season
After the first two seasons in the Premier League, the guidelines determining how VAR should be used were updated in the 2021/22, a move which has greatly improved the performance of this technology across the board. While there are still some errors which can seem suspect, the overall changes have been positive. Below are the updates were made from that season on:
VAR has been using a 1-pixel wide line when plotting the offside lines, which has led to many millimetric decisions that have left fans baffled.
After discussions with clubs, players, and managers, this forensic-like approach is set to change, as the VAR will now be using wider lines (as normally used in TV broadcasting) to decide whether a player is offside or not, thus giving some benefit of the doubt to attacking players.
As many as 20 goals would have stood had this interpretation been used during the previous season, with offside stats set to shift back to previous numbers. One of those goals was Jordan Henderson's stoppage time goal in the Merseyside derby, which was disallowed as Sadio Mane was ruled offside by a whisker.
Jordan Henderson thought he'd won the Merseyside derby in stoppage time…

But it was ruled out for THIS offside 😳

🔵🔴 | #EVELIV pic.twitter.com/Zc7u2RwuJJ

— GOAL (@goal) October 17, 2020
Penalties will no longer be awarded for the slightest of contacts in the box. Football is a contact sport, so the refereeing association has made sure to highlight that with this change. This will help decrease the risk of attacking players going down easily as soon as contact is felt – or worse, when they go into the box looking for contact.
The notion that penalties will only be given if a player goes down will also be challenged, as VAR will be instructed to look at (i) the nature of contact, (ii) the consequence of contact, and (iii) the intention of attackers. Betting on penalties may finally offer better odds again, with fewer being given out.
During the 2020/21 season, a record 125 penalties were awarded (29 of which were a result of VAR decisions). This change means that soft penalties, like the one awarded to Marcus Rashford after Jamal Lewis barely touched him in their clash in October 2020, will hopefully become less frequent in the Premier League.
Previously, a ball touching a player's arm would most probably have been considered an offence, thus requiring play to be stopped. As from the 2021/22 season, purely accidental touches will not be penalised as harshly, and play may be allowed to continue without pausing.
Backing Into Jumping Players
This is something which has led to a number of controversial fouls, where attacking players might back into a jumping defender to try and win a free kick or penalty. The new interpretation will not consider this as a foul by defender, but rather as a foul by the attacker, as it might result in the jumping player losing his balance. Once again, the determining factor will be the player's perceived intention.
Previous Changes To VAR
The above were not the only changes to the VAR rules since the beginning. Following a controversial debut season, the Premier League decided that VAR would run in line with FIFA VAR protocol during the 2020/21 season. This led to several key changes in the way VAR is implemented, as seen below.
Increased Use of Pitch-Side Monitors
Throughout the first season, to the dismay of many, referees only referred to pitch side monitors a handful of times. Now, referees were encouraged to look at pitch side monitors for decisions relating to goals, red cards, and penalties. Crucially, this gave the on-pitch referee the final say on any controversial decisions, rather than him simply taking the advice of a voice from Stockley Park.
VAR was needed to play a central role in implementing a zero-tolerance policy with regards to encroachment during penalties. Firstly, this meant that if a goalkeeper saves a penalty without one foot being planted on the line when it was taken, then the penalty will be subsequently retaken. Moreover, if players encroach upon the penalty area before the ball is kicked, they will be penalised if they are involved in the rebound – such as scoring or clearing the ball.
Assistant referees were expected to start keeping their flags down during any immediate goalscoring opportunities, even if they deem the player to be offside. When the passage of play ends, they were free to raise their flags. In the case of a goal being scored, VAR were to review the decision and overturn it if necessary. This was done to help reduce as much human error as possible.
How Has VAR Affected Betting?
The main issue in relation to VAR and betting is that VAR disrupts the betting process. Operators have been working hard to reduce time that bets are suspended after a goal/red card is awarded; the introduction of VAR has disrupted this process, and can potentially even go on to discourage some punters from engaging in in-play betting.
When VAR was first introduced, betting sites were not adequately prepared and ended up being hit quite badly. This is because whenever there was a goal in-play, betting sites would pay out to their customers as per usual, only for the goal to be overturned.
A classic example of this happened with Sky Bet in August 2019 in a match between Tottenham and Manchester City. In the closing stages of the game, the teams were tied 2-2 when Gabriel Jesus scored what was believed to be the winning goal. Much to the frustration of City fans, this decision was later overturned by VAR – however, not before thousands of punters who had bet on City to win decided to cash out their bets.
The match proved to be very costly to Sky Bet, who then proceeded to take a defensive stance and have begun suspending in-play betting markets until a VAR decision is made. Nowadays, all online bookies suspend the market as soon as there's any suggestion that VAR will be used.
Perhaps the biggest impact VAR has had, though, is on the flow of the game. Matches are frequently halted so that the referees at Stockley Park can review a possible infringement, and many have complained that this is a momentum killer for the team on top. This is an additional factor for punters to consider while sizing up their in-play bets.
However, this has been greatly reduced with the introduction of the aforementioned 'silent check', where referees discuss with VAR without the need to pause the match.
How Have Betting Sites Responded To VAR?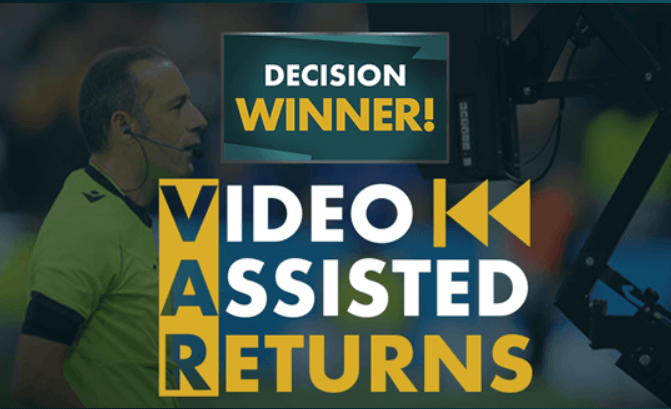 Initially, betting sites were also not quick to address the changes happening to pre-match betting markets as a result of VAR. Since decisions are scrutinised now more than ever before, there is a greater chance of a penalty or red card being awarded.
Many companies overlooked this and left these odds unchanged, paving the way for savvy punters to take advantage of this and increase their winnings. Eventually, the bookmakers realised what was happening, and the odds in these markets are now lower than they used to be.
Other betting operators have introduced VAR-specific promotions in a bid to attract the ever-growing number of frustrated punters. For example, at the time of writing, SportNation will refund your stake if a winning goal is disallowed by VAR.
When it comes to exchange betting, Betfair has also had to make some changes to the way it operates, and now puts a strong emphasis on voiding bets. The bookmaker states that if a goal is cancelled or retrospectively awarded following a VAR review, then "bets matched between the time of the goal being scored and the time at which the video assistant referee review is concluded will be voided."
Additionally, if a red card or penalty is awarded retrospectively as a result of VAR, "only bets matched after the time at which the video assistant referee commences the review will be voided." All this voiding involves a lot of very precise timing and work from Betfair, and unfortunately is likely to result in longer suspended bet times, which at this point does seem to be unavoidable.
One such way that betting companies could improve their response to VAR is by putting more of an emphasis on traders. Currently, betting sites use special models and algorithms to assign their odds. The problem with this is that a computer model cannot predict if a VAR decision is likely to take place.
A trader or odds compiler, on the other hand, would be able to tell if the referee has made the wrong decision, and make the necessary changes to the odds before a VAR decision is even called. With ever increasing delays and suspended markets, the return of traders might prove invaluable.
Tip: We recommend using KickForm for football tips, predictions, and odds.
VAR's Impact on the World Cup So Far
With VAR having made many major strides since the last World Cup, there have been many practical improvements made, ensuring that the tournament in Qatar doesn't have similar issues faced in Russia.
Firstly, the 2022 World Cup is set to feature a relatively new piece of tech for the offside rule, with the semi-automatic offside aiming to remove human error from the decision-making process. Cameras placed above the stadium will track players' movements and automatically determine whether they are deemed offside or not.
The VAR check will still go ahead to confirm, but this will greatly speed up the decision process.
Qatar will also debut a new ball technology, which features sensors inside the ball to accurately measure exactly when it is struck – crucial for offside rulings.
VAR Decisions Taken During the World Cup
At the time of writing, there have been seven decisions changed thanks to the use of VAR technology, with another being rejected. Two decisions allowed goals to stand, while three were due to a player being offside for their goal. The rest were penalties given due to fouls.
Interestingly, the rejected decision occurred during the Tunisia vs Denmark match which ended 0-0. In the 93rd minute, a shot deflected by Yassine Meriah was deemed to be a handball in the box by the VAR.
However, Mexican referee Cesar Ramos spotted an earlier foul against the Tunisians, meaning a free kick was given instead of a penalty to Denmark. This was ruled to be the correct decision.
VAR's 21/22 Premier League Impact
Each year the statistics of VAR decisions in the Premier League are published, and the results are always interesting.
There has been a total of 120 incidents which were overturned last season (eight incidents less than the 20/21 season). Meanwhile, 47 decisions led to goals being allowed, while 43 were overturned after a goal was scored (one more than last season).
The interesting number is 47, which is a massive increase by 13 goals. That has been a great benefit to the Premier League as a whole as VAR stopped being so restrictive. In addition, 10 more penalties than last year were also awarded, resulting in a total of 38. Just like last year, six were missed.
Offsides have also been majorly impacted, with 32 goals being ruled out due to being offside; 11 were the reverse, seeing goals being given after incorrectly being ruled offside.
There have been 13 red cards given and three reversed last season, similar to the previous season.
How Did VAR Affect the Individual Premier League Teams?
The teams who have been hit the worst by VAR last season are Norwich, Burnley, and Leicester City, with a score of -6. Leicester and Burnley had 10 decisions overturned, while both teams had eight decisions go against them and in their favour. Norwich got the worst of it with 11 decisions taken against them, and only 5 going their way, totalling 16 separate interventions by the referee.
West Ham and Liverpool have gotten the best luck with VAR decisions. The former team had 10 decision go their way with only six going against them. No wonder they had such a strong campaign.
Funnily enough, Liverpool have topped last year's list after being at the bottom in the season prior. Six decisions went their way, while two went against them.
Of course, this does not necessarily mean that all decisions made are wrong; however, if VAR didn't exist, certain results may look slightly, or drastically in some cases, different.
VAR's Initial Premier League Impact
Following a year packed with controversial refereeing decisions, punters and fans were eager to quantify VAR's impact on the most followed league in the world. VAR was no longer a completely unknown quantity. The data behind its inaugural campaign clearly showed its impact, and, as the years go by, the match-changing decisions taken will continue to be compared and scrutinised by many.
According to an ESPN report, a total of 109 goals or incidents were influenced by VAR in its first season. There were 109 decisions overturned
27 of those led to goals, while 56 resulted in disallowed goals. VAR also awarded 22 penalties, which originally were not given by the referee, and cancelled nine that were. Furthermore, four penalties were retaken due to encroachment.
A total of 34 goals were ruled out for offside (some of these only by a hair's breadth!) and eight goals were awarded after being wrongly being called offside. A further 14 goals were chalked off for handball, and two goals were given after incorrect handball decisions. Nine red cards were handed out by VAR, while two were overturned.
If we turn our heads to VAR's impact on specific teams, the data shows us that Brighton and Hove Albion benefitted mostly from VAR decisions, followed closely by Manchester United. On the other end of the spectrum, Norwich, Wolves and Sheffield United seem to be the most hard done by.
There are some key takeaways from these numbers. Firstly, the net result of VAR interventions meant that seven extra red cards were dished out. This could imply that, while referees might have erred on the side of caution and given a yellow in the past, VAR is not as forgiving. A similar argument can be made for penalties. With a net gain of 13 penalties, there's a suggestion that referees might be pointing to the spot more often than we've become accustomed to.
A number of years have passed since the first season of VAR, and the technology has made massive improvements ever since. Considered a bit of disaster in the beginning, people are starting to see the benefits.
Betting markets have also been improved after the initial set-back, as bookies are now much more aware of the situation and are able to structure their bets accordingly. Some have even taken advantage of the phenomenon by offering promotions around VAR decisions.
Tips for Taking Advantage of VAR
To take advantage of VAR, you need to be quick and be able to make important decisions in an instant. We have compiled some betting tips for making the most of this technology.
Be Attentive: If there is a blatantly obvious penalty decision which the referee has not seen and the game moves on, you can predict that VAR will intervene as soon as the ball goes out of play. In this way, you can confidently bet on who will score the next goal
Make Use of Var-Impacted Markets: and increase your chances of getting a good win.
Predict the Momentum Swings: As seen above, there is evidence from last season suggesting the influence of VAR on penalties and cards. Firstly, opting for a bookie that offers these markets, such as bet365 or Unibet, is a smart move. Secondly, if you feel there is an impact, take advantage before the rest of the world catches on.
Educate Yourself: As discussed earlier, there have been many instances where VAR played a key role in shifting momentum. Whether it is a goal disallowed, a penalty overturned, or a red card rescinded, these big calls can have a big impact on the morale of a team. For example, if a team scores a goal which is overturned for a soft foul or a marginal offside, will this encourage or dishearten them? It is up to you as the punter to decide.
Stay up-to-date with all the latest betting terms, which we break down for you in our glossary. We suggest you bookmark this to keep you equipped when betting on football events.
Is VAR Ruining Football?
Since its introduction, VAR has been criticised heavily for a multitude of reasons by players, managers, and the public alike. Firstly, as we touched upon earlier in this article, the system greatly affected the flow of the game. With so many VAR interruptions now taking place in each match, it is no wonder than people get frustrated when a good run of a form in a match is scuppered by VAR delays.
From the crowd's point of view, VAR created a staggered atmosphere with many points of confusion and doubt. Goals having been disallowed and very fine offsides being given a case could have been made for VAR making the game boring.
This could be seen throughout the footballing world, with other countries facing accusations of favouring bigger clubs or being heavily overused. The worst part was that the technology was still getting decisions wrong, further fuelling the anti-VAR sentiment.
Having said all that, EURO 2020 produced some positive results with VAR. These changes were then carried to the Premier League, which has also seen vast improvement.
Does VAR still make mistakes? Well, in a sport with such fine, subjective margins, there's bound to be a few erros here and there – but with constant improvements, the technology is slowly becoming part and parcel of football matches, without too much fuss being kicked up when compared to a few years ago.
VAR And Football Betting FAQs
The use of VAR was first approved for the 2018 FIFA World Cup. In the Premier League, VAR started to be used at the start of the 2019/20 season.
Following constant controversies across the globe, where referees were making serious errors in their decisions, the International Football Association Board felt the need to bring in an advanced system which could spot and correct clear and obvious errors.
The Premier League VAR team is located at the VAR Hub at Stockley Park, West London.
VAR is used for "clear and obvious errors" in the following match-changing situations: goals, penalty incidents, direct red-card incidents, and cases of mistaken identity.
All major leagues around the world, as well as continental and international team competitions such as the UEFA Champions League and UEFA Euro 2020 Championship, have made use of VAR technology.
ThePuntersPage Final Say
VAR is the biggest change to football in a generation, but has proved to be a bit of a headache for both punters and betting sites. Nevertheless, the technology has made major strides over the years, and is no longer viewed as the error-riddled burden of the past. With so many improvements, we are excited to see what's next!