Pool betting is an exciting alternative to regular sports or exchange betting. As the name suggests, all the stakes placed on an event are pooled, with the prize shared among the winners. But how do pool bets work, you may ask? We answer this and other questions in our detailed guide below.
Best Betting Sites We Recommend for Pool Betting in 2023
Specialists in pool betting
Wide variety of pool events to choose from
Good range of promotions
18+, UK only. Deposit and place a minimum £10 cash bet at single or accumulated odds of 1/1 or greater and we will give you 1 x £5 in free bets plus an extra 3 x £5 Free Bets the following day. Applies to first cash bet only. Free bets credited as 4 x £5 bets to use on 3x Any sport & 1x Virtuals. Cashed Out, Void or Draw No Bet wagers do not qualify for this promotion. 1 x £5 Free Bets are credited upon qualifying first bet settlement, other free bets credited by midday the day after your first bet settles. 7-day free bet expiry. Available once per customer. This offer cannot be combined with any other promotion.
Full T&C's apply
. BeGambleAware.org #ad
Pool betting section available
Syndicate feature available
Exclusive ThePuntersPage welcome offer
Get 50% Back as a Free Bet up to £35 Plus 10 Free Spins!
We've enhanced our Sportsbook Welcome Offer, giving new UK customers the opportunity to get 50% back as a Free Bet up to £35 plus 10 Free Spins! T&Cs apply | 18+ New UK Customers Only |
Full T&Cs apply
. BeGambleAware.org #ad
What Is Pool Betting?
Pool betting is very much making a comeback in the United Kingdom and all across the world, with some of the best bookmakers on the planet not only reviving the concept, but making it bigger and better than ever.
As a community form of wagering, the more participants, the higher the potential winnings. This has enabled bookmakers to offer enormous prizes to interested punters.
It is also useful to know that there are other names for this type of bet. You may have heard of pari-mutual or tote betting – the latter became particularly popular between the First and Second World Wars.
Now that that's cleared up, let's get down to business. Pool betting may seem overwhelming at first glance, but it's actually quite simple. All you have to do is choose the sporting event you want to wager on and – depending on the event in question – select a certain number of bets.
In most cases, bookies offer betting pools for either football or horse racing. There are also some specialised bookmakers that allow pool betting on other sports such as American football.
The stakes for entering these competitions are the same for each participant, and once all the other punters have placed their bets, all the money goes into a prize pool. The person who has guessed correctly or scored the most points (depending on the type of event) wins the prize pool. This is divided among all the winners.
This means that players can win a massive prize if they are the only winners, making pool betting a bit like a lottery. If you're still unsure how it works, the following example should help to clarify this.
Let's say you want to bet on a horse race. There are five horses competing in this particular event, which we'll number 1 to 5 for clarity. To take part in the pool, you have to wager £1. Then, 50 punters place bets on a particular horse to win the race. The spread is as follows:
20 punters on horse 1
13 punters on horse 2
8 punters on horse 3
7 punters on horse 4
2 punters on horse 5
With 50 bettors wagering £1 each, the prize pot adds up to £50. If your horse wins, you get an equal share of the prize pool. If horse 1 won, each punter would get £50/20 = £2.5.
If horse 5 won, each player would get £25.
This is just a simple example. Most bookmakers offer much bigger events and prize pools. To illustrate this further, below is a snapshot of The Football Pools 'Classic Pools' game, where punters pick 10 games from 49 options that they think will end in a draw.
Points are awarded depending on the outcome, and the punters with the most points win the pool.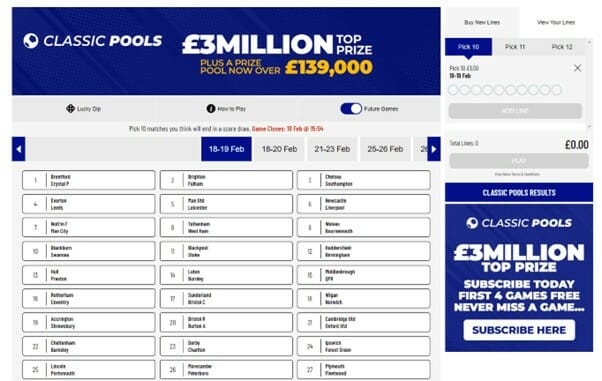 There are countless other ways that bookmakers use to create pool events. We suggest checking out the bookies from our list below to see if there are any particular pools that best suit your fancy.
What Are Some of the Best Pool Betting Sites?
There's no better way of getting to grips with pool betting than by actually taking a look at our favourite bookmakers and seeing what they have to offer. We think you'll be amazed by the amount of variety you can find, even when compared to fix-odds betting. Without further ado, here's a closer look at some of our absolute favourites.
The Pools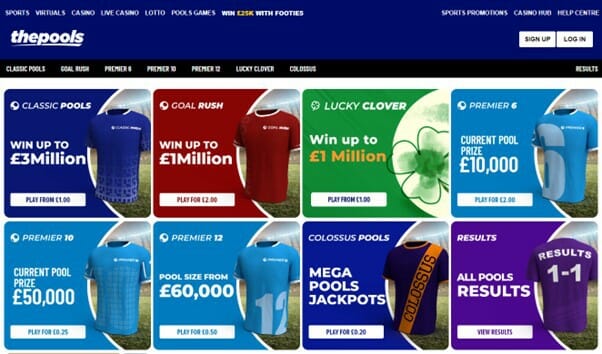 Are you looking for the best pool betting site? What about a website that has so much confidence in their product that they have named their website after it?
There is no doubt that The Pools' offers one of the best pool betting experiences, even specialising in football and horse racing with a vast array of betting options to choose from.
The best part is that many of the events offered by The Pools add an additional amount of prize money to the pools themselves. As you can see above, a £1 stake can win a whopping £3 million. Madness.
In addition to all this, if you get into their VIP programme, also known as the 'Loyalty Club', you will get a £5 free bet every time you place 10 bets! The Pools' primary focus is their sportsbook, which offers over 25 sports to bet on.
QuinnBet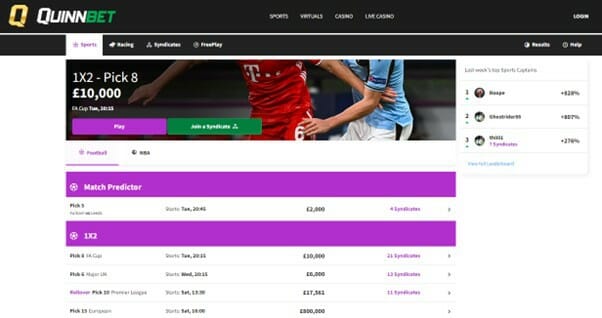 If you're looking for an excellent pool betting experience, QuinnBet has got you covered with its dedicated section. You can easily access the latter by clicking on the "Pools" tab located on the left-hand side of the homepage.
The sports offer is also outstanding, offering football and horse racing as well as the NBA. Within each sport, there are a huge number of events to participate in, meaning that you're spoiled for choice.
Another nice feature not offered by many other bookmakers are syndicates, a term which refers to a group of individuals that come together to combine their resources and increase their chances of winning. Each member of the syndicate contributes a certain amount of money to a common pool, which is then used to place bets on a particular event. The winnings are then shared among the members of the syndicate according to the agreed-upon terms.
Syndicates are commonly used in pool betting as they allow individuals to spread their risks and increase their chances of making significant profits.
QuinnBet is overall a great site and a superb option if variety is what you're after.
Betfair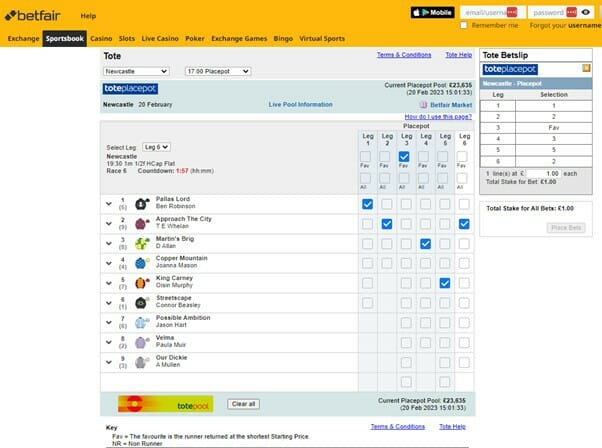 When it comes to a bookmaker like Betfair, this is just another string in an almighty betting bow. For those of you are unaware, Betfair owns the biggest betting exchange in the entire world. As such, you may be surprised that they would also be dipping their toes in the betting pool, so to speak. However, it speaks to this bookie's dedication to variety that they've gone ahead and offered this option to their many loyal customers.
Although the betting exchange is what Betfair will likely always be best known for, it is actually quite the jack-of-all-trades.
Betfair boasts a world-class sportsbook, casino, bingo and more; however, while the tote offerings are extensive, there is still room for improvement. The site only offers horse racing pools, and the section could do with a makeover.
Betfred

Betfred is practically enshrined in the history books when it comes to tote betting. From 1928 to 2011, all pool and tote betting was owned by the government – until 2011, when all rights were sold to Betfred. From 2011 to 2018 – when their sole ownership ended – Betfred had full control of the market.
Betfred continued to focus on horse racing for pool betting, offering a range of great tote events. Within each you can bet on a number of different pools, including the classic Tote Win, Exacta, Trifecta, and many more.
If all this seems confusing to you, Betfred has prepared a detailed section explaining each type of pool offered on the site and how it works.
William Hill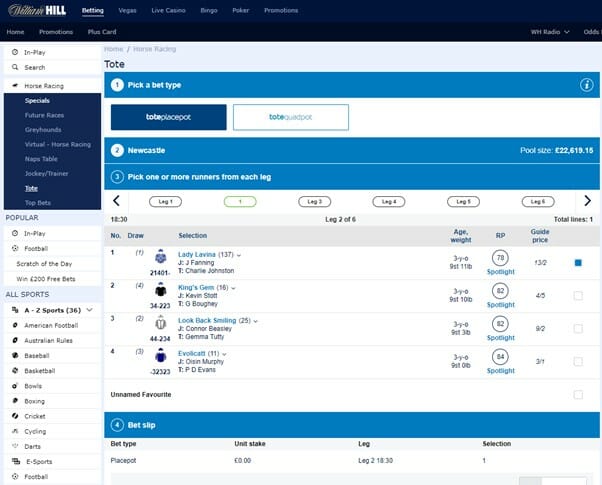 Due to the fact that the owner of Betfred also holds shares in William Hill, the level of connection between the two betting companies comes as no surprise.
One of the key things both sites have in common is Tote betting, with plenty of options on horse racing at William Hill, such as their renowned Scoop 6 option. This offers you the chance to win big from a very small stake and is one of the ultimate examples of what Tote betting can be.
Of course, pool betting in general from William Hill benefits from their all-around excellent product, especially when it comes to horse racing. They are a household name with a reputation earned over generations, and we're very happy to see them delve into a little bit of the Tote betting goodness so that this fascinating form of betting can reach an even wider audience.
What Makes a Good Pool Betting Site?
As previously mentioned, there are several misconceptions surrounding pool betting, one of which is that it is more complicated than other forms of wagering. However, this is not entirely accurate. Like any other form of betting, pool betting involves making a prediction, and if it's correct, you win. The difference lies in the way the winnings are calculated.
When looking for the best options available when it comes to bookmakers, the same factors that make a good betting site in general also apply here. Below, we've listed the most important of these to keep in mind:
Security
A secure betting site is the bare minimum of what should be expected from any serious operator. Handily for you, all bookmakers we have recommended above are licensed by trusted, reputable authorities and registered to legally operate in the UK, making them perfectly safe for betting.
Banking Options
Most online bookmakers offer the classic VISA and Mastercard options, but some punters may be reluctant to reveal their card details. In that case, there are countless alternative payment methods to choose from, such as e-wallets and cryptocurrencies.
Customer Support
Good customer services is essential should you need to resolve any issues that may crop up from time to time. Be sure to look out for a well-designed FAQ section as well as a live chat function, allowing instant and direct communication. Offering the latter service 24/7 is an added plus.
User-Friendliness
A well-designed website can do wonders for a punter. There doesn't have to be any fancy effects on a site, but a clean homepage that is easy to navigate is a must these days. Punters want their betting experience to be easy, fast and enjoyable, so the usability of a website is an important factor. And, if the site happens to be VPN-friendly, so much the better.
Keep in mind that when looking for a pool operator, there are a few differences. The betting markets are naturally smaller in general in terms of the sports covered, you'll also want to take commissions into account, and of course, a good network of other people being interested in that pool is also important.
The Advantages and Disadvantages of Pool Betting
As with any form of wagering online, there are many different advantages and disadvantages to pool betting. We've listed all the major pros and cons below to give you a broader picture of what's involved – warts and all.
Advantages
It's exciting and different. One of the main advantages of pool betting is that it offers a refreshing change from traditional fixed-odds betting, allowing you to switch things up a bit and try something different.
There are no fixed odds. This means that you can make big profits on your stake, however small it may be, because it all depends on your selections.
The stakes are relatively small. It usually only costs you a few pounds to join a pool, with the average stake being between £1 and £2.
It's a community-based betting option. With larger events, there are more participants, which means a bigger prize can be won.
There are many different betting pool options. From selecting a single outcome to selecting a whole list of results, there are many ways to bet on pools.
You aren't dealing with the bookmaker. Bookmakers have cutting-edge technology and experts to make sure their odds are profitable – which means you can win more by avoiding this.
Disadvantages
Not many sports available. Football and horse racing are the biggest sports in pool betting – some other leagues and events like the NHL or NFL are available, but only selected bookmakers offer them.
Lots of competition. Pools with the highest prize money attract many punters, which increases competition.
The winnings can be small. If you bet on something obvious and many others do the same, your winnings will be spread over a much larger pool, leaving you with a significantly smaller amount to take home.
More Articles
Pool Betting FAQs
Pool betting is a form of gambling in which a group of punters place bets into a pool or pot, which is then shared among the winners as prize money. This is where it differs from fixed-odds betting, where the payout is agreed upon at the time of placing the bet.
The size of your potential payout depends on the total amount in the pool and the number of participants involved; sometimes, there is also a pre-determined jackpot that may increase the total reward significantly.
It's really quite simple: choose an event you want to bet on as part of a pool, make your selections, and place your stake. That's it. The punter(s) with the correct or highest score wins a share of the prize.
Well, because what constitutes a winner can be so many different things depending on that particular pool. The different versions of betting pools largely depend on how a winning selection is chosen. For example, it could be the winner of a horse race, or it could be those who chose the positions of the top three finishers, for instance. What makes them a betting pool is the sharing of the prize money amongst the winners.
In pool betting, there are no fixed betting odds like in traditional fixed-odds betting. For more detail on this, see our next FAQ.
In pool betting, everything depends on on the number of punters taking part and the amount of money in the pool. The more participants there are and the more money accumulated in the pot, the higher your potential payout can be. However, this also means that your chances winning may decrease as more people participate.
ThePuntersPage Final Say
We're so thrilled to see this classic form of betting make a comeback in the online world, and we can only see things getting better from here. It's not going to be for everyone – plenty of people will still want to stick with the fixed odds system, and that's absolutely fine. While we do love our fixed-odds sportsbooks, if you're looking for something new to try out, this could be the perfect opportunity to give pools betting a go!