Horse racing is one of the most popular and historic sports in the world. In this horse racing beginner's guide, we will be covering everything from general horse racing terms and understanding form to the biggest events of the year, with plenty more in between. Get your saddle ready, we're going for a ride!
What Is Horse Race Betting?
Our below guide to horse betting covers everything a complete newcomer needs to know, including the very basics.
Horse racing is a sport where horses, usually ridden by jockeys, compete over a set distance of competition to see who is the fastest. There are many different versions of horse racing, with different rules, obstacles, track surfaces, gaits, as well as availability to horse breeds, weights, and age.
We'll be breaking these distinctions down in more detail later on in this article; however, regardless of the above-mentioned variations, the simple premise of a speed-based equestrian performance test remains the same.
Again, there is a huge number of distinct events and markets to consider here, from simply backing who you think will win to enormously complicated, multi-faceted bets where many different predictions must come true to provide a winning wager. All these things are vital to understanding horse betting fully, but the core concepts never waver.
Different Types of Horse Racing Explained
We have listed below different types of horse races out there to give you a full picture of what this sport involves.
The simplest of all the types of horse races. Flat races traditionally take place during the summer and are run over distances between 5 furlongs and 2 and a bit miles on courses without obstacles. As the name would suggest, they are run on flat, level ground, resulting in a test of speed, stamina, and skill. The lack of obstacles means that many consider this to be the purest form of horse racing. It's also easy to follow, making it the ideal race type for beginners. In the United Kingdom, there are 35 flat racecourses, including the Royal Ascot and the Derby.
National Hunt can also be referred to as jump racing or steeplechases, and traditionally takes place during the autumn, winter and spring months. These races culminate in or around The Grand National, which is usually held on the first Saturday in April. National Hunt races are run over distances between 2 miles and 4 1/2 miles with obstacles such as hurdles and fences.
The most striking visual distinction of harness racing is that the horse has to pull a sulky alongside their weight and a jockey. But even more unusual is that the goal of these types of horse races is not to go as fast as possible, but instead to maintain a pace without breaking stride. It is an incredibly intense, disciplined, and strategic form of this sport. It is no obscure option either, with the Prix d'Amerique in Paris taking in 40,000 spectators for their 100th anniversary in 2020.
Almost the polar opposite of our previous pick, quarter horse racing is all about speed. This can be thought of as the horse racing equivalent of a sprint, taking place in a quarter of a mile or less. To give you an idea of just how fast these races can be, the world record is held by Winning Brew, who completed a quarter of a mile in 20.57 seconds.
Once again in this guide to horse betting, we go from one extreme to another. As the name would suggest, endurance races take place over much larger tracks. The Mongol Derby, for instance, takes place over an eye-watering 1000 kilometres. To put that in perspective, it is around 2,484 times the length of a quarter horse race.
If that sounds impossible, do note that they must change horses every 40 kilometres, with the race lasting ten days. This is an extreme example, but it is still common for an endurance race to last 12 hours and go over 100 miles. An astounding test of willpower – as well as ability!
Horse Racing Betting Explained – Markets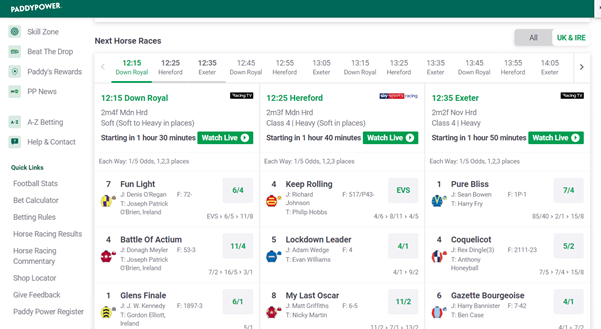 Hopefully, you have now got a sense of what horse racing is about; you will need to know what you can bet on.
In this section, we break down the two main categorisations of horse racing bets available across most types of races alongside the actual markets. That way, you'll know everything you need to make the right bet at the right time.
Straight Bets
These are thus called because they are the most straightforward option here, making them perfect for those of you who are just learning the ropes. Here are some examples of straight bets on horse racing.
System Bets
Also known as exotic bets, system bets are a great deal more complicated than their straight bet equivalents. They are, as the name suggests, a systemic, strategic approach requiring a wide number of different wagers.
Because they are so convoluted, and because the number of bets involved often means they require high stakes, system bets can seem intimidating. However, when you break them down, they are quite easy to understand once you get used to the concept. We have in fact listed the most popular ones later on in this article.
Understanding Horse Racing Odds
We've explained the basics below, but for a more comprehensive explanation, you can read our dedicated guide to how betting odds work and apply anything you've learned to horse racing in the process.
Fractions – Traditionally used by bookmakers in the UK and Ireland for all types of horse races. Fractional odds quote the amount that will be paid out (on the left) should the bet win relative to the stake (on the right). For example, for odds of 5/1, for every £1 you place, you will make a profit of £5 (should the bet win), meaning the total return would be £6.
Decimal – Traditionally used by bookmakers in continental Europe, Australia, New Zealand, and Canada. Decimal odds quote the exact amount that will be paid out should the bet win. For example, for odds of 10.0, for every £1 you place, you will receive a total return of £10 (10.0 × £1).
American – Traditionally used by American bookmakers. American odds are denoted by the (-) or (+) symbol, and are based on a 100 take. A (-) number shows how much you have to stake in order to achieve a profit of $100. A (+) number shows how much profit you will make if you stake $100.
How To Place a Horse Racing Bet
If you have never placed a bet on horse racing before, especially if you have never placed a bet online before, do not worry – the process is easier than you think. While we do have a full guide to placing a bet online, we've covered all the basic steps below.
This basic process of placing a bet should remain consistent across all good horse racing bookmakers.
How To Read Racing Forms
Once you have an understanding of horse racing, the next natural step is to learn is how to read racing form cards, with Racing Post a good place to start from in this regard.
A horse racing form card, or racecard, has a deliberate structure and gives you information about each race. Below we explain the different aspects of the card along with other factors you should consider before placing your bets. We've added an image below of a fairly standard online UK race card for your reference.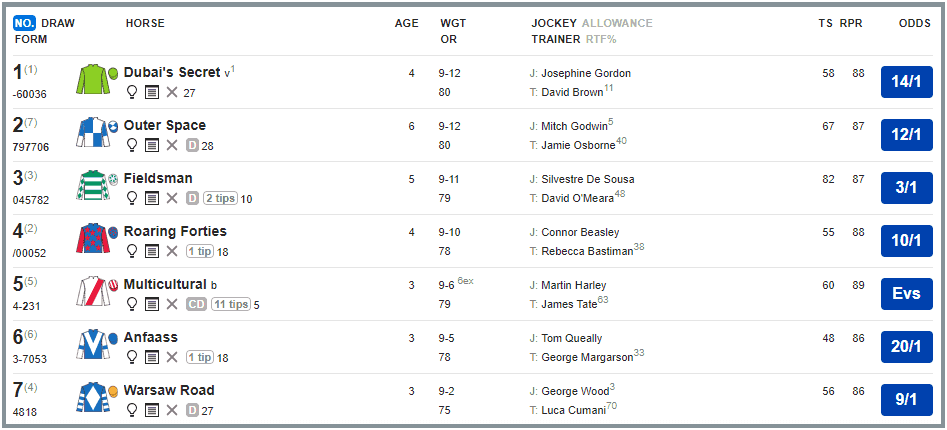 Number (NO.)
The first larger number (far left) is the number of the horse in the race (which you will also see on the horse's saddle throughout the race) assigned by the track officials. These numbers are always displayed on a racecard in order of the amount of weight the horse is carrying.
Draw
The smaller number (to the right of the horses number) represents the draw that the horse has got in the stalls. The lower the number, the closer the horse will be to the rails, which can be an advantage on certain tracks and distances.
Form
Below the horses NO. is a line of numbers which represent the horse's form. The latter runs from left to right, with the oldest races on the left and the most recent on the right.
The numbers 1-9 indicate the position the horse finished in the race.
The number 0 indicates that the horse finished outside the first 9.
The symbol '–' separates racing seasons. Numbers before the '–' are for last season.
The symbol '/' indicates a longer gap – for example, if the horse missed an entire racing season.
P or PU indicates that the horse was pulled up by the jockey and did not complete the race.
The following abbreviations normally apply to jump racing:
F indicates the horse fell.
R indicates a horse refused.
BD indicates the horse was brought down by another runner.
U or UR indicates that the horse unseated its jockey.
Horse
The second column displays the name of the horse along with the shirt (known as silks) that the jockey will wear. You will also see a number (which shows how many days it was since the horse last ran) and some abbreviations.
C indicates a horse has won on that course before.
D indicates a horse has won over that distance before.
CD indicates a horse has won over that course and distance before.
BF stands for beaten favourite and indicates a horse was favourite for a race, but did not win.
Age
This shows the age of the horse (fairly self explanatory).
Weight
This is the amount of weight the horse will carry (including the jockey and the saddle) as decreed by the conditions of the race. You may also see some more abbreviations depending on whether the horse is wearing or using any equipment.
b indicates the horse is wearing blinkers.
v indicates the horse is wearing a visor.
e/s indicates the horse is wearing an eyeshield.
c/c indicates the horse is wearing an eyecover.
h indicates the horse is wearing a hood.
t indicates the horse is wearing a tongue strap.
p indicates the horse is wearing a cheek piece.
Underneath the weight is the official rating of the horse.
Jockey & Trainer
This shows both the name of the jockey and the trainer of the horse. If a jockey has a number in brackets to the side of his name then it means he is an apprentice jockey and is claiming a weight allowance.
Odds
The final column shows the odds bookmakers are offering for the horse to win.
The table below features basic going descriptions that you may come across, along with their abbreviations.
| | |
| --- | --- |
| Going Description | Abbreviation |
| Fast | FST |
| Firm | FM |
| Good | GD |
| Good To Firm | GD-FM |
| Good To Soft | GD-SFT |
| Good To Yielding | GD-YLD |
| Hard | HD |
| Heavy | HVY |
| Slow | SLW |
| Soft | SFT |
| Soft To Heavy | SFT-HVY |
| Standard | STD |
| Standard To Fast | STD-FST |
| Standard To Slow | STD-SLW |
| Yielding | YLD |
| Yielding To Soft | YLD-SFT |
Horse Racing Bet Types
There are a range of different wagers you can place when it comes to the latest horse racing betting. Below we'll explain each in detail.
Top 10 Racing Rules To Keep in Mind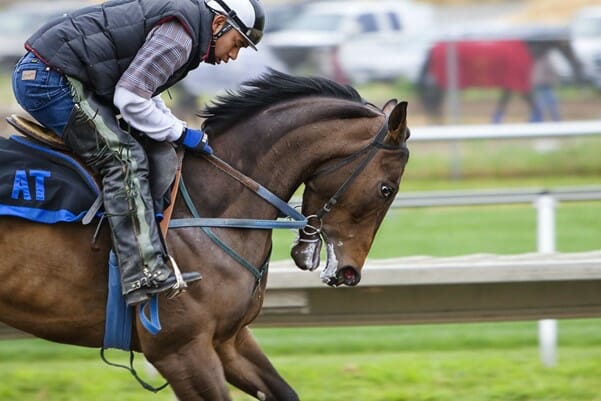 While you can understand much of how horse racing works simply by watching a few races, a deeper knowledge of how horse racing works can only serve to make you a better punter.
Do note that the rules stated here are typical examples but could vary with the bookmaker. That said, here are the most important things to keep in mind when it comes to our favourite equestrian pastime.
Horse Racing Explained – Other Factors To Consider
There are a lot of different things that can affect the result of a horse race. Here are five examples to help get horse racing betting explained more thoroughly and that will help you make more accurate predictions.
Major UK Horse Races To Bet on
The UK is one of the best places in the world to bet on horse racing, with the finest events available through the best horse racing betting sites in the world.  Here, we've compiled a list of some of the very best the British Isles have to offer. Check out our detailed 2022 sports events calendar to find out when each race takes place.
Champion Hurdle (National Hunt)
Queen Mother Champion Chase (National Hunt)
Cheltenham Gold Cup (National Hunt)
Grand National (National Hunt)
King George VI Chase (National Hunt)
2000 Guineas Stakes (Flat)
1000 Guineas Stakes (Flat)
Epsom Oaks (Flat)
Epsom Derby (Flat)
St Leger (Flat)
Major Horse Races, Meets, and Festivals Each Year
| Event | Racecourse | When |
| --- | --- | --- |
| The Cheltenham Festival | Cheltenham | March |
| Grand National | Aintree | April |
| Scottish Grand National | Ayr | April |
| Craven Meeting | Newmarket | April |
| Sandown Gold Cup Celebration | Sandown Park | April |
| 1,000 Guineas | Newmarket | May |
| 2,000 Guineas | Newmarket | May |
| Chester's May Festival | Chester | May |
| Dante Meeting | York | May |
| Epsom Derby Meeting (Derby & Oaks) | Epsom Downs | June |
| Royal Ascot | Ascot | June |
| John Smith's Northumberland Plate | Newcastle | June |
| Eclipse Meeting | Sandown Park | July |
| Newmarket's July Meeting | Newmarket | July |
| King George Day | Ascot | July |
| Glorious Goodwood | Goodwood | July |
| Ebor Festival | York | August |
| Sprint Cup | Haydock Park | September |
| St. Leger Meeting (St Leger) | Doncaster | September |
| Western Meeting | Ayr | September |
| Ascot's September Festival | Ascot | September |
| Cambridgeshire Meeting | Newmarket | October |
| Newmarket's October Meeting | Newmarket | October |
| Champions Day | Ascot | October |
| North West Masters | Haydock & Aintree | November |
| Hennessy Meeting | Newbury | November |
| Tingle Creek Meeting | Sandown Park | December |
| Christmas Festival (King George VI Chase) | Kempton Park | December |
| Welsh Grand National | Chepstow | December |
Major International Horse Races To Bet on
Horse racing is hugely popular the world over, with UK bookies offering prices on different races going off around the globe. These include, but are in no way limited to, the following:
Melbourne Cup
Kentucky Derby
Breeders' Cup Classic
Prix de l'Arc de Triomphe
Dubai World Cup
Classification of Races
In both Flat and National Hunt racing, there are a series of classifications that are designed to help indicate the prestige, prize money and quality of the race. Wrapping your head around these is vital to understanding horse racing fully. Both are split into classes from 1-7.
Class 1 Flat races are divided into the following:
Group 1 – Races of major international importance.
Group 2 – Major international races but of slightly less importance than Group 1 races.
Group 3 – Important domestic races.
Listed Races – Just below group races.
Class 1 National Hunt races are divided into the following:
Grade 1 – The best championship races, where the weight a horse carries is determined by age and sex.
Grade 2 – The weight a horse carries is determined by age and sex, but they are also made to carry more for any races they may have previously run.
Grade 3 – The weight a horse carries is determined by the horse's handicap rating.
Listed Races – Just below graded races.
After Class 1 races, we then have Class 2 through to 7, which apply to both Flat and National Hunt Racing and are based on a horses handicap rating as follows:
Class 2 – Heritage Handicaps, Handicap rating of 86-100, 91-105 and 96-110.
Class 3 – Handicap rating of 76-90 and 81-95.
Class 4 – Handicap rating of 66-80 and 71-85.
Class 5 – Handicap rating of 56-70 and 61-75.
Class 6 – Handicap rating of 46-60 and 51-65.
Class 7 – Handicap rating of 46-50.
So, how do handicaps work in horse racing? We'll be checking that out in the following advanced section of our guide.
What Is a Handicap Race?
A handicap race is where each horse is allocated a weight (based on their perceived ability) by a 'Handicapper' in order to level the playing field and give every horse an equal chance of winning. Famous handicap races include the Grand National (UK) and the Melbourne Cup (Australia).
The speed at which a horse can gallop is affected by the amount of weight it carries, with handicap weights calculated based on the official ratings published by the British Horse Racing Authority and are expressed in imperial pounds.
So, what are horse handicap ratings?
Horse Handicap Ratings Explained
Horse ratings represent a horse's level of ability in relation to the weight carried and are expressed in pounds (lb). The bigger the number assigned to a horse, the more capable it is considered to be.
For example, a horse with a rating of 140 would carry a total weight (including jockey, saddle and irons) of 140 pounds (10stn).
The Official Ratings (abbreviated as OR on a racecard) use the same criteria as the Racing Post Ratings (abbreviated as RPR on a racecard), but are compiled by a different authority.
7 Amazing Horse Racing Facts
History of Horse Racing
Understanding horse betting can be made easier by first getting an idea of its history. Here's a brief look some important historical context.
In one form or another, horse racing has existed for as long as humans and horses have been in contact, with early records showing that horse racing took place in Ancient Rome and Ancient Greece. UK horse racing is believed to date back to the 17th century during the reign of King James I. Consequently, many of today's courses are sited on or close to old royal hunting grounds.
The sport really gained influence in the 18th century during the reign of King Charles II who established Newmarket, which today is the home of British National Stud Bloodstock, the showcase for British Thoroughbred breeding, at Rowley Mile.
It was for Newmarket that The Jockey Club was established in 1750. The newly formed organisation, which is still in existence today and runs 14 British racecourses, set the rules of the sport, prevented dishonesty and set about creating a level playing field for those involved. Thirty years later in 1780 the Epsom Derby was run for the first time, four years after the first running of the St Leger Stakes in 1776.
Today, along with the 1000 Guineas, 2000 Guineas, and The Oaks, these make up Britain's five classic races. Through the centuries, horse racing became more and more popular and, thanks to TV and the internet, it is now one of the most watched and bet on sports in the UK.
ThePuntersPage Final Say
Horse racing offers the perfect blend of simplicity with depth. Ultimately, a race of any kind is not too hard to understand. But by digging deeper, just as we have done in this article, you can not only learn how to make smarter bets, but also develop a new appreciation for the so-called sport of kings.