The Football Pools Sports Betting Review (2023)
Pool based betting site
Specific focus on football
Lots of different promotions
Important
Please note that The Football Pools promotions are not currently available on our site.
The Football Pools Quick Facts
Deposit Methods
Withdrawal Methods
Pros:
A niche market
Competitive and consistent odds
Variety of pools available
Plethora of exciting and rewarding promotions
Cons:
Limited payment options
Poor customer service
No live offering
Introduction
Being the UK's oldest football gaming and most notorious football pool betting company, we'd be doing The Football Pools a disservice by labelling them anything but pioneers. In their 98-year history, they have paid out £3.2 billion to victors, and despite its demise in popularity in the context of the 21st century, pool betting was once a UK tradition.
While several online bookies offer pool betting of some sort, The Football Pools are a rare breed in that they almost exclusively offer such betting. Subtle additions and tweaks have been made, however, to attract the modern-day bettor.
Now that we've briefed you on their history, it's time to see how The Football Pools fare in our in-depth review. Let's dive in!
Registration Process 5

/

5
Simple two-step process
Basic information required
Creating an account with The Football Pools is a quick and easy two-step process. Step one merely involves you entering your email address and creating a password, as shown below: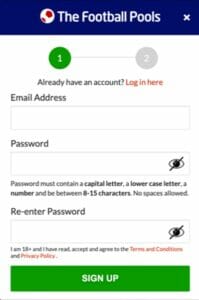 A click of the 'Sign Up' button advances you to the second and final stage. Here, you'll need to fill out your name, postcode, mobile phone number and date of birth. That's it!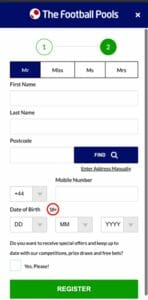 You'll also have the option to confirm whether or not you want to receive messages about the bookie's special offers. Once that decision's been made, a click of the bold 'Register' button will kickstart your journey with The Football Pools.
Deposits & Withdrawal Options 3

/

5
Easy depositing process
Two payment methods available
Automatic verification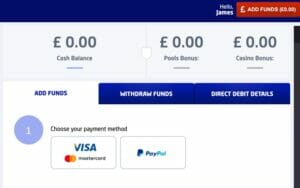 Funding your account with The Football Pools is a markedly easy process; however, punters are restricted to just two payment options: debit card (VISA/Mastercard) or PayPal. There are no cryptocurrencies available either.
After accessing the distinct 'Add Funds' icon at the top of the homepage, the above screen will appear.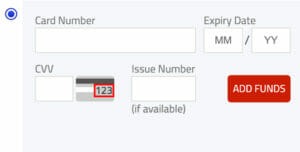 You then need to select how much you want to deposit (a minimum of £10 for both options) before filling out the financial formalities. A click of the second 'Add Funds' button should ensure your account is funded.
Withdrawals – which, once again, involve filling out basic card information – are typically processed within two working days following your request. The majority of punters will be automatically verified before their first-ever withdrawal, although some will be asked to email documentation (passport, drivers' licence, bank statement, etc) to validate their identity.
Welcome Offer 3.5

/

5
£5 pools bonus and 20 free spins
Available once per customer
Deposit £10+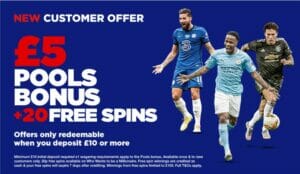 The Football Pools' welcome offer is comprised of a £5 pools bonus and 20 free spins on a select slot game (Who Wants to Be a Millionaire). To qualify for the bonus, you'll need to deposit £10+ into your account.
The offer is available once to each new customer, and free spins will expire after 7 days.
Those who utilise the bookie's Classic Pools are also entitled to a new customer offer. Punters can earn four free games if they play twice a week for £10 a month (£1 per game).
Sportsbook Promotions 4.5

/

5
Leaderboard-heavy
Generous cash prizes
Prize draws
Rewarding loyalty scheme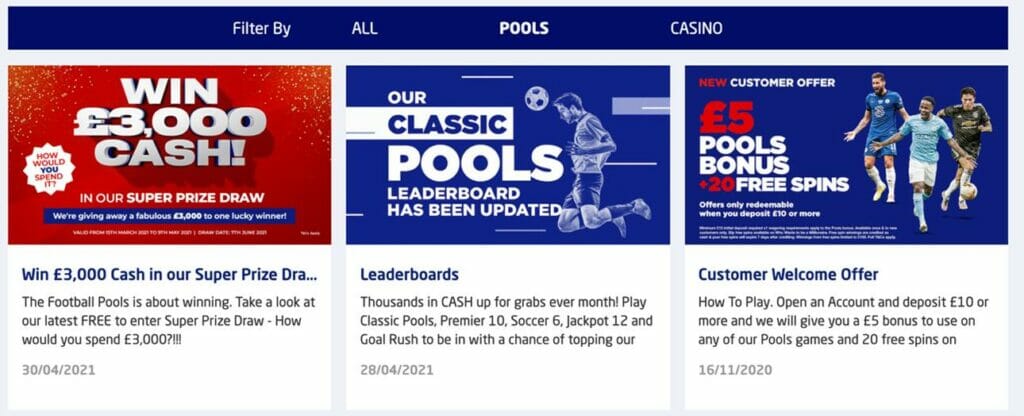 Varied and exciting sportsbook promotions are imperative in retaining the interest of customers, and The Football Pools certainly shines in this regard. Leaderboards are aplenty with this bookie: Classic Pools, Premier 10, Jackpot 12 and Goal Rush all boast leaderboards that are updated monthly. Soccer 6 is a weekly leaderboard.
Punters earn points depending on the success of their pool picks. For Classic Pools, points are awarded based on the points scored per game, while for the others, one point is awarded per correct prediction. Don't worry – we go into a little more detail on each pool further below.
At the time of writing this review, you can earn up to £600 by entering into the Classic Pools and Premier 10 leaderboards, £150 for Goal Rush and £100 for Jackpot 12. The leading 30 players are awarded cash prizes in the Classic Pools leaderboard, and the top five for the other games. You can earn up to £50 through Soccer 6's weekly leaderboard.
Other promotions include Super Prize Draws, in which those playing Classic Pools, Lucky Clover (lotto) and Goal Rush are automatically entered. At the time of writing, the winner of the current draw will be receiving £3,000 in cash. It's a smart way of persuading customers to play particular games.
VIP/Loyalty Programme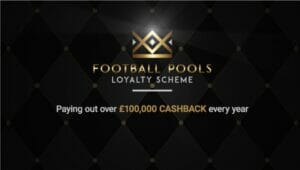 The Football Pools' loyalty scheme is fairly complex, and rewards customers for using TFP's products.
Rewards are earned based on your activity over a calendar month and calculated based on the number of points you accumulate within the month. Once 3,000 points have been reached, your cashback will increase by £2 every time you earn another 1,000 points. So, while 3,000 points reward £6 cashback, 4,000 points reward £8 and 5,000 points reward £10.
Punters can work their way up the VIP levels to earn more points per £1 staked on a TFP product. For example, at level 1, punters earn ten points per £1, at level 2 they earn 12 points, level 3 gifts 14 points, and so on.
Progression through the VIP levels serves to further enhance your overall experience with The Football Pools. This also include automatic entry into monthly prize draws, exclusive level bonuses and the opportunity to win hospitality at major sporting events.
Pre-Match Offer 4

/

5
Several pools offered
Low, fixed stakes
Match betting offers consistent & competitive odds
No esports/specials
Some of you might be unaware of what exactly pool betting is, so let's give you a brief rundown. To put it simply, it's a form of betting where players contribute a fixed amount (stake) into a pool and then make a selection on an outcome or series of outcomes (legs). The pool (after operator deductions) is then divided among those that have made the correct selection.
At the time of writing this Football Pools review, the bookies offers several pools to its players: Classic Pools, Soccer 6, Goal Rush, Premier 10 and Jackpot 12.
The Classic Pool involves you picking 10 matches (worth £1, 11 picks = £2.50 stake, 12 picks = £7.50 stake) from a list of 49 (typically UK clashes, but European fixtures are included as well) that you think will end in a score draw. Matches that do finish in the desired score draw earn three points, a 0-0 stalemate is worth two points, while any other result is a meagre one point. The total points from your best eight selections are then tallied together.
If you hit between the 22–24-point mark, you're likely to earn a cash prize, but on some occasions, you can accumulate less and still win.
The concept is similar to the other pools. Soccer 6 involves predicting the outcome of six random fixtures with a £10,000 pool up for grabs. Premier 10 is predicting ten fixtures but with a £40,000 pool, while Jackpot 12 involves – you guessed it – foreshadowing 12 matches with an £85,000 pool size.
If you nail all your predictions, you'll be entitled to the pool. If you're the only one who correctly predicted all the fixtures, you'll earn the entire sum, but it's more likely that the pool will be shared among other victors.
Goal Rush, meanwhile, is a little different. This pool involves correctly predicting eight games in which both teams will score from a list of 49. Seven correct selections will earn you a consolation prize, with big cash prizes on offer for those who master their eight picks.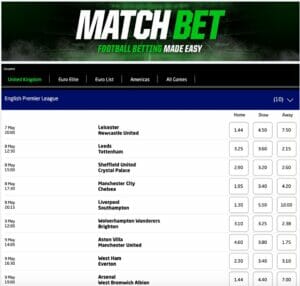 The sort of football betting the modern-day bettor has grown accustomed to is available at The Football Pools through Match Bet. Popular leagues across the globe are offered by the bookie, though you can only bet on the match outcome.
However, that means we can still test the quality of The Football Pools' margins using the odds overround calculation. This is a percentage figure obtained when all the probabilities of an outcome of a bet are added together. Logically, this figure should come to 100%; however, this does not take into consideration the profit made by the bookie. For this reason, it is commonly accepted that an odds overround of less than 110% indicates good odds.
To carry out our little experiment, we picked three random football matches from the English Premier League, Italian Serie A, and UEFA Champions League. The results came to 105%, 106.43% and 104.8%, indicating that The Football Pools' odds are both consistent and competitive.
You can display odds as decimals with The Football Pools, while the minimum stake is set at 50p. The maximum stake is unknown.
Other Specials
There are no other traditional specials to enjoy with the The Football Pools.
Cash Out
Punters do have the option of cashing out their pool bets (tickets). With The Football Pools, players can sell all/part of their tickets to Colossus (pool betting product) and secure a profit, regardless of the outcomes in the remaining legs of the pool.
Players can check their cash out offers under 'My Tickets'.
Live Offer
The nature of pool betting means that there's no live offering for punters to take advantage of. If you're a master of the in-plays, we recommend that you stick to bet365 or other new bookies like it.
Security 4.5

/

5
Licensed by the Great British Gambling Commission
Emphasis on responsible gambling
Ample number of account limits to prevent problem gambling

The Football Pools is licensed and regulated by the Great British Gambling Commission for its operations in the UK. The smaller, fixed stakes associated with pool betting mean you could argue that punters are less at risk where problem gambling is concerned, but there's an emphasis placed on responsible gambling nonetheless.
Their 'Play Responsibly' page discusses the dangers of underage gambling, and lays out the limits you can set on your account. External links are also provided if punters feel they require further assistance.
The site also supplies a list of questions in a self-assessment-like format, allowing customers to monitor and adjust their gambling behaviour if necessary.
Regarding account limits, punters can set Deposit Limits, Weekly Subscription Spend Limits (controls spending on subscription products), Session Time Limits, Time Outs and Self-Exclusions.
For those who are interested in knowing what the bookie is doing with your personal data, a comprehensive Privacy & Cookie Policy is available to view on the site. The Football Pools also protect customer data via firewall and encryption technology.
Service & Customer Support 1.5

/

5
Not available 24/7
Unorganised FAQ section
Inefficient customer service
This is certainly an area in that The Football Pools needs to work on. The site's FAQ's section is fairly robust, although we didn't appreciate the rather unorganised structure. Thus, it's likely that you'll have to utilise The Football Pools' customer service to get your query resolved.
Punters can contact the bookie via email, post and telephone. However, the site's customer service doesn't function 24/7. Instead, the service is in operation between 8:30 am and 6:30 pm (Monday – Thursday), 8:30 am – 7:00 pm on Friday and 8:30 am – 4:00 pm on Saturday. It's unclear whether they're in operation on Sunday.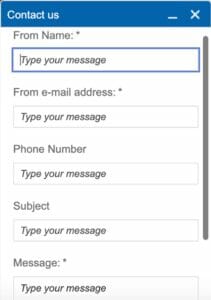 Unfortunately, our experience with The Football Pools' customer service was a poor one. We attempted to contact the bookie via a contact submission form (as seen above) in which punters send a message laying out their query. We filled out the form and posed a question regarding the bookie's available payment methods, but received no response.
There is definite room for improvement here.
Design & Usability 3

/

5
Advertisements galore but smartly designed
Simple structure aids experience
News section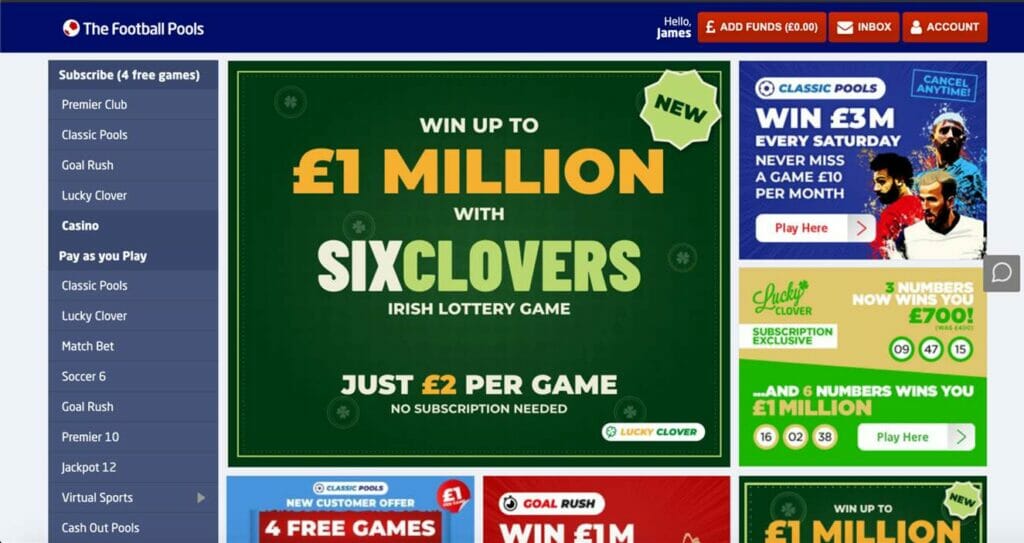 The structure of The Football Pools website is pretty simple, although the homepage is replete with ostentatious promotions for the different pools available on the site. However, while such advertisements stand out, we wouldn't describe them as gimmicky. Instead, they're smartly designed and work in harmony with the rest of the site.
A minimalistic blue, white and red colour scheme is followed throughout, with the site only available in English.
To facilitate a user-friendly experience, a single menu runs down the left-hand side of the homepage, with tabs separated by subscription and pay-as-you-play pools. Join/login tabs are located in the top right-hand corner of the page.
Importantly, the betting process (for Match Bet) is aided by the ubiquitousness of your betslip on the right-hand side. For pool betting, your 'line' is clear to see as well.
Contact links are accessible at the bottom of the homepage, as well as Responsible Gambling (also accessible via the 'Account' icon) and game rules (which are important for new customers) links.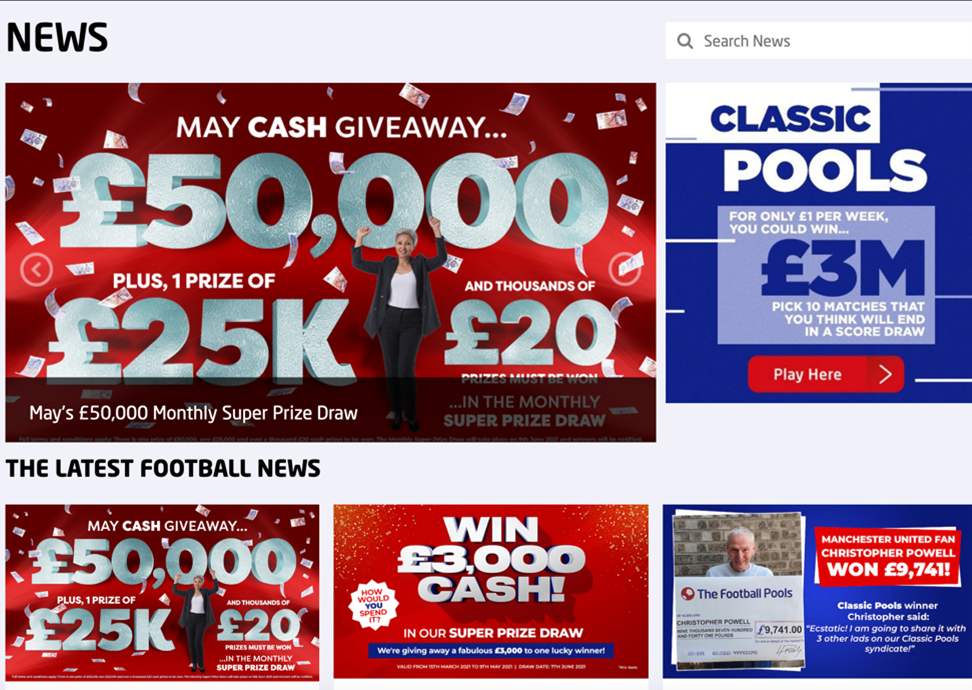 While there are no statistics available on the site, The Football Pools boasts a football news page in which updates are provided regarding prize draws, pool winners as well as pool previews and reviews. It's a welcome feature to the site.
Overall, we found little fault with the site's technical performance. Combine this with a simple structure and you have a user-friendly, easily accessible website.
Mobile 2

/

5
The Football Pools mobile app is accessible for both Apple and Android users, and is available to download for free via the App Store and Google Play.
Overall, the app's structure isn't too dissimilar from the website. Advertisements for The Football Pool's pools consume the centre of the homepage, with tabs for all the site's games located along a long list down the left-hand side.
There were a few teething technical issues, however; with the app's responsiveness pretty slow. On some occasions, we had to restart the app to discover optimal functionality. This is far from ideal, and undoubtedly inhibits your ability to place bets on the move.
Other Products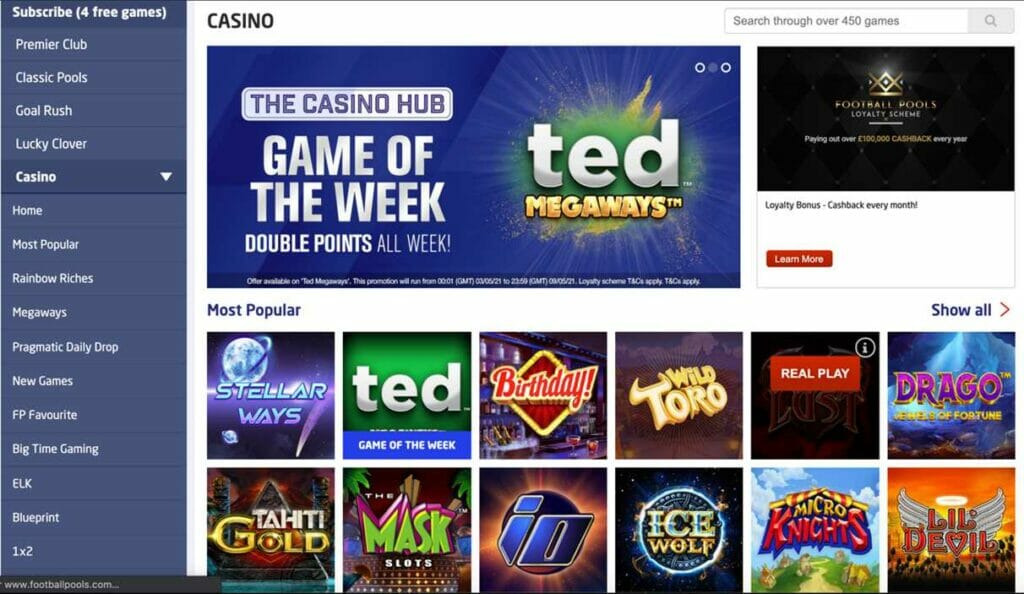 The Football Pools' casino offering is vast, with an endless number of games available for punters to enjoy, including Megaways products, daily drops, slots and table games.
As we noted earlier, the bookie's welcome offer includes 20 free spins on the Who Wants to Be a Millionaire slot game, while other casino promotions are offered.

Current promotions include Megaways Tuesday (free spins following a £30 deposit), Game of the Week (doubles the number of loyalty points) and Pragmatic Daily Drops & Wins (cash prizes and tournaments). Importantly, The Football Pools' casino promotions are constantly updated, ensuring a sense of freshness is retained.
Punters can also enjoy a comprehensive virtual sports offering, in which virtual football betting, racing and tennis events are accessible.
ThePuntersPage Final Say 3.4

/

5
We have to commend The Football Pools' functionality as a bookie. For traditionalists and fans of pool betting, The Football Pools is ideal – even if there are a few teething issues. A plethora of pool games are available to enjoy, and the bookie ensures that customers are rewarded justly.
However, if The Football Pools is going to attract the modern bettor, it has to improve its fundamentals. Crucially, the mobile app needs work, as does the bookie's customer support service. Subtle tweaks in these regards could see The Football Pools upsurge in popularity. Having said that, we're pretty sure they're content with the niche market they currently attract.
Further reading