In this guide we will be listing some of the biggest sports betting wins ever claimed by punters around the world. Get ready to feel inspired!
List of All-Time Biggest Sports Betting Wins
Looking for some inspiration as you place your next bet? Here's a list of some of the biggest sports payouts of all time:
25. Adrian Hayward – £25,000 on a £200 bet
In 2005, Liverpool fan Adrian Hayward bet £200 on midfielder Xabi Alonso to score from his own half at odds of 125-1. Alonso did not disappoint, and in 2006, when Liverpool played against Luton Town in the FA Cup's third round, he scored a goal on the opposite end of the field in the closing minutes. The goal resulted in Liverpool's 5-3 win, and Adrian Hayward gained a whopping £25,000, one of the biggest football betting wins ever.
"I've been a Liverpool supporter for 26 years and I noticed last season that Alonso attempted shooting from his own half quite a few times. I couldn't get it out of my head that he would eventually score like it," Adrian excitedly revealed.
"Since placing the bet, I've always had a vision in my mind that it would come when the opposing keeper came out for a corner in a cup game. I couldn't believe it when Luton got a corner and the keeper started to run upfield….I thought I was going to pass out. When it went in, I went crazy."
24. Anonymous punters – $76,000 on a $0.10 bet
Two unnamed punters in Saratoga Springs, USA, bet $0.10 on a superfecta, which refers to predicting the first four horses to come in and naming their exact order. As one can imagine, the odds are high – with the winner being an 88/1 outsider, making it an obvious choice for our biggest betting wins. Naturally, the punters' $76,000 (around £58,000) win came as a surprise after having correctly forecast the outcome.
23. Tayla Polia – $105,000 on a $5 bet
Tayla Polia successfully won on 20,000-to-1 odds for a 15-leg parlay when betting on the NFL, with minimal previous betting experience. In fact, Tayla claims she had only placed one bet prior to her infamous win! Her picks were Vikings -5, Falcons +3, Texans +1, Chiefs -8, Redskins +1, Patriots -14, Cardinals -4, Giants +5, Seahawks -14, Packers -3, Chargers -2, Steelers -6, Steelers/ Broncos over 45, Bengals -4, and Lions +3. Her accurate bets won her an exciting $105,000 (around £80,000) with William Hill, one of the biggest football betting wins.
22. Gerry Mcllroy – £100,000 on a £200 bet
In 2004, Gerry Mcllroy confidently bet that his son and golfer Rory Mcllroy, then aged 15, would win the British Open within ten years at odds of 500-1. Gerry's friends soon followed suit and also placed bets on Rory's golfing skills, which led to a payout of £100,000 to Gerry and £80,000 to his friends. Rory's success was achieved by two shots over Spain's Sergio Garcia and the U.S.' Rickie Fowler.
"Although we're facing heavy losses, we can't help but admire the foresight of Rory's dad and his pals a decade ago," said Ladbrokes spokeswoman Jessica Bridge.
Not just one of the biggest sports betting wins, but one of the most interesting too.
21. Nicholas Newlife – £101,840 on a £1,520 bet
When one thinks of the largest gambling payouts ever, Nicholas Newlife's story never fails to come to mind. After watching Roger Federer in 2003 Wimbledon, Nicholas predicted and bet on his future successes – and sure enough, Federer's seventh Wimbledon win took place almost a decade later. However, Newlife passed away in 2009 and never got to enjoy one of the biggest ever betting wins, which was instead donated towards poverty charity Oxfam, just like all of his belongings.
20. Peter Edwards – £125,000 on a £50 bet
Harry Wilson became a successful football player at the tender age of 16. Just 15 years prior, his grandfather, 62-year-old Peter Edwards, foresaw the unforeseeable and bet that his grandson would eventually represent Wales as a professional footballer. Wilson sure didn't let his grandfather down, who retired happily upon his grandson's win. One of the biggest betting wins, and one of the most inspiring.
19. Mick Gibbs – £157,000 on a £2.50 bet
Back in 1999, Mick Gibbs forecast nine football games across Europe and was awarded an incredible £157,000 upon winning the accumulator bet. Despite this figure being an impressive one, Gibbs' future win would still manage to top it! Keep reading to find out more…
18. Richard Hopkins – £165,000 on several bets
When Richard Hopkins of Peterborough took his son Evan go-kart racing in 1998, he could not help but notice go-kart driver Lewis Hamilton's impressive skills. He proceeded to place several bets on him, starting with a £200 bet on Hamilton winning a Grand Prix by the age of 23 at odds 300. He then placed a bet of £100 on Hamilton winning the World Championship by the age of 25 at odds 500, and an additional £50 on both the predictions to take place at odds 1,500. A decade later, Hamilton won his first Formula 1 World Championship and Hopkins earned an astounding £165,000.
17. Vegas Dave – $200,000 on a $20,000 bet
Dave Oancea, a renowned gambler from Las Vegas, enjoyed a record month in November 2015 due to being responsible for two of the biggest betting triumphs in sports gambling. One of the two took place at UFC 193, where Oancea successfully bet on Holly Holm beating Ronda Rousey on 11-1 odds and won $200,000 (just over £150,000).
16. Anonymous punter – $250,000 on a $8,500 bet
An unnamed MGM Resorts sports book bettor enjoyed one victorious NFL weekend in 2017 after hitting on five legs of an $8,500 parlay. The Detroit Lions accounted for the fifth leg, beating the New York Giants with a score of 24-10. With a final $250,000 (around £191,000) awarded, it is safe to say that this bettor must have felt triumphant having earned one of the biggest ever betting wins.
15. Anonymous punter – £200,000 on a £100 bet
Leicester City winning the Premier League in 2015 is a story that won't easily be forgotten. Backing a winner of a big tournament is regularly one of the most popular football betting markets. But there were few backing Leicester at the time. The 5000/1 underdogs shocked many with their victory, but one anonymous punter sure had his day made, obtaining one of the biggest football betting wins of all time at £200,000! This also happened to be a lucky bet for Leigh Herbert who had placed a mere £5 on the same odds while on holiday and won a hefty £20,600 thanks to the Foxes.
14. Anonymous punter – $305,375 on a $5 bet
2016 was a lucky year for one Las Vegas resident at William Hill sportsbook, which requires a $5 weekly entry free for participation. The bettor correctly selected 12 basketball winners on a parlay card throughout one weekend and chose two NBA winners, being the Detroit Pistons and the Golden State Warriors. The total figure amounted to $305,375 (around £233,000).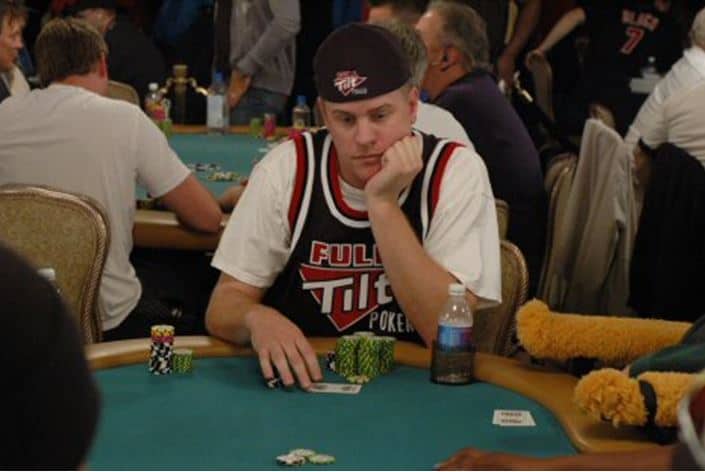 13. Erick Lindgren – $340,000 on a bet placed by other professional players
Erick Lindgren was not new to the world of professional poker, but this win certainly outdid his previous! A few professional players once bet that Lindgren would not manage to play four straight rounds of golf in one day in Las Vegas' boiling climate while carrying his own clubs and shooting below a 100 in each round from the pro tees. They were mistaken, leading to one of biggest betting wins in history. Amazingly, Lindgren succeeded and won $340,000 (about £259,000).
12. Anonymous punter – $375,000 on a $500 bet
An anonymous bettor placed two bets at the MGM sports book in Las Vegas before the 2011 MLB season. He initially wagered $250 on the St. Louis Cardinals winning the National League pennant, and then bet an additional $250 on them winning the World Series later in the year. His hopes were satisfied when St. Louis did indeed win, and the bettor enjoyed a total of $375,000 (about £286, 000).
11. Phil Mickelson – $560,000 on a $20,000 bet
Professional golfer Phil Mickelson had high hopes for the Baltimore Ravens at the Super Bowl, even before the 2000 NFL season. After observing Baltimore's 6-2 success in the previous season, Mickelson formed a betting syndicate and bet $20,000 at 22/1 odds, earning $560,000 (about £426,000) in return! What's so amazing about this example of biggest sports betting wins is that it was a achieved without the use of an accumulator.
10. Mick Gibbs – £500,000 on a £0.30 bet
Mick Gibbs, a roofer by profession, has found himself on our list of the biggest betting success stories for the second time! Just two years after his first big win, Gibbs chose to put down 30 pence on a 15-leg accumulator bet with astonishing odds of 1,666,666/1. Gibbs predicted the first 14 games correctly, with the final Champions League match between Bayern Munich and Valencia ending in penalties, and Bayern Munich's goalkeeper making a move that won Gibbs a substantial figure!
9. Darren Yates' Magnificent Seven – £550,000 on a £62 bet
Darren Yates placed a fantastic bet in 1996 that would see him become a big name in horse racing. The great win, which is widely referred to as the 'magnificent seven', took place when Yates successfully wagered £62 on jockey Frankie Dettorri winning all seven of his rides on that day at Ascot.
8. Anonymous punter – £585,000 on an £0.80 bet
In November 2011, an anonymous punter from Malta bet 80 pence through William Hill on a 19-match accumulator with odds of 683,738/1. All predictions were correct and ended with Liverpool scoring a winning goal in the last few minutes before closing, beating Chelsea and earning this punter one of the biggest ever betting wins. .
7. Charles Barkley – $800,000 on a $500,000 bet
NBA Champion Charles Barkley boasts an easily remembered name in sports betting. He was not new to big wins, but the greatest of all took place when he wagered on the New England Patriots winning the Super Bowl – which was thought to be unlikely at that time, given that they were a 14-point underdog against the St. Louis Rams in 2002. Upon their win, which would be Tom Brady's first of many, Barkley gained a monumental $800,000 (about £608,000).
6. James Adducci – $1.2 million on an $85,000 bet
James Adducci's bet on Tiger Woods is one that will go down in history as a bold, yet highly rewarding move. Woods' 2019 Masters Victory was his first key championship win in 11 years, and choosing to bet $85,000 on a golfer who had not won a championship in that long sounds incredibly risky to most of us! Adducci certainly knew what he was doing, though – as his brave initiative paid off, bringing in $1.2 million (about £760,000) and breaking William Hill's record for the largest ever individual payout on a futures bet, as well as being one of the most historic betting moments in general.
You should also check the Cheltenham betting odds and see if it works for you.
5. Mike Futter – £800,000 on betting his own horse
Mike Futter's name isn't unheard of in the betting industry – but this one major win increased his recognition tenfold. In 2003, Futter gambled his own horse: Monty's Pass. The horse did not let him down, and Fetter was awarded £348,000 for being Monty's Pass owner, and then over an additional £400,000 for successfully betting on his horse from 40/1 down to 16/1 odds.
"I've had some fantastic bets and fantastic days but this is one I will never forget," said a delighted Futter.
4. Fred Craggs – £1 million on a £0.50 bet
Fred Craggs, a 60-year-old fertiliser salesman from Yorkshire, one day placed a bet that would change his life and allow him to be remembered as one of the most renowned names in sports betting. Craggs wagered a mere 50 pence on an eight-fold accumulator, making smart choices on horse races around the globe, and received a whopping seven-figure amount in return. Funnily enough, Craggs wasn't even aware of his win until returning to the bookmaker for another hand at gambling – and he would have earned a total of £1.4 million, if only he had chosen a no-limit bet. Still not too bad of a prize, right?
3. Steve Whiteley – £1.5 million on a £2 bet
Steve Whiteley, a 61-year-old heating engineer, enjoyed a truly successful bet in 2011, when he made use of a free ticket to enjoy the horse races and placed a £2 bet. Whiteley correctly chose the six horses on that day, one of which had lost in all of its 28 races in the past, and benefited from £1.5 million.
2. Vegas Dave – $2.5 million on a $140,000 bet
Do you remember when we wrote of Dave Oancea and his record-breaking 2015? His second successful win happened one week into the 2015 MLB season, when Oancea bet on the Kansas City Royals to win the World Series at 30/1 odds. His $140,000 bet required quite the effort, after having to be split across 15 different casinos as they wouldn't take on his liability. In fact, many presumed him crazy for the risk he was about to take but it ultimately paid off, with the Kansas City Royals defeating the New York Mets. Oancea enjoyed a $2.5 million prize (about £1.9 million).
1. Billy Walters – a successful $3.5 million bet
We're concluding our list with Billy Walters and his massive win seen in 2010, when the New Orleans Saints played against the Indianapolis Colts at the Super Bowl XLIV. Walters began his journey in gambling through playing poker, prior to taking on sports betting. He has successfully earned gigantic figures and is known for his record-breaking winning streak, which verifies that sports betting is not simply for the fortunate, but does indeed require skill. After some careful consideration, Walter placed a successful $3.5 million (about £2.7 million) bet on the New Orleans Saints, who were also the underdogs. They won their first ever Super Bowl against the Colts by 31-17. Not just one of the biggest sports betting wins, but one of the biggest ever betting wins period.
Best Betting Sites With the Highest Maximum Payout in 2023
Maximum payout £2,000,000
Maximum deposit £100,000
One of the most trusted sites re: payments
18+. Min deposit requirement. Free Bets are paid as Bet Credits and are available for use upon settlement of qualifying bets. Min odds, bet and payment method exclusions apply. Returns exclude Bet Credits stake. Time limits and
Full T&Cs apply
. Bet Responsibly.
BeGambleAware.org
#ad
Maximum payout £2,000,000
Maximum deposit £100,000
Responsible for several huge payouts
18+. New customers using Promo code R30 only. Min £10 stake, min odds ½, free bets paid as 3x £10, free bets credited after settlement of first qualifying bet, free bets will expire 30 days after the qualifying bet is placed, payment methods/player/country restrictions apply.
Full T&Cs apply
. Bet Responsibly.
BeGambleAware.org
#ad
Maximum payout £1,000,000
Maximum deposit £1,000,000
Broad variety of payment options
Bet £5 Get £20 in Free Bets
18+ New UK+IRE Customers only. Certain deposit methods & bet types excl. Min first 5 bet within 14 days of account reg at min odds 1/2 = 4x 5 free bets. Free bets valid for 7 days, stake not returned. No cashout, restrictions +
Full T&Cs apply
. Bet Responsibly.
BeGambleAware.org
#ad
Maximum payout £1,000,000
Maximum deposit £20,000
Easy registration and banking process
18+ New UK customers only. Register using the promo code WELCOME40, deposit and place first bet of £10+ on Sports (cumulative Evens+) within 7 days of registration. First bet must be on Sports. £30 in Free Bets and £10 in Free Spins (50x20p) credited within 10 hours of bet settlement. Free Bet stakes are not included in any returns. Bonuses have a 7-day expiry. Payment restrictions apply. SMS verification and/or Proof of I.D and address may be required.
Full T&Cs apply
. Bet Responsibly.
BeGambleAware.org
#ad
Maximum Payout £1,000,000
No set maximum deposit
World-class reputation for payouts and beyond
18+ New UK+ ROI Customers only. Deposit & Bet min £5 as first bet at minimum odds 1/2 to qualify for 1x £20 Free Bet. Certain deposit methods and bet types excluded. Free bet valid for 7 days, stake not returned. Restrictions apply.
Full T&Cs apply
. Bet Responsibly.
BeGambleAware.org
#ad
Maximum payout £1,000,000
Maximum deposit £10,000
High limits globally for all customers
£40 Money Back Offer + £10 Casino Bonus
18+ New customers only. Min deposit £10. Money back as bonus if first bet loses. Wagering requirements: sportsbook 3x at min. odds of 1.40 (2/5), casino 50x. Unless forfeited the sportsbook bonus must be wagered before using the casino bonus. Bonus expires 7 days after opt-in. No deposit required for NI customers. Call 08081699314 to claim.
Full T&Cs apply
. Bet Responsibly.
BeGambleAware.org
#ad
Maximum payout £1,000,000
Maximum deposit £5000 per day
Underrated by many for banking and payouts
0% Commission on all sports for 100 days!
18+ New customers only. 0% commission on all exchange sports for 100 days. Promo code 0COMM100 must be entered during registration. Offer only available to users who deposit via debit card. Standard 2% commission rate applies on 101st day. Not available to API, RDT or trading software customers.
Full T&Cs Apply
. Bet Responsibly.
BeGambleAware.org
#ad
Maximum payout £500,000
Maximum deposit £5000
Top limits available from PayPal and NETELLER
18+ New customers only. Opt in, bet £10  on any football market at minimum 1/1 odds. No cash out. Get £40 in Free Bets on selected events. Free Bets expire in 7 days. Debit card / Apple Pay payments only.
Full T&Cs apply
. Bet Responsibly.
BeGambleAware.org
#ad
Maximum payout £450,000
No set maximum deposit
Small min. deposit of £5 for most options
Bet £10 Get £10 + £10 Casino Bonus
18+ New UK customers (Excluding NI) only. £20 in FREE Bets (FB) as £10 in sports bets & a £10 casino bonus (CB). Min Deposit £10. Min stake £10. Min odds Evs. FB applied on 1st settlement of any qualifying bet. FB 7-day expiry. 1 FB offer per customer, household & IP address only. Account & Payment restrictions. 14 days to accept £10 CB, then active for 3 days. CB 5x wagering & max redeemable £100. Game restrictions apply. Cashed out/Free Bets won't apply. 30 days to qualify.
Full T&Cs apply
. Bet Responsibly.
BeGambleAware.org
#ad
Maximum payout £100,000
No set maximum deposit
One of the best high-deposit bookies
£30 Matched Free Bet if your first Acca loses + 50 Bonus Spins
18+ Min Deposit: £5. Maximum Free Bet: £30. First bet on a Football or Horse Racing multiple with 3+ selections. Overall odds: 3.00 (2/1) or higher. Free Bets available upon settlement of the qualifying bet. This is offer is valid for 7 days from your new account being registered. 50 Bonus Spins credited on placement of qualifying Acca bet.50x bonus wagering applies as do weighting requirements, bonus Spins only available on selected games and expires 7 days after being awarded. Debit card deposits only (exclusions apply).
Full T&Cs apply
. Bet Responsibly.
BeGambleAware.org
#ad
Maximum payout £100,000
Maximum deposit £50,000
Skrill 1-Tap, paysafecard, Trustly, NETELLER, Apple Pay available
50% up to £50 Welcome Bonus
18+ New bettors get 50% of deposit up to £50; Code: PLAY10; 1x per household; Min deposit £15 (no Skrill/Neteller); Wager deposit & bonus 8x; Max qualifying bet stake=initial bonus; valid 60 days; Min odds 4/5 singles, 2/5 per acca leg; Some bet types excluded;
Full T&Cs apply
. Bet Responsibly.
BeGambleAware.org
#ad
Maximum payout £40,000
Maximum deposit £10,000
Broad variety of accepted debit cards
Get 50% Back as a Free Bet up to £35 Plus 10 Free Spins!
18+ We've enhanced our Sportsbook Welcome Offer, giving new UK customers the opportunity to get 50% back as a Free Bet up to £35 plus 10 Free Spins! New UK Customers Only |
Full T&Cs apply
. Bet Responsibly.
BeGambleAware.org
#ad
Maximum payout £20,000
Maximum deposit £5000 via NETELLER
Broadly available bet boosts
£10 + up to 100 Free Spins
18+ New customers only from 11.08.2021. £10 bet required to quality within 30 days of registration, Maximum £10 in Free Bets and up to 100 Free Spins. Free Bets valid for 3 days.
Full T&Cs apply
. Bet Responsibly.
BeGambleAware.org
#ad
Maximum payout £7,000
No set maximum deposit
Enormous selection of payment options
18+ New UK players only | Min deposit req. £10 | Certain deposit methods excluded | Place 1 sport bet (3+ selections) | Excl Horse Racing | Min stake £10 | Max stake £20 | Min Odds 2/1 (3.0) | Max FreeBet £20 for football only | FreeBet valid for 7 days | FreeBet stake not returned |
Full T&Cs apply
. Bet Responsibly.
BeGambleAware.org
#ad
Maximum payout £7,000
No set maximum deposit
No additional fees from operator
Up to £50 in Free Bets, 20 Free Spins & £10 Casino Bonus
18+ New players only | Available until 23:59 GMT 31.12.2025 Each challenge has its own TCs. Eligible Bets must be placed for each respective Challenge during the Promotional Period including the following: ACCA, Football, In-Play, and Casino. Each challenge has its own set of TCs and can only be completed 1x. Available to claim: 20 Free Spins, £10 Free Bet, 50% Back up Free Bet up to £20, £10 Casino Bonus when you wager £50+. If all are completed you will receive Max £20 Free Bet to be used on any sport.
Full T&Cs apply
. Bet Responsibly.
BeGambleAware.org
#ad
Biggest Betting Wins of All Time
Sports betting has come a long way – from the days when horse races were reserved for those of an upper social class, to the unending list of online bookies found nowadays. In fact, the first online betting platforms only originated towards the end of the 90s – and look at the many options now!
Not only is sports betting an incredibly exciting hobby to take up, but the chances of earning a substantial amount of money make it all the more enjoyable! Moreover, sports is often regarded as one of the most accessible types of betting, as anyone willing to expand on their passion for sports may give it a go. You can bet stakes as low as a few pence to much higher numbers. A punter once placed around £1,000,000 on Floyd Mayweather to beat Connor McGregor in 2017!
Which Are The Bookies With the Biggest Betting Wins?
Bookmakers that consistently provide large payouts don't publicly disclose these instances each and every time they occur; we rely on media-reported instances, such as the ones listed below.
1XBet – The Biggest Betting Win In The History Of Kazakhstan
We've seen some monster accumulators already but few are as impressive as the 44 event accumulator win from Almaty resident Mukhazhan. Bets were placed on a number of European football matches and with every one a winner he scooped an astounding 876,682,300 tenge from 100 thousand tenge, which translates to around a $2,000,000 win from only $238. Just as amazing is that he intends to spend the money from one of the biggest football betting wins on charity, as his wife runs a homeless animal charity from their home city of Almaty.
BetVictor – Biggest Betting Win With An Extra Boost
For anyone reading this who may doubt the power of a bet boost promotion, consider the extra 15 percent added to the winner of a 20-leg accumulator from BetVictor leading to an overall winning pot of £223,000. And one of the biggest football betting wins cost merely £5 to an anonymous winner, whose monster football focused acca came out a winner following Tottenham's 2-1 win over Burnley back in 2016. We can guarantee that was not your regular Premier League match up for that punter.
Coral – Trio Of Massive Accumulator Examples
For Coral we have got three examples of the biggest ever betting wins as their news section does a better job than most of keeping track of the most significant sporting wins. We saw in 2017 and 2018, for instance, someone from Leicester win £823,000 from a £19 accumulator, a customer from Newcastle win £300,000 on a Lucky 63 accumulator (which included a 150/1 winner selection) and another win £250,000 on a £30 Heinz at Sandown. Great to see a bookie embrace their biggest winners, and amazing that all three were due to a horse racing accumulator. In addition to providing some of the largest sports betting payouts, Coral is also certainly one of the best horse racing betting sites.
What Do The Biggest Betting Win Examples Mean For Me?
In terms of who has the potential to offer the most profitable bets, historical examples don't matter all that much. What is relevant is twofold. Firstly, that they have a high enough payout limit and secondly, are trustworthy with their payouts.
Just because an operator doesn't appear on our list, for instance, doesn't mean they don't have the potential. During our research, nothing really came up for bet365. This isn't too unusual – most big wins don't make the paper unless they have an especially interesting hook to keep readers interested. But we do know that bet365 have both extremely high deposit limits and one of the best reputations for security and fairness of any betting site.
This means that even though they don't appear on our list with bet365 biggest wins in the same way William Hill do, we would view both equally excellent options. There is no absolute and comprehensive list of bookies with the biggest ever betting wins, because most are private, instead our list of top bookmakers is largely based on maximum payout, alongside trustworthiness.
There are other factors we considered too, for instance many betting sites will have a maximum bet amount based on the liquidity of the market – being generous in this regard was also important in getting a place on our list.
Payment Methods With the Biggest Betting Wins
So, we now know that bookies which have recorded the largest sports betting payouts are tied to a couple of key factors, with none of them being more important than maximum payout. And we've provided a list based on this for that exact reason.
However, there's an additional consideration because our list of maximum payouts takes the most you can get out of any payment method. It does not account for specific payment method limits and some bookmakers have different maximum payouts for different payment methods.
Typically, if there is a distinction made, your most popular payment options such a debit card, would have the highest limits, while things like e-wallets and prepaid cards might be lower. It's also important to note that payment methods are also often distinguished by maximum deposits too.
The Impact Of Promotions On Maximum Payouts
Sometimes, a promotion will cap the maximum payouts which can be won while using that bonus.
A typical example of this would be with a no deposit betting offer, to prevent exploitation of the generosity of the operator. So, for instance, you may get £5 to bet on any sport, but winnings from that bet to be capped at £200. Other free bets, which do require a deposit, may also receive similar treatment. The only way to know for sure is to check your promotional terms and conditions.
Maximum Casino Payouts
While our focus here is of course on the biggest sports betting wins, we know that many of our readers are interested in both sportsbook and the best casino sites the UK has to offer.
And, if they are reading this article about biggest ever betting wins, they are probably interested in how the world of casinos fits into all of this.
Well, they can be a little different because casino payout limits actually tend to be based more on the individual game, especially when we are talking about the best betting slots, rather than a general rule across the site. A casino game will often have an advertised maximum jackpot, for instance In the case of the finest poker sites, it comes down to what is played and the limits of the table. As that is more of a peer-to-peer experience, with the operator providing a platform for play.
Things To Keep In Mind When Aiming for Big Betting Wins
The stories we have listed above are not only amazing to read about, but also show us that it's possible for a normal person, through their own sheer luck and/or sports prediction prowess, to achieve something truly incredible.
However, being inspired doesn't, unfortunately, automatically translate into big wins. That said, if you are aiming high, there's a few things that you can keep in mind to improve your chances.
Be realistic about your chances, always bet responsibly: This is most important of all. The fact is that no matter how smart your betting is, the odds are going to be against you. You do not get huge returns without huge odds (or an enormous stake) and you should never bet more than you can afford to lose. Focus on enjoying the ride and accept that losing is always a serious possibility in order to stay in control.
There's no point in going for odds higher than maximum payouts: Sometimes winnings can be so large they actually go beyond maximum payouts and if that is the case they will not provide additional value. This is especially important to keep in mind if you are using an accumulator. You could be adding extra legs that could lead to a losing bet which because of the maximum payout would not actually have netted you any more money!
Consider any additional restrictions and reputations: Things are generally simple in terms of keeping on top of the highest payout betting sites, most are pretty clear on that point. However, there could be additional restrictions to consider, for instance maximum bets on that market, if there are any restrictions on your account and, as we mentioned earlier, and if there are any promotional terms that limit upper payouts when using that bonus. Also consider the reputation of the betting site if you are using one not on our list, as we have personally checked the reputation of any we have recommended for top payouts.
If you do win big, expect security scrutiny: Even the best betting sites may require some additional checks for big payouts to verify your identity and to remove the possibility of the site being used for fraud or to launder money. In other words, before you celebrate, make sure to have your documents at the ready.
Choose your markets carefully: There is little doubt that when talking about the biggest ever betting wins luck is also a major factor even if you are the most tactical and studied punter out there. The odds simply require a big dose of luck on top. However, this does not mean that good betting strategy will not still have an impact on your chances, so make sure you bet as wisely as possible, pick the most opportune markets and the best sports to bet on, even if the odds end up still being very much against you.
Biggest Accumulator Betting Wins
There are essentially three ways the biggest betting sporting wins come to be.
The first possibility is that the stake to begin with was enormous, and thus any winnings would also, with any kind of reasonable betting odds, also be similarly massive.
The other possibility is that an amount was bet on an enormously unlikely (or so it seems at the time) single event, such as Leicester City winning the Premier League.
Most often though, as you will see from the many examples given in this article, come from accumulators, which means that they are the result of many bets all being successful to create such enormous odds and payouts.
This also means many of the biggest betting wins originated from small amounts. Even better, many operators offer great promotions for lengthy accumulators, providing even bigger winnings. Here's a final few monster acca examples to showcase exactly what we mean.
In 2017 an unnamed housewife (she preferred to remain anonymous) decided to get involved in her son and husband's passion of football and put on a £1 12 team accumulator. While it goes against normal strategic advice, we can't help be amazed that she managed to win one of the biggest football betting wins, indeed, one of the biggest sports betting wins of all time at £574,278, simply by picking the names of the teams she liked the sound of most. Could this be the greatest example of beginner's luck in all of gambling? It's certainly one of the biggest ever betting wins.
What a scene it must have been. Dean Clay had one more bet to win in his 14-fold accumulator, which would net him £92.000 from a mere £2 bet. And it all rode on a draw between West Brom vs Burnley. What would typically have been a rather pedestrian bet must have set his nerves on edge in 2015. Burnley got an early two goal lead, all but leaving his winnings in tatters before the Baggies made an incredible comeback to provide one of our favourite winner stories. Shows that every game, every result, matters to someone.
Betting Against Barcelona
In 2011, it would generally be wise to advise not to bet against Barcelona, who were comfortably among the finest teams in the world at that time. Someone clearly disagreed though putting them among nine other underdog predictions on a £2.50 accumulator. He must have a crystal ball for upsets, as he won £272,000 from Ladbrokes, one of the biggest sports betting wins in part thanks to a draw between Barcelona and Athletic Bilbao.
Betting Against Barcelona
In 2011, it would generally be wise to advise not to bet against Barcelona, who were comfortably among the finest teams in the world at that time. Someone clearly disagreed though putting them among nine other underdog predictions on a £2.50 accumulator. He must have a crystal ball for upsets, as he won £272,000 from Ladbrokes, one of the biggest sports betting wins in part thanks to a draw between Barcelona and Athletic Bilbao.
Biggest Betting Wins FAQs
Betting sites like Bet365, Paddy Power and William Hill offer a £2m maximum payout
Steve Whiteley, netting £1.5 million on a £2 bet ticket where he successfully guessed the six winning horses
An anonymous punter from Malta who bet 80p through William Hill on a 19-match accumulator to win £585k
Many of the biggest sports betting wins are without a doubt because of a large accumulator bet, however, many have been a result of a single high odds selection as well. Check out our list of examples and see for yourself.
Yes, certain promotions such as free bets may have their own limits on winnings. Be sure to check out the terms and conditions on the specific bonus for full details.
In addition to maximum payouts bookmaker may also have maximum bet limits depending on the liquidity of that sports market, or because of account restrictions. This could impact your maximum winnings.
Casino betting tends to have maximum payouts based on the individual game, put simply, it entirely depends on the specific bets in question.
ThePuntersPage Final Say
The biggest betting wins in history have come from many different sports, different kinds of bets, and even from a broad spectrum of often fascinating individual stories that accompany them. They aren't just interesting to learn about but also give us an important way of testing the upper limits of our best bookmakers. They also provide inspiration for bets of all sizes.
And while you can certainly improve your chances of winning big by utilising sound logic, strategy and betting tips, it's important to remember that these huge wins do come with appropriately large odds.
That doesn't mean you shouldn't shoot for the stars with that monster accumulator or back your favourite underdog to win the big one, all of that is a vital, thrilling part of online betting. However, we would say that every win, no matter the size is monumental. Even more so if you had fun. In fact, if we make enjoyment our betting priority, we can all be winners.