WWE is the number one Pro Wrestling, Sports Entertainment company, broadcast to more than 180 different countries and 800 million households every week. Its popularity is clear – an estimated 11 million fans follow the WWE in America alone. In this guide to WWE betting, we'll run through the best WWE betting sites, the Royal Rumble 2021 odds and WWE betting tips and strategies.
Is it Possible to Bet on WWE?
This is a fairly common and understandable question. Many people wonder how it's possible to bet on an event with a predetermined outcome. The truth is, the scripts and results of a WWE event are kept under wraps, and so bookies and punters won't know what's going to happen until it actually happens. Because of this, it's possible to bet on WWE in the same way that you can bet on sports like football, tennis and basketball.
Of course, because of the risk of insider information being spread, bookies do take precautions to minimise risk. Low maximum limits are set for WWE betting, but there's still plenty of value and decent profit to be made.
Best WWE Betting Sites – Top 6 Ranked
#1 888sport
#2 Betfair
#3 Paddy Power
#4 William Hill
#5 Unibet
#6 BetVictor
WWE Royal Rumble 2021
Of all the WWE events through the year, the Royal Rumble is arguably the most thrilling. Taking place in January, the Royal Rumble is based on a classic battle royal match, in which a group of wrestlers (usually 30) battle it out until only one remains. Wrestlers are eliminated once they are hurled over the top rope, with both feet touching the floor outside the ring. The winner is awarded with a spot in the blockbuster WrestleMania main event.
Renowned for its show-stopping action, this beloved extravaganza is one of WWE's most popular for viewers and punters alike. It has delivered some of WWE's most unforgettable moments in history, and the 2021 edition promises to be just as extraordinary. It's a really intriguing event to bet on – seeing the wrestler you've backed being flung around the ring is nail-biting, to say the least!
Latest Royal Rumble 2021 Odds
While it might be a while away, the bookies' Royal Rumble odds provide a rough idea of how things might play out. Below, we've listed the latest 2021 Royal Rumble odds on the prospective winner (courtesy of Betfair).
Men's 2021 Royal Rumble Odds
*Odds updated on 06/11/2020
Women's 2021 Royal Rumble
*Odds updated on 06/11/2020
Other Popular WWE Events
The WWE calendar is never short of entertainment. Weekly shows of RAW, NXT and Smackdown take place on a regular basis, although you won't always find betting markets for these events.
What you will find WWE betting markets on are the pay-per-view (PPV) shows, since these garner loads of attention from all across the world. Here are the top WWE events to bet on:
WrestleMania – March/April
Widely considered to the be the pinnacle of the WWE schedule, WrestleMania is packed with standout matchups, including a Championship match featuring the latest Royal Rumble winner. With so many matches to choose from, this event provides great opportunity to place a WWE betting accumulator. It is the longest-running professional wrestling event in history, and typically takes place between mid-March and mid-April.
SummerSlam – August
Dubbed as "The Biggest Party of the Summer", SummerSlam is regarded as the biggest PPV of the year after Wrestlemania. It delivers a series of epic showdowns between fighters from both the Raw and Smackdown brands in the month of August.
Money in the Bank – May/June
The WWE Money in the Bank PPV centres around the men's and women's ladder matches. Fighters compete to be the first to snatch a briefcase hanging high in the air containing a contract for a championship match. The winner is guaranteed a future world title shot, which they can cash in on within a year of claiming it in May or June.
Survivor Series – November
Taking place every November, Survivor Series is based around tag-team elimination matches between Raw and Smackdown stars. Unlike other events, punters bet on teams (Smackdown or Raw) rather than individuals, with each team typically having 4 or 5 wrestlers. Teams fight it out to determine which brand has earned bragging rights – making for compelling viewing.
TLC: Tables, Ladders & Chairs – Differs
A variation of the ladder match, the TLC event throws a further two weapons into the mix: tables and chairs. These matches are notorious for the high physical demands and nasty injuries that participants have to contend with, but we have to admit – it's great entertainment. Unlike the PPV events, TLC matches don't take place during the same month every year – it differs.
The fun doesn't end there though! Other notable events include Hell in a Cell, King of the Ring, the Elimination Chamber and Clash of Champions, which are all great spectacles to watch and punt on.
Which Are the Most Popular WWE Betting Markets?
When it comes to WWE betting markets, most bookies aren't going to offer you the extensive range of options that you'll find for other sports. WWE betting is still very much in its infancy, and as a result, most bookies will only offer straightforward markets, such as "Men's Royal Rumble Winner".
If you're looking for more prop bets, bookies like 888sport are excellent choices. On these sites, you'll be able to wager on the finer details, such as:
Method of decision: Will a fight be decided through a pin, submission, count out, knockout, disqualification or forfeit?
To retain title: Will the wrestler still hold their title at the end of the fight?
Fight duration: How long will the fight last?
Appearance bets: Which wrestler will appear 1st? Will a specific wrestler appear at all?
Elimination bets: Which wrestler will be eliminated first? Will a specific wrestler be eliminated at all?
To be disqualified: Will a wrestler be disqualified for breaking the rules?
Briefcase-related bets: These are bets related to Money in the Bank, such as when the briefcase contract will be cashed-in and whether it will be successful (see below screenshot).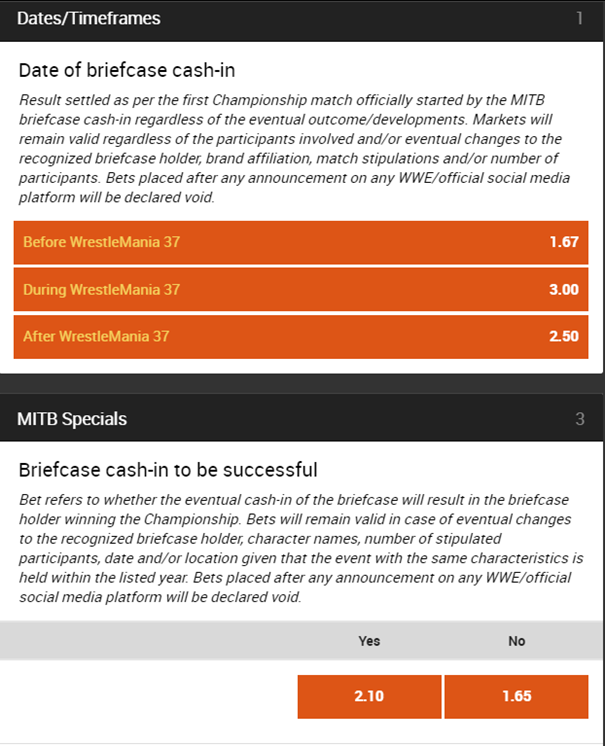 Tips & Strategies for WWE Betting
There are always things you can do to raise your betting game. While WWE might be different to other sports in the fact that it's scripted, this doesn't mean less strategy is required to land profits. The difference lies in how punters approach the betting process.
Using statistics to identify the different strengths and weaknesses between wrestlers isn't going to help you like it would in other sports. With WWE, curveballs can be thrown at any moment, and anything is possible. The producers are always looking to make the storylines exciting and engaging, and the key to success is predicting how that might be done. Following narratives and picking up on trends and patterns in the storytelling is a smart way to envision what will happen next.
Furthermore, doing research on what's going on behind the scenes could provide crucial info on WWE's storyline. For example, is there a contract dispute taking place with a specific wrestler? Might their time with the WWE be coming to a close? This could drop a huge hint on how the story will unfold.
Upcoming Sporting Events
WWE Betting FAQs
The Royal Rumble will take place in January 2021.

Yes – we've listed the latest Royal Rumble odds above.

Most bookies that offer WWE betting will only provide markets on the match or tournament winner, but on some bookies – like

888sport

 – more prop bets are available, including Method of Victory, Time of Victory, appearance bets and elimination bets.
ThePuntersPage Final Say
WWE betting adds an extra layer of excitement to a sport that already has plenty, thanks to a combination of jaw-dropping entertainment with unbelievable displays of athleticism. The maxim "information is power" rings truer than ever here, and punters should look out for key patterns and trends, as well as behind-the-scenes knowledge on wrestlers, to improve their chances of winning. Above all else, though, our final piece of advice would be: enjoy yourself! "WWE" is a type of Novelty Betting, you can known more about it on our article on Novelty Betting.