Sporting Index Review for 2023 – [Unbiased Spread Betting Analysis]
One of the top spread betting sites
Includes fixed odds markets
Huge amount of market variety for both

BY Ben Gibson
50% Cashback on Net Losses up to £500

Sporting Index PROMO CODE

Expires: No Expiry

CLAIM BONUS

New UK clients only. 50% cashback on cumulative net losses on qualifying spread bets placed and settled within 7 days of account opening. Fully, partially or reverse closed bets do not qualify. Max cashback £500. Full terms apply. Spread betting involves risk. Losses can exceed deposits. Always bet responsibly. 18+ Full T&Cs apply. BeGambleAware.org #ad
No Results Found
Sporting Index Quick Facts
Betting Options
Sportsbook
Support
Phone Social Media, Live Chat, Email
Headquarters
Sporting Index Ltd, Gateway House, Milverton Street, London, United Kingdom.
Deposit Methods
Withdrawal Methods
Pros:
Makes spread betting easy
Exceptional market variety on spread betting and fixed odds
World class promotional quality
Superb customer service
Exceptional security measures
Cons:
No live streaming
Limited banking options
Registration Process 5

/

5
Plenty of account versatility

About as straightforward as could be envisioned

Privacy policy, T&Cs and risk disclosure all well explained
Because Sporting Index specialises in a type of betting that is quite unfamiliar to a lot of people, it is understandable that the usual anxieties about registration are heightened. And while during our sign up we found it to be untypical, it was largely in a positive manner.
In other words, we found it easier than your average bookmaker to use. At the very least, it can be put amongst the elite In terms of useability. We will be taking you step by step through the signing up process so you can see exactly what you can expect from this surprisingly simple process.
Before we begin, do note If you're unfamiliar with the concept in general, then our exclusive and extensive guide on spread betting is a great learning tool to check out before deciding whether spread betting is right for you.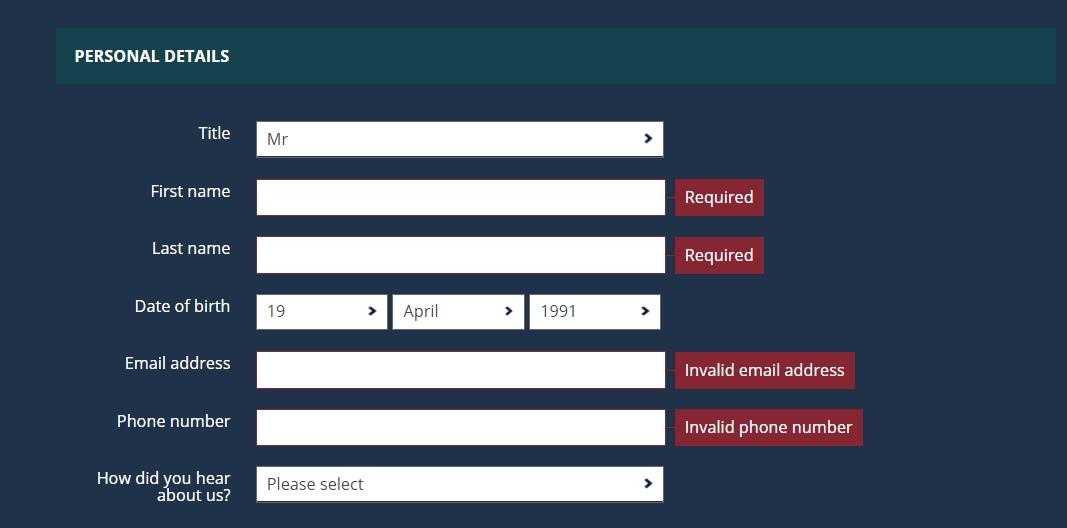 You begin by entering some simple, personal details. This includes your date of birth and full name. You will also need to enter an e-mail and phone address.
Make sure that these are ones you have regular access to as they will be your points of contact should Sporting Index need to do so for any reason. This is the case even if you decide to opt-out of receiving any offers, as the site may need to notify you of any security concerns.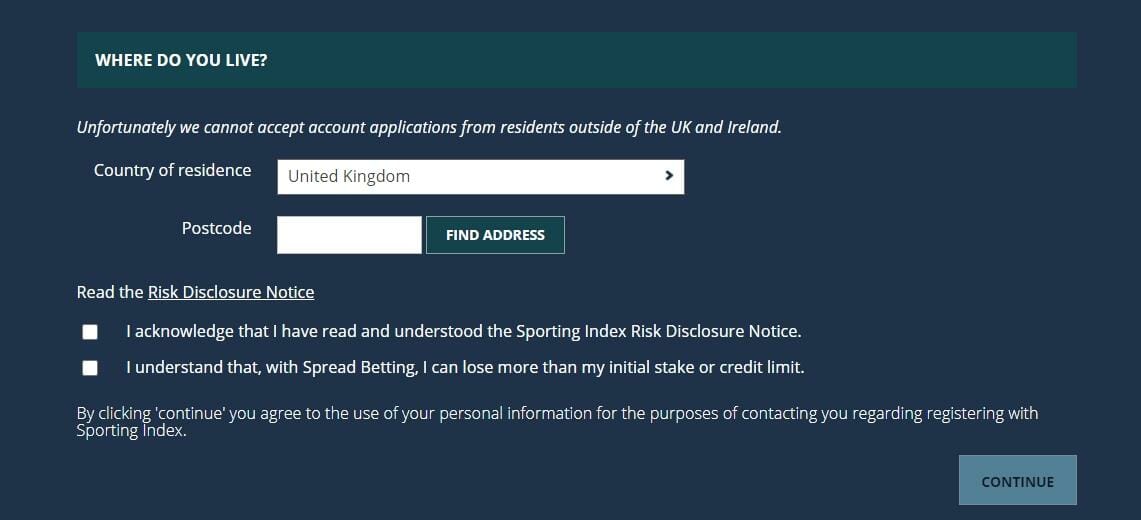 The last part of this section is to enter your home address. This can usually be done very simply by choosing an address from a drop list once you enter your postcode. It is here that Sporting Index makes clear the differences between this and a typical sportsbook.
First off, If you have not lived at your current address for more than three years, you will be asked to supply another address. This is because unlike other betting sites a credit account is an option, and we'll go into that more in the following section.
Vitally, is the risk disclosure notice. This explains the key differences in risk and we really can't recommend enough that you give it your full attention. To hammer this point home, you must tick the second box saying that you understand that spread betting means you can lose more than your initial stake or credit limit.
Make sure you understand all of this, and if you are happy to, hit continue.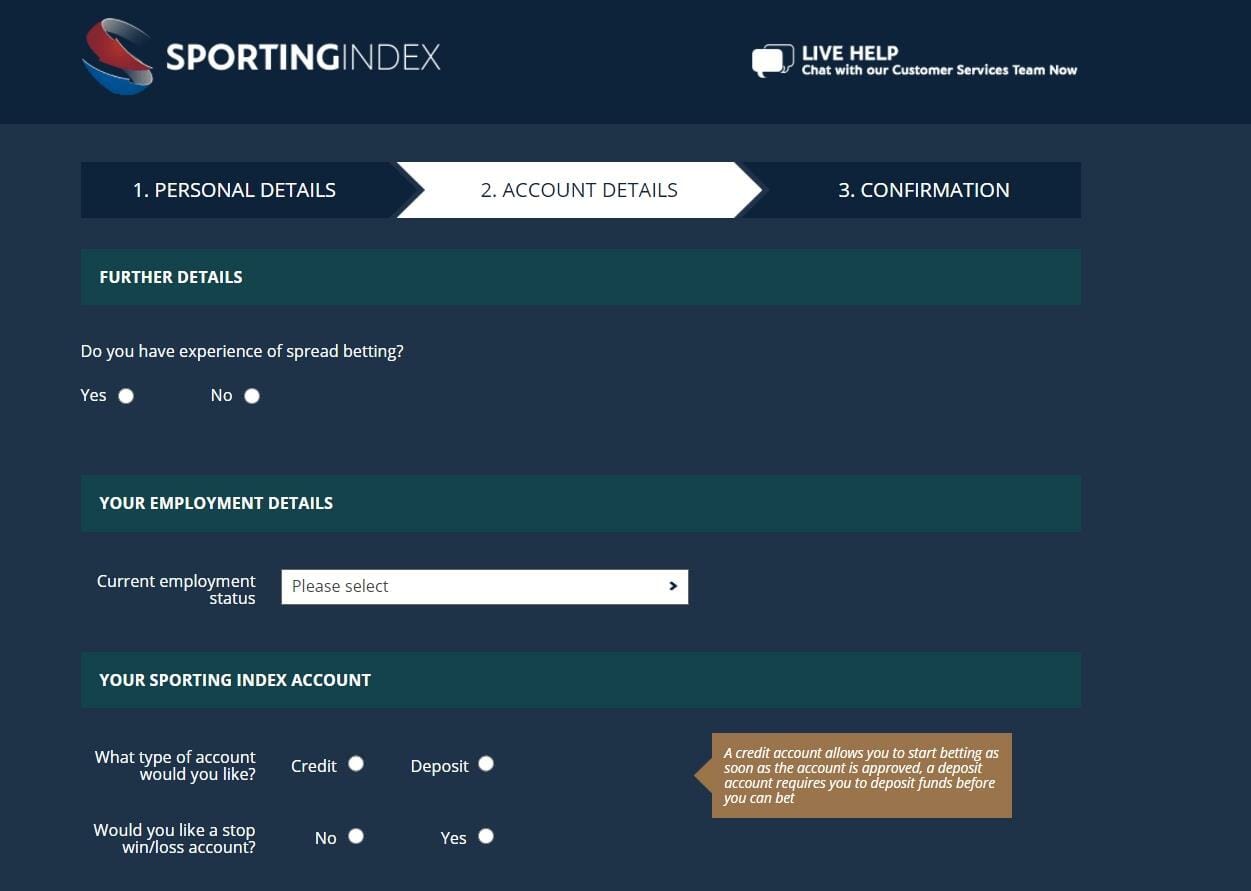 This is the first part of the account details. Now, they are going to ask you if you have any experience of spread betting before. If the answer is no then you can only use a debit, and not a credit account. We really appreciate the effort that has gone into this process to ensure, as best as possible, that anyone signing up understands the level of risk. You'll also be asked for your current employment status.
If you do have experience of spread betting before, you may choose to use a credit account if you wish. You can also choose a stop loss and no stop-loss account. A stop loss account allows for small minimum stakes and allows you to get a better idea of how much you are likely to both win or lose on each bet.
Ultimately, it's about providing more control and shows that Sporting Index is going to great lengths to ensure that you can create a betting experience that is safe and right for you.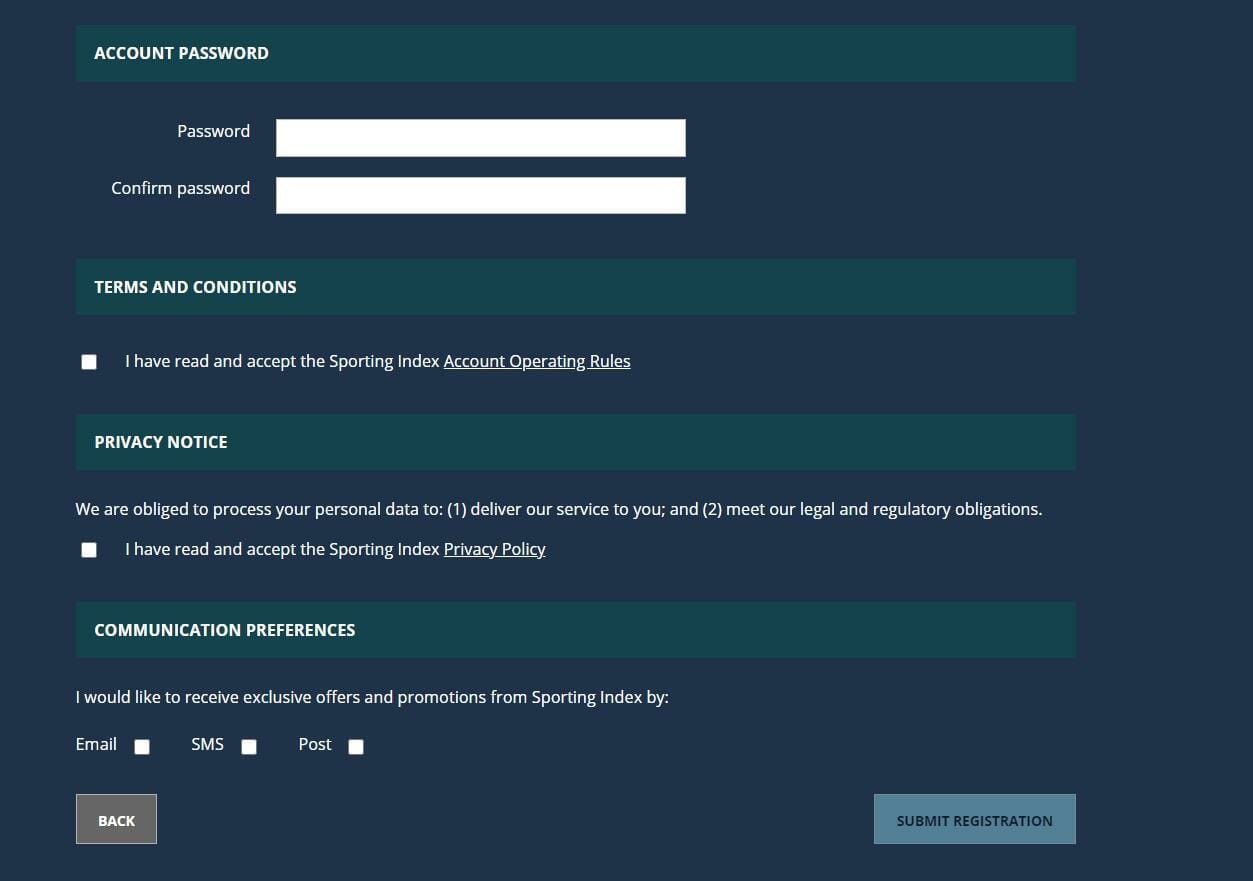 The second part of this is to pick a password. Check off the terms and conditions and privacy policy when you have read and agreed to them and select your communication preferences. Now you just need to hit the registration button, confirm your account and you are good to go.
Sporting Index does a brilliant job here. They keep things simple while ensuring that you have all the information and levels of transparency that you need considering the form of betting. The only slight criticism would be that live chat could be integrated a little more easily, but that's really it. In every other regard, this is a practically flawless registration process.
Deposits and Withdrawals Options 4

/

5
Debit card and bank transfer options available

Secure code password system for extra security

Banking process very well explained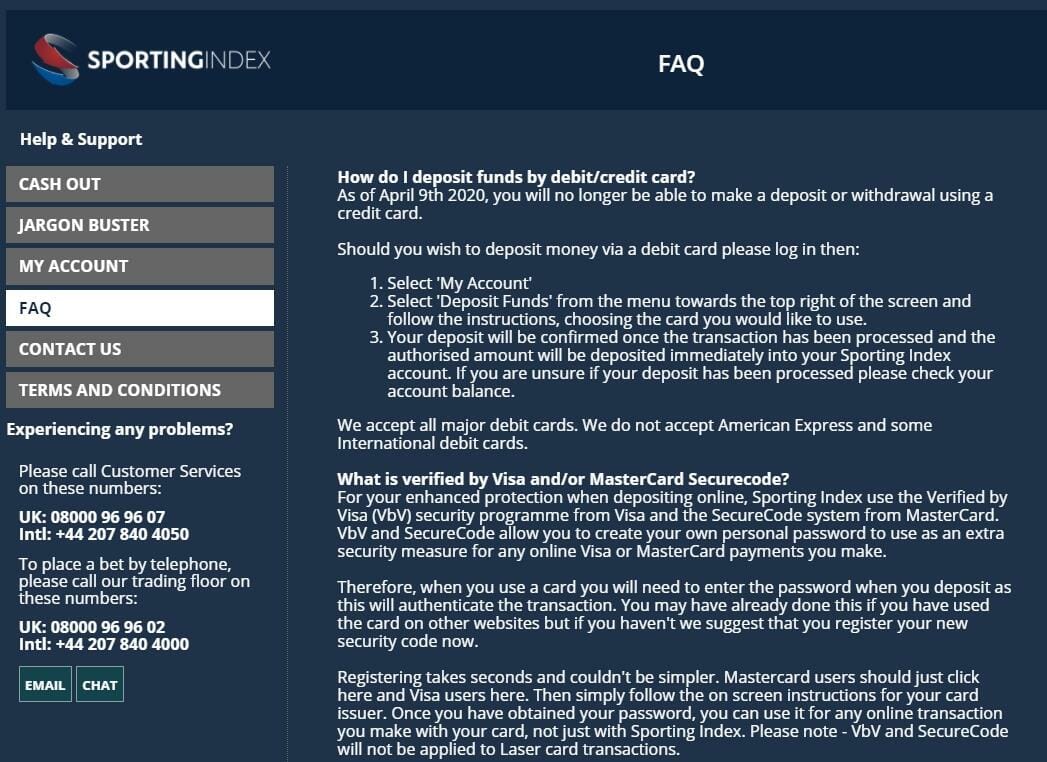 Banking is a little unusual as we should address the choice of credit or debit account before we get into actual options. It sounds complicated but is actually very simple.
A credit account means you set up an agreed credit limit to be settled weekly or fortnightly. Credit is allocated based on credit checks. Debit accounts work much the same way as any traditional bookmaker, you add funds to your account beforehand.
The reason, we must imagine, that a credit account is utilised for Sporting Index is that they are primarily a spread betting site, therefore, loss (and win) amounts are far less limited.
In fixed odds betting you know how much you can win or lose specifically before the event. Whereas a spread is a range of outcomes, and thus a range of potential wins or losses. And because of this having a credit account can be a practical option. Whether it is right for you though, is, of course, your decision.
| | | | | |
| --- | --- | --- | --- | --- |
| | £10 | £10,000 | 3-5 days | None |
| | £10 | £10,000 | 3-5 days | None |
| | £10 | £10,000 | 3-5 days | None |
| | | | | |
| --- | --- | --- | --- | --- |
| | £5 | £10,000 | Up to 5 days | None |
| | £5 | £10,000 | Up to 5 days | None |
| | £5 | £10,000 | 3-5 days | None |
In this regard, Sporting Index is more complicated than your typical bookmaker, but they are not in terms of payments and withdrawals. Your options consist of debit card and bank transfer. Usually, this would be a point of criticism, but it is a natural result of the increased level of security that comes with spread betting.
On this note, there is also additional security in the form of a secure code password system. They are also an FCA regulated organisation, meaning documentation may be needed to prove your identity.
According to customer service, deposits should take between 3-5 days, fees are not specific as they can depend on the users' bank. They also stated are none from the side of the operator, and this includes no excess fees for withdrawing. They also state, at the time of writing this Sporting Index review, that the minimum deposit is £10, and minimum withdrawal is £5. The maximum deposit is £10,000 in either direction.
The minimum stake can be as little as 5 pence, and maximums depend on your account. That minimum raises an important point. Spread betting has the potential to be riskier, but the risk is still controlled by you. With different account options and low minimums, you can ensure that you still keep your level of potential losses sensible and responsible.
The spread betting concept means that Sporting Index is more limited than many fixed-odds sportsbooks in banking options. Security takes precedence here, sometimes in the way of variety. But we understand those precautions being taken. In terms of what Sporting Index can control, they have done everything here to make things as easy as possible.
Welcome Offer 5

/

5
50% Cashback on Net Losses up to £500

Applies to qualifying spread bets placed and settled within 7 days of account creation

Utilised on a wide variety of markets
Considering its unique place in the world of sport betting you may have been worried that Sporting Index would not delve into the world of promotions. However, Sporting Index isn't just a sports spread betting site, they are aiming to be the sports spread betting site. The one everything thinks of when they consider the concept. As such they have gone all out with a 50% cashback on net losses up to £500 offer. It is a big number right off the bat, and we are fascinated to see how this fits in with the spread betting concept.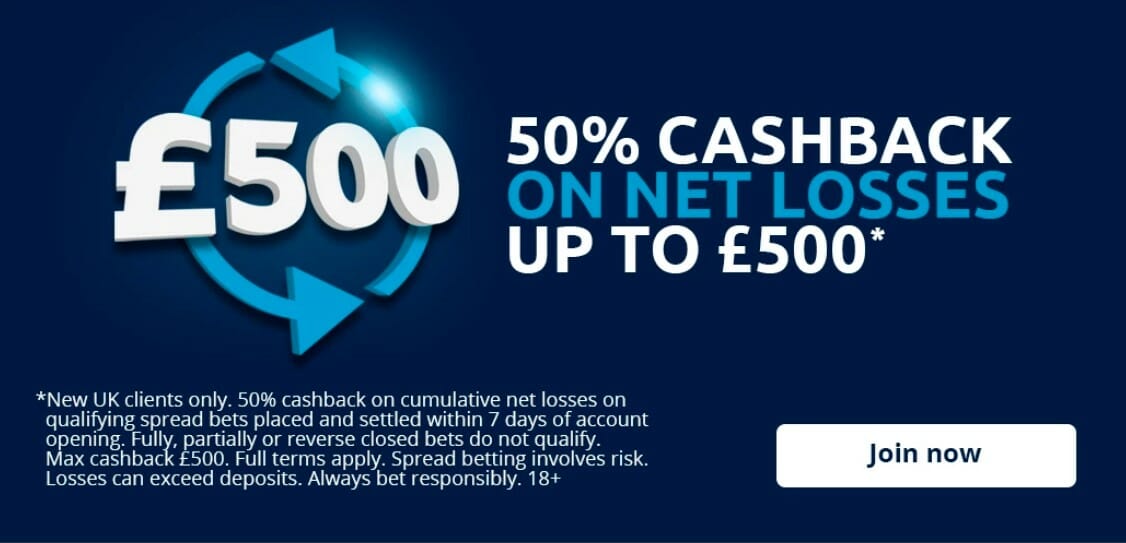 To get involved with this promotion the first thing you need to do is open an account. Once you have, place and settle qualifying spread bets to receive 50% cashback on cumulative net losses. And you get to bet this money across Basketball Match 100 Index, Cricket 100-50-0 Index, Darts Player 100 Index, Football Win Index, Football 100 Index, Rugby League Team Win Index and Tennis Match 100 Index markets. You have 7 days to do so.
Of course, with spread betting, you can also lose more than £500. And if you do, you'll be liable for any losses over that amount. This is a perfect introduction to how spread betting works, both risk and reward. Terms and conditions are fair. Other examples are all expected, like the one promotion per person rule for instance.
It's an undeniably generous amount, £500 is a hefty sum to hand out to new customers. We weren't sure this rating would be easy considering the lack of comparable examples. However, having examined it, we think even if spread betting welcome bonuses were a dime a dozen, this would still be towards the head of the pack.
Sportsbook Promotions 4

/

5
Bet £10 get £20 in free bets

Second available welcome bonus

A perfect showcase of betting variety
You'd be forgiven for assuming there would not be anything in terms of other traditional sportsbook promotions. Indeed, this is not a traditional sportsbook in many ways.
That said, we are happy to unveil one of Sporting Index' not so secret weapons, they have a bunch of fixed-odds markets as well. That is right, like Betfair are best known for their betting exchange but also have a wealth of traditional options, so does Sporting Index.
This is in its "Odds" section.
Not only that, but at the time of writing this Sporting Index review, they have a typical fixed-odds welcome bonus as well.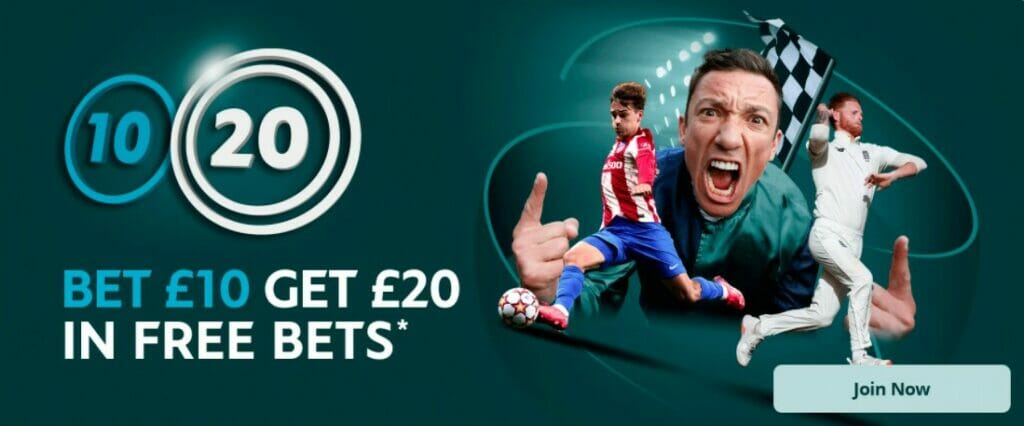 This is a 2 X £10 free bet, as a reward for settling a minimum £10 bet on the market of odds 1/1 or greater. Multiples have the same minimum odds. These must all be settled within 14 days of qualification and opening your account, so you do not want to let this one lie. Cashed out or voided bets do not count. Other than that qualification is about as simple and straightforward as it sounds.
As for the free bets, they are valid for 7 days and must be used in two separate £10 transactions on two separate markets. One free bet per person also applies and you cannot use alongside any other fixed odds offer. The first free bet will be £10, followed by a second £10 free bet 24 hours later.
Before we go on, we want to say that you should always check out the terms and conditions yourself. This is meant as an overview not a word by word retelling. And of course, they are subject to change as is every part of any promotion, as is the entire promotional page.
With that all said the value here is excellent. You are essentially getting double your betting value back to you, with reasonable caveats. Real, tangible value your average player can enjoy. Our only criticism is we would like more of this world-class promotional goodness. Still, we will take quality over quantity any day.
Key Terms:
*New clients only. Applies to first £10+bet at odds 2.00 (1/1) or greater. Qualifying bets to be placed within 14 dats of account opening. First £10 Free Bet will be issued once the qualifying bet settles. Second £10 Free Bet will be issued 24 hours later. Free Bets valid for 7 days and stake not refunded. Cashed out or voided bets do not qualify. Full TCs apply. begambleaware.org 18+
Pre-Match Offer 4.5

/

5
Both spread and fixed odds betting available

An astounding selection of markets

Spread betting includes cash-out feature

Decimal/Fractional Odds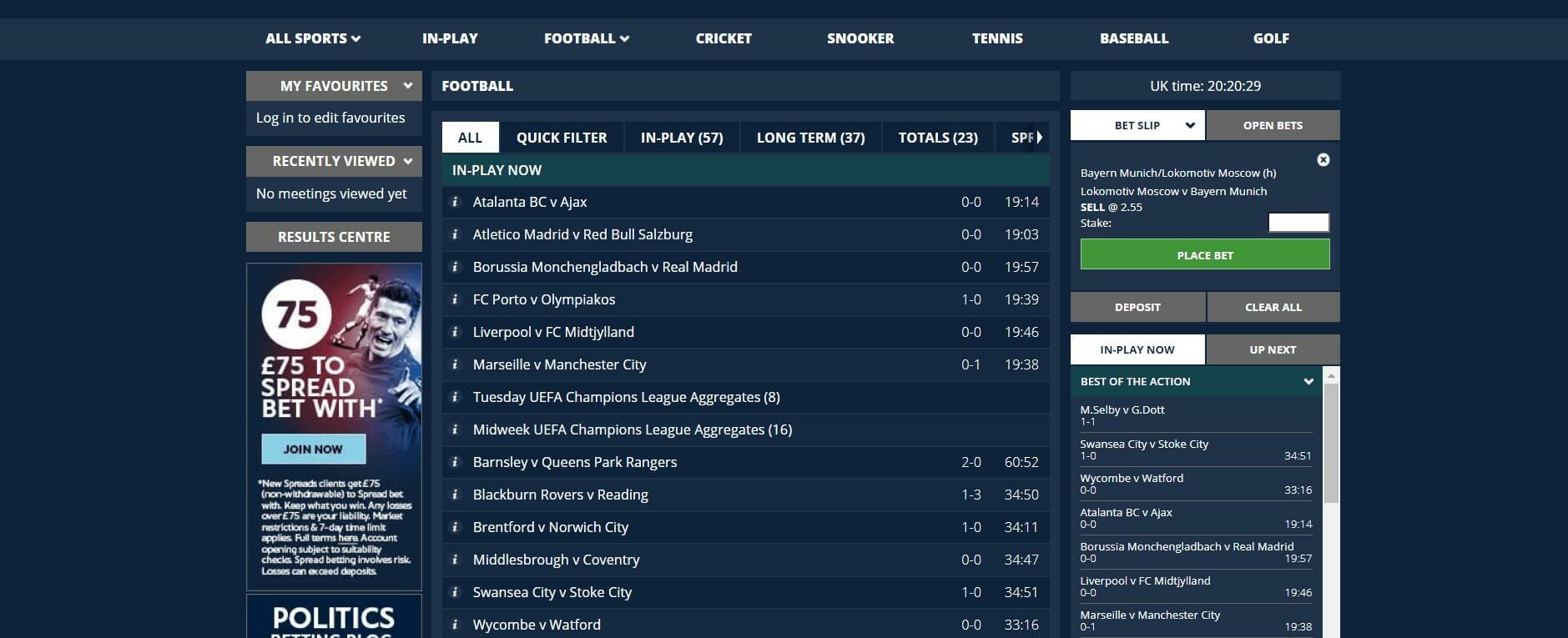 Sports
Of course, what is important to point out is not just that Sporting Index has a wide variety of sports, but it has them on both spread betting and fixed-odds markets.
Before we go into what they are, let's discuss the significance of that.
What it essentially means is that Sporting Index is not just an operator for spread betting fans. It means that those who like a variety of traditional and spread betting options can find a betting home here. It's a vast expansion of their potential userbase, and its importance should not be underestimated. It fundamentally changes who this site is for.
The sports selection appears to be the same for both. At the time of writing there's the following options: American Football, Athletics, Australian Rules, Baseball, Basketball, Bowls, Boxing, Cricket, Cycling, Darts, Football, Formula 1, Gaelic Football, Golf, Greyhounds, Handball, Horse Racing, Mixed Martial Arts, Pool, Rugby League, Rugby Union, Snooker, Table Tennis, Tennis and Volleyball.
In terms of sub-markets, they are naturally quite different for the spreads and odds section but are numerous for both. Dozens to hundreds depending on the popularity of the event. Some are similar, you can bet on total goals and corners for instance, on each. Minimum stakes are as little as five pence, especially important for spread betting where the points-based spread system can make even small stakes stack up. There's also a huge number of specials available, for regular events alongside things like the transfer market.
eSports
One of the rare examples of something missing from Sporting Index is the lack of esports. Considering the variety generally available, it is especially notable through its absence.
Other Specials (politics, weather, celebrities, etc.)
Once again, Sporting Index goes beyond expectations in their spread betting choice. For example, at the time of writing, there are markets on Strictly Come Dancing , with points for various places.
The way they have managed to twist untraditional markets to work in an interesting way for spread bettors is a level of creativity they really deserve a lot of credit for. Obviously, the amount of markets that are available depends on what is going on at that particular time of year.
Cashout & Bet Builder
Vital to keeping in control of your spread betting is the cash-out feature. Many people imagine spread betting to be a runaway train in some markets, but this ensures you always have your hand at the wheel. The way this works is very much the same as it does with fixed odds betting, only the results on cash out and how that affects your wins and losses is different.
Cash-out is widely available on Sporting Index and is a real game-changer from a tactical point of view. We would say it is even more vital for betting on the spread than most traditional markets. The only downside is that they are only available in full, with no partial or auto options, but other than that, pretty much perfect.
Bet Builder, as well as eSports, is another rare occurrence where Sporting Index is lacking in some form of content. Though, considering the enormity of the markets available, we cannot criticise them too harshly.
Live Offer 4.5

/

5
Massive selection of live markets

Graphics keep up with the action

Technically sound experience
Considering we have already praised the excellence of the cash-out feature, the fact that they have extensive live features may be something of a given.
But it is still well worth our praise and your consideration thanks to a massive amount of live coverage from sports all across the world. They take advantage of the number of sports, leagues and markets covered here.
You get graphics and information to help you along, including relevant info about the match if you have just tuned in. There's also little distinction between what is offered from the spread and fixed-odds betting, both are excellent. The only downside is a lack of live streaming, although it is clear every effort to make up for this has been made through the use of graphics.
Security 5

/

5
Vast array of responsible gaming measures

Regulated by the FCA and Gambling Commission

Extensive documentation process
We've talked about security throughout this article, it was inevitable considering the extra measures that are taken to allow for responsible spread betting.
To reiterate, you can choose between deposit and credit accounts. You can also choose a stop loss account to help keep in control of your bets. There are also additional security measures for card payments, as mentioned previously. The cash-out feature also goes helps you maintain control over your bets.
The site also explains the risks and how to mitigate them extremely well. It is rare, for instance, for any operator to advise that newcomers start with very low stakes to get the hang of things. In addition, there's the responsible gaming policy, which includes a test, gambling tracking, deposit limits and links to help. It Is clear that everything is being done to ensure that their users are gambling responsibly.
They have gone above and beyond. Naturally, some things are different than usual, owing to the different form of betting, but they have clearly carefully considered and worked around that fact to provide relevant measures to help anyone who needs it.
In terms of legitimacy, their spread is authorised and regulated by the Financial Conduct Authority, and their fixed odds betting is regulated by the UK Gambling Commission.
It is also worth pointing out that in terms of identification, this not only allows you to apply for credit and protects against fraud but also prevents minors from using the site. Also, regarding your personal information, encryption, alongside an extensive privacy policy is in place to ensure that is kept in safe hands. If you do have any complaints, there are several lines of customer service at your disposal, which we will go through in our subsequent section.
Service and Customer Support
Live chat available between 9am and 11pm

Phone lines available in and out the UK

Fast, helpful responses through all tested measures
Before we go into the human side of things, it is worth pointing out that Sporting Index does an exceptional job in terms of written content.
They clearly understand that spread betting might be confusing for a lot of people, and as such have one of the finest support sections in the written regard we have ever seen. In addition, there's also an extensive "learn spread betting" section alongside rules and terms. They truly go above and beyond here. That's also true of the effort put into ease of use in general, from the "my account" section to the general layout of the site.
And that's not all. In terms of practical help they have a phone line, social media, live chat and e-mail options. As far as we could gather, all these options are available between 9 am and 11 pm, so pretty extensive but not quite round the clock.
We contacted customer service several times throughout this review, and we're going to go through our experiences here so you can get an idea of what to expect.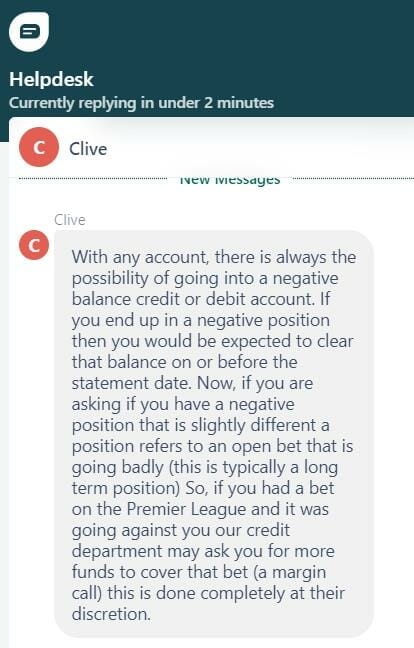 First off, we chatted to Clive on the live chat. Here is one screenshot of an answer he gave about the differences between debit and credit accounts. As you can see, it is very in-depth and extensive, it is typical of the kinds of excellent responses we got during this process. They were also near instant to respond during the many times we contacted them through this method.

Next, there's e-mail, which as you may expect takes a little longer. Here we asked a question about the odds part of the site and got a response in under half an hour. The response was friendly, helpful, and answered my question in great depth. Their e-mail address is enquiries@sportingidex.com.
This is a great option if you want a more permanent example of your interactions. You can also ask for a call back through this method, and their phone line is available in or outside of the UK.  You can even write to them on Twitter. Our interactions with them were excellent, and their reputation in this regard suggests that our experiences were typical. The phone line is 08000 96 96 07 for UK users and is +44 207 840 4050 outside the UK. Their Twitter is @ASKSPIN.
Design & Usability 5

/

5
Practicality first design philosophy

Huge site expertly structured

Technically sound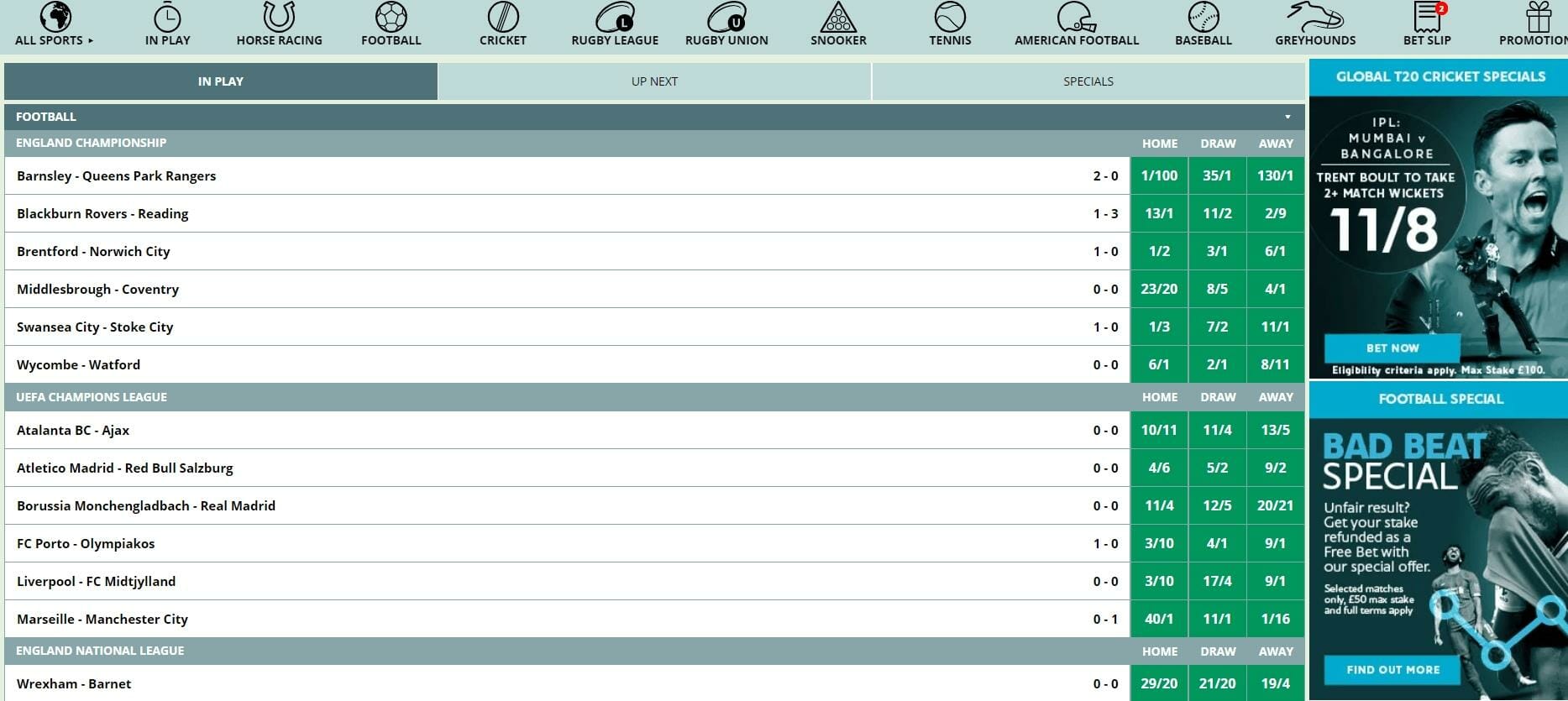 The design of Sporting Index is more about practicality than looks. That's not to say they are unappealing on the eye, it's just that we don't think they are likely to reinvent the wheel style-wise.
They look perfectly professional, with enough distinction between the spread and odds areas and few bells and whistles. It is clear that their focus is on making sure the site is as easy to use and as structurally and technically sound as possible. We were stunned by how well they balanced all the elements of the site in a user-friendly manner, even including a blog and history section. From a technical standpoint too, they were flawless during our time with Sporting Index.
Mobile 5

/

5
Wonderful miniature version of desktop excellence

Available on Google Play and Apple Store

Includes touch and face ID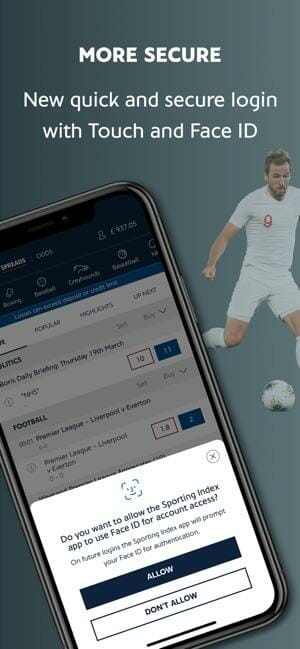 If you marvelled at how much they fit on a desktop, you will be blown away by their mobile offering. Available for mobile devices across the Apple and Google Play store, the small screen adaption is an absolute knockout. It has been redesigned for optimal small screen performance, and even includes additional security features like touch and face ID. Wonderful navigation, world-class interface and with minimal loss of content, this is an absolutely five star offering throughout. The customer reviews, which are overwhelmingly positive, back up our opinion on that matter as well.
Other Products
As you can imagine from a name like Sporting Index, the bookmaker's focus is purely on sports and you will not find any casino, lotto, poker or other related betting platforms on the site or mobile app.
ThePuntersPage Final Say and Overall Rating 4.7

/

5
Sporting Index manages to be the absolute elite of spread betting while also balancing that with a surprisingly excellent fixed-odds selection of markets. If there's one thing we could say that sums up our experience is that they have consistently defied expectations.
Whether that is through security measures, customer service, versatility and variety of markets or promotional quality, they were always better than we anticipated. They don't have absolutely everything, with esports being a notable example.
However, this is a case where the negatives are overwhelmed by the positives, to the point where they look fickle in comparison.
An absolutely world-class showing from a world-class operator, capable of appealing to newcomers and experts alike.
Sporting Index FAQs
The minimum amount accepted at Sporting Index for deposits is £10.
The withdrawal methods available at Sporting Index are Visa, Mastercard, and bank transfer.
Withdrawals may take up to 5 days to be processed.
Sporting Index give new customers a welcome offer that grants up to £20 in free bets after a qualifying bet of £10+ is placed at odds of 1/1 or greater.
All you need to do is choose the 'use free bets' option from your betslip. Make sure to read the terms and conditions carefully before claiming these offers to avoid any unwanted surprises.
Customer service is available via live chat between 9am and 11pm, as well as via phone, social media, and email.
If you wish to delete your account, you will need to reach out to customer support.
Accumulators bets can only be placed with fixed odds, and since Sporting Index is based on spread betting, you will only be able to place multiple spread bets.
Further reading