The highly-anticipated Anthony Joshua vs Oleksandr Usyk rematch is set to take place in Saudi Arabia on 20th August, 2022. Ahead of this, we take a closer look at the Joshua cost per punch – in other words, just how much the British heavyweight boxer has made per punch so far over during his last 10 fights.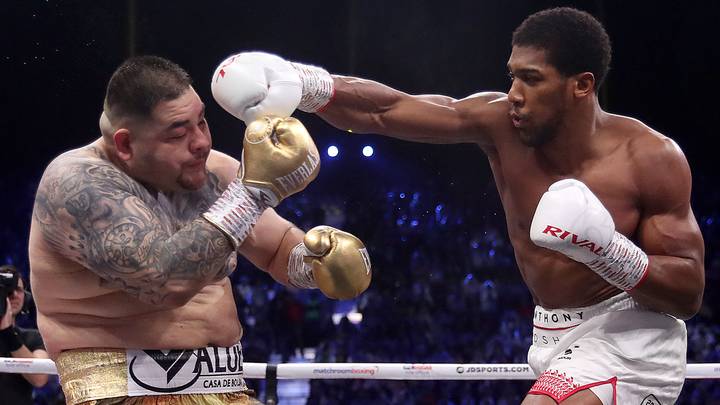 We will not leave you on a cliff-hanger. The results are in, and our research shows that the two-time heavyweight world champion has earned an average of £182,200.57 per punch in his past 10 bouts, including his figures for PPV sales and endorsements. We will go into more detail on just how much Joshua made in each of these fights below.
Despite his loss against Oleksandr Usyk last year, Joshua's success and popularity remain unscathed, with boxing fans and pundits alike keen to see how AJ approaches the rematch with Usyk.
It's not the only time that Joshua has had to pick himself up and dust himself off. Back in 2019, he managed to reclaim his titles back from Mexican Andy Ruiz Jr after being stopped by TKO in their first fight. Joshua completely changed his tactics going into that rematch, where he comfortably outboxed Ruiz for the duration of the fight, regaining the titles by unanimous decision.
Usyk, on the other hand, remains the first Ukrainian undefeated heavyweight champion, having stepped up from cruiserweight dominance in 2019. Following in the footsteps of his fellow countrymen and former champions Vitali & Wladimir Klitschko, Usyk achieved his lifelong dream of becoming world heavyweight champion after dominating Joshua in September 2021.
However, Usyk hasn't had quite the same path moneywise as his opponent, having only earned an average of £26,848.49 over his last five fights. However, he did manage a total of £108,621.62 per punch after his monumental win against Joshua, with the rematch potentially expecting similar numbers if not more.
Many argue Joshua got his game plan wrong in the first contest, and it'll be interesting to see whether AJ will use his superior weight to his advantage this time around. But Uysk is regarded as one of the most skillful boxers in the division and was much the better man back in 2021, so to become a three-time world heavyweight champion will be an uphill battle for the Watford born Joshua.
Regardless of what happens in the rematch, Anthony Joshua is still one of the biggest pulls in the division and will earn himself a healthy purse – whoever he fights and whether he's champion or not.
Let's take a look at how much each punch has earned Joshua across his past 10 fights!
Joshua's Earnings & Punch Results Over His Last 10 Fights
We've ranked the last 10 fights according to how much each punch was worth, starting with the least at just under £30K, and making our way up to an outstanding amount…
10. Dominic Breazeale (25/06/2016)
Earnings: £4,500,000.00
Punches landed: 151
Earnings per punch: £29,801.32
Dominic Breazeale did much of the talking going into the O2 Arena in London, but Joshua managed to break down the defences and claimed a stoppage in the seventh round.
9. Carlos Takam (28/10/2017)
Earnings: £10,000,000.00
Punches landed: 144
Earnings per punch: £69,444.44
A step in for Kubrat Pulev at the time, Carlos Takam became Joshua's opponent on short notice and showed his toughness throughout the fight. AJ eventually got the stoppage in the tenth round.
8. Kubrat Pulev (12/12/2020)
Earnings: £10,000,000.00
Punches landed: 116
Earnings per punch: £86,206.90
Pulev had earned his opportunity at a title, but in truth, it was a comfortable night for AJ and set him up for a potential fight against fellow Brit Tyson Fury at the time.
7. Wladimir Klitschko (29/04/2017)
Earnings: £15,000,000.00
Punches landed: 173
Earnings per punch: £86,705.20
Named 'Fight of the Year' by the Ring in 2017, the fight between Joshua and Klitschko saw over 90,000 fans in attendance. Despite Klitschko managing to knock Joshua down in the sixth round, he recovered with a brutal uppercut to get the victory, thus retiring Klitschko in the process.
6. Eric Molina (10/12/2016)
Earnings: £5,000,000.00
Punches landed: 40
Earnings per punch: £125,000.00
An easy night's work for the heavyweight champion, with Eric Molina not really throwing any punches of note. Joshua showed patience early on, but after a flurry of punches in the third, the referee was forced to call a halt to the fight.
5. Joseph Parker (31/03/2018)
Earnings: £20,000,000.00
Punches landed: 130
Earnings per punch: £153,846.15
Weighing lighter than in comparison to his previous bouts, Joshua was forced to go the distance to defeat Parker by unanimous decision. Joshua claimed the WBO title, whilst protecting his WBA, IBF, and IBO belts in the process.
4. Alexander Povetkin (22/09/2018)
Earnings: £20,000,000.00
Punches landed: 96
Earnings per punch: £208,333.33
Alexander Povetkin was tipped to cause Joshua some problems, but the Brit retained his heavyweight titles through a seven-round technical knockout at a sold-out Wembley arena.
3. Oleksandr Usyk (25/09/2021)
Earnings: £31,664,000.00
Punches landed: 123
Earnings per punch: £257,430.89
Joshua had a considerable weight advantage going into the fight with Usyk, but the Ukrainian was slick throughout and became only the third boxer to win world titles at both heavyweight and cruiserweight, whilst AJ had a second defeat on his record.
2. Andy Ruiz Jr (01/06/2019)
Earnings: £25,000,000.00
Punches landed: 72
Earnings per punch: £347,222.22
Coming in as an underdog, Andy Ruiz Jr was supposed to be nothing more than a replacement for Joshua's next contest. However, Ruiz shocked the world by stopping Joshua in the seventh, knocking the champion down a total of FOUR times during the fight.
1. Andy Ruiz Jr (07/12/2019)
Earnings: £60,000,000.00
Punches landed: 131
Earnings per punch: £458,015.27
Receiving the most earnings per punch thus far in his career, this fight saw Joshua reclaim his heavyweight world titles after a disciplined display. According to the Sky Sports Box Office, this fight broke the all-time UK pay-per-view record.
All stats were taken from BoxStat and Sports Payouts.
If you're wondering whether this Joshua cost per punch is a normal amount for boxers, why not check out what Tyson Fury earned per punch back in April ahead of the Fury and Whyte bout!