The Betfred Irish Lotto results are announced twice weekly on Wednesdays and Saturdays at 8pm straight after the Irish Lottery draw is held. You can find the latest Betfred Irish Lottery results on the official Irish Lotto twitter feed, the Betfred website, or on the Irish Lotto website.
Unbeatable lotto offers
Exciting lotto betting options
Industry best odds
WIN £1,000
FROM £1 ON AN IRISH LOTTO TREBLE
New 18+ customers only. Use promo code LOTTO. Deposit & cumulatively stake £5 on Lotto or Numbers draws within 7 days of reg. First bet must be on Lotto or Numbers draws. Credited within 24 hours. 7-day expiry. Enhanced odds only on Irish Lotto straight-line treble bets within 7 days of registration, credited next day before 17:00. Bonus ball bets not included. Max total stakes £40. Payment restrictions apply. SMS validation may be required. Full T&Cs apply. Full T&Cs apply.
What is the Betfred Irish Lottery?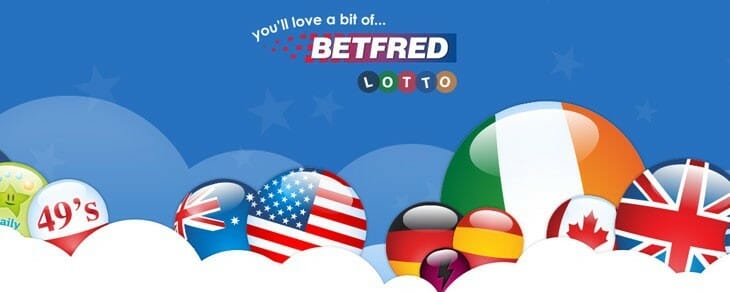 The Betfred Irish Lotto is a popular, twice weekly lottery held every Wednesday and Saturday at 8pm where players have to correctly guess the numbers which will be drawn. Guessing at least three balls correctly will result in a win while predicting all 6 numbers will result in winning the coveted jackpot. Betting on the Betfred Irish Lotto is similar in principle to betting on other lotto types. The bonus ball adds more options and the minimum jackpot is £1.7 million.
The Betfred Irish lotto has seen a surge in popularity in recent years, and you should know that the Irish Lottery concept is somewhat different from the U.K. National Lottery. You are in effect betting on the odds of balls being drawn with fixed odds, but with the National Lottery, there is a dividend of the prize money you win if you match the corresponding numbers drawn. Although the National and Irish Lottery are both forms of gambling, the Irish Lottery typifies betting due to the fixed odds for payouts and betting on the likelihood of something occurring or not. Online bookies take the numbers drawn and offer them to you with fixed odds.
The Irish Lotto is part of the lotto section on the Betfred website that covers Irish lottery betting. You can also bet on lotteries from Canada, the USA, Europe and Australia. Betfred runs lotto orientated promotions, and you can check out the promo page to see what's up for grabs. You can bet on the Irish Lottery if you don't live there, which isn't the case with other lotteries. Here are a few basics and facts about the Betfred Irish Lotto and how you might win.
The Irish Lottery started back in 1987 and has a more extended history than the UK National Lottery. Once you get online, you can choose your numbers and pay your stake. There is a guaranteed minimum jackpot of £1.7 million and no maximum! And the prize fund rolls over for as long as it takes for someone to win.
Betfred Irish Lottery provides shorter odds, and the chance of winning is 1 in 42, while the jackpot has odds of one in 8,145,060! That is 40% better than the National Lottery.
Six matching numbers will win you the jackpot, and at least three matching numbers pay out a cash prize. There are two Betfred Irish Lotto draws each week – on Wednesday and Saturday evenings. You can bet on the Betfred Irish Lotto up to 15 minutes before the draw is made. Betfred has a brilliant no-download Mobile Lotto app for lottery betting and provides quick results for the Irish Lotto and all other lotteries. The Betfred Irish Lotto odds are competitive, and you are entitled to the "Betfred Bet £10 Get £30" welcome bonus upon signing up and regular, ongoing promotions.
How to Bet on the Betfred Irish Lotto
Betting on the Betfred Irish Lotto is a straightforward process and includes the following steps:
Log in to your Betfred Irish Lottery account.
Visit the Irish Lotto page.
Choose your numbers manually, or a random selection using Lucky Dip for £2.
Tick the Lotto Plus 1 & 2 games for £1 extra (optional).
Click 'Submit' and deposit funds to your account.
If you win, your account is automatically credited.
Where Can I Find Betfred Irish Lottery Results?
The Betfred Irish lottery results draws are televised twice-weekly, live via satellite or internet streaming. The Betfred Irish Lottery results are then published instantly on the Betfred website, Irish Lotto website and other bookmakers offering Irish Lotto betting. Alternatively you can check the Betfred Irish lotto results right here from Irish Lotto Twitter feed shown below.
Betfred Irish Lotto Odds, Payouts and Winnings
The reason betting on the Betfred Irish Lotto appeals to so many is that you know exactly how much you win if your bet wins. Different lotto betting sites can offer their odds, so it's always worth checking what the different ones provide before you place your bet. The critical factor is that all the balls you select must appear in the list of drawn balls in the Betfred Irish Lotto for your stake to win. If you choose three numbers, and one or two of them are in the six balls drawn, then your bet loses. You need all three numbers to come out of the machine to win.
Some bookmakers, however, allow you to include the Bonus Ball, while others only go off the six balls drawn. Whether you add the Bonus Ball or not won't change the cost of your bet with most bookmakers. This, however, will change the odds. Consistency is vital since the odds against winning a Lotto jackpot bet could be pretty high. The more Betfred Irish Lottery you play, the better your winning chances.
The Lotto provides two opportunities to enter per week, which also has the advantage of creating massive jackpots as they roll over quickly. Your best chance of winning and ensuring your wins aren't shared is using quick picks. That way, you get entirely random numbers that are far less likely to be shared with anyone else. That also has the bonus of being a lot quicker and more convenient with the Lucky Dip button.
One of the more popular Betfred Irish Lotto features is the two bonus games you can add to your bet for £1. The bonus Lotto Plus 1, and Plus 2 games increase your chances of winning; however, the prize won't be as large as in the main game. Nevertheless, who would refuse a windfall of a few hundred thousand?
Betfred Irish Lotto Odds
The odds of matching six balls are not on the list since if you select six and eight numbers your bet automatically becomes a Multiple with slightly different workings.
Betfred Irish Lotto Bet Types and How They Work
Hereunder you will find a list of common bet types for the Betfred Irish Lottery and a brief description for each.
Single, Double and Trebles
One bet per chosen number which needs to be drawn to win.
One bet on two numbers which both need to be drawn to win.
One bet on three numbers which all have to be drawn to win.
Lucky 15
Lucky 15 bets are based on 4 numbers involving 4 Singles, 6 Doubles, 4 Trebles and 1 4-fold. You win if one of the numbers is drawn.
Lucky 31
The Lucky 31 is based on 5 numbers involving 5 Singles, 10 Doubles, 10 Trebles, 5 4-fold accumulators and a 5-fold accumulator. If one number is drawn, you win part of the bet.
Patent
A Patent bet has 7 bets over 3 numbers involving 3 Singles, 3 Doubles and 1 Treble. If one number is drawn, you win.
Trixie
With a Trixie bet, you select three numbers with four bets involving 3 Doubles and 1 Treble. Drawing two numbers leads to a win.
Canadian
A Canadian bet has 26 bets from 5 numbers including 10 Doubles, 10 Trebles, 5 4-fold accumulators and a 5-fold accumulator. You win if two numbers are drawn.
Yankee
With a Yankee bet, you choose 4 numbers for 11 bets involving 6 Doubles, 4 Trebles and a 4-fold. Two or more numbers drawn means your bet wins.
Betfred Irish Lottery Rules
The Betfred Irish Lotto rules are pretty straightforward. Pick six numbers ranging from 1 to 47. If you guess all six correctly, the jackpot is yours. The cost of participation is £2 for the main draw, and an optional £1 if you want to enter the bonus Lotto Plus 1 and 2 draws. The bonus ball draw affects four of the eight prize tiers.
When betting on the Betfred Irish Lotto, there is a maximum payout limit of £500,000 in any given day, and the odds may fluctuate. Before a payout is affected, players must receive confirmation of the bet on-screen before the first ball is drawn. The dates and draw times on the bet slip are all U.K. time, and stakes are generally paid out by the next draw date. If for any reason the draw is cancelled and does not take place, bets will be valid for the next draw. Number bets may not be combined with other betting events. Neither may two or more draws be combined with accumulative bets.
The History of Irish Lotto
The Irish Lottery was launched in 1988 and has a much longer history than the U.K. National Lottery. You don't have to be an Irish resident to take part, and you can bet on the Betfred Irish lottery easily on the Betfred website or mobile app wherever you are. The Republic of Ireland passed the National Lottery Act in 1988, and the Irish state lottery was created. It was designed to raise funds for charitable causes with the following sectors eligible to apply for funding, Health and Welfare, Sports and Recreation, The National Heritage and The Arts, The Irish Language and The Natural Environment.
Scratch cards were launched in March 1987, and the Irish Lotto kicked off the following year. The National Lottery in Ireland has managed over €12 billion in sales up to 2013, paying €6.7 billion out in prizes, while simultaneously raising over €4.4 billion for charitable causes. More than two million Irish play the National Lottery in some form or other.
Where Else Can I Bet on The Irish Lottery?
Betfred isn't the only bookie offering to bet on the Irish Lotto. It is also worth checking out the Ladbrokes Irish Lotto and William Hill Irish Lotto platforms. Both have outstanding Irish Lotto interfaces that are a cut above the competition, and they offer great value as well. They also have mobile functionality and native apps so you can bet on the move and check the results wherever you are.
Notable Past Wins and Top Jackpots Over The Years
One of the most notable Irish Lottery jackpots was worth a whopping €18,963,441, and a syndicate of 16 players who worked at a plant in County Carlow were the winners.
Highest Betfred Irish Lotto Jackpots
| Date of Draw | Jackpot Amount | Number of Winners |
| --- | --- | --- |
| 26-03-2011 | €28,074,472 | 2 |
| 23-10-2010 | €16,390,239 | 1 |
| 23-01-2016 | €13,793,435 | 1 |
| 01-03-2017 | €12,849,224 | 1 |
| 06-05-2017 | €12,344,808 | 2 |
| 04-06-2014 | €12,155,282 | 1 |
| 31-03-2012 | €11,526,000 | 2 |
| 03-12-2016 | €11,345,002 | 1 |
| 21-08-2019 | €11,225,280 | 1 |
| 20-08-2016 | €11,179,621 | 1 |
Betfred Irish Lotto FAQs
Yes, there is a Betfred Irish Lotto app that is compatible with iPhone, iPad and Android. The Betfred Irish Lotto app download procedure is quick and straightforward, allowing you to start betting right away.
You can watch the Irish Lotto Draw Live on the Betfred site with the live streaming service. Moreover, Irish Lotto draws are broadcast live on channel RTÉ One, and you can catch up online on the Irish Lotto YouTube channel.
Get the latest Betfred Irish Lotto results right here on the ThePuntersPage!
The Betfred Irish Lotto draw is every Wednesday and Saturday at 8 pm U.K. time.
The biggest jackpot was €28,074,472 on 26th March 2011 and shared among two people. Another notable prize was €18.9 million, won by a group of people on 28th June 2008.
ThePuntersPage Final Say
The Betfred Irish Lotto is more popular now than ever, and betting on it has never been easier than now. While Betfred is a leader, William Hill and Ladbrokes have superb websites ideal for Irish Lotto betting with high odds. With so many impressive jackpots over the years, there is never any lack of excitement with the Betfred Irish Lottery. Want to know more about the bookmaker? Then check out our comprehensive Betfred Sports Betting Review!