The world of betting odds comparisons can be a complicated one. Here we break down mathematically which bookmakers have the best betting odds over a period of time in several major sports. Below is a table of recommended online bookies based on our findings, but be sure to check out our page on the best UK betting sites for a more comprehensive overview.
Best Betting Sites We Recommend for Quality Odds
Consistently ranking amongst the top odds in many markets
Especially dominant in the Cricket and Horse Racing markets
Across the board one of the best betting sites in the world
18+. Min deposit requirement. Free Bets are paid as Bet Credits and are available for use upon settlement of qualifying bets. Min odds, bet and payment method exclusions apply. Returns exclude Bet Credits stake. Time limits and
T&Cs apply
. BeGambleAware.org #ad
Second most odds victories in Tennis
Consistently excellent across other markets
Brilliant, user-friendly option
£40 Money Back Offer + £10 Casino Bonus
18+ begambleaware.org. New customers only. Min deposit £10. Money back as bonus if first bet loses. Wagering requirements: sportsbook 3x at min. odds of 1.40 (2/5), casino 50x. Unless forfeited the sportsbook bonus must be wagered before using the casino bonus. Bonus expires 7 days after opt-in. No deposit required for NI customers. Call 08081699314 to claim.
Full T&Cs apply
. BeGambleAware.org #ad
Best odds for American Sports.
A British high street juggernaut
Proves they can still compete in the ultra-competitive online market
18+. New customers using Promo code R30 only. Min £10 stake, min odds ½, free bets paid as 3x £10, free bets credited after settlement of first qualifying bet, free bets will expire 30 days after the qualifying bet is placed, payment methods/player/country restrictions apply.
Full T&Cs apply
. BeGambleAware.org #ad
How We Go About Making Our Odds Comparisons
So, we have our task at hand. How exactly are we going to go about completing such a momentous task? Well, first things first, let us talk about the sports we are covering. We will be comparing the best betting odds on football, tennis, golf, horse racing, cricket, snooker and American sports (such as the NHL and the NFL). The bookmakers we will use to compare our odds are bet365, William Hill, Paddy Power, Ladbrokes, Coral, Betfair, Betfred, BetVictor, 888sport and Unibet.
The betting sites, like sports, have been chosen for their consistency. Not only are these names known for the quality of their odds, but they all cover a very wide range of markets.
We will compare 15 To Win markets on each sport over three days. We also try to take each market from a different game as much as is possible, but it is not always the case due to market restrictions at the time of analysis. This is not a one off. We do these tests every so often to see if the landscape of best betting odds has changed and update our overall leaderboard accordingly.
All of this is done to create the most accurate comparison we possibly can, so you can get the clearest idea of what is available.
Finally, before we begin, we would like to point out that a low score does not mean that a bookmaker is providing subpar odds. All these bookmakers have been chosen because of the excellent odds they provide. The competition is intensely fierce; indeed, were our randomly selected 15 markets different, you may see completely different results. What we hope though is that by doing this consistently, we can provide the best and most accurate betting odds comparison possible. With that said, let us begin.
Football
It is the most popular sport in world, and it has arguably the most competitive odds. This was a surprising result with two top contenders, and plenty of competition amongst those mid-rankings for our table below, showing how tight the odds race is here.
Tennis
A huge victory for Betfair here, who did not manage to net a single odds victory in the football markets. Elsewhere, bet365 show their consistency coming in the top three again, and there are even more draws show how tough each and every odds race is.
Golf
Our runner up from previous rounds, bet365 has come out and dominated golf, leaving little room for anyone else to take a victory. 888sport and Betfred, though, still manage to impress as can be seen from our table below.
Horse Racing
Another amazing showing by bet365 for horse racing, one of the most coveted markets. We also see the likes of Paddy Power, William Hill and Ladbrokes get some credit – they've been so close to getting the best betting odds on so many markets, and have often missed out. Unibet and Betfair, again, impresses.
Cricket
bet365 is knocked off the top spot here by a trio coalition of greatness featuring Unibet, Betfair and finally getting the credit they deserve, BetVictor. Elsewhere too this has been our most closely matched best betting odds race yet with only a few bookmakers failing to rank at all. And even they managed to just miss out on several occasions. We can see a great amount of cricket betting sites in the below table.
Snooker
It's great to see Paddy Power and William Hill get wins here, because they've consistently provided high quality best betting odds – they just haven't gotten the victories as often as they could have. An extremely competitive market with no one dominating force, as you can clearly see.
American Sports
Another tough race here, with William Hill going neck and neck with bet365. Like William Hill, Ladbrokes and Coral are names that consistently shine in international markets, while Betfair remains consistently brilliant. It's worth pointing out as well that every bookmaker on this list came close to getting the best betting odds for a market or two.
Overall Odds Comparison Leaderboard
To calculate our overall leaderboard, we take the winning percentages and add them all up. Not only from this set of results, but also from previous tests we have conducted, as we stated before, our odds comparisons are updated with the same tests, the same bookmakers, on an ongoing basis to be as comprehensive as possible. Each winning percentage is worth a point, with those with the most points winning.
The winner was no surprise here, considering how bet365 has dominated so many best betting odds markets, especially when it came to betting odds comparisons on golf. That said, every site impressed.
We have not conducted a single one of these tests without each of these operators winning at least one market meaning there's plenty to be proud of even at the bottom of the leaderboard. Worth pointing out too, that just because an operator fails to come out on top in a particular market, it doesn't mean that their odds weren't excellent, and they are often nail bitingly close to victory.
You may be interested to know for instance, that since these tests were last conducted, we've seen more operators move their place in our table than stay put, which just goes to show how closely matched all of these great operators are when it comes to the best betting odds.

Do Sports Vary in Quality of Betting Odds?
It is worth pointing out that there is also a general difference between the quality of odds across certain sports. Generally speaking, most mainstream sports will have competitive odds and the best betting odds amongst them won't be all that different.
However, the more popular a sport and market, the better the generosity of your returns will generally be. For instance, if you check out the overround of an eSports and football market, the latter will almost certainly provide better value. That is based on the overround being closer to 100% when all markets are added together. To answer the question directly, different sports have different odds quality because the markets are more competitive, pushing bookmakers to be more generous.
The Ever-Changing Nature Of Live Odds
We also checked the live odds of these bookmakers, and while they moved too quickly to be ideal for our testing purposes, we found the quality of them to be consistent with what we can see here from these tables. All were good, like we said, we have only chosen high quality bookmakers for this experiment.
In fact, it is arguably more important to go with bookmakers with consistently high-quality odds if you are betting live because of their ever-changing nature. They move with the action, and – just as that made this kind of testing across so many bookmakers practically incompatible with the fair and even comparison we were trying to achieve – it can also make it difficult for you to analyse the best betting odds quality in time.
In a live environment, by the time you've looked at how they stack up to the competition for best betting odds, they may have changed, or the market may have ended entirely. This is even more complicated when you take cash out into consideration, and how complicated working out the value there is.
Even if you managed it, this would probably severely hamper your enjoyment of the game and your live bets. And of course, betting is as much about improving your enjoyment of your favourite sports as it is about getting the best betting odds. The only way of ensuring that your live odds are consistently good beyond you having maths-based superpowers is to trust that the operator you are with can be relied on to provide good odds. That is what our reviews, and our look at the best betting odds here, is all about.
What are the Benefits of Odds Comparisons?
Considering all the effort that has gone into creating our betting odds comparisons, some of you may be wondering what the point of all of this is. Well, we haven't spent all this time staring at spreadsheets for nothing. We aim to always provide you with the best possible help so we can improve your betting experience, and this is one more arrow in our advice bow. Let us break down five key benefits of utilising this data.
1. It Saves You Time
Unsurprisingly, this kind of betting odds comparison takes a while. You can compare odds on one market without a huge amount of hassle. However, doing so across so many of the same markets, across the same bookmakers in a space of three days in a month – that's a different story. So, before we move onto more specific benefits, we want to preface that by putting it into the context of the work that has gone into it. Put simply, we've done this so you wouldn't have to. This allows you to have access to information that realistically, few bettors would ever attempt to gather themselves.
2. It Provides Value
The key reason we do this is that better odds have an inherent monetary value. This isn't rocket science; you know that if you have more generous odds – that means that if you win – you're going to end up with more money.
We spend an awful lot of time thinking about how best to win bets, but we should also pay attention to how to get the most value out of those bets as well. The difference can be more than you think.
Let us pick one at random as an example. In a Champions League match between Manchester City and Real Madrid, the best betting odds available on this market for Manchester City to win is 39/50. The worst odds are 8/11, at least amongst the bookmakers we have checked. The implied probability of 39/50 is 56.2%, while the implied probability of 8/11 is 57.9%.
That's a whole percentage and a half difference, which is no small amount. Over many bets, those differences in percentages add up. For example, consider how large a difference in return you could see if you have a 1% to 2% difference in each pick of an accumulator. We're all about finding you the best possible betting experience, and that means pointing you in the direction of where you are likely to find the best betting odds.
3. It Creates Patterns
So, one of the key challenges for our betting odds comparison is that all of these betting sites are excellent – we know, it's a rather lovely problem to have. However, in terms of this article and these statistics providing the most value, it is a challenge, because in every market we look at, any of these names could have the best betting odds. That is why we have checked so many across so many different sports. You'll be able to see not only who came out the best for each, but also who came out on top overall. The benefits of providing patterns over many different markets are as important as the immediate results. This is, in our opinion, the best way of making our tables as accurate as they can be.
4. It Offers a Variety Of Bookmakers
You may wonder why we have provided such depth in terms of the bookmakers you are looking at. The reason is simple – there are a lot of factors that go into choosing what betting site is right for you. On a really basic level, you may be locked out of some betting sites or your preferred banking method while betting online abroad. If our information only gave a few results, then you may miss out on what is the best bookmaker for you, all things considered. Something may rank third, for instance, in your favourite sport, but still may be better for you than the top two options for other reasons. We always view our job as laying out everything we can for you to make informed decisions, and where and how you want to bet. With the benefit of variety, we can do exactly that.
5. It Was Fun!
While compiling these betting odds compare tables is a lot of hard work, it's fun too. We're sports fans through and through, meaning that whenever we can turn something into a competition, or in this case, several competitions, it's something that we find interesting, especially as we have spent so much time and have so much respect for the bookmakers chosen for our odds comparison. We hope you get a lot of value out of this data, and we also hope you find the ongoing battle for odds supremacy as interesting as we do.
What About Betting Exchanges?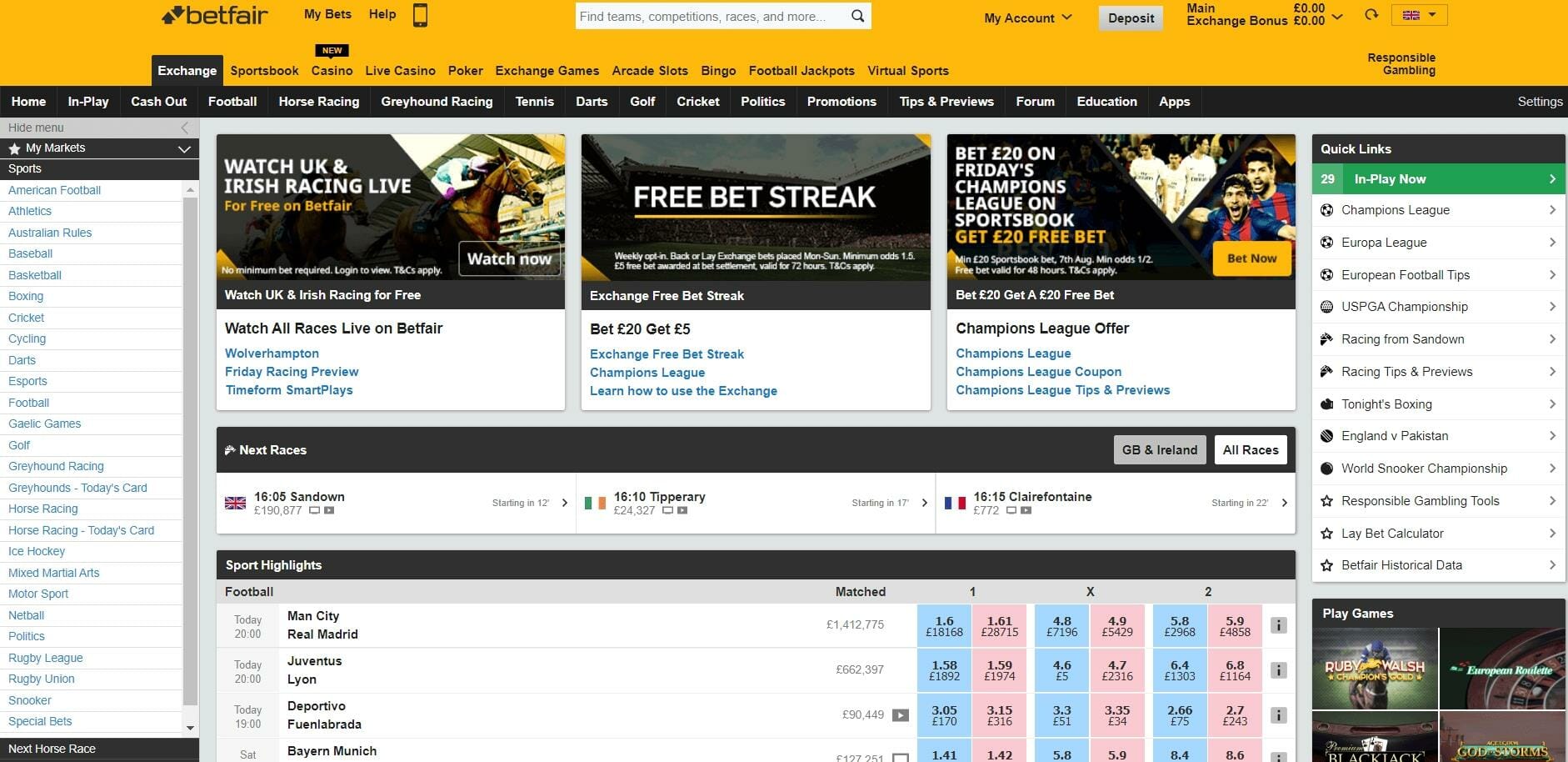 Betting exchanges are where you bet against other users of the site, as opposed to betting against the bookmaker. This means that even the best betting odds are, in part, dictated by the sway of demand between markets from players. A betting exchange does not make its money by relying on the overround (more on this shortly) and instead utilises a flat commission on winnings. Some people prefer this system to the usual route, and it certainly is an interesting twist on the typical betting market. If you want to learn more about betting exchanges in more detail, be sure to check out our article on the best betting exchange sites for more information.
Here, we are looking at odds comparisons from traditional sportsbooks. We include Betfair, but the odds are taken from their traditionally structured sportsbook. We felt that the difference in how both betting platforms work made it unfair for us to compare them side by side, and as most people go for the traditional option, we decided that sportsbooks were going to be our focus here. But that is not to say that betting exchanges are not able to provide tremendous odds value, and can definitely be the right choice for many people.
Can Promotions Improve My Odds?
All the examples we have used for our tables go from the base odds level to keep them as fair as we possibly can. But there are plenty of promotions that are capable of improving the value of your bet. And we don't just mean by counting towards some kind of wagering requirements or providing some kind of cashback if you lose; although these, of course, do provide additional value in their own.
We are talking about things like bet boosts, boosted odds, price promises and best betting odds guaranteed promotions. Whether by directly increasing the value of your odds or by ensuring you get the best price, these directly improve your winning returns. This is worth taking into account when considering which bookmaker is best for you overall. A couple of great examples to help your understanding is our Best Odds Guaranteed promotions guide and our detailed William Hill Bet Boost article.
How To Check Out the Odds Quality Yourself
ODDS CONVERTER CALCULATOR
Convert Odds from:
Decimal
Fractional
American
Implied Probability
00.00%
If you are interested in finding out about the quality of the best betting odds in general, there are two main ways of doing so. One is to check them against other bookmakers. This is what we do here, but of course, we can't cover every potential market, so this is still worthwhile if you're looking for something specific.
The way this works is you convert the odds into an implied probability percentage. We have a detailed betting odds article which helps to explain this while providing the tools you need to make the conversion.
If you do this with a set of odds on the same market, whichever has the lowest percentage is providing you with the best value, and will provide you with the biggest return. This can be tough to get your head around when you're dealing with similar amounts, but consider it this way: if one team has a 5% chance of winning, and the other had an 85% chance of winning, a bet on the former to win would yield greater rewards.
If you want to check on the quality of your best betting odds in a vacuum, you can do so by utilising the overround. If you have three possible outcomes, say, Team A winning, Team B winning and a draw, then all the odds when converted should come to 100%. That's because 100% means certain, and one of these outcomes must logically occur.
However, when you do so they will inevitably come to over 100%. This amount above 100% is the overround or the bookmakers' margin – it is the edge the bookmaker has over the bettor. This is not unreasonable; it is how they remain profitable in a business, which is by nature hard to predict.
Still, there is a limit to what can be considered reasonable. We would say that anything below 110% can be considered reasonable, and the closer to 100%, the better. Do note that some markets, like esports, have higher odds than some more established markets, like football. You can also find out more about odds in general with our ultimate guide on betting odds.
How Do Bookmakers Determine Their Best Betting Odds?
You may think that the process of coming up with their best betting odds for the bookmaker is rather simple, and rather like your own. And yes, there is a little bit of truth to that. On one hand, the bookmaker is essentially making a prediction. The odds represent an implied value which can be converted into a percentage, as discussed in the previous section. It may be a bit more mathematical than the individual approach, but it is a prediction.
In terms of whether they are the best betting odds then, it comes down to how correct that prediction is as well as the generosity of the bookmaker. In essence, it's largely your prediction vs theirs, right?
Well, not quite.
Bookmakers actually have little freedom in terms of the odds they produce, as there's several factors tying them down quite tightly to a narrow field of odds. For starters, they don't base their prediction solely on what they think will happen, but also on how to minimise risk. This means that if there is a lot of betting activity on one market, it will have an impact on the layout of odds as bookmakers scramble to ensure they aren't vulnerable to a big loss on one side. This can sometimes provide A best betting odds opportunity, as this sway does not always reflect reality.
In addition, they also need to remain competitive with other bookmakers and that means that not only does the market dictate the odds, but their competitors do as well. This is why our look at the best betting odds were incredibly closely matched, even identical at times. They can't simply ignore the tide and provide odds which represent wildly different predictions because that would provide opportunistic bettors to take advantage of this odds discrepancy and play the different bookmaker odds off against each other. This is a technique known as arbitrage betting.
The best betting odds then, are a mixture of predictions and generosity, but also forces far beyond the control of one operator, as the sway of the market is something no bookmaker can afford to disregard.
The Player's Advantage
It's important though, to understand that this lack of freedom represents opportunities for you to find the best betting odds for your predictions. You only have to worry about what you think is going to happen in that match and determining whether the odds provided represent good value.
The key to smarter betting is in recognising when the bookmaker has likely got their predictions wrong, and because of all these different factors pulling the odds back and forth, it happens more often than you would think. If the operator has the overround on its side, you have the freedom to pick your battles and only bet when you think you've seized an opportunity. The bookmaker, by contrast, is set firmly on its path, with almost no room to manoeuvre, except in choosing how generous they want their best betting odds to be.
Betting Odds Comparison FAQs
For each sport, we compare 15 different markets, note each time a bookmaker has the best odds and convert that into a winning percentage for each.
Yes, we certainly believe they are. They regularly produce a difference of between 1 and 2%, but often even more than that.
As you can hopefully tell from our odds comparison tables, bookmakers tend to have their strengths and weaknesses when it comes to different sports. This should help punters choose based on what sports are important to them.
Some promotions certainly can, such as bet boosts, best odds guaranteed, boosted odds and price promise promotions. Other promotions can also add additional value, but none that we are aware of directly influence odds.
ThePuntersPage Final Say
There is more to a good betting experience than best betting odds. In fact, if there is only a small difference between bookmakers, you may still prefer the weaker alternative, especially if other promotions more than make up the difference.
With that said, we don't think there is anything, perhaps with the exception of security, that is more important than the quality of the odds. After all, the bottom line is how much money you will receive if you win.
Importantly, the amount of variety out there means you should not need to compromise in any regard. Our goal – and the goal of this betting odds comparison – is to help you find the right betting site for you, with not only world-class odds but the right aesthetic, experience and focus that you are looking for. There is no need to settle for anything less.