The Davis Cup is one of the greatest tournaments for international teams in men's tennis. The competition sees 18 national teams and some of the greatest talent in the world face off for the prestigious prize.
Best Betting Sites We Recommend for Tennis Betting in 2021

Great odds on tennis
Betting exchange offers better value
Bookmaker trusted around the world

Great tennis accumulator bonus
Huge selection of betting markets
Great sports coverage on mobile

T&Cs APPLY, 18+ ONLY

Up to £100 in Bet Credits for new customers at bet365. Min deposit £5. Bet Credits available for use upon settlement of bets to value of qualifying deposit. Min odds, bet and payment method exclusions apply. Returns exclude Bet Credits stake. Time limits and T&Cs apply. #ad

Easy to sign up
Risk-Free Welcome Offer
High-quality odds on Davis Cup outrights
Best Tennis Betting Sites – Top 3 Ranked
#1 Betfair
#2 bet365
#3 PaddyPower
Introduction to Tennis Davis Cup Betting
Much like a good book you won't want to skip to the end on this one as you have groups from throughout the world representing the sport throughout abilities and continents.
It's the perfect appetiser before you reach what is considered to be the finest men's tennis teams on earth, all battling it out in what is often referred to as the World Cup of tennis.
With multiple changes being made this year and so many great teams to choose from, all this action can be a little bit overwhelming, especially if you are not used to how the tournament is structured. Well, you're in luck because we are going to go through all the basics so you can just sit back, relax, and enjoy some of the best tennis you are ever likely to see.

Tennis Davis Cup Preview
The first thing to understand about the Tennis Davis Cup is that it is broken down into zones which are based on both ability and location. The top group is known as the Davis Cup Finals, which includes the top 18 teams in the world.
The other groups in the Davis Cup include: World Group 1, World Group 2, American Zone Group 3, Asia/Oceanic Zone Group 3 and 4, Europe and Africa Zone Groups 3 and 4.
The distribution of countries between these groups can vary slightly, however what is really important to understand is that the Tennis Davis Cup is not just the pinnacle of male team tennis but is a wide-ranging exploration of the sport at all levels.
The structure of the tournament depends on the group and how many countries are involved. In the Davis Cup Finals teams are split into groups of three and face off in sets of three. The winners of these groups then go onto the knockout stages and face off in quarter finals, semi-finals and finals to come out with a winner. The winners of the ties in the World Group go onto the following years qualifiers with the opportunity to make it to the Davis Cup Finals.
If all of this seems fairly straightforward, well, it is. It seems to be the flexibility of the tournament at the lower levels, as well as the big changes made in 2019, that appear to have caused much of the confusion. However, it's a lot simpler than it initially looks.
Tennis Davis Cup Changes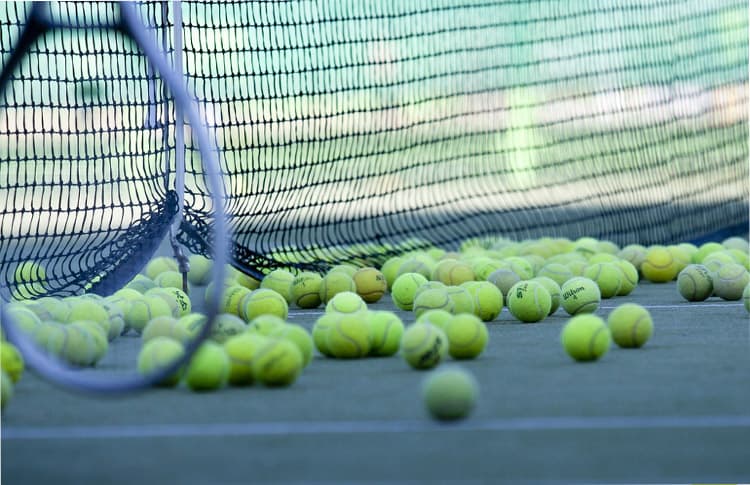 Another reason why people are feeling confused about the Davis Cup this year is that there have actually been a few changes to the tournament compared to previous iteration. However, just as was the case with the structure of the tournament, this really appears more complicated at first glance than it is in reality.
The key changes are that the World Group takes place in one location. This, of course, makes little difference other than being a piece of interesting trivia if you are watching at home. And if not, first of all, lucky you and second of all, that should just make things easier.
Secondly, there are 18 teams in this final as opposed to 16 from previous years. This change has been made so that games are now best of three, with two singles and one doubles game, as opposed to a potential best of five from previous years. Finally, it is now the Davis Cup finals instead of the World Group. Other than that, everything here should be nice and familiar.
Just to make absolutely clear how this works one more time so there is no confusion: in the 2019 Davis Cup finals, 18 teams which consist of 12 winners from the qualifying round (which took place in February 2019), two wild card teams and four semi-finalists from last year will be split into six groups. Each of these groups will face off in a best of three competition, with the winner going onto knock-out competition, alongside the two best second-placed teams based on sets won. The knock-out stages include quarterfinals, semi-finals and finals.
Further changes are also being made for the 2020 edition of the Davis Cup. It will see the creation of the World Group 1 and the World Group 2, which will be played on a worldwide, rather than a regional basis. The 2020 edition, just like the 2019 edition, will be available via Eurosport which is available through Sky Sports, or via their subscription-based service. You can also keep up to date with all the news through various bookmakers who provide news services, social media and the official Davis Cup site, alongside many other publications which cover international sports tournaments.
The Tennis Davis Cup Schedule and How to Watch
The finals of the Davis Cup 2019 will take place over a single week between the 18th and the 24th November. The group stages will last between the 18th to the 21st November, or Monday to Thursday, with the quarterfinals taking place on the 2st to the 22nd November, or Thursday to Friday. The semi-finals will take place on the 23rd of November, or the Saturday, and the final will be held on the 24th November, or the Sunday.
The tournament is available to watch in its entirety via EuroSport, which is available through Sky Sports, or via their subscription-based service. You can also keep up to date with all the news through various bookmakers who provide news services, social media and the official Davis Cup site, alongside many other publications which cover international sports tournaments.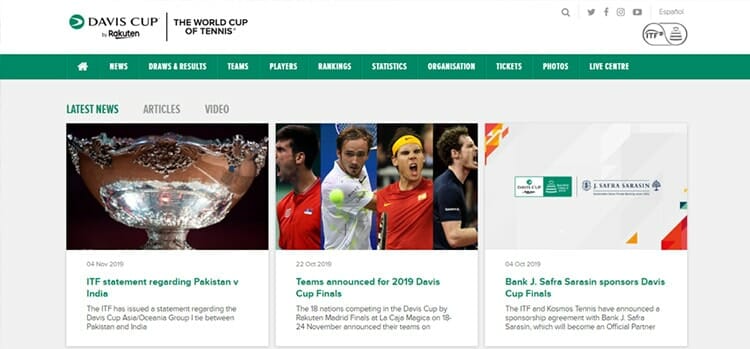 Top 5 Tips for Tennis Davis Cup Betting
So many teams, so many possibilities, it's part of what makes the Davis Cup 2019 so exciting. That being said though, it can also make betting on this tournament seem a little bit overwhelming. Thankfully though, we are here to help.
There's no magic formula to betting, no hidden secret that will make your predictions psychic in their consistency and precision. However, there is a clear difference between betting with intelligence and a stab in the dark. And the former is much more likely to get you results than the latter.
Really, it's all just about common sense and getting yourself properly informed to make intelligent well-thought-out predictions. With that in mind, here's our top 5 tips for betting on the tennis Davis Cup:
1) Do your research
We know, we know, it's obvious. But failing to do your research is the main reason that people make bad bets. As long as that is the case, we are going to continue to put this as our top piece of advice for betting on this kind of tournament.
If you don't know where to start, consider that you have essentially already done some research by reading this article so far. See? It wasn't so bad after all. Other things to look up include past tournament winners and the individual form of the players themselves, including news regarding things like injuries, as well as the past form of the team, or the nearest approximation of it, in recent history. And if this all seems like too much, well…
2) Stick to the teams you know
This, of course, depends on your knowledge and the extent to which you are willing to expand upon it. The logic here is simple. You might not have the time to get to grips with everything you need to know to make an informed bet on every team and on every game of this Davis Cup tournament, but you can very likely pick a few of the teams, preferably those already having matches together.
This way, you can get to know them and bet on them more effectively. Remember that one good bet is better than five bad. So, don't overexert yourself and wager on teams that you know enough about to bet on with confidence.
3) Stay as objective as you can
However, one of the downsides of sticking to the team you know is that there is a very good chance you are a fan of that team. And while this doesn't necessarily have to be a problem, we are all a little bit biased when it comes to our favourites.
Obviously, this means that you should not just bet on the team you want to win. That should go without saying. But it also means that you really have to ask yourself whether you are being honest with yourself about who is most likely to win. You may think that your home team has the advantage, but is that just wishful thinking? Really test yourself to be as objective as possible.
4) Embrace the accumulator
Tournaments like the Davis Cup almost seem to be custom made for accumulator bets. They can provide you with an ongoing series of threads to keep you interested in the whole tournament and you only need to bet a very small amount in order to have the possibility of winning big. This is extra handy if the team you are supporting is a particularly strong one, because you can still back your favourites to victory without needing to settle for below par odds.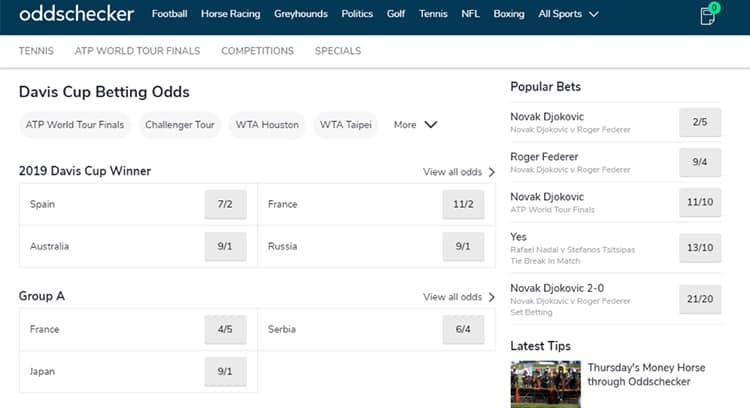 5) Shop around for the best odds
This is a really simple one and, in all honesty, it is vital advice for any kind of bet you can make, but make sure you shop around for the best odds. If there is a site that is offering significantly better odds than what you get at your chosen bookmaker, then maybe consider signing up.
After all, there's no limit to how many sites you can register with and perhaps that's also a sign that whoever you are with currently isn't actually offering you the best deal. The reason here is obvious. Better odds = better pay outs, it really is as simple as that.
Statistics from Previous Davis Cup Tournaments
We did say that this article counts towards that all-important research on the Davis Cup and here's the proof. Below you will find some key stats that you'll want to know about the previous Davis Cup tournaments, as well as some tables which should give you a little bit of context heading into these exciting action-packed finals.
The United States has won the title more than any other team, winning it on 32 occasions.
They also hold the record for the most consecutive wins, being victorious seven years in a row between 1920 and 1927.
Australia have been in more consecutive finals than any other team, clocking in at 23 in a row.
The all time record for in a tie is 327 and is held by India from 1974.
The surface most often used in the final is outdoor by 69, followed by grass at 55.
Overall, the home team has won the title 62 times, whereas the visitor won 33 times, meaning there's a serious home advantage.
Previous Davis Cup winners since 2010
| Year | Winner | Runner-Up | Score |
| --- | --- | --- | --- |
| 2019 | Spain | Canada | 2-0 |
| 2018 | Croatia | France | 3-1 |
| 2017 | France | Belgium | 3-2 |
| 2016 | Argentina | Croatia | 3-2 |
| 2015 | Great Britain | Belgium | 3-1 |
| 2014 | Switzerland | France | 3-1 |
| 2013 | Czech Republic | Serbia | 3-2 |
| 2012 | Czech Republic | Spain | 3-2 |
| 2011 | Spain | Argentina | 3-1 |
| 2010 | Serbia | France | 3-2 |
Most prolific winners in Davis Cup history
| Country | Wins | Last won |
| --- | --- | --- |
| United States | 32 | 2007 |
| Australia | 28 | 2003 |
| France | 10 | 2017 |
| Great Britain | 10 | 2015 |
| Sweden | 7 | 1998 |
| Spain | 6 | 2019 |
| Czech Republic | 3 | 2013 |
| Germany | 3 | 1993 |
| Russia | 2 | 2006 |
| Croatia | 2 | 2018 |
Upcoming Sporting Events
A Brief History of the Davis Cup
The Davis Cup has a rich history, and it began as a sporting rivalry between American and England. Representatives of each country would meet up in officially sanctioned matches in the 1890s. However, the origins of a team based competition actually began due to the games taking place around the same time between England and Ireland, and later, between England and France from 1895.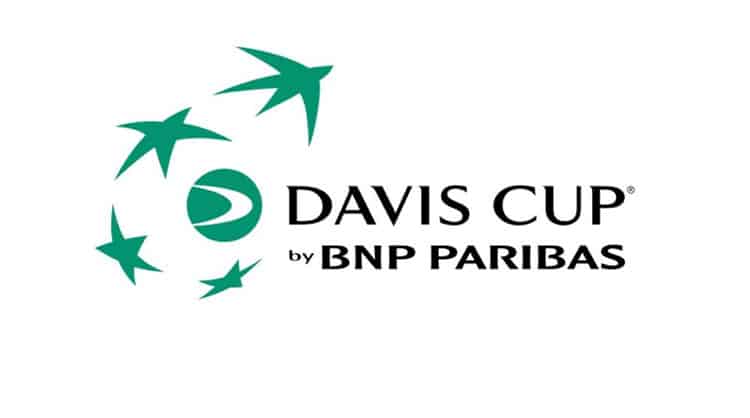 In 1886, it was declared that three British players would go to America during the summer to play against three of America's finest. It didn't actually take off at first, and it wasn't until Dwight Davis saw how popular tennis was during a tour of East vs West coast games that the idea gained traction once again. Davis then ordered a sterling silver punchbowl for the teams to battle over, hence the name of the Davis Cup.
In the early years, it remained a strictly America vs England game, perhaps skewing those ranking we looked at earlier to an extent. However, it was expanded in 1905 to include players from around the world, including Australia, Belgium, France, New Zealand, and Austria.
In fact the, pool of talent became so large that in 1923, they were split into the America and Europe zone, with the Eastern Zone being added in 1955. The format was tinkered with, until the biggest change came in 1972 when the decision was made to make the Davics Cup a knock-out tournament. This also meant that the previous champion now had to compete through all the individual rounds. Another huge development was the introduction of the tier rounds in the early 1980s.
Of course, the most recent history comes with this year's tournament, and the changes we've already discussed. What this really shows is that the Davis Cup advances at such a rate that it is constantly needing to evolve with ever increasing demand. The world's most prestigious international men's tennis team based tournament just keeps on getting bigger and better.