Paddy Power Sports Betting Review (2023)
Competitive odds
Newcomer-friendly
Broad livestreaming options

BY Ben Gibson
Paddy Power Quick Facts
Betting Options
Sportsbook, Casino
Support
Phone, Email, Social Media, Live Chat
Owner
PPB Counterparty Services Limited
Headquarters
Triq il-Kappillan Mifsud, St. Venera, MALTA
Deposit Methods
Withdrawal Methods
Pros:
Top option for horse racing
International streaming
Broad selection of payment options including pre-paid Paddy Power Cash Card PPLus
Immense selection of sports and markets covered
Cons:
Lack of cryptocurrencies may disappoint some
Registration Process 5

/

5
Easy registration
Deposit limits available
Add funds upon sign-up or later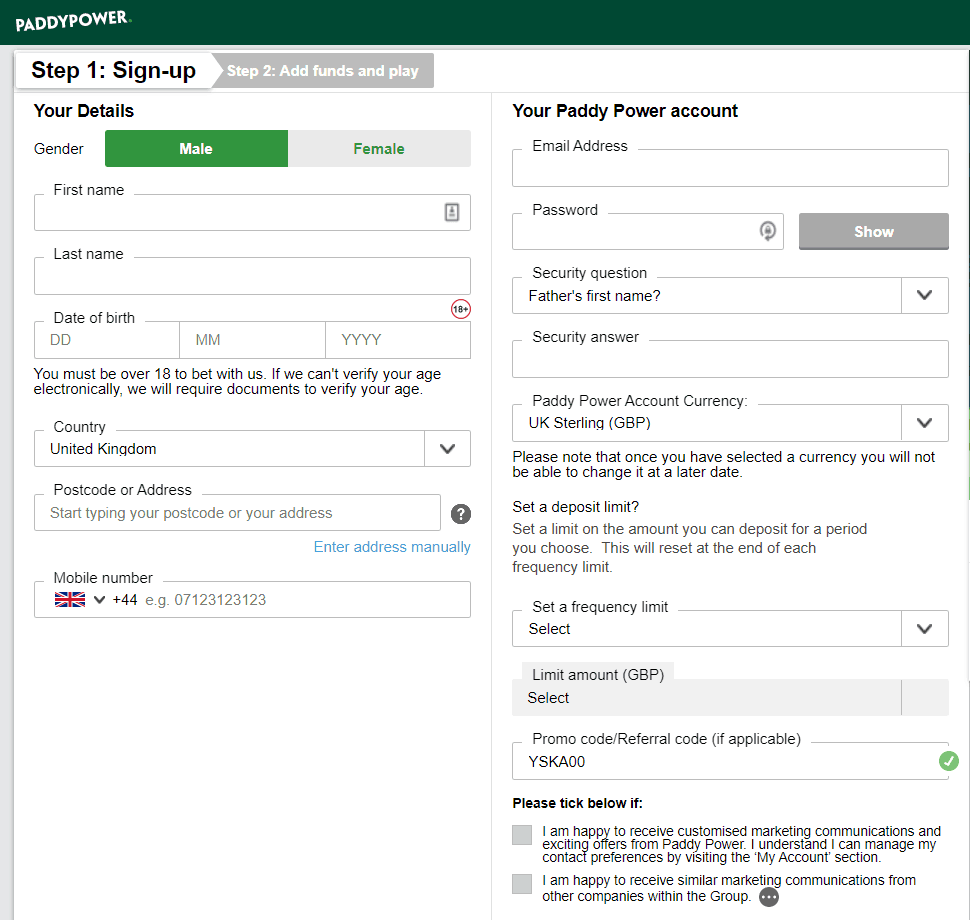 Paddy Power is so user-friendly that even a complete newcomer should easily be able to get started in moments. All the information needed, as you can see above, is very simple. They ask for a name, address, phone number, password and have you confirm you are over the age of 18.
There's also the option to add a promo code which is where you will be able to select from the many wonderful welcome offer available to you.
In addition, you get to set a deposit limit from this point if you wish. We highly recommend you do in order to stay in control of your gaming and play responsibly and safely. This is important to our Paddy Power review because not only is it practically beneficial, but it also showcases responsibility on the part of the operator to keep their customers safe.
Speaking of staying safe, an extra level of safety is found here with the ability to set your own security question and answer.
Once all this information is completed and you have ticked the box to acknowledge funds protection, simply hit "Join now" in order to open your account.
Opinion
We think the registration process at Paddy Power gives off a very good first impression of the site itself. It has all the functionalities a punter would expect, including the ability to set deposit limits alongside being simple, well-explained and easy enough for any newcomers to use. You don't even have to add bank details yet if you don't want to. An easy portal to sports betting greatness.
Deposits and Withdrawals Options 5

/

5
Broad selection of safe payment methods
Low minimums all round
No additional fees
There's a wide variety of payment methods accepted at Paddy Power, suitable for all kinds of players. You've got various debit card options such as Visa and Mastercard. Other options include instant bank transfer, bank transfer, NETELLER, PayPal, Skrill, paysafecard, Rapid Transfer, Cash Card + and even Apple Pay.
Minimum deposits range from £5 to £20, while maximums are typically not specific. Most deposit processing times are instant, with bank transfers taking the longest at 1-5 working days. Users of NETELLER can also expect a 1-4 hour wait.
Withdrawal minimums begin at £0.01 and go up to £10 in the case of bank transfers. Maximum amounts range from £5000 to £35,000. Processing times here vary a great deal more than deposits, as is typical. However, some remain instant, like Cash Card +, Instant Bank Transfer and Rapid Transfer. Others may take up to 5 working days. Again, no additional fees, a policy which makes Paddy Power a joy to bank with. You may also deposit in euros as well as GDP.
| | | | | |
| --- | --- | --- | --- | --- |
| | £5 | Not Specified | Instant | None |
| | £5 | Not Specified | Instant | None |
| | £5 | Not Specified | Instant | None |
| | £20 | Not Specified | Instant | None |
| | £20 | Not Specified | 1-4 hours | None |
| | £20 | Not Specified | Instant | None |
| | £20 | Not Specified | Instant | None |
| | £4 | £99,999 | Instant | None |
| | £20 | Not Specified | 1-5 working days | None |
| | | | | |
| --- | --- | --- | --- | --- |
| | £0.01 | £10,000 | 2-5 working days | None |
| | £0.01 | £10,000 | 2-5 working days | None |
| | £0.01 | £10,000 | 2-5 working days | None |
| | £1 | £5,000 | 4-24 hours | None |
| | £1 | £5,000 | 4-24 hours | None |
| | £1 | £5,000 | 4-24 hours | None |
| | N/A | N/A | N/A | None |
| | £0.01 | £35,000 | 2-3 working days | None |
| | £10 | £10,000 | 1-5 working days | None |
Banking with Paddy Power is hugely simple – they explain everything very well and all the practicalities have been thought through, from heading on over to your account and setting up your details to finally withdrawing your funds. You'll also find fair terms and conditions that are transparent and reasonable. Any difficulties here are limitations of the payment method itself, and not the operator.

This is also true of the verification process, which you'll have to complete before you'll be able to withdraw any funds. As a legal requirement, it has been put in place to prevent underage use of gambling sites and fraud. Paddy Power may ask you to provide photographic ID such as a driving licence or passport, as well as either a recent utility bill or bank statement. Provide visual copies of said documents through the "Message us" button on the site's contact page.
Opinion
Unless you are looking to use crypto betting sites, we think that everyone in the UK should be able to find a payment method to suit them here. This variety, a lack of fees, and broad limits really help give Paddy Power top marks in this review category. Plus, all the practicalities are as user-friendly as possible, including making transactions and the verification process.
Welcome Offer 5

/

5
Money back if your first bet loses
Get £20 back in cash
Available on most sports markets
Paddy Power give you a second chance to win big the first time around with their welcome offer, granting a refund of £20 in cash if your debut bet loses. You can activate this bonus using the promo code "YSKWDX" within 30 days of opening the account, and your refund should be processed in about an hour.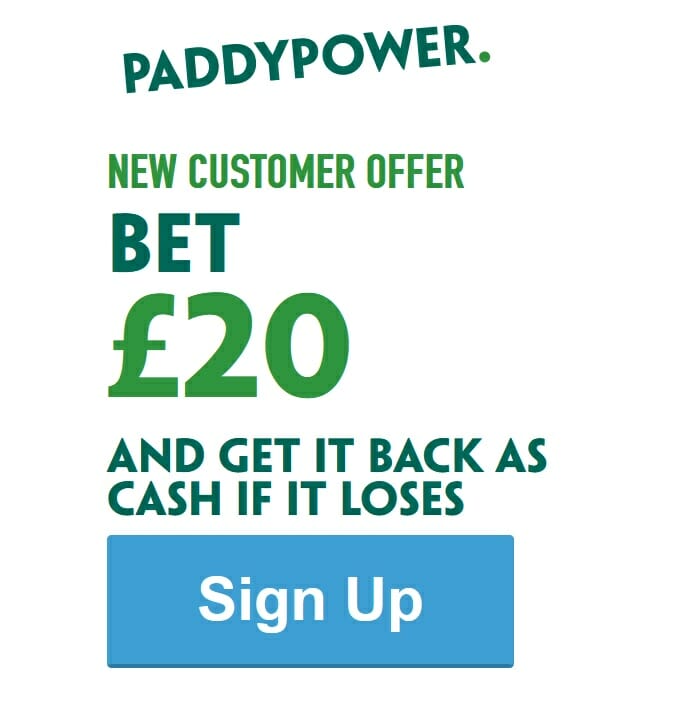 You must place a bet of £20 on any market with minimum odds of 2.0.
The only other key exclusions are standard ones. For instance, e-wallets are exempt from the promotion, as well as the likes of Lucky 15 or Heinz bets. And, of course, this offer is strictly one per person.
Opinion
While there might be promotions that offer bigger bonus amounts than this, few provide a welcome offer with such generous terms and conditions. Make no mistake, getting your first losing bet back in cash is a truly rare thing for any online betting operator. Almost all use free bets instead. This makes it a pretty much perfect welcome to the site, as your first wager truly is risk-free. You can place your bet, lose, and if you decide you don't like Paddy Power, can move on. However, with promotions like this, and so much else going for it, we think that's unlikely for most sports betting fans.
Sportsbook Promotions 5

/

5
A broad, versatile promotional page
Offers specific to individual sports and events
New offers regularly added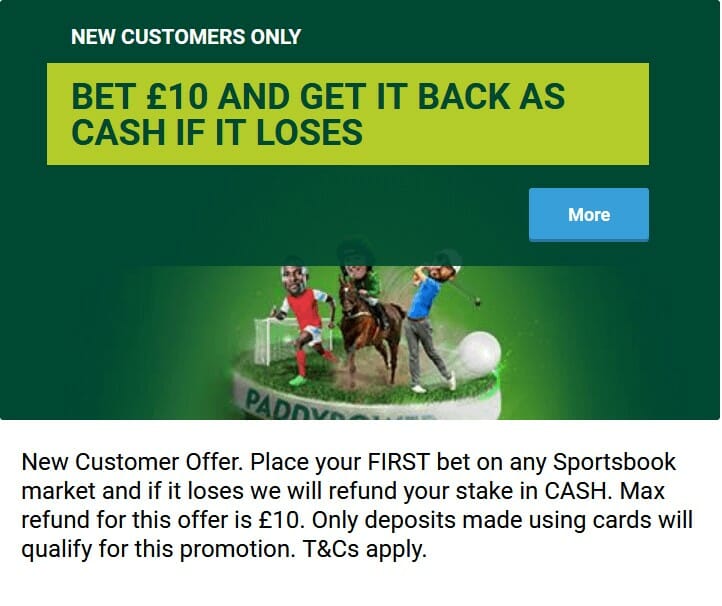 The Paddy Power welcome offer is far from the only promo available – the bookie provides a star-studded line-up all throughout the year. And it's an ever-changing selection, allowing them to stay fresh and take advantage of recent sporting events.
Some available at the time of writing include:
Put simply, you never know what Paddy Power promo codes could bring.
The fluid nature of their offers means we can't say exactly what will be available for those who sign up to them, but we have the fullest confidence they will be creative, fun and fair.
VIP Programme/Loyalty Scheme
Paddy Power may be talking down the importance of a loyalty service with their "Loyalty's Dead. Live For Rewards" promotional tagline but we think the reality is they are doing a pretty great job of rewarding loyal users with the Paddy's Rewards Club. What we love about this is that it's simple and accessible in contrast to so many similar services.
All players are invited to enjoy a free bet when they place 5 qualifying bets. A qualifying "Power Up" bet consists of a £10 wager with minimum odds of 1.5. You have seven days to complete your requirements – not bad considering they are so modest. It's also  more reachable than most VIP tiers, which often require an enormous amount of betting activity to be enjoyed. It takes the idea of the loyalty promotions and with fantastic terms and conditions, makes it something all users can enjoy.
Opinion
Once again Paddy Power proves themselves as a true all-rounder, having struck a magnificent balance here. Their promotions are big enough to satisfy high rollers, but are appealing and accessible to just about everyone. They are applicable generally and take advantage of the excitement of individual events. Perhaps most important of all is that all of them are beyond competitive in terms, most are downright generous.
Pre-Match Offer 5

/

5
Fractional or decimal odds offered
Detailed statistical information available
Competitive odds on enormous number of markets
Sports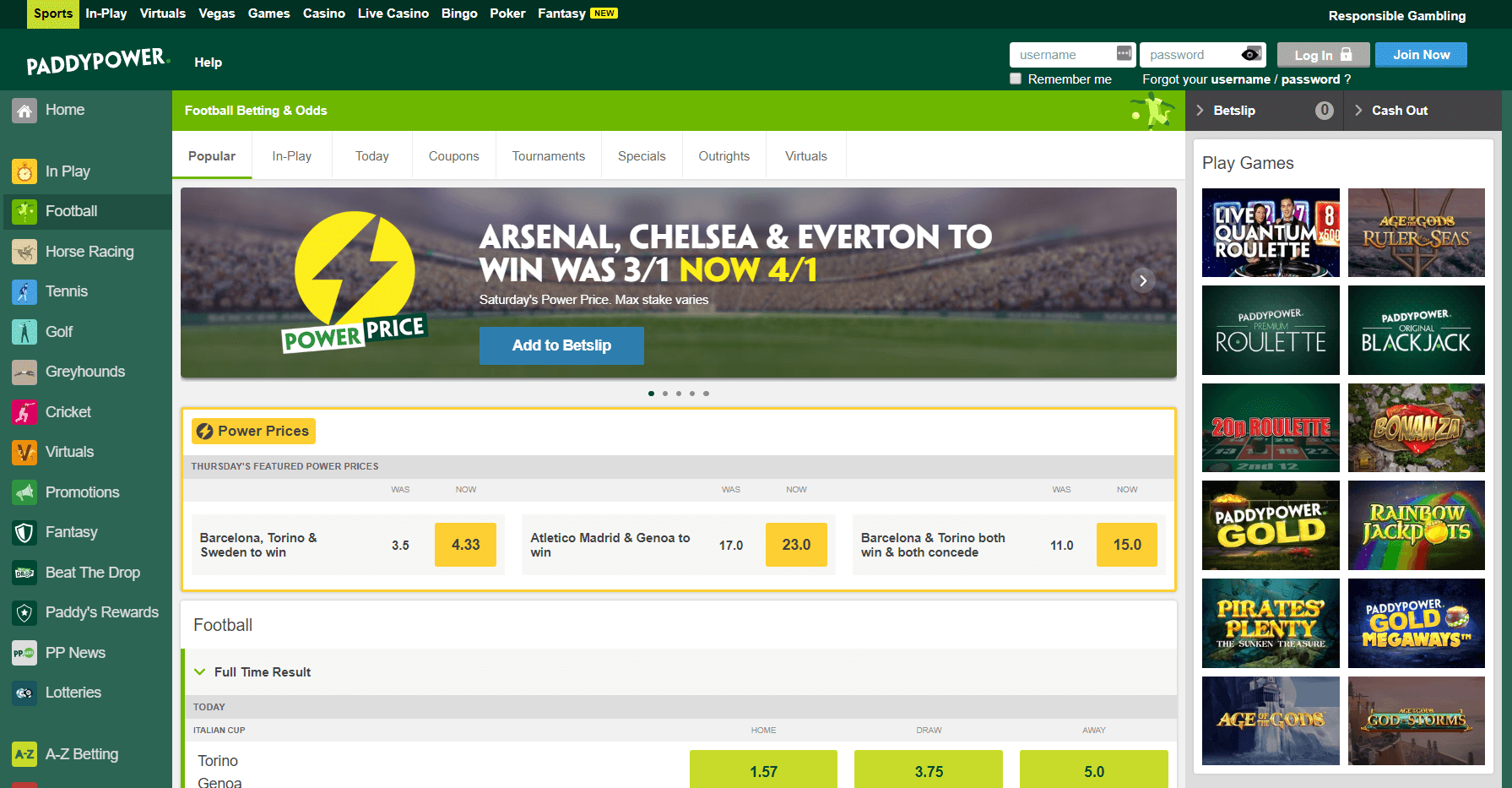 If you head on over to the A-Z sports betting section, you'll find 32 different categories for you to choose from, all the way from American football to volleyball. Of course, all your major sports are covered here including football and golf betting. But that number also includes the likes of netball, Gaelic games and tennis betting, proving that the sports offering at Paddy Power both international and immense.
There are hundreds of submarkets available on key events. For example, football fans can enjoy everything from Asian handicap betting to cards and booking points predictions. We've even seen markets on the foot a striker uses to land a goal on target, it's an amazingly diverse and creative display. There's also specials markets on things like transfer betting, when such an occasion arises.
As a simple singular example of what you can expect – The World Cup 2022 final for instance – offered over 500 markets and combinations. A simply staggering amount.
And the margins check out too. For Argentina vs France the former got 17/10, a 37.04% probability of winning, the latter 7/4, a 36.4% chance of being victorious. That leaves the possibility of a draw in regular time (you had the option to place a To Win the World Cup bet if you wished to do so, full time result betting does not go into extra time and penalties) which has an implied probability of 33.3%. That gives us a very respectable overround of 106.74%, meaning the odds for this huge event were very competitive. This is just an example; we've discovered the same for markets across the many smaller leagues covered by Paddy Power.
Esports
We were pleasantly surprised at just how diverse an operator Paddy Power are. They may be better known as one of the greatest for horse racing betting, but they are just as impressive as an esports betting site. Some examples of esports covered include Call of Duty, CS:GO, FIFA and Rainbow Six.
And it's not just the major leagues either. Just as is the case with traditional sports, this bookmaker also has a great respect for the lower tournaments, offering tons of competitions to bet on.
The number of submarkets very much depends on the game in question – to give you an example, a Call of Duty showdown between Los Angeles Thieves and Florida Mutineers saw 26 markets. Impressive for an esport contest.
We'll also use that as an example to showcase their margins. LA Thieves got 1 /2 odds to win, the Florida Mutineers 6/4. So, how'd it pan out? Well, the former converts to 66.7% and the latter 40%, meaning an overround of 66.7%. Not only is this a good number, but it is also even lower than the World Cup Final. Could there be a better example of how Paddy Power maintains excellent standards throughout?
You may have noticed that we haven't yet mentioned maximum bets on either traditional sports or esports. This is because having talked to Paddy Power customer service, it's become clear that there really is no set amount, and it entirely depends on the liquidity of that event. The upper possible maximum is £1,000,000 generally, but it could be much lower than that. The only way to know is to see if your bet is accepted, which really should not be a concern unless you are betting extraordinary amounts.
Other Specials (Politics, Weather, Celebrities, etc)
You never know what kind of specials you might get at Paddy Power, it's what makes them so much fun. At the time of writing, you can bet on:
The year of the next general election, who will win
Who will win the US presidential election
Whether the UK will re-join the EU
If North and South Korea could unify
Strictly Come Dancing winner
BBC Sports Personality of The Year
Christmas No 1
Oscar winners
Royal Rumble winner
We'd say you can expect dozens of specials at any time, covering anything and everything Paddy Power thinks will be of interest.
Cash Out & Bet Builder
While there is no general rule on what betting markets cash out may be available on, we think it's fair to say that it is offered very broadly on most sporting events. And we're not just talking about the big games here either. You can and should expect them on everything, and they are available to everyone.
The Paddy Power bet builder is also one of the most broadly applicable and best in the business – just look at some of the markets available with which you can build your bet! You can even go further if you like, combining up to four bet builders at once for a truly epic wager. This is available on most top sporting events and will be present on the events page.
There's also the #WhatOddsPaddy feature, which allows you to build a bet through Twitter. Finally, there's the Paddy Power Same Game Multi tool, which helps you make giant bets on a single fixture.
Opinion
Paddy Power has its reputation as one of the best operators in the world, in a large part, for the diversity and quality of their betting markets. Across all options we've looked at and all the odds we've checked, we have found them to have exceeded even these lofty expectations.
Live Offer 5

/

5
Livestreaming available
Smooth updates and features
Market selection as impressive as pre-game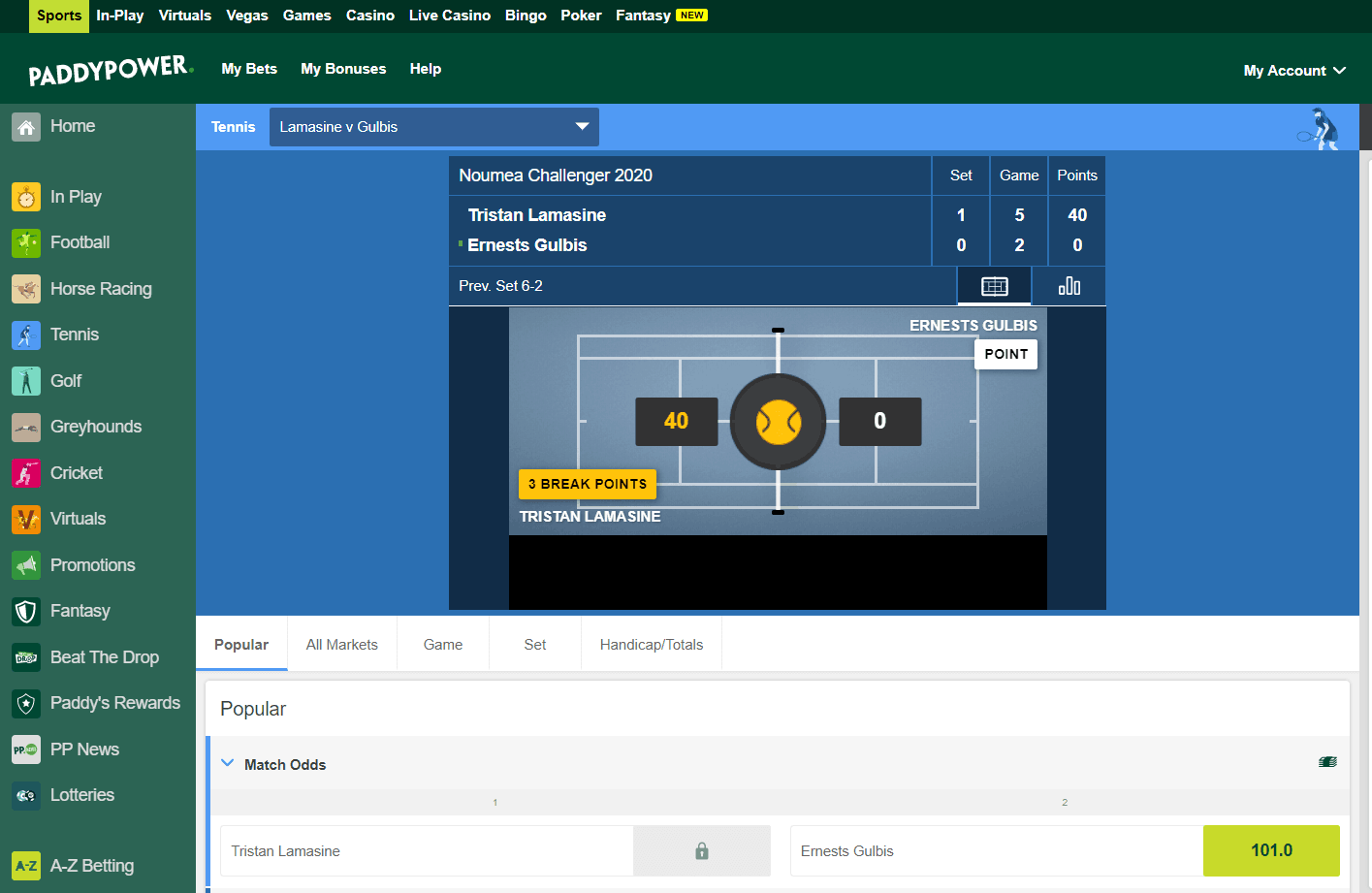 Is there any truer test of an operator than how they cope with live betting action?
What's really amazing here is they make it look easy, with thousands of live betting markets to choose from providing seamless updates and in-play action. Everything moves at a buttery smooth pace, meaning you never miss an opportunity to enjoy any of the many great live betting markets. They are, by the way, just as vast and impressive as their staggering pre-match selection.
It's also an incredibly detailed live service. The livestreaming, provided by Paddy Power live video, is immensely detailed and impressive. It's also free for all sports except for horse racing betting, which does require a bet to access. Otherwise, all that's needed is for your account to be funded.
Where livestreaming is not available, which appears to be as little as they can manage, the graphics and additional information do a great job of logically following the action and informing the bettor.
Opinion
Put simply, this bookie offers up a superb live betting experience, which lives up to the standards set by pre-match. Whether you like traditional sports like horse racing, or something more niche such as esports, there's typically tons of great live markets backed up by great information and livestreaming. Again, they've nailed it.
Security 5

/

5
Licenses from both the UK Gambling Commission and Malta Gaming Authority
Deposit limits available upon registration
Encryption is utilised
Paddy Power don't just have a great reputation for safety and legitimacy, they back that up with serious credentials. For starters, they are licensed and regulated by the UK Gambling Commission and by the Malta Gaming Authority. This means they can legally operate in the UK and internationally.

You can rest assured too that in terms of data security, they've got you covered. Your data is encrypted and protected via firewalls and a dedicated security team. Plus, there's a fair and transparent privacy policy, as well as a well-documented history of excellence in privacy and data security.
Furthermore, they truly go above and beyond when it comes to responsible gaming tools. In fact, you're greeted by the first of these during the registration process, as you can set deposit limits from the moment you set up your account.
Further tools include loss limits, which allows you to budget your losses with a maximum loss amount. Additional help is available through a budget calculator, which allows you to work out just about everything in terms of your overall wins and losses and is really helpful in crafting a sensible budget. There are also reality checks which will pop up to remind you how long you've been betting after a long period on the site.
There are also more serious tools for those who need them. These include Take a Break, which suspends your account for up to 30 days, and self-exclusions that can block a user for up to six months. External help is also provided for with links to support sites such as GamCare, WhenTheFunStopsStop, Gambling Therapy, and GAMSTOP.
Service and Customer Support 4.5

/

5
Fantastic help section
Live chat bot can answer almost all additional questions
Access to round-the-clock customer service team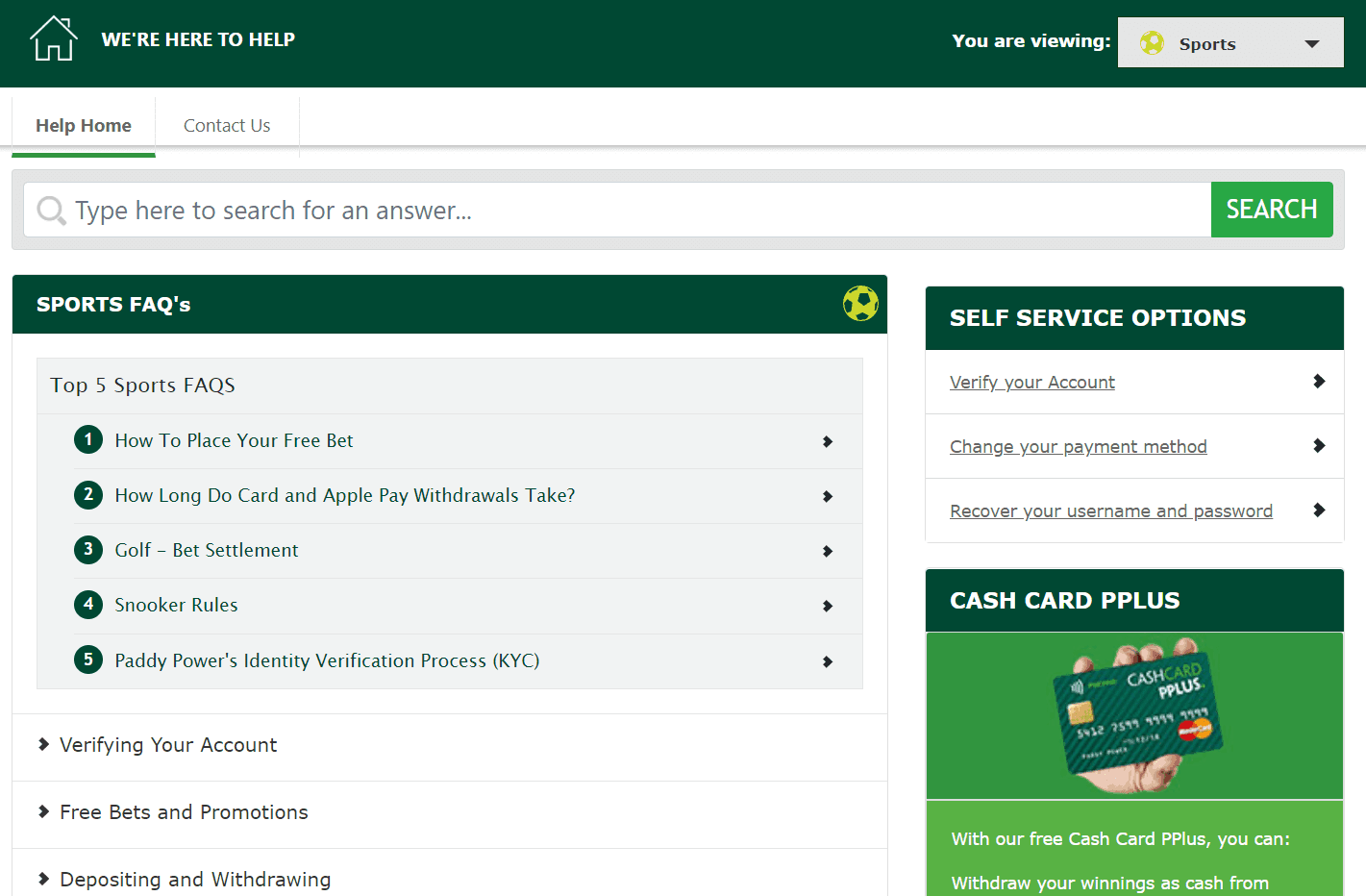 Many people reading this will never need to contact customer service at Paddy Power. The reason for this is twofold. For starters, the site is so easy to use, logically laid out and intuitively designed that many of the typical problems people have with betting site are avoided. For instance, the "My account" section is nicely laid out so you can easily keep on top of all your bets and details.
Furthermore, they also offer one of the most extensive help sections we've seen, including information on everything from account verification to the banking process. In other words, all of the most common issues you may come across are all answered right here. The only slight flaw is they are only available in English.
Nonetheless, some people will wish to use the customer support team.
The first contact option would appear to be live chat. You will initially be greeted by a bot which answers questions. While it may not be what you're looking for, it is still useful, and certainly does as advertised. If you persist or request "live chat" you will be delivered to a customer service team member, who state they are available 24/7. They were fast to respond, even in peak hours, and were informative and helpful.
For instance, we asked how to update our account and received the below response.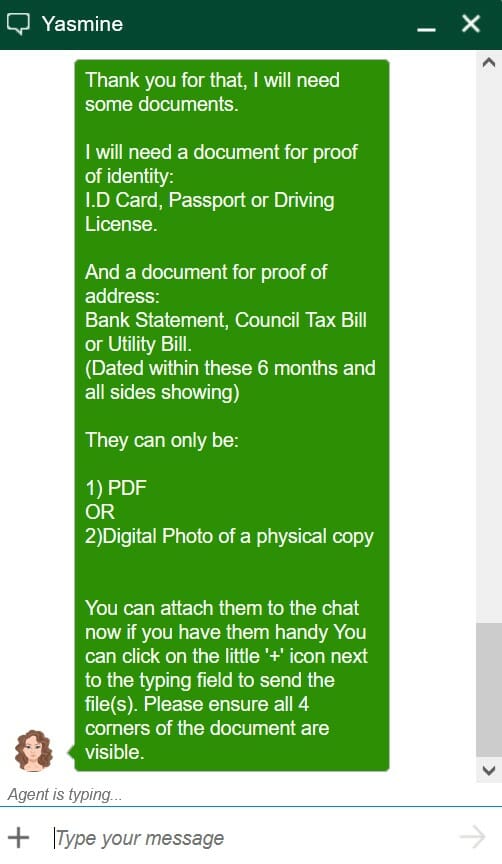 As you can see, all questions are answered thoroughly and comprehensively. This was the case whenever we got in touch, and we consider this to be a top tier example of customer service contact. The only downside is potential waits of up to 20 minutes at very busy times; this was not our experience, but we have seen others register this complaint.

There's also the option to contact the customer service team via their Twitter account. There you should be able to get a response within a few hours. We would say that as far as customer service via social media goes, it's as good as we've come across – both reliable and informative.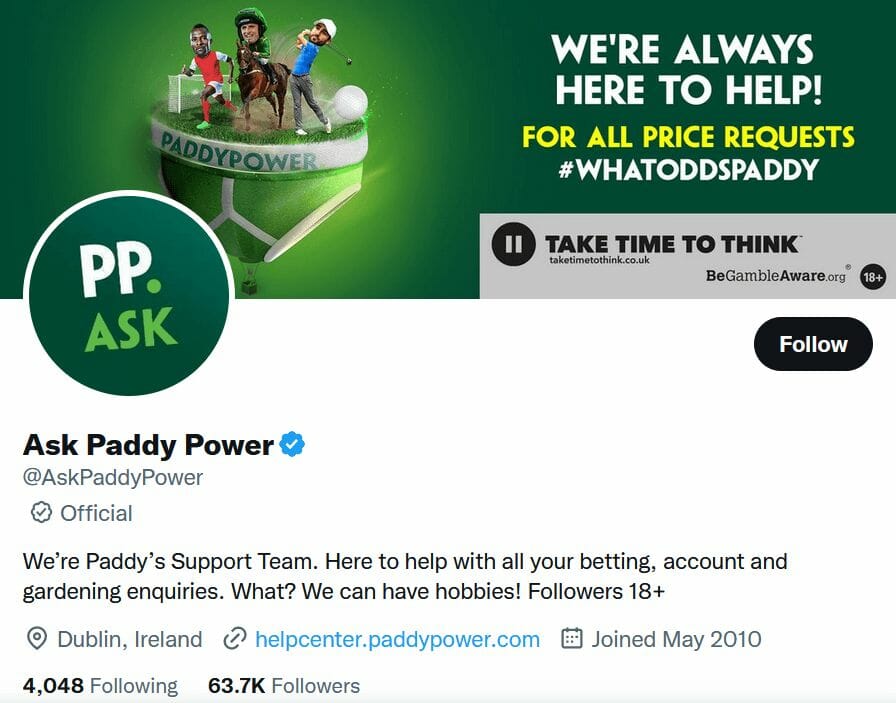 Opinion
While more contact options would be preferable - we'd have liked to have an operational phone line and e-mail address to contact - the 24/7 live chat option does most of the heavy lifting. You may not even need to get in touch at all thanks to an excellent help section and FAQ. These are quality, carefully considered options which should be able to answer all your questions.
[table id=1823 /]
Design and Usability 4.5

/

5
User-friendly interface
All practicalities are straightforward
Detailed stats available
Paddy Power is such a household name that its general aesthetic will likely be known by you even if you've not yet stepped through their virtual doors. And as far as we are concerned, we think that's a good thing. It's a great look, simple, stylish and allows attention to be focus on those all important betting markets.
From a practical standpoint we have no complaints – everything is so easy to use thanks to technical reliability and solid structure. This is even more impressive when you consider the absolute wealth of options which are available on the site. There's a tremendous sense of space which even allows for great statistical depth, and even a dedicated blog known as PPNews which can further assist in your adventures.
And it's not just finding betting markets that's easy – placing a bet is fuss-free too, as is the entire process of depositing and withdrawing funds (even if you need to upload your documentation beforehand). Again, the only criticism is that is it is currently only available in English.
Opinion
Paddy Power don't do anything unexpected design-wise, instead focusing in on all the vital practicalities which makes the site such a joy to experience. The balancing act they manage in terms of the number of markets, stats, and details available while maintaining a sense of space is truly remarkable. Back that up with technical prowess and you have a platform worthy of being one of the UK's top bookmakers.
Mobile 5

/

5
Android and iOS apps available
Great customer responses to mobile options
No loss of content on small screen

Everything we've said about this operator also counts for the Paddy Power mobile apps, available on both iOS and Android for free. All the great markets, features and promotions are moved over to the small screen, meaning no lost options in the transition. The key thing that's different is the design, which has been perfectly moulded to mobile. Plus, both sports and casino betting are available in one place if you're a fan of multiple types of betting. All this is backed up by the reputation of both apps which enjoy very high ratings on the Google Play and App Store.
Other Products
Casino lives up to sportsbook standards
Fantasy football and virtual sports also available
Generous casino welcome offer
To many, Paddy Power will always primarily be known as a sports betting operator. It's how they made their name on the high street, after all. But make no mistake, their casino options are no afterthought. You can enjoy poker, bingo, fantasy football, virtual sports and an absolute star-studded line up of slots, all backed up by the quality design which makes Paddy Power such a joy. Best of all is the live casino, which is up there with the best casinos in the UK.
The casino bonuses are also up to their immense standards. For instance, at the time of writing, you can get 10 Golden Chips to use when you bet £10 on the live casino, each of which are worth 50p. Just register with the code PASREG and bet normally. No wagering requirements are required either, making this truly exceptional for a casino promotion. The only thing to keep in mind is that you must use your chips within three days to avoid missing out, and it's only available in the UK.
What other punters are saying?
When a company is of the size and popularity of Paddy Power, there will inevitably be recorded negative comments and some complaints. However, the overwhelmingly dominant opinion is that they are an absolute top-tier bookmaker who can be relied upon to deliver an excellent experience each and every time. You can see this across reviews and user comments, and we wholeheartedly agree.
ThePuntersPage Final Say & Overall Rating 4.9

/

5
What's really astonishing about Paddy Power is that they manage to exceed the immense amount of hype surrounding them. Being good wouldn't have been enough to live up to their reputation, which means only greatness would suffice. And they have cleared that mighty bar. This is through an outstanding selection of sports betting markets backed up by fantastic site and app design, then given a ton of delicious finishing touches in the form of promotional generosity and features. They aren't completely perfect, with the lack of easy access to customer service contact teams being the clearest example, but the experience is overall immensely positive. As one of the absolute best betting sites operating in the UK right now, we can recommend them to almost all sports betting fans.
Paddy Power FAQs
The minimum deposit for Paddy Power bets is £5.
Paddy Power withdrawal can be made by debit card, bank transfer, PayPal, NETELLER, Skrill, and Paddy Power CashCard+.
This depends on the withdrawal method; some will take a few hours, while some may take up to 5 working days.
By becoming part of the Paddy's Rewards Club, which offers free bets to punters who bet frequently.
Add your bets as normal, and if a free bet is available a button will appear at the bottom of the betslip. select it to activate the free bet.
You can contact Paddy Power using their brilliant live chat or through direct message on Twitter.
To delete your account, you must contact their customer service. The also offer a 'Take a break' option, where accounts are closed for a length of time.
When adding your bets simply scroll down your betslip to the 'Multiples' section, where all your acca options can be found.
Further reading