PokerStars Sports Betting Review (2023)
Multitude of markets and sub-markets
Superb football coverage
Odds Boosts and Request-a-Bet
No Results Found
PokerStars Quick Facts
Deposit Methods
Withdrawal Methods
Pros:
Plethora of payment methods
Superb loyalty scheme
Great esports coverage
The home of online poker
Cons:
Odds are competitive, but not the best
No welcome offer and limited promotions overall
Lack of a live chat service
Introduction
Since its inception in 2001, PokerStars has established itself as one of the world's leading online poker rooms, blowing most of its competition out of the water. However, while its poker offering can't be doubted, we're here to assess the bookmaker's sportsbook, which was added to the site in 2015. Let's see how PokerStars Sports compares to its competitors. Does it dominate like its predominant product?
Registration Process 5

/

5
Simple two-step process
Basic information required
Easy verification process
Creating an account with PokerStars is a nice and easy two-step process, with only basic information being required. In step one, the bookmaker asks for your country of residence and email address before you move on to create a username and password.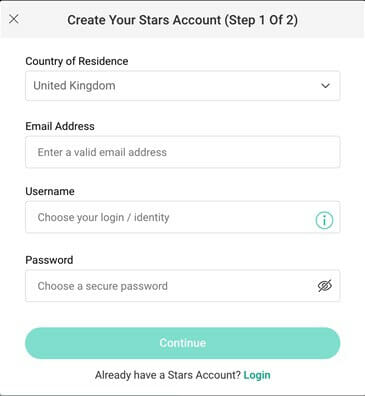 Step two merely involves you selecting your marketing preferences and confirming you agree to the terms and conditions.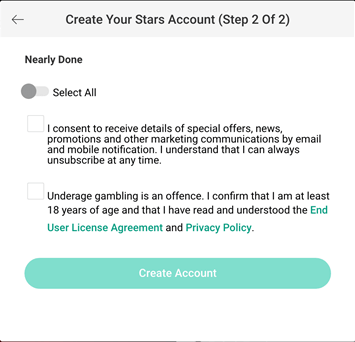 After that, your account has officially been created. But before you can start betting, a verification process ensues.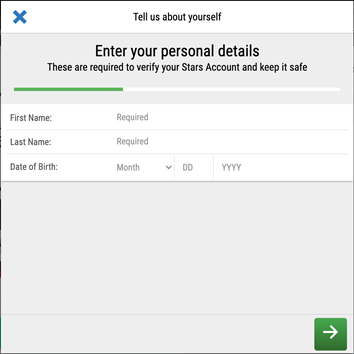 The bookie asks for personal information such as your address and mobile phone number. Once that's complete, you're ready to make your first deposit with PokerStars.
Deposits & Withdrawal Options 4.5

/

5
Multitude of payment options
Simple depositing process
No fees
PokerStars offers a huge variety of payment options for its customers to choose from. These include debit cards (Visa, Mastercard, Maestro), e-wallets (PayPal, Skrill, NETELLER, MuchBetter and Trustly), prepaid cards (paysafecard), bank transfer (Rapid, Bank Wire and Local Bank Transfer) and PokerStars top-up.
Unfortunately, we didn't get much information regarding each payment method's minimum and maximum deposits. It does, however, mention in their FAQ page that the minimum deposit is £10 unless stated otherwise.
When contacting customer support, we were told they would get back to us with their decision, indicating that this varies per punter. You can find this out by contacting the bookie's support staff. They're willing to give you this information once you tell them your desired payment method.
Similarly, withdrawal information was sporadic. We could only find the withdrawal times for a few of PokerStars' available payment methods. These were debit cards (up to ten days) and Bank Transfer (between 3-5 days).
No cryptocurrencies are available to use with PokerStars.
Importantly, the depositing process is simple. To start, locate the distinct 'Deposit' icon at the top of the homepage. PokerStars' long list payment of options will then appear. We chose to deposit via debit card and moved onto the page that's shown below.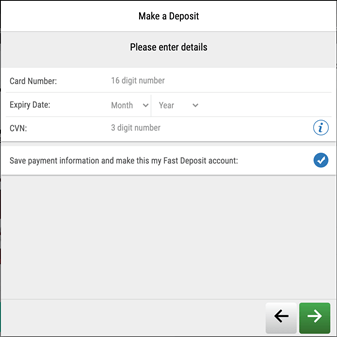 All you have to do is fill out your card information (number, name and security code) and select how much you want to deposit. £30, £50 and £100 are the default options, but you can select 'Other' to deposit your desired amount. Advance via the green arrow to see your account funded.
Welcome Offer 1

/

5
No welcome offer for new customers
Unfortunately, PokerStars doesn't boast a sports welcome offer of any kind for its new customers.
Sportsbook Promotions 4

/

5
Limited amount of promotions
Superb loyalty scheme
'Stars Rewards'

PokerStars currently possess just a pair of sportsbook promotions. The bookie offers Daily Extra Places for at least two horse racing events every day and Request-a-Bet Free Bet. The latter promo rewards punters for placing a Request-a-Bet bet with free bets.
VIP/Loyalty Programme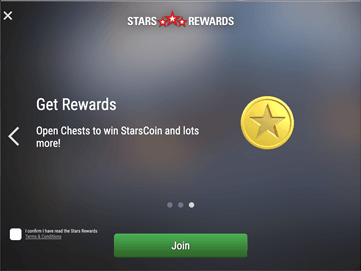 While PokerStars leave plenty to be desired regarding promotions, its loyalty scheme is superb. 'Stars Rewards' rewards players for playing and wagering across all three of PokerStars' platforms: poker, casino and sport.
Punters can win chests loaded with rewards – Free Play, Free Bets and 'Star Coin' (to be used in the rewards store) – if they accumulate the requisite number of points needed to unlock the chest within the 28-day rolling period. You'll earn 1.1 points for every £1 wagered on a single bet, and 3.1 points for every £1 staked on a multiple bet.
Progress can be easily checked via the chest and bar icon at the top of the homepage.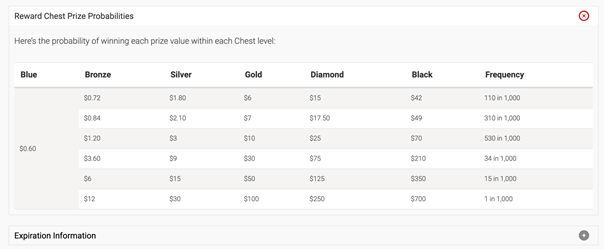 There are six chest levels, ranging from blue (level 1) to black (level 6). If you win one chest during the 28-day period, you'll stay on the same chest level. If you win ten chests, you'll upgrade a chest level. When you upgrade, more points will be required to unlock the chests, but the rewards are more lucrative. On the other hand, if you fail to unlock a single chest at your level within 28 days, you'll regress and move down a level.
Pre-Match Offer 4.5

/

5
Fairly broad sportsbook covered in impressive depth
Great football coverage
Odds Boosts, Request-a-Bet
Brilliant esports offering
At the time of writing this review, 24 sports make up PokerStars' sportsbook. Punters can enjoy an array of markets and sub-markets, especially on football events. On the day of writing, there were over 270 markets accessible for various Champions League fixtures. Odds Boosts and Request-a-Bets are usually available on popular football matches as well.
We also found several unique and original player stat markets including shots from outside the box, passes completed and number of assists. Such markets are typically offered by only the premier bookmakers.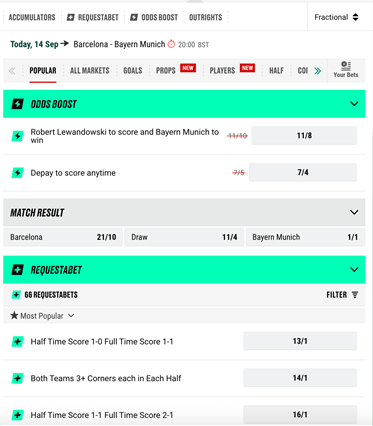 While their football coverage is impressive, the bookie's odds are the most crucial element here, and to measure the quality of PokerStars' margins we used the odds overround.
The overround is a calculation that combines the total percentage probability of all selections in a match coming true. Naturally, the result of this should come to 100% – however, this does not factor in the profits made by the bookmaker. For this reason, it is widely accepted that any figure below 110% is considered to indicate fair odds.
We picked three games at random from the Champions League, EFL Championship and EFL League 1 that returned margins of 108.25%, 108.36% and 110.32% respectively. Thus, PokerStars' margins are pretty good (although not the best), as well as consistent. The bookie's odds certainly won't deter potential punters.
Punters can display their odds as fractions or decimals, while the minimum stake is 1p and the maximum stake varies on a bet-by-bet basis.
Esports
PokerStars' esports coverage is tremendous. All the popular games and events are covered, with a myriad of global esports tournaments available to bet on. Esports fans can bet on Counter-Strike, Dota 2, League of Legends and Rainbox Six events with this bookmaker.
Be sure to check out our esports betting tips if you want to improve your chances of winning at esports betting.
Other Specials
There isn't much for novelty bettors to get stuck into here. Punters can bet on UK (most seats at the next General Election) and French politics (2022 Presidential election), but there are no TV or entertainment markets available to bet on.
Cash Out & Bet Builder
You can take full control of your bets with PokerStars' Cash Out feature. The bookmaker doesn't offer a Bet Builder, however, although customised bets are accessible through the various Request-a-Bets available on most events.
Live Offer 4

/

5
Easy to locate
Several in-play features to enhance experience
No live streaming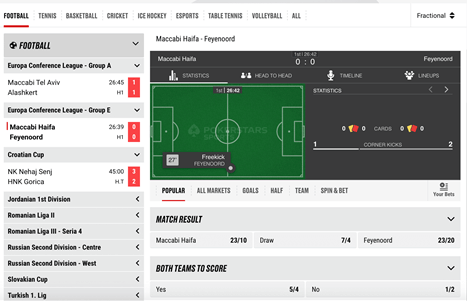 PokerStars' live offering can be located via the 'In-play' tab on the horizontal slider that's prominent across the homepage. Various live events across several sports were available to bet on at the time of writing.
For those who enjoy in-play football betting, PokerStars provide several live features to enhance your experience. These include an interactive match tracker (akin to bet365's that follows the path of the ball), timeline, line-ups, head-to-head records and win probability %.
However, this bookmaker doesn't provide a live streaming service for its users.
Security 4.5

/

5
Licensed and regulated by the UK Gambling Commission
Account limits in place
Privacy & cookie policies accessible
PokerStars is licensed and regulated by the UK Gambling Commission for its operations in the UK.
Crucially, we see an admirable emphasis placed on responsible gambling with this bookmaker. At the bottom of the PokerStars homepage, a tab titled 'Being Responsible' provides links to GamCare and the bookie's responsible gambling section. Here, customers can read about the importance of age verification, the dangers of underage gambling and how to identify a problem gambler. External links for further help, support and advice are also supplied.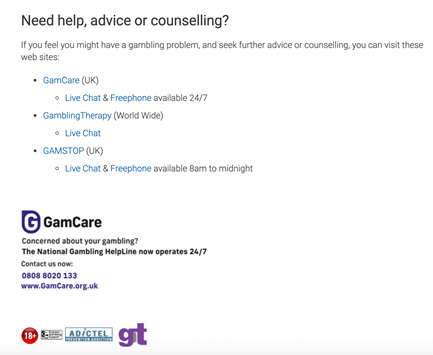 To mitigate problem gambling, the bookie provides several account limits for its customers to use if necessary. Alongside deposit limits, punters can set several restrictions on their PokerStars account. These include Poker Table Limit, Poker Tournament Buy-in Limit, Casino Limit and Sports Stake Limit. Such restrictions can prevent punters from spending beyond their means on online betting.
For those who are concerned with what the bookmaker is doing with our personal data, PokerSports' privacy and cookie policies are available to scan through.
Service & Customer Support 3

/

5
Contact form
No live chat
Not 24/7
Robust FAQs section
On the surface, it seems that you can only contact PokerStars via the contact form they ask you to fill out when you access their 'Contact Us' page. The form requires punters to lay out their enquiry and the bookmaker will respond via email (support@betstars.uk).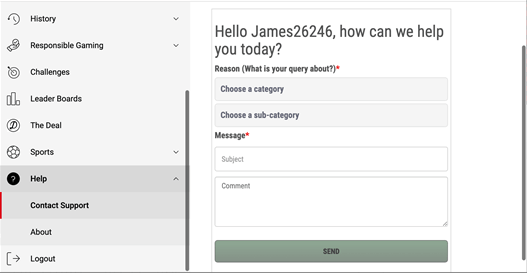 We tested the efficiency of this service by enquiring about minimum and maximum deposits. They replied within a couple of hours, telling us that they were willing to give out the information we wanted if we pinpointed our payment method.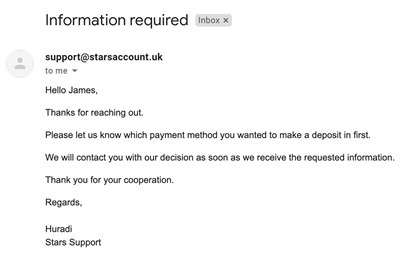 The lack of a live chat service is a big blow for PokerStars, as is their lack of communication avenues overall. While there's nothing wrong with the contact form, it's certainly not ideal if customers require their queries to be resolved immediately. Even though the form can be filled out at any time, the bookie's support service doesn't operate 24/7.
However, a plus is the bookie's robust FAQ section. While the page is a little messy, a vast range of topics are covered in impressive depth.
Design & Usability 4.5

/

5
Unconventional structure
Fine technical performance
Useful blog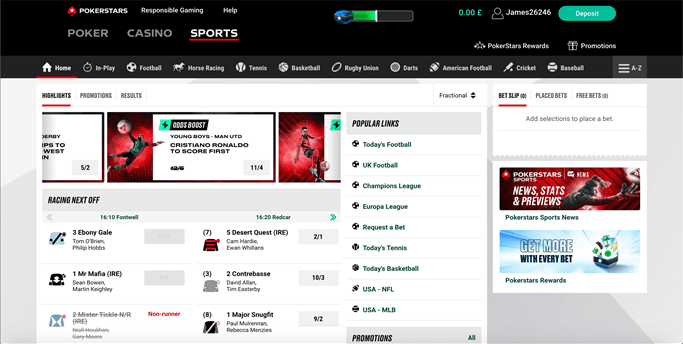 PokerStars boasts a predominantly black and white colour scheme, with their website proving a little confusing structurally. There are some design aspects we like, but others that we found cheap-looking and gimmicky, including certain fonts and icons.
As we mentioned, the site's structure is unconventional. A horizontal slider runs across the homepage that manifests the bookie's sportsbook, with an A-Z list located on the right-hand side. Centrally, you'll find an 'Odds Boosts' slider with highlighted events running underneath. 'Popular Links' look awkwardly placed in the centre.
Nevertheless, the ubiquitous presence of your bet slip on the right-hand side of the page aids the betting process, while punters can access important information links by sliding to the bottom of the homepage.
We also have to commend the technical performance of PokerStars' website, which was faultless.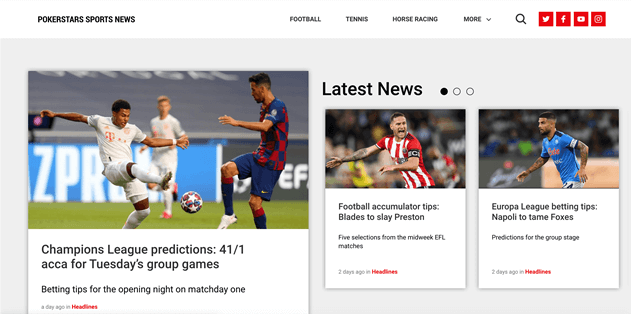 Another aspect of the website we liked was PokerStars' sports blog. Here, customers can access a wide variety of sports posts, ranging from tips and predictions to news. Football is covered in great depth, while there are also links to tennis and horse racing posts.
Mobile 3.9

/

5
Downloadable via App Store and Google Play
All unique features are accessible
Slickly-designed app
PokerStars' sports mobile app is available to download for free via the App Store and Google Play, satisfying both Apple and Android users.
The bookie has made a concerted effort to ensure its mobile app facilitates a user-friendly experience and thus, allows its customers to bet easily on the move. And while a few tweaks could be made to enhance the mobile experience, it certainly meets its goal of providing an easy-to-use service.
The design is simple, thus ensuring the interface is easy to navigate, although the technical performance of the app doesn't compare to the website. It's certainly slower and laggier, which is expected from a mobile app. However, such lag was only minor, and it didn't take away from what's a pretty impressive app overall.
Other Products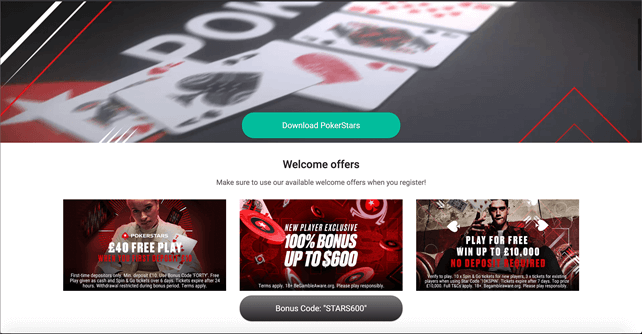 Widely considered the leading online poker room, it's no surprise that we were mightily impressed by their poker offering. New customers can enjoy one of the best if not the best poker welcome offer in the industry; 100% up to £400 when including the PokerStars promo code.
Tournaments are aplenty too, and at the time of writing, there were over 41,000 players online competing in over 2,800 active tournaments. PokerStars really is the home of online poker. They even offer an online training site for players of all skill levels.
Their casino offering is also impressive. Punters can enjoy an endless list of casino games – slots, cards, table games – and earn themselves a welcome reward for joining. PokerStars gifts newbies 100 free spins on selected slots after you deposit and stake £10 on any casino game. Live Casino events are also supplied.
ThePuntersPage Final Say
PokerStars certainly has some way to go if it wants to dominate the new sports betting scene as well as the poker sphere. Nevertheless, this bookmaker is still an attractive proposition for sports bettors. We were impressed by their football coverage, with a multitude of markets and sub-markets offered for popular fixtures. The bookie's odds, meanwhile, were competitive enough that they won't deter customers.
Moreover, there's plenty for you if you're a lover of esports betting, and the fundamental components of the bookmaker are all coherent, including security and the website's usability.
However, there are a few drawbacks. For example, the inefficient customer service due to the absence of a live chat function could be problematic, while the bookmaker is bereft of any exciting or innovative promotions. Thus, PokerStars Sports may find it difficult to retain or even pique the interests of customers, although this insufficiency is mitigated by the bookmaker's brilliant loyalty scheme.
Nevertheless, there's undoubted potential for PokerStars' sportsbook. For now, though, it should be merely regarded as a useful addition to a superb poker service.
Further reading