Goalscorer betting is a medium-to-high risk betting option which involves wagering on which player will score. In this article, we will discuss the most popular goalscorer bets, including Anytime Goalscorer, First Goalscorer, Last Goalscorer, and other goalscorer markets. We will also explain our top betting tips and strategies on how to get the most value out of these bets!
Goalscorer Betting Explained
The Anytime Goalscorer market is very simple, yet potentially much more lucrative then regular football betting. As the name implies, this bet involves you trying to predict a goalscorer in the match. While betting on a football result (win, loss or draw) can see attractive odds for many punters, goalscorer markets usually offer much higher prices.
Goalscorer betting comes in many variations, such as Anytime Goalscorer, First or Last Goalscorer, To Score First and/or Last Goal, Player to Score 2 or More Goals, Player to Get a Hat Trick, Player to Score in Both Halves, or Player to Score Exact Goals. These can also be combined into more complex bet types.
Goalscorer Betting Tips
Obviously, as with any other types of wagers, a set of thoroughly researched betting tips will help you source selections with the highest possible payouts. In general, goalscorer bets tend to result in much higher winnings, though the risk is a bit higher as well. Having said that, Anytime Goalscorer poses a slightly lower risk than First Goalscorer or Last Goalscorer.
Anytime Goalscorer Prediction Tips
Only the truly elite can boast goalscoring consistency to match the likes of Messi, Ronaldo, Benzema, and Salah.
Understanding betting odds is key here. The more likely players, such as strikers, will have lower odds, while defensive-minded players will have much higher prices. Why not combine several Anytime Goalscorer bets at once? Or perhaps combine them with a First Goalscorer bet? We will look into this further below.
1. Assess Likely Candidates for Goals Record and Scoring Streak
That brings us to the next point. Players on a hot streak or with a recent positive goal-scoring record could be likely candidates to consider for this market. Imagine such a wager on the 1999 Champions League final, when Manchester United came from behind in stoppage time with a goal from Ole Solskjær !
There are many top players today capable of similar feats. It is simply a matter of researching your team thoroughly to see which players are on scoring streaks. Defenders can score too, although less likely. Nevertheless, during set pieces, they often venture forward and score headers.
2. Look out for Penalty/Set Piece Experts
Penalty-takers and set-piece experts are likely to score at any time during the game. Free kick specialists like James Ward-Prowse always look like good goalscoring bets even when against the passage of play. Harry Kane of Tottenham is a penalty expert, and banking on him scoring either from open play or with a set-piece is almost a sure bet with his recent record before getting injured. When a team is notorious for defending stubbornly, the defence can be pierced with a free kick. One mistake in the penalty box can even lead to a spot kick.
These free kick and penalty-takers all offer excellent value and superior odds. Do not underestimate penalties and set pieces, especially if the opposing team is parking the bus in front of goal!
3. Check Social Media Updates
Teams routinely announce their formations an hour before kick-off on Twitter. Keep an eye out for these tweets, because as soon as the formations are out, you can place bets accordingly. That will depend on who is taking part in the match, and if the best footballer isn't on the field of play. The chances of other players scoring increases, and most bookies may not have reacted in time to change the odds. This means that you need to be quick to check social media in order to place effective bets.
4. Use a Live Betting Strategy
You can bet on Anytime Scorer here with higher odds, especially if more than 10 minutes have passed. Bear in mind that players for teams who need a win at all costs would have more motivation to score during the game, especially in the last few minutes. Another bet option would be Next Goalscorer, and who is more likely to be the First Time Goalscorer – if it is still an option.
5. Combine With Other Bets
As any investor will tell you, diversification brings better chances of winning in the long run. The same can be said about betting. As you widen your scope and range, you may choose to combine several bets, possibly including a few with higher odds to offset those with lower prices. This is why it makes sense to combine Anytime Goalscorer bets with say, First Scorer wagers. Ideally, if you choose an accumulator bet, it is best to combine Anytime Goalscorer bets, or maybe even put your selections in a system bet if you choose more than three. In addition, don't forget to try out the Bet Builder tool if your chosen bookie has it available.
By combining different bets, you'll end up with smaller-odds bets that are more likely to be successful. In this way, you minimise the losses inflicted by the higher odds bets, and replace these losses with more reliable, lower-odds bets.
First Goalscorer Prediction Tips
First goalscorer betting is much harder to predict – this is often reflected in the goalscorer odds. If you want to make a correct First Goalscorer prediction, there are a few things you will want to keep in mind.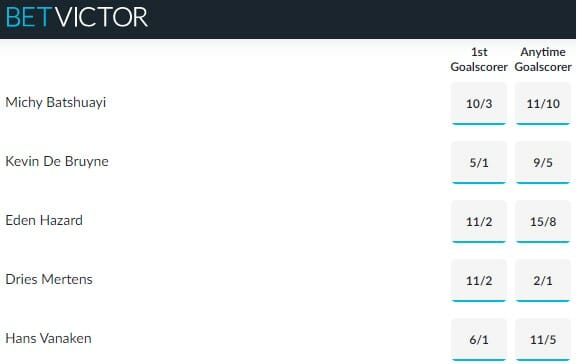 1. Find Value on First Goalscorer Betting
You'll naturally want to fish out the best odds when staking on the most likely players to score first. For those who are less obvious, you could get even more value by backing an attacking midfielder or goal-scoring defender, as they generally have more favourable odds than out-and-out attackers.
2. Use First Goalscorer Stats
You should check which players are in top form, rather than backing a player who has not scored in ten games! This brings us to injuries and suspensions, which regularly pave the way for any tactical changes. For instance, a defender may be pushed into a central midfield position if a striker gets injured and has to come off the field of play. That, of course, changes the odds of him scoring first.
3. Consider the Overall Form of a Team
In a broader sense, the above also applies to the team's overall form. If a team has a strong attack force, the chances that the team will score first are enhanced. Some teams are notorious for scoring last-minute goals, or for scoring early on and then sitting back to defend their lead. Such a team could be a good pick for a First Goalscorer bet, and can dramatically affect Last Goalscorer odds, apart from those of the First Goalscorer. Dead-ball specialists, or better yet, a defender who takes penalties and free kicks, would provide higher odds and value.
4. Look at Head-to-Head Matchups
Head-to-head records between teams can highlight which players tend to be at their strongest (or weakest) when up against certain opponents, throwing up useful pointers for bettors in the process. Some strikers seem to struggle against certain players, while bottom-placed teams have been known to fight like lions, overcoming the odds and thus creating an upset.
Derby matches are always hotly contested, and you should also consider the opponent's tactics as well as those of the team or players that you're backing as form tends to go out the window for these matches
When making a goalscorer match bet, observing different styles of play could prove to be crucial in decision making. Do they park the bus in front of the goal? Are they a physical squad that tends to give away free kicks and penalties? Perhaps a player is just returning from a long injury and may not be able to complete a full 90 minutes.
6. Top First Time Goalscorer Candidates and European Leagues
The top five European leagues are full of stars and creative players – think Messi, Cristiano Ronaldo, Haaland and Mbappe. These are all prime candidates; however, the odds may be a bit low. That said, these are the safest bets for goal scoring predictions.
Last Goalscorer Prediction Tips
Many of the tips for Anytime Goalscorer or First Goalscorer also apply to Last Goalscorer betting. You should also consider the value in defenders and midfielders, as well as the frequent correlation between First and Last Goalscorer odds.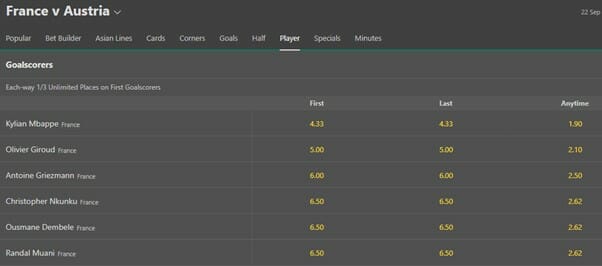 1. Last Goalscorer Is Easier To Predict Towards the End of the Match
Last Goalscorer betting is particularly interesting for live bets, especially during the later phases of a match. Betting pre-match on Last Goalscorer is akin to pure gambling, though there is no reason not to do it, as long as the odds are high enough. Here too, you can see payouts of up to 1000/1.
2. Fresh Players Have a Higher Chance of Scoring
Most team managers will save one of their most explosive and fastest forwards for the final minutes of the match. These substitutes usually have much more energy than players who have already been running up and down the pitch for the last 70+ minutes. Thus, they have a great shot of being the Last Goalscorer.
A class of player which suits Last Goalscorer betting down to the ground is the super sub. A super-sub is a player who a manger often leaves on the bench until later on in the match with the aim of changing the game and hopefully bagging a winning goal.
A classic example is Divock Origi during his time with Liverpool, who actually scored 15 times after the 75th minute. Finding players like Origi could be key in a Last Goalscorer match bet.
If a first team regular is on the bench, it could be great value to bet on him to score later on. First team regulars will often be subbed in especially if the team needs a boost – the odds will be incredibly high as he would not be playing from the start. This is a risky one, though, as he may not be subbed on at all.
Understanding Goalscorer Odds
When it comes to fully comprehending Premier League Anytime Goalscorer odds, or those for tournaments such as the Champions League or any other football competition for that matter, you should understand what you are betting on and why.
Anytime Goalscorer odds are usually much higher than Match Result odds, though they are significantly lower than First or Last Goalscorer odds. If you bet on a striker in a successful team, there is a good chance he will score at least one goal during the match. This is why strikers have the shortest odds. Of course, midfielders have higher odds, while goalies have astronomical odds. This is all due to market predictability. With payouts of 10/1 or 20/1, it is easy to see how Anytime Goalscorer odds can be tempting to punters.
First Goalscorer odds and Last Goalscorer odds
First and Last Goalscorer odds are always higher than Anytime Goalscorer odds, due to them being so much more specific. This makes them a higher-risk betting option. Of course, this risk comes with a higher rewards. Depending on which player you choose, First Goalscorer odds can easily be 100/1 or even more.
Goalscorer Rules Explained
Since First Goalscorer is a specific betting market relating to a player, there are a couple of things to keep in mind. If your player is stuck on the bench when the teams are announced and not on the field of play, what happens then? Understanding the betting rules for this kind of wager is essential.
Anytime Goalscorer is a simple and popular bet placed on a player to score during a game, whether in open play, set pieces or penalties during regular and extra time. If the chosen player scores at any time, the bet wins at the stated odds, which differ from player to player.
First Goalscorer betting is incredibly easy to understand – it simply requires you to place a stake on a particular player you think will score the first goal during a match for your bet to pay out. First Goalscorer betting is a great way to boost your odds, as you'll receive superior prices than, for instance, Anytime Goalscorer betting. Almost all best online betting sites in the UK offer betting options on First Goalscorer these days, and it is among the most popular online and land-based bookmaker betting markets.
The Last Goalscorer market is just as easy to understand as First Goalscorer – you need to bet on which player will score the last goal in the match. As with First Goalscorer, this will also give you much higher odds than Anytime Goalscorer, though it can be very hard to predict.
Own goals do not affect goalscorer bets, as the bet immediately rolls over to the second goal in these instances.
If no player scores and the result is a 0 – 0 stalemate, then the No Goalscorer bet wins.
Players Who Do Not Appear
If a player you backed does not appear on the field at all, your stake is refunded in full. The same goes for players who appear on the pitch after the first goal is scored.
Usually, stoppage time does count towards goalscorer betting, though you should check with your bookie, just to be sure. Most bookies explain betting rules very well.
Penalties, Free Kicks and Penalty Shoot-Outs
While regular penalties and free kicks usually count for goalscorer bets, penalty shoot-outs in elimination matches do not.
Other Goalscorer Markets
Bookies offer plenty of goalscorer bets, such as First Goalscorer/Last Goalscorer for one team (FGS/LGS), Anytime/FGS/LGS + Correct Score/Goals/ (Wincast and Scorecast) and Player to Score 2/3 or More Goals.
To Score First and/or Last Goal: This is a combination of First Goalscorer and Last Goalscorer. If your player scores the first and/or last goal, you win. This is slightly less risky then choosing one outright giving you something to play for if someone else grabs the opener.

Player To Score Two or More Goals: If your player scores at least two goals, you win this bet. This can be done together with a multi – goal bet to increase your odds, a wager which basically involves choosing a range of the amount of goals scored in a game.

Player To Get a Hat Trick: This is the same as to score two or more goals, however the baseline is three goals. This is much harder to hit. In the 2021/2022 Premier League campaign, only 13 hat-tricks were scored - that's only 3.4%.

Player To Score in Both Halves: Your player must score in both the first and the second half, meaning they must score at least two goals throughout the entire game.

Player To Score Exact Goals: This bet allows you to predict exactly how many goals your player will score. The odds are much higher as it is very difficult to predict how many goals a player can score.
Complex Goalscorer Bets
Goalscorer betting can be combined with other types of bets in order to create a more complex bet for a higher payout.
The
Wincast bet
is among the most common to combine with a First Goalscorer bet. It pays out if you predict the first goalscorer correctly, and the winning team as well. Keep an out for the latest predictions and tips to enhance the Wincast market across the major European leagues, like the
Premier League, Champions League, Italian Serie A
and more.
You can also combine the bet with a match result
.
This is known as a
Scorecast
, and is slightly more complicated than a Wincast wager. You need to predict the First Goalscorer and the exact game score, and you can roll the three bets into one, whereby they all need to come through for you to win. This will be a combination of First Goalscorer, Winner of the Game, and the
Correct Score
.
Using Goalscorer Bets in Accas
While accas can be a good way to increase your win potential, we do not always recommend them for goalscorer betting. That is because the odds are usually already quite high, so adding another element of risk may be pushing it a bit.
Another thing to keep in mind is that bookies may not allow accas on the same match. For higher payouts regarding precise match predictions, we recommend using one of the complex goalscorer bets mentioned above, or similar.
Where to Back a Goalscorer Bet
All major international or UK bookmakers accept goalscorer bets. Of course, that does not mean they all have the same promos, conditions and odds. While it is impossible to predict who will have the best goalscorer odds for a particular player or event, sites like Paddy Power, Ladbrokes or bet365 usually have the biggest diversity of betting options, as well as the most competitive odds and regular promos.
Other Sports With Goalscorer Betting Markets
Goalscorer betting is most prominent in football betting, though it also occurs in virtually any sport where players can score goals. That includes sports like hockey, NHL, handball, lacrosse, polo, and water polo.
We suggest sticking to the sports which you have the most in-depth knowledge when using this type of bet. While betting may be a great way to gain new interests in different sports, this type of bet requires a certain amount of know how. Especially since it concerns specific players not just teams.
Advantages of Goalscorer Betting
Goalscorer betting has many advantages. It has higher payouts and is relatively easy to predict, as there is plenty of statistical evidence to show how well a player is doing during a season. The only real disadvantage is that goal scoring can be harder to predict than the match result, making it a high-risk/high-reward bet.
The more complex or restricted your bet, the higher the potential payout. This makes it a good bet, if you can find the right value for your wager.

02

Anytime bets go on to the final whistle

The main advantage of Anytime Goalscorer bets, in particular, is that the action goes on until the final whistle. If your player does score in the last few seconds of the game, and your bet wins, imagine all the ensuing excitement and celebrations!

03

You can bet on multiple players

Another benefit is that you can make several anytime player bets, so if your chosen player scores early on, another has a chance of doubling your victory.

04

One win can make up for multiple losses

Since your payout will be many times your bet, a single win can easily make up for multiple losses. If you win a single bet at 10/1, while losing 5 other bets of the same size, you will still have a profit of two times your total wager. That said, we do not encourage punters to chase their losses.

Moreover, you do not have to be a football expert to win an Anytime Goalscorer bet.

With a bit of basic research, you can easily find out the players most likely to score. You can easily calculate how likely a player is to score based on data. For more useful info, check out our detailed article on

betting terms and definitions.
Goalscorer Betting FAQs
Usually, goalscorer bets cover the 90 minutes of official time and injury time, unless otherwise stated. Generally, extra time and penalty shootouts will not count. Check the rules your bookie offers to be sure.

Usually, no. Penalties during official time and penalty shootouts do not count. Again, it's best to check the rules of your book in question to be absolutely certain.

Own goals do not count for goalscorer bets. If you bet on First Goalscorer, and the first goal turns out to be an own goal, then the bet will move on to the next goal that is scored (after the own goal). If your player scores the second goal, you will win your bet.

If the player on whom you bet does not play in the match, the bet will simply be voided. That means you will get a full refund.

Welcome bonuses or

free bets

have their own terms. Usually, you need to wager them at certain minimum odds. Most of the time, goalscorer bets qualify, since they tend to have odds much higher than 3/2 or 2/1 (which are common for

bookie promotions

).

Yes. All major bookies offer goalscorer markets, though we recommend Paddy Power, Ladbrokes or bet365, as they generally have the best odds, customer service and promos.

Almost all reputable bookmakers offer goalscorer betting, yet odds can differ significantly. It is always a good idea to do your research beforehand and choose the one with the best odds. Again, we recommend Paddy Power, Ladbrokes, or bet365 for the best odds.
ThePuntersPage Final Say
Goalscoring betting is an extremely popular bet for a reason. It's simple to understand and is a short-term wager, meaning you'll know the outcome quickly. Most of all, it really adds a sense of excitement to a sporting event. First and last goalscorers markets are great for the same reason and can be bet on pre-match or while the action unfolds.
We highly recommend doing your due diligence for this bet, as being well-informed could make or break your bankroll in such a volatile market.