England v India 3rd Test Betting Preview, Odds & Tips | 18th August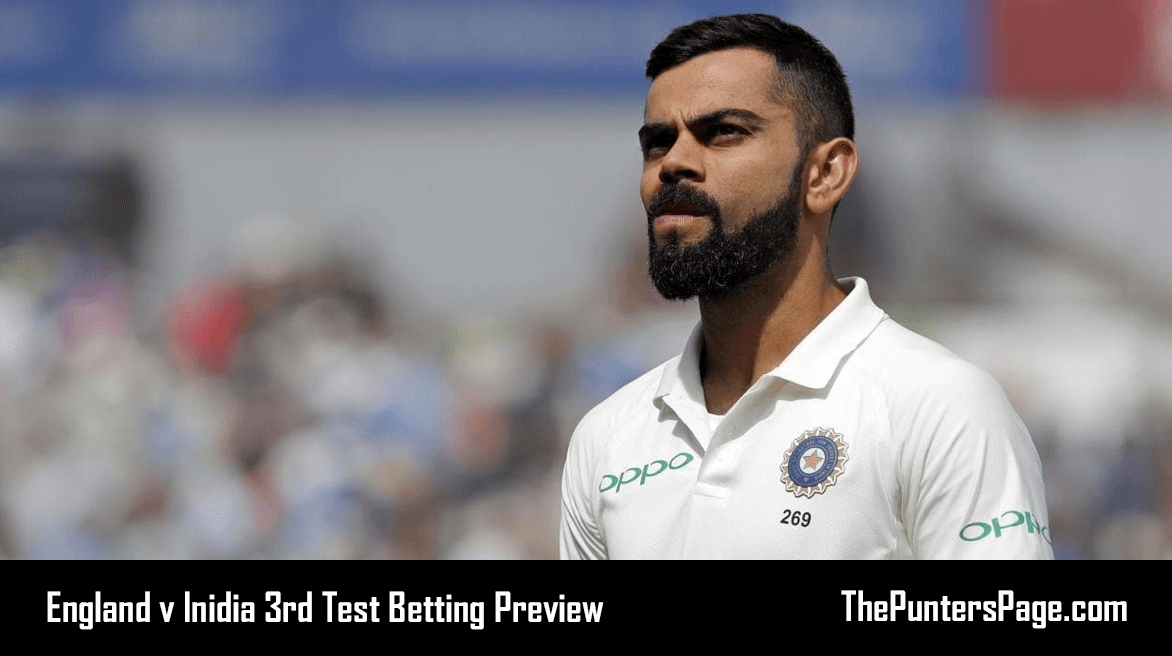 Cricket expert Neil Eyes (@nellbergcricket) oversees England's 3rd test against India at Trent Bridge which begins on Saturday and provides two angles of attack.
England v India 3rd Test Betting Preview, Odds & Tips
They say "a week is a long time in politics" and you can often say the same about sport. Leading into the 2nd test last week England had question marks around their side. Could they adequately replace Ben Stokes? How would debutant Ollie Pope go batting 4? Would the lack of hundreds in the top order be an issue? For me India were closing the gap from the 1st test, Kolhi had banished the demons from previous tours and their bowling attack looked to be capable of taking 20 wickets in these conditions so if one of their other top order batsman could also step up to the plate then I thought they could certainly compete. That was totally wrong!
England did get the benefit of the toss here, but they completely out-played India. Woakes stepped up into the all-rounder role with an exceptional all-round performance, Bairstow regained some test match form (I've had discussion recently with people on twitter about how good Bairstow is at the moment, but his test form in the last 18 months hasn't been amazing, his ODI stuff since he opened has been amazing) and the rest of the seamers dominated the Indian batsman to the extent that Ashwin top scored for India in both innings batting 8! Stokes is now free to play in the 3rd test after his not guilty verdict in the court case (no comment on that one haha) so they have selection headache's in a positive way. Does Rashid play? (he didn't bat or bowl in the Lords test, but had contributed in the 1st test) Do they "rest" Sam Curran and wrap him in kids gloves a little, as 3 all-rounders could be considered over-kill (he was MOTM in the 1st test, so a straight-up dropping would be seen as harsh). Does the new guy Pope could dropped and the batting order re-jigged? (again, be very harsh on him). If that happened and Bairstow went to 4, would he keep the gloves? Buttler's had a lean few knock, which will always happen now and again with his style of batting. I'm not much of a fan of his in red ball cricket but he produced good counter-attacks against Pakistan earlier in the summer and he's now vice-captain so I don't see him being dropped. Stuart Broad's position in the side was looking more fragile the more Woakes was impressing, but 4 2nd innings wickets plus a tremendous Trent bridge record (37 wickets in 8 tests at 20.43) should see him retain his spot. Reasitically it's better to be thinking about these tough choices from a position of strength, in a tough 5-match series squashed in resting a seamer isn't the worst idea so it may well be Sam Curran on this occasion.
Where to start with India … we'll go with Kuldeep. I don't hold a great amount of value for using white ball performances as an indicator for how they'll go in red ball cricket, I have this argument every time Jason Roy gets an ODI ton and people start clamoring for him to be in the test side. It's a different format and different skills are required. From a bowling perspective, the top 5 spinners in the ICC test rankings are all finger spinners. In white ball cricket it gets flipped, the top 5 ODI spinners are all wrist spinners and in T20I the top 4 bowlers full stop are wrist spinners (Santner keeping up the good fight for finger spin at number 5). Anyway, I digress! I think if India were going to play Kuldeep then Edgbaston was the time, it had been very dry, the forecast was dry and we saw Ashwin get purchase from day 1. They probably made a mistake there, and compounded it by selecting him at Lords when conditions weren't in his favour. He'll likely drop out in potential seam and swing friendly conditions here.
With the bat Pujara came back in (his record in England is poor) on the back on 2 failures for Dhawan and Rahul was promoted to open (doesn't look like he had the technique against the swinging ball). Now the entire batting failed where do they go from here? Does Dhawan come back in? What do they do about the wicket keeper spot? Karthik hasn't looked comfortable (has got some beauties to be fair to him) so is Pant the answer? Is KL Rahul dropping down the order the answer? Is Hardik offering enough to keep the all-rounder spot or do you put Ashwin up to 7 and add a genuine bowler? Plenty of questions, but all coming from a position of weakness, "panic" may be setting in with any changes made.
The Betting Angle
The 2nd test was brutal for my tips, but we go again! I'm not convinced by England's ability to be consistent, but after Lords I can't bring myself to tip India here! Rahane's away record is one thing, but he hasn't looked like making runs so I can't keep blindly backing him and the price for Root to score a 50 in the game has been shortened up so it's a clean slate here.
Conditions at Trent Bridge will likely suit seam bowling. It's England's strength, it's a massive weakness of the Indian batsman and they're always a bit in it for seam and swing bowlers here anyway. With that in mind Shami looks a fair bet for Indian top bowler. 3 wickets in the 1st innings at Edgbaston wouldn't have been enough for a return and his 3 wickets first up at Lords was only a tie, but he's shown in both games that he has the skills to succeed in these conditions and that's a pattern we've seen in the past. 11 1st innings wickets in 3 tests in Australia, 5 1st innings wickets in 2 test in New Zealand and now 10 1st innings wickets in 5 tests in England are all good numbers and I can forgive him a poor record in South Africa. He's as short as 5/2 here, so the 7/2 on offer with Boyles looks a little too big.
As i said earlier, Stuart Broad may have been starting to feel the pinch for his spot in the side before getting into a nice rhythm at the back end of the Lords game. He'll be looking to continue that and when he's "on" he's unstoppable. 8 MOTM's from 68 home tests are good numbers, as is 3/29 against sub-continental opposition at home. He's 2/8 from appearances at Trent Bridge, and a fair few bookies have him onside at odds of 9/1. Skybet look to have taken a risk at 14's, and that's too big in my book. However, a "safer" bet would be their request-a-bet that Anderson or Broad win MOTM at combined odds of 5/1. At best prices dutched it comes out at exactly 5's, so we're getting top price and Anderson's MOTM record here especially is exceptional (4 from 9 games!). He's only got 3 in the other 71 home tests he's played at other venues n England, so there is certainly something about this ground that sees him at his best. He was at the top of his game at Lords (9 wickets in the match) and it took an amazing effort from Woakes to pip him for the award.
Recommended Bets
Shami to be top Indian bowler, 7/2, Boylesports
Anderson or Broad to be man of the match, 5/1, Skybet (RequestABet)