Social betting allows players to interact, trade tips and help each other to improve their bets.
Kindly note that Betbull has recently shut down and is no longer operation
There's no singular definition of the term 'social betting' which everyone agrees with – perhaps because it is so new.
We think that social betting is best understood as when a key component of a website is the sharing of tips between different users. This way, it is not just betting with some social elements thrown in, but rather the social side of things is a key part of what makes those sites stand out.
BetBull and SBK are two of the best and most prominent social bookmakers, allowing you to follow tipsters and use them as the basis of your wagers, whether they are singular or accumulator bets (BetBull, in particular, does a fantastic job with the latter). There are also leaderboards showing you the best tipsters and their betting history. Punters can discuss different betting tips with fellow users, and chat with other users about tips and strategy.
Both of these sites do a fantastic job with social betting, although BetBull is more dedicated and detailed, with the social element being a key selling point. It is a core focus, not an extra or an afterthought.
Social Betting Extended
If, however, we extend our definition to include social elements, there is no end to the reach of social betting. The best betting exchanges and peer-to-peer betting sites, like Betfair or Matchbook, see your bet and odds set directly from other users. There are also esports betting sites where people can even bet on their own playing ability.
Punters can interact through social media pages, take advantage of refer-a-friend promotions, and use the best pool betting sites to try out their luck with a large group of others and have their winnings dictated as such. There's even trending bets which work similarly to the leaderboards on BetBull, in the sense you can see what bets are getting the most attention.
On the flip side, there's even social media betting with its own social betting games, which appears to reverse this trend. You could even make an argument that many casino games, like poker, are also kinds of social betting games. The best casino betting sites often make a huge effort with social elements.
In other words, while only some sites can claim to be a dedicated social betting website, almost all modern iterations of bookmakers and betting sites have some kind of social element to them.
Social Betting Apps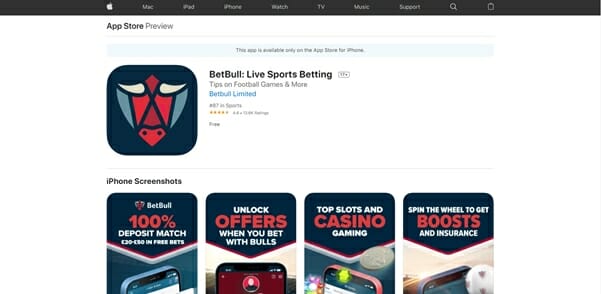 It's not much of a surprise that the social betting platform has become pretty much synonymous with the social sports betting app, considering that the best and most famous examples of the social betting website are indeed app-focused. BetBull in particular is especially focused on the mobile experience specifically. However, we don't think it is a coincidence that this is the case.
Social betting just works very well on mobile. Think of how people interact with social media sites – often on the go and during any time of day. We ourselves often keep in touch with our audience through our own Twitter feed, allowing you to share our thoughts with us and give your opinion about what's going in in the betting world.
At the end of the day, the social betting app plays into how we are used to using similar, non-betting focused apps incredibly well.
In addition, a social betting app, as is the case with social betting more generally, is built with casual users in mind. Its existence on mobile is a result of a focus on useability, as is the case with the best betting apps generally. Think about it. While it may be an ideal place for those who like to go in-depth with other users about a market, the social betting app is also perfectly built for the casual player, allowing them to bet like an expert without putting in all the extra effort.
5 Benefits of Social Betting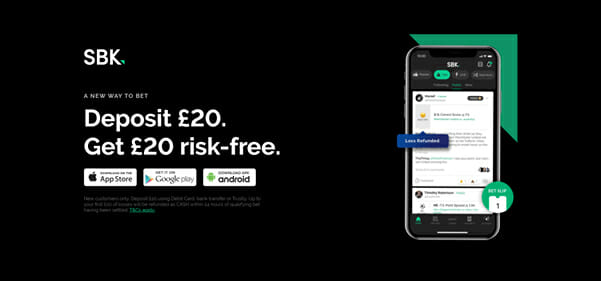 We've talked about what social betting is and what you can expect from it, but what exactly is the appeal of the social betting app and sites? Really, the possibilities for how it could improve your online experience are vast and ever-expanding, but there are five examples in particular that we think stand out. Here are five things you can look forward to from social betting.
Betting is best when shared with others. Part of the joy is in the tips and theories shared between friends at the pub. Or jokes about a ridiculous bet one friend was convinced was a winner, and begrudging respect for one who has defied the bookmakers with a

brilliant betting strategy

.

Social betting, in this way, has always existed for as long as sports betting has.

What social betting does here is take those interactions and open them up on a global scale, allowing people to share their tips with anyone and everyone. It takes that sense of community and supercharges it - the advantages of social betting aren't just strategic.

02

Improving Casual Betting

Of course, some social betting is about providing a strategic advantage. Part of the reason social betting is so good at fostering that sense of community is that

it is so open to everyone.

Before social betting, you really had two choices. One was to take a punt at what you reckon will happen, and crossing your fingers. The other is that you put in the time and effort going through stats and strategy to try and make your bet a successful one. What social betting does is allow anyone, much like

our KickForm platform

, to make better bets. You simply adopt the bets and the strategies of other, successful betters.

Simple, effective, social

.

03

Improving the Experience of Seasoned Bettors

At the other end, you also have the benefits for experienced users. Now, these are the people who love getting involved in every nook and cranny of a market to make their best predictions. They are the people who read our strategy guides, who watch past matches, look through the past games. What social betting does for this kind of gambler is twofold. One is it lets you see how your predictions stack up to those from other successful bettors. Perhaps, in doing so, you will notice some flaw in your game plan that had previously flown under the radar. The other benefit is that if you believe in your predictions, you can put them out there for the world to see and utilise. If you have always fancied yourself an expert, there is no test greater than that.

We have discussed why the social sports betting app is such an important part of this idea, and its benefits should not be underestimated. The mobile integration for the best social betting options are fantastic, and they are only getting better. This means a whole betting community is all available from your pocket, with the ability to follow tips and place bets at your fingertips. We may take such things for granted now, but there are few bigger benefits than that.

This one is not just a benefit of its own, but also ties in with all of our previous points. Social betting has taken inspiration from social media in more than the general concept. In terms of design, all of the best examples we have looked at had a great deal of focus on being easy to use. This is incredibly important, because the whole point of social betting is to get as many people involved as possible. The ability for casual players to improve their skills would be lost in practical terms if the ordinary person could not use the social sports betting app or social betting platform. Not only is that not the case, but we also found social betting to have better useability than average, meaning all of its advantages are easily available to anyone who wishes to use them.
How Widely Available Is Social Betting?
Well, it depends on your definition. If we are talking about social elements in general, it's everywhere. Just look at how many betting sites utilise 'Request a Bet' on Twitter, for example.
If we are talking about tips-based social betting, there are a handful of rather excellent options. In fact, the available quality is quite staggering, considering that this is an idea that is just getting started in its current form. What we think is likely to happen is that we both get more dedicated tips-based social betting platform and apps, as well as the concept itself becoming more widely embraced by traditional bookmakers and household names. Whatever the future holds, though, what matters now is that there are already excellent options for those looking for social betting.
GB
The Best Social Betting Sites UK In 2023

#1

Share and follow betting tips
Leaderboard of best tipsters available
Talk to other users

New users only. Free Bets: place equal bets of £10-50 (min odds 1/2, 2+ legs) in 1st 7 days to unlock. Awarded as 4 equal free bets that total 1st deposit amount. Min odds 1/1, 3+ legs, + expire in 7 days. Full T&Cs apply. BeGambleAware.org #ad

#2

Post your own betting tips or follow others
Incredible market selection
Easy-to-use mobile app

New UK, IE & Malta customers only. Min £10/€10 first deposit using Debit Card. Place a bet of £10 at min odds of 1.5. Free bets expire in 90 days. Full T&Cs apply. 18+. BeGambleAware.org #ad
5 Things You Can Expect From Social Betting and Traditional Betting
One common misconception is that new ideas in betting, such as tips-based social betting, often come at the expense of other parts of your overall betting experience. This is simply not true. Great betting sites are exactly that, whether or not they utilise social betting, and your expectations should be just as high. With that in mind, here's five things you can expect both from the finest social betting and traditional betting operators.
We never compromise when it comes to your security with regular betting sites, and the same goes for our social betting recommendations. Our standards for the likes of licensing, encryption, privacy policies, terms and conditions, general fairness, banking options and more remain every bit as thorough and unwavering.

Social betting is all about communication, and that does not just mean between different users. It is vital for any bookmaker, but especially one where new concepts are employed. In this case, it is important to allow users to check in with knowledgeable and experienced members of the team to clear up any questions that may arise.

While there might be some differences in promotions to better take advantage of the unique things social betting can offer, the standards of quality should be every bit as high.

This means honest offers, with terms and conditions to back them.

As always, when looking for

the best promotions

, we are focused on the bottom line, and what practical benefit it offers the user.

Design is not just about what a site or app looks like. It is also about how well the site operates, whether you can find everything you need, and the broadness of the appeal of the site based on how simple it is for newcomers to use. The depth it offers more experienced gamblers is also a key aspect. If anything, our emphasis on the importance on site design is even more pronounced than would be typical.

At the time of writing, social betting options do tend to have

less betting variety than the top traditional options.

However, that is not because of a lack of markets from your social betting app, but rather the incredible depth of markets compared to the absolute best, like

Betway

or

bet365

, to give a couple of examples. There is still amazing betting variety to be enjoyed when social betting, and we are sure they will catch up to these industry juggernauts someday.
Social Betting FAQs
Social betting is loosely defined, you could argue any betting or site with social elements is social betting. What we consider to be a social betting website is one that allows users to share and follow each other's betting tips.

Yes, they do. You can expect the same standards of bonus from social betting as you would on traditional bookmakers.

At the time of writing, we think the best social betting app is either BetBull or SBK.

While there are a few which are not, it is fair to say that the overwhelming majority of social betting sites are on mobile.

Yes – just like on traditional betting sites, you can bet with real money on social betting sites and apps.
ThePuntersPage Final Say
We think that if any development in the ever-evolving world of online betting is a sign of the times, this is it. Social additions to betting sites have taken their time getting here, as their inspiration, social media, has long past the decade threshold of making it to the mainstream.
That said, demand for more social elements has only grown in the gambling world, and now it is here properly, we only see it getting bigger and better. Whether we are talking about dedicated social betting or social betting elements, we think this will be part of a general push to make betting more open, accessible and community-based for those who want it, which can only be a good thing.