Horse racing is one of the most popular sports in the world to bet on. The Paddy Power horse racing options provide a top-notch service for betting on jumps and flat racing as we'll now explain.
Paddy Power Horse Racing Markets
When it comes to horse racing betting markets, Paddy Power is one of the top wagering sites in the industry for the coverage of the sport and diversity of their betting options.
Paddy Power horse racing markets provide bets for almost every race that is on the planet whether it is a jumps or flat meet. Paddy Power provide a strong level of coverage in regards to their betting markets if the meets happens to be the Grand National, The Derby or a regular race in Australia at Kilmore Racecourse.
Types of Bet
There are various ways to bet on horse racing with Paddy Power. The standout market is the win market where you simply back the horse to win the race. Alternatively, there is an option to place a win and each-way bet. Paddy Power offers a payout on the top three places, depending on the number of competitors in a race.
The Grand National has a payout on the top five, although there are other options to extend the amount of places offered even though this will affect your odds. Paddy Power offer a 1/5 of the outright price of the horse for each-way bets, which is standard across the industry. We believe that their extra places option is a great way to attempt to get good value on outsiders, which can be particularly useful for handicap races such as the Grand National.
Paddy Power also includes the straight up option to back a horse to be placed rather than having to place a win each-way bet. You can even lodge on acca on a single race for multiple horses to place, which we feel is a great option to take to improve the price of your wager.
Other options include forecasts and trifecta bets that are commonplace across the industry to guess the correct finishing order of the top two or three horses. Betting without is another quirky Paddy Power horse racing betting option, where you can select a horse to win without the presence of the race favourite.
One of the most compelling betting markets is the money back option from Paddy Power. If you place a wager on this market you will receive your money back if your horse does not win the race, but manages to place. We feel this is a terrific of protecting your stake, particularly if you've backed a heavy favourite that is upset.
Of course, accas are a staple of any quality bookmaker and there are a great range of multiple bets you can place with Paddy Power. Whether it is a simple double or treble, or even beyond that with Heinz and Lucky 15 options, there are ample acca options to suit novice bettors and those that are more experienced.
Live betting during races is also available if you're quick enough on the draw. These prices will fluctuate to reflect the action as it happens on the track, so it can be useful to find value, especially if a leading contender has a slow start to the race. Due to the nature of flat and jumps racing, it is perhaps a more useful market for jumps racing as those events are usually longer, giving more of an opportunity for the market to develop.
Paddy Power Horse Racing Odds
Paddy Power horse racing odds are competitive across the board with their rivals in the industry. In regards to the leading races in both jumps and flat racing you will find that their prices are comparable if not the same as the rest of the industry. There will be minor discrepancies, but Paddy Power have established a reputation as one of the best operators in the business for the value provided to customers. This is apparent whether you are placing a bet on the day with Paddy Power or using their antepost betting options for future races.
For example, the 2000 Guineas Stakes antepost odds are in line with the market value and include options for each-way betting for the top three at the 1/5 of the odds of the outright price. A study of the other leading betting sites in the industry shows that these odds fall in line, and in the case of Coroebus provide stronger value than elsewhere on the market.
Paddy Power Horse Racing WhatOdds Paddy
Paddy Power supplies regular special offers on major meets such as The Derby, Grand National, Cheltenham Festival and Royal Ascot. However, if you want a particular price for a horse race or about a particular betting market that involves a jockey, trainer or even an owner, you can approach Paddy Power on Twitter to ask them to price up a market using the hashtag #WhatOddsPaddy. Paddy Power's trading staff will consider the bet and then offer a fair price on their website if they deem it worthwhile market.
Paddy Power tend to focus on these markets particularly during major weeks of the year, although you can always approach them on Twitter at any time to attempt to get a bet priced up. If you know your racing, then there is an excellent opportunity to scan your racecards to look for a potential bet to try to get a good price on a wager that could be very profitable indeed that Paddy Power may have initially overlooked.
Paddy Power Horse Racing Boosts
Paddy Power horse racing boosts are available almost every day on their betting site and app. It is one of the best features available through Paddy Power as they offer enhanced prices on particular betting markets. These are particularly at events such as Cheltenham Festival and Royal Ascot where there are multiple options to consider.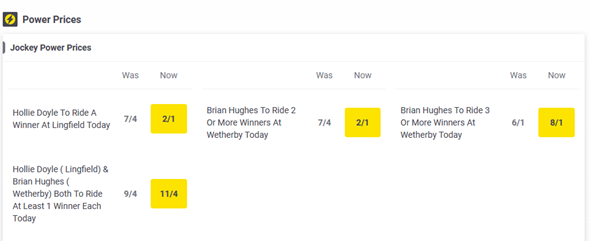 You can make a great profit to cover potential losses on their enhanced odds, such as betting for Willie Mullins to train two plus winners in a day at Cheltenham or Rachael Blackmore to ride one winner. Your stakes can be limited with these price boosts given the strong likelihood of occurrence, but we believe that it is an excellent feature of Paddy Power's horse racing product to provide this service to their customers.
Paddy Power Horse Racing Offers
Paddy Power horse racing offers begin by signing-up to the bookmaker if you're a new customer. Once you have registered, your first wager with Paddy Power will be covered with a money back offer on a number of available markets, including horse racing. If there is a particular wager that appeals to you then it could be a fruitful bet. These risk-free offers can range from £10 upwards, but it is worth waiting for around major sporting events such as Cheltenham Festival, the Grand National and Royal Ascot to get the best offers available.
In our research, we found that Paddy Power upped the ante for customers during Cheltenham Festival by offering a £5 free bet for the first three days of the Festival. This could be used in a multitude of ways, including on accas which differed from other leading horse racing betting sites. These Paddy Power offers come at regular intervals for existing customers, and there are opportunities to earn other free bets by placing down regular £5 and £10 bets per week to earn a bonus wager of the same value.
Paddy Power Horse Racing Special Features
Paddy Power horse racing has a number of special features that catch the eye when betting on all races across the globe. Here are some of the best features that are provided by Paddy Power.
Live Streaming
Live streaming is a staple of any reputable bookmaker in the industry, and Paddy Power ensures that it provides a top service for its customers. You must have funds in your account to have access live streaming of races around the world.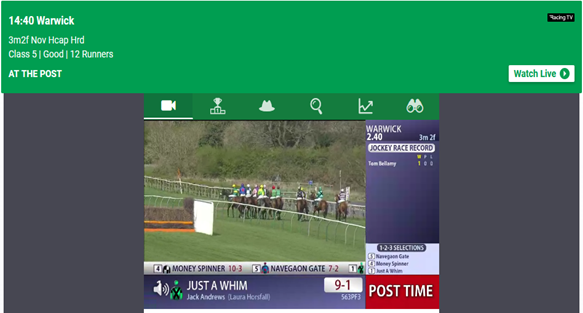 The quality of streaming provided is outstanding, and is either supplied by Racing TV and Sky Sports for races in the United Kingdom and Ireland. Statistics are also readily available to support your bets, while watching the action unfold.
Acca Insurance
Paddy Power's acca insurance across all sports is a great way to reward the faith of customers, who place regular accumulator bets with the operator. For those bettors that place accas that have four legs or more, Paddy Power will refund your stake if your acca loses due to one selection. This can be extremely useful for major events such as Cheltenham Festival or Royal Ascot, or a simple regular race meet where you may have placed multiple selections. The insurance allows bettors to fight another day and hope for better luck. For special events this acca insurance can be altered to reflect fewer selection, so be sure to watch out for Paddy Power's special offers regarding accas.
Cash Out
A cash-out feature should be part of any top betting site and Paddy Power horse racing have ensured that it is an essential cog in their service. If you've already surpassed your expectations or simply have doubts about one of the legs on your acca, then Paddy Power have you covered with the option ready to cash out from your bet. In our research, it was reliable for the majority of bets, but there are instances where you might not be able to immediately cash-out. Paddy Power do not guarantee that you will be able to cash-out at any time, but this is common across the industry and not isolated to the operator.
Paddy Power Horse Racing Results
Paddy Power offer a great result service for horse racing, ensuring that you know the result of the race as soon as possible if you've not been watching.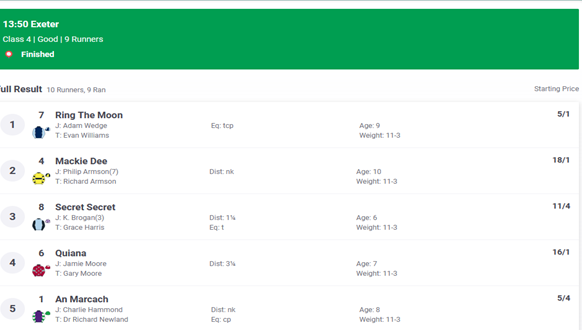 Paddy Power are famed for the speed of their results, offering fast results for their customers to ensure that they are aware of the key details before considering wagers. You can find results by clicking the meeting and results tab in the horse racing section, and selecting a race that has a post icon next to the time.
Paddy Power Horse Racing FAQs
Paddy Power provide betting markets on the outright winner, win each-way, place, forecast and trifecta, acca, money back and betting without for their horse racing markets.

Paddy Power pay out on the top three in their horse racing bets, or larger fields such as the Grand National pay outs can rise to the top four or five places. These can be boosted by Paddy Power's price boosts on the day of the contest.

#WhatOddsPaddy is a service where Paddy Power customers can request horse racing bets from the operator outside of their usual markets. Customers can create their own wagers and ask for the traders to find a price for their request, which is then made available on the betting site and app.

Paddy Power horse racing provide regular free bets offers for their existing customers, which usually come around the time of major events such as Cheltenham Festival and Royal Ascot.

Yes. Live streaming is available for Paddy Power customers for all the leading races.

Paddy Power provide acca insurance for accas of four or more legs by returning your stake if one of your selections fail.
ThePuntersPage Final Say
Paddy Power's horse racing product is one of the best in the industry, arguably the best. They provide an outstanding range of betting markets and great value on their odds for both jumps and flat racing. On top of that they have a range of special features and top offers that makes it one of the best operators around for wagering on horses.