VStarBet Sports Betting Review (2023)
Over 45 different betting markets
Daily livestreams for eSports
Relatively new bookmaker
VStarBet Quick Facts
Deposit Methods
Withdrawal Methods
Pros:
Diverse range of live streams
Excellent casino as another offer
Cons:
No 24/7 Live Stream
Quite low Welcome Offer
Introduction to VStarBet
It's tough out there for new bookmakers on the scene. The competition has never been fiercer, and although that's great for the customer, it can leave a lot of newcomers struggling to find ways of standing out. VStarBet clearly has this in mind during the design phase because the first thing a user is likely to see is a multi-screen slideshow presenting a smorgasbord of betting options. These include the kind of tournaments you can bet on, showing off the scope of their site, as well as that all-important welcome bonus.
But that's not all. This is a site which oozes quality in its first impression. It's well-designed: a nice blend between classic and colourful, as well as looking like it's easy to navigate from the off. That open display of options is not just good advertising, but also allows players to see exactly how they can get around the site and navigate through all these options.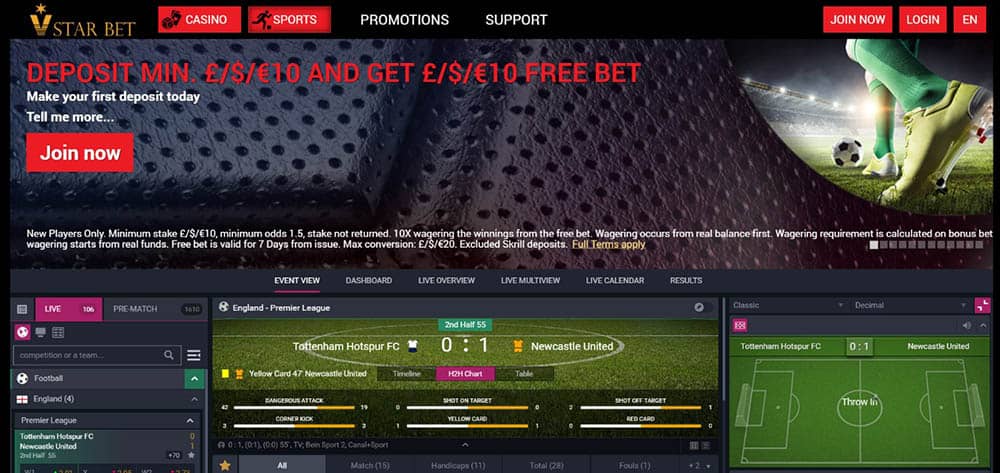 Of course, these are all first impressions. You can't really get to know a site without digging deep and experiencing it for yourself, or, of course, you could get us to do it for you. Join us while we take a closer look at exactly what makes VStarBet tick.
Bonuses, Bets & Promotions
VStarBet makes it clear from the off that promotions are very important to them by positioning them to catch your eye the moment you land on the homepage. Of course, in such a competitive marketplace, sportsbook – and betting sites in general for that matter – are going well out their way to provide something special promotions wise to stand out from the crowd. So, how does VStarBet's welcome offer stand up?

This is a 100% deposit bonus where you'll receive an additional £10 free bet to match your £10 deposit. In a way, the quality of this bet depends on how you like to use betting sites. If you're a high roller, you may have been looking for something larger. But for many people, those kinds of welcome bonuses have terms and conditions far beyond their reach.
VStarBet, on the other hand, has a meagre 1x wagering requirement, meaning your average player can get real value out of this bonus without being expected to deposit a huge amount of cash. It also does exactly what you want from a welcome bonus which is to provide an incentive to give this site a try over everything else that is out there. People may have other preferences, but we'd say that for the vast majority of users, this offer will be mission accomplished.
Betting Markets
One thing that is true whether a sportsbook is young or old is that it lives or dies on its betting markets. If you're unsure what this means, it refers to which sports you can bet on, or the variety of betting options available. VStarBet obviously tries to make it clear that it excels in this capacity from the off, as certain popular betting markets – especially for football – are advertised alongside its promotions. But does it live up to the hype?

Well, the good news is that there certainly appears to be plenty going on at any given time, with a ton of different games to choose from both pre-match and live in play. They are especially impressive when it comes to football – as would be expected considering its prominent place on the homepage – but they also have a lot going on throughout the world of sports. Here you'll find plenty going on via the likes of tennis, volleyball, baseball, basketball, cricket and many, many more. Pretty much all major sports, and major leagues, are covered here.
They even go a little left-field with e-sport options, and this is no cheap addition either. It's clearly a market they understand and cover in depth. Consider the fact that a single e-sport contest in Mortal Kombat XL was advertised during our use for proof of that. And it's not just in terms of sports options where they excel. Just as important is the types of bets you can make.
It's here that VStarBet really shows off its variety. Click on any available game and you're likely to be blown away by the sheet amount of betting options available; various handicaps, total goals, correct score and much more is all available. Not only is what's available impressive, but so is how it is presented. Everything is logically placed and easy to find. And that's also the case when it comes to navigating your way through the many tournaments and leagues that they cover.
All you need to do is click on the pre-match tab and you'll be able to find exactly what you're looking for via sport, location, tournament and even by the hour. There are sites that have been around for a decade or more that haven't gone to this level of effort to make the player's experience as smooth as this.

And this is all without mentioning the casino side of things, which proves itself no afterthought, with a massive number of slots and casino games to choose from. You can even browse between software providers, allowing you to tailor your experience with the same kind of finesse that we saw in the sportsbook.
Mobile App
At this moment in time, VStarBet does not have a mobile app. We can't criticise them too harshly for this, however, considering that they are still a new betting site finding their feet in certain ways. Apps are very expensive and can take a very long time to create so it wouldn't necessarily be expected at this early stage. However, if you're a mobile user, don't despair. VStarBet works perfectly well on mobile, whether you are using an Android or iOs device. Would it be nice to have an app? Absolutely. Ultimately though, is a couple extra clicks worth influencing your overall decision on whether a betting site is right for you? We wouldn't say so.
Live Streaming and Virtual Sports
Much as is the case with the mobile app, live streaming is not available here but that's largely to be expected from a site this new. It would be great to have but, in all honesty, is beyond what we could reasonably and logistically expect. However, it is clear that efforts have been made to provide a live experience.
While VStarBet can't give you a live stream of what's happening on the pitch, they provide the next best thing with animations that update live with the game. This is available alongside all the stats you could possibly want to keep on top of the action. From an analytical point of view, this is a fantastic compromise.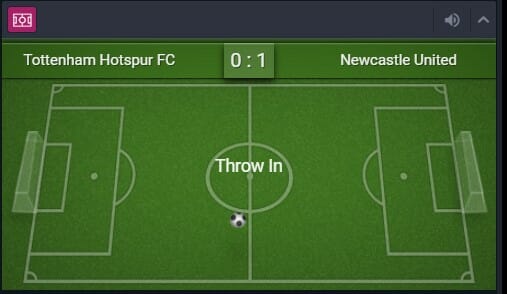 Another example of them going above and beyond is their virtual sports section. This is something we could, like live streaming, forgive not being available. But not only is it here, there's also a huge amount of variety in sports, for example, virtual football and in betting options just like you'd find in the real deal. Excellent stuff.
Payment and Withdrawal methods
It might not be the first thing that you think of when considering the right betting site for you but there's also nothing more important than having your preferred payment and withdrawal methods available. After all, the rest of the site could be pretty much perfect but if you don't have any way of depositing funds, all of that counts for nothing for you.
Quality and quantity are both important here. The latter matters because the more variety, the greater the chance that your preferred payment option will be covered. But quality is just as important because hypothetically, you could have a large variety of untrustworthy and unpopular payment methods that aren't as valuable as a few quality options. Other things to take into account include fees and transaction times.

Luckily, there doesn't seem to be much concern in either regard for VStarBet, as payment methods include Debit Card, PayPal, PayviaPhone, PaySafeCard, Trustly, Zimpler, Payz (formerly ecoPayz), Neteller, Skrill, SOFORT, GIROPAY, QIWI, WebMoney, Fast Ban Transfer and Euteller.
As you can see, there's plenty of trustworthy options here which should satisfy most users. If you want more details, you can find them easily via the site's deposits and withdrawal pages, which are linked at the toolbar at the bottom of the homepage. Rest assured though, nothing during our investigation noted anything unfair or unusual regarding limits, fees, transaction times or any other general terms. All in all, we were very happy with the banking selection with VStarBet
Customer Support
The customer service team at VStarBet are available, at the time of writing, between 7m and 11pm (GMT) and can be contacted either through email or, most importantly, via a live chat option. Obviously, 24/7 round the clock coverage is always preferable but this is just a logistical nightmare for lesser known sites like this one.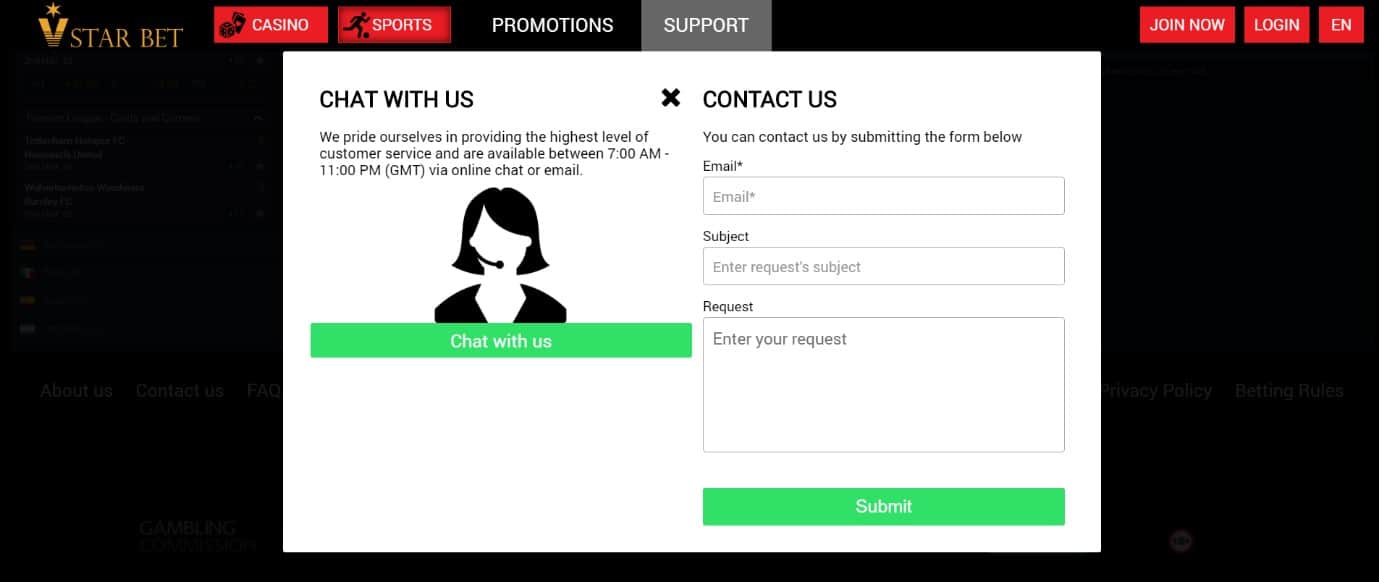 Regardless, the opening hours should suit most situations and we found the customer service team to be very helpful and quick to respond. Hopefully, they can increase that coverage in the future but as of now, what's available is still very good. The only thing we can't really account for is the general public impression of the customer service team.
We can say that out experience with them was very positive but due to a lack of public feedback – like we said, another symptom of being a relative newcomer – we can't comprehensively say what the general public opinion is on this matter, as we can't say our experience will match everyone else'. Nonetheless, we have only good things to say based on the information we have.
Reliability and Security
The lack of feedback also has an impact here. Still, we'll start off by saying that VStarBet is licensed and regulated by the Malta Gaming Authority. This means that they are very much covered from a legal perspective. They are also licensed via the UK Gambling Commission for players from Great Britain.

On top of that, they also use modern encryption techniques to keep your data safe. Another positive is their commitment to responsible gaming, utilising tools like limit setting and self-exclusion options in order to provide a safe environment for users.
It certainly appears then that VStarBet are doing everything right when it comes to security. The only negative – not that it's really something they can control or a reflection on them – is they haven't been around for long enough to garner the reputation of older, more established sites. Still, that comes with time. For now, we're happy with what can see from VStarBet.
Casino Welcome Bonus
It's worth remembering that, although the sportsbook side of things is impressive, the casino is far from an afterthought. This can be clearly seen in the casino promotional page, which appears to be every bit as generous as its sporting sister.

The welcome bonus provides a 100% bonus up to £200. This does come with a 50x wagering requirement but, much like we said about the sportsbook welcome bonus, if you want higher amounts, then tougher terms are naturally the result. It's worth pointing out that this would be considered a decently competitive set of requirements, in case you were wondering how it compares. As always, be sure to check out the full terms and conditions on the site itself.
VStarBet Summary 2.5

/

5
While there are certainly areas where we could see improvements – the inclusion of things like live streaming and around the clock customer service, for instance – most of these issues are simply a lack of extras you wouldn't really expect from anything but the biggest and most experienced bookmakers out there. Realistically, it feels like VStarBet is doing everything within their power to provide the best possible experience they can.
Take those examples we gave. They may not have live streaming, but they do have animations and stats to give you the next best possible thing. And they may not be available at 3am but when they are, the customer support team, in our experience, provided the best possible customer service they could. VStarBet is an excellent site, and although there's a little wiggle room for updates and extras, that just makes their future all the more exciting.
Further reading